Hey there, Friends! Is this summer just rolling by at lightning speed for you too? Not to sound cliche, but where is the time going?
I don't know what it is, but I finally feel like I have a grip on things and can settle in and enjoy summer. Nothing in particular changed, but I did get a big pile of kid's crafts off the edge of the counter, and it seems like it's changed my whole mindset. 😉 It's amazing what a little decluttering will do.
**This post may contain affiliate links that may result in me making a commission from your purchase at no extra cost to you.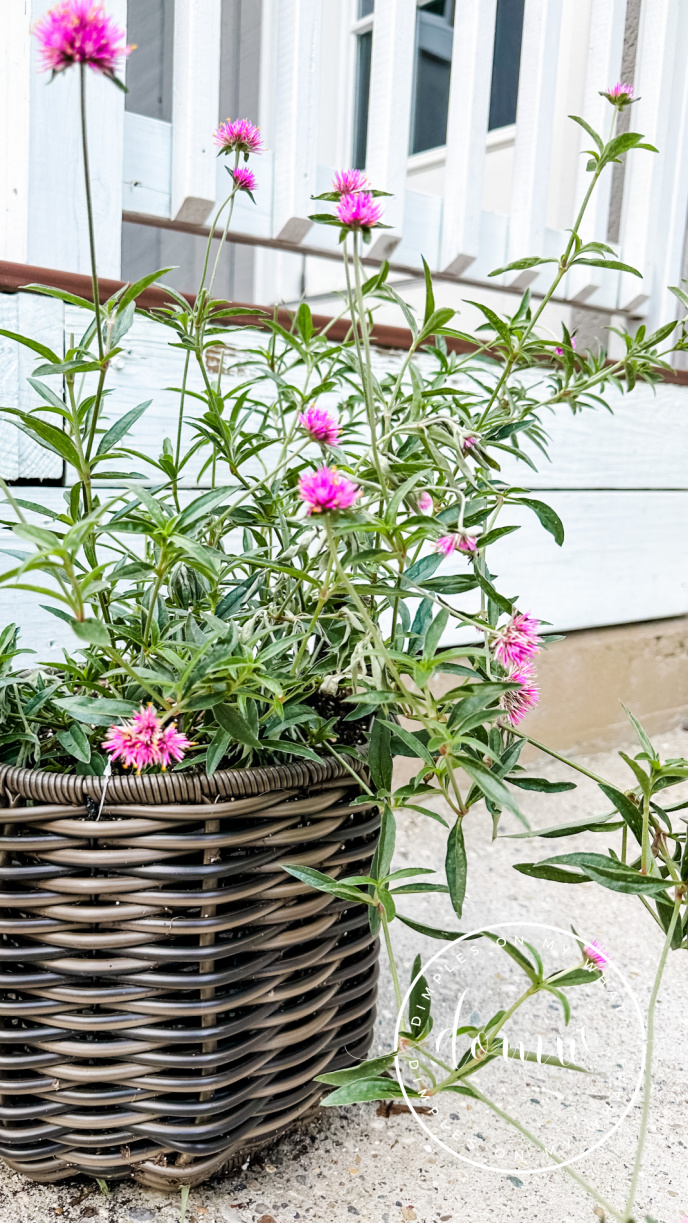 I also finally got some plants potted for my patio, including that little basket in the photo. The carefree wildness of this little basket is making me so happy, and I'm now wishing I had put this plant in every pot I planted.
Perhaps I love it because it represents me in my current season – not without beauty but in a wild, natural, and unkempt way.
My front porch looks quite neglected because I don't have anything out there yet; I recently told the Hubs that it looks like an abandoned house on days I don't open the blinds and the yard hasn't been mowed. 😉 Oops!
I'm considering going with fake plants for the porch as I did a couple of years ago because they're easy, I don't have to water them, and I already have everything. You can see this Instagram video for reference.
GRANDPARENT CHRONICLES
We took our three local grandsons on a three-day trip last week to see the Winchester boys play their baseball tournament games. There was a little fighting, more laughter, and too much money spent on ballpark concessions, but we had a great time and saw some good baseball games.
My daughter-in-law snapped this picture of all the Holloway men except my oldest son, who couldn't be with us. We sure do make some handsome guys!
WHAT'S CHALLENGING ME
It's time again for a No-Buy July, where I try to cut out spending on clothing for an entire month (or two). Have you done it before?
With the rising costs of everything, especially staples like groceries, this year, I'm also considering nixing most Amazon purchases for this no-spending challenge. I'm not sure if I'm up for that challenge or not, but to be sure, we will save a TON of money if we cut out those "too easy to add to the cart" purchases as well.
WHAT I ATE
Did you catch my post on a simple summer entertaining snack board? I made one for an easy snack dinner by the pool the other night when our kids and some friends came by for a swim. I used an extra-large rectangular tray and larger bowls of condiments this time since it was for a meal. I kept it very simple, but with plenty to nosh on, it was a huge hit!
WHAT I'M READING
Summer is for slowing down, and what better way to do that than by escaping into some fiction reading? I'm reading Same Beach Next Year by Dorthea Benton Frank, which has captured my attention from the beginning. Don't you hate it when it takes half the book to grab you?
It's a much lighter read than the British Crime novel I just finished, The Lost Sister by M. L. Rose. This is the first in a series of 14 Detective Arla Baker books.
WHAT I BOUGHT
(left to right) one || two || three || four

My most recent purchases have been primarily light-colored, wide-leg denim. I will try to get some photos this coming week and put up a quick post about sizing and styling, but all of the above are so good, and each has its merits.
Of course, I won't keep them all, but deciding which to send back will be difficult. However, these are definite keepers because they fit so well on my short-waisted torso, even though they are advertised as high-waisted.
WHAT I'M WATCHING
Praise the Lord; we had several days of much-needed rain around here. Since Mr. Dimples and I needed a low-key weekend, we stayed close to home and binged the show The Larkin's on Acorn. It's based on the book series, The Darling Buds of May, by H.E. Bates.
The best way I can describe it is that it's like All Creatures Great and Small meets Chitty, Chitty Bang Bang, meets Cheaper by the Dozen. It's not an overly moral show, nor does it push immorality (you'll have to watch it to know what I mean). But it's definitely a feel-good show about a unique and loving family and their life in the small village of Kent.
UPDATE ON MOM
It's all a bit confusing because even doctors, with all their book-learnin', are sometimes just as baffled as anyone… it's called medical practice for a reason. 😉
Mom's MRI results were a bit fuzzy, but the best we can gather from the information is that cancer has spread into her bone marrow, and she could also have some bone fractures. However, given that she has had increased pain in her back and abdomen, fatigue, loss of appetite, and increasing cancer numbers, her oncologist surmises that the cancer is worsening.
She has started on weekly chemo, and our prayer is that it is effective and she tolerates it well. Ultimately, we pray for the miraculous, but in the end, we know she will be healed on one side of Heaven or the other.
However, we certainly don't want her to suffer, so we thank you all for your prayers.
WHAT INSPIRED ME
Friends, I've been struggling with something this week. I won't fully go into it here, as it might require an entire post. But I will tell you that even though it can be a gray area in scripture, I have strong feelings against drinking alcohol, and I am incredibly saddened by its prevalence in culture today, even within the church.
Now, what does this have to do with being inspired this week?
Well, I'm seriously grieved and have even shed tears over it. I know I'm crazy and maybe a little over the top, and I sometimes feel confused by my feelings. The enemy tries to use those feelings to make me feel like I'm being judgemental or dramatic.
But often, this is how God starts birthing something in me, whether He's calling me to do something or write something. He knows I need more than a nudge; I need a knock over the head or to be brought to my knees.
So, when I heard this song this week, I felt comforted even though it has nothing to do with answering my questions about why I'm so grieved or what I'm supposed to do about it. God knows me! He knows how to teach me, challenge me, and move me.
He says to us; I created you; I know you and your thoughts. It's time to stop talking to others, talk to me about it, and then listen. Because you're not weird; you're mine!
Have a terrific week!