If you're looking for an easy summer entertaining idea to please kids and adults alike, this epic & easy Mexican snack board is it!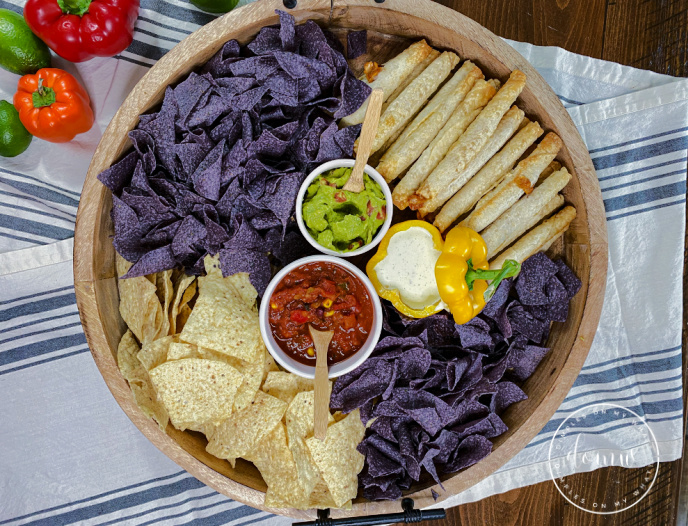 **This post may contain affiliate links that may result in me making a commission from your purchase at no extra cost to you.
I like to think I'm the hostess with the mostest, most of the time. But since we have a pool and a bunch of hungry grandsons running around, coming up with snacks that will satisfy everyone is often a challenge. And quite honestly, I get tired, both physically and mentally.
However, I'm happy to tell you that this super easy Mexican snack board (or charcuterie board) is the biggest hit with everyone… which means the preparer too! That's because almost everything is premade and requires very little prep work, depending on whether you want to make your dipping sauces homemade.
I'm calling this a snack board, but because it also has taquitos, I think we can technically call this a meal too. 😉
WHAT YOU'LL NEED TO CREATE AN EASY MEXICAN SNACK BOARD
A WOODEN TRAY
This board was loosely inspired by the giant snack/charcuterie/meal boards created by The Reluctant Entertainer. It was after I started following her, I went on the hunt for a couple of extra large wooden trays for entertaining.
Sandy, The Reluctant Entertainer, has her own line of big boards: they are investment pieces.
For most snack boards, you'll want a tray with sides on it; they keep the food from falling off. I'll link a few below, but I've found most of mine in places like TJ Maxx and Home Goods.
You will also want to use a food-grade wax or oil to make the wood food safe, like cutting board oil or beeswax, or line the tray with something like parchment paper or fabric.

Since my tray was round, I added a lazy Susan (old from IKEA) underneath so that it would spin around.
SMALL BOWLS FOR SAUCES
I received the Rae Dunn salsa and guac bowls when I was a brand rep for FabFitFun, but any small bowls will do. It depends on your trays' size and how many sauces you have. The ranch fit nicely in a hollowed-out bell pepper, adding more color too. Get creative.

FOODS TO INCLUDE
Chips (my grandsons love the blue corn tortillas)
Taquitos or Mini Tacos (from the freezer section)
Your Favorite dipping sauces: Guac, salsa(s), ranch dip, queso…
Veggies (optional)
ASSEMBLE
Creating this epic Mexican snack board is so simple that it hardly requires explanation. Make it your own!
I don't really care for salsa (except for Trader Joe's corn salsa), so I usually only add a small bowl – you'll notice I added the salsa to the smaller guac bowl 😉 and saved the larger bowl for my homemade guacamole.
The ranch dressing is a non-negotiable for me, and if I'm putting together this snack board, I'll swing by a local Mexican chain and grab a container of their delicious ranch dressing.
WHAT WILL YOU PUT ON YOUR MEXICAN SNACK BOARD?
This Easy Mexican Snack Board is a great snack/meal idea for around the pool, Cinco de Mayo celebrations, the Super Bowl, or just about any time you want to wow a crowd the easiest way possible.
You can use this a starting point and make it as fancy as you want. But I find there's a lot to be said for simplicity, especially when you want/need to throw something together quickly so you can join in on the fun too.
I threw a giant board together one evening when we had a couple of friends and one of our sons' family drop by to hang at the pool. It was a HUGE HIT!
What would you add to yours that I haven't?