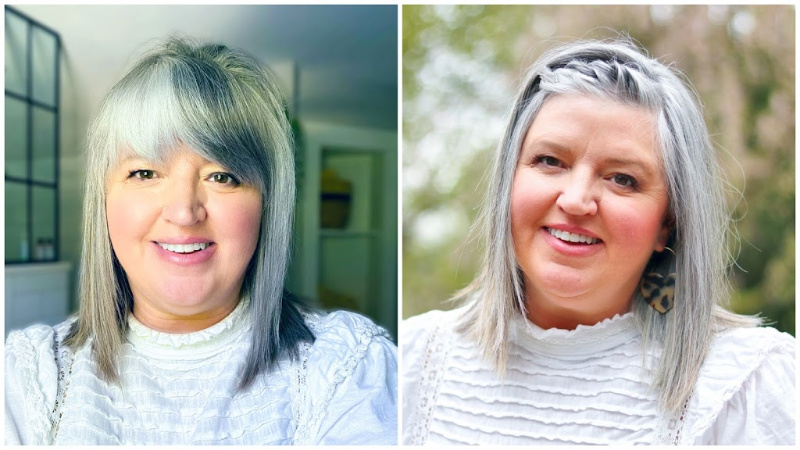 A Quick Hairstyle for When You're Growing Out Your Bangs
Growing out bangs is one of the most dreaded hair decisions we can make. If you've ever done it you know how challenging it can be, especially when they're still short but long enough to be a nuisance in your face. So today I'm sharing a short tutorial Twisted Bangs Hair Tutorial that only requires one bobby pin! It's fresh and youthful and the cutest way to get those bangs out of your face.
Quarantine Inspired Hair Changes
This quarantine has made me even happier about letting my locks go gray. I just passed the two-year mark. Yippee! But that doesn't mean I haven't missed my hair-stylist, because – BANGS!
If you have bangs you know trimming them yourself can go wrong in a hurry and in the past I've had to make enough "walk-of-shames" into the salon with hacked-up bangs that now, I mostly just leave them to the professionals.
The Love/Hate with Bangs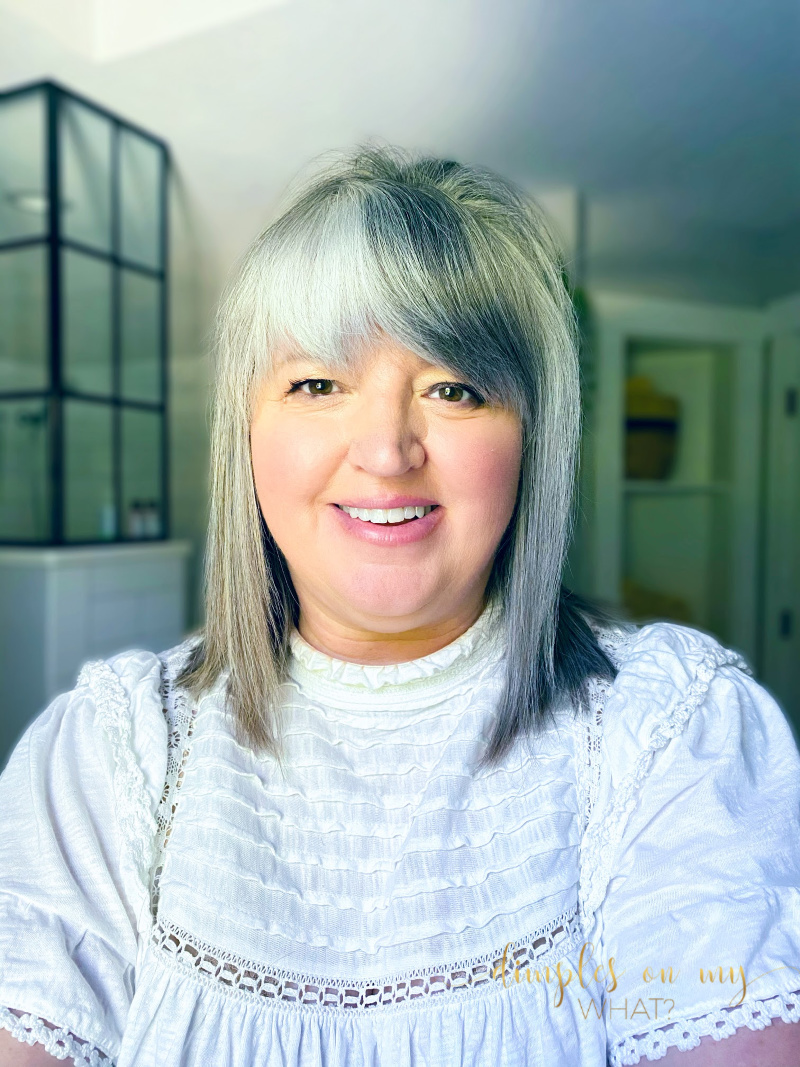 I generally like to have bangs because my hair grows forward and getting it to stay out of my face is a challenge. However, I've been toying with the idea of growing out my bangs for a while now because my section of bangs has gotten too deep creating very heavy bangs which can be hard to style.
Heavy bangs can drag our features further down which might already be heading south. I'm looking at you saggy eyelids and jowls. 😉
Easy Twisted Bangs Ease the Pain of Growing Out Bangs
It was during our recent hiatus from the salon, I started twisting my bangs over to the side to get them out of my face on unruly hair days, and I liked it. These cute simple twisted bangs and the fact that I'll be wearing casual hair around the pool most of the summer have been the impetus to my decision to do one of the most dreaded things of all hair changes – GROW OUT BANGS.
My bangs are still fairly short. I have a short forehead so that makes even short bangs look long on me so I find a light pomade or styling product help catch the little stray pop-ups. And I found out by experience you still might end up looking like you have a rooster's comb on the top of your head on a windy day, but it works well to keep your bangs out of you face on most days.
Product You'll Need
Before we get to the video, here are the products and tools I use to create this cute twisted bangs hairstyle.
Twisted Bangs Video Tutorial
Has Quarantine Changed Your Hairstyle?
I'll likely go back to bangs in the future, but for now, I thought summer might be the perfect season to grow out my bangs. Styles like this cute twisted bang, headbands, and sun hats will be my friends.
This has been a unique time in history and has even affected our hairstyle choices. However, I don't think that's all bad. We may even find a new "us".
Has quarantine inspired you to make a change to your hairstyle at all? Are you growing out your hair or hair color or simple styling it in a new way.
HUGS,

Are you on the fence about going gray? At one time, I was too and I wrote my thoughts about it in Gray or Nay?
PIN IT FOR LATER