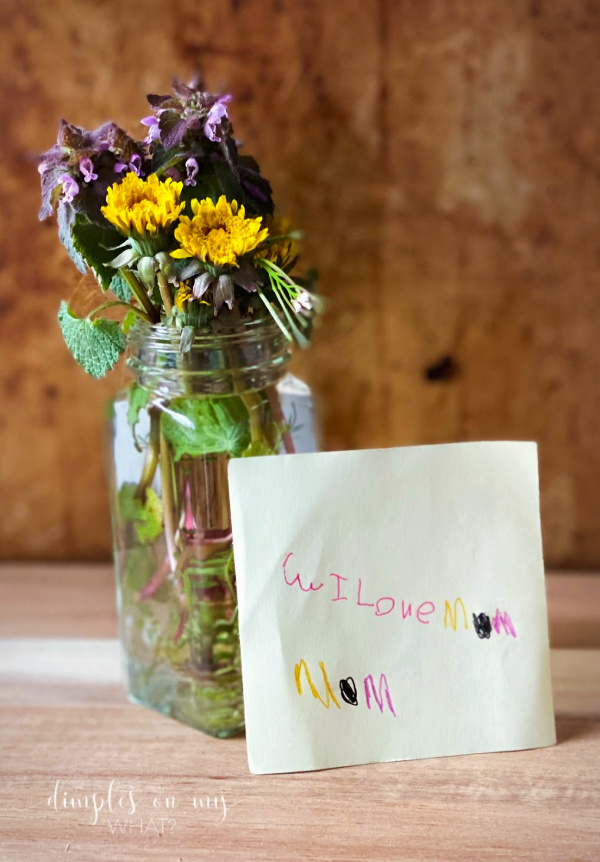 Another Perspective Lesson from Littles
When we were little we looked at a lawn full of dandelions as a field of beautiful wildflowers, but now we call them an eyesore and a sign of a neglected yard. But last week, on a particularly hard day, two of my littles gave me gifts that caused me to change me to see the beauty in weeds.
Welcome to My Pity- Party
Last week I was feeling down about myself. Not only about my weight and appearance in general (because even the most positive person has bad days) but I felt like a big ol' failure in the world of online influencers when I compare my "numbers" or the lack thereof, with other influencers and bloggers. I know everybody tells you not to do it, but they're usually the ones who are making money and attract followers like magnets.
And the final straw was lamenting the loss of my singing voice due to swollen cartilage in my throat and so far there has been little improvement and no new answers. Y'all, I have sung since I was a little girl! Seriously, I sang in a gospel singing group with my dad and his brothers. This is like losing a part of me. 🙁
In general, I had a bad case of the "can't help-its". That was what my mother-in-law calls a pity party. But, one can't go around with their face dragging the floor when you have littles around. And so I kept my head up, but deep down I was depressed.
But then a handful of weeds and a post-it note changed my perspective.
Scribbles or Love Notes?
Early this week I had three of my Littles while their parents worked and before I took them home they asked to get a prize out of the "treasure chest". It's just a basket with trinkets I pick up at dollar stores. The six-year-old chose a pack of colored mini pens and as we were getting ready to leave he asked me for some paper so I gave him part of a stack of Post-its. After I told him how to spell "love", he left me a little note stuck to my nightstand that said, "I love MomMom." I know, aww. Now hold that thought.
It Took a Child Find the Beauty in Weeds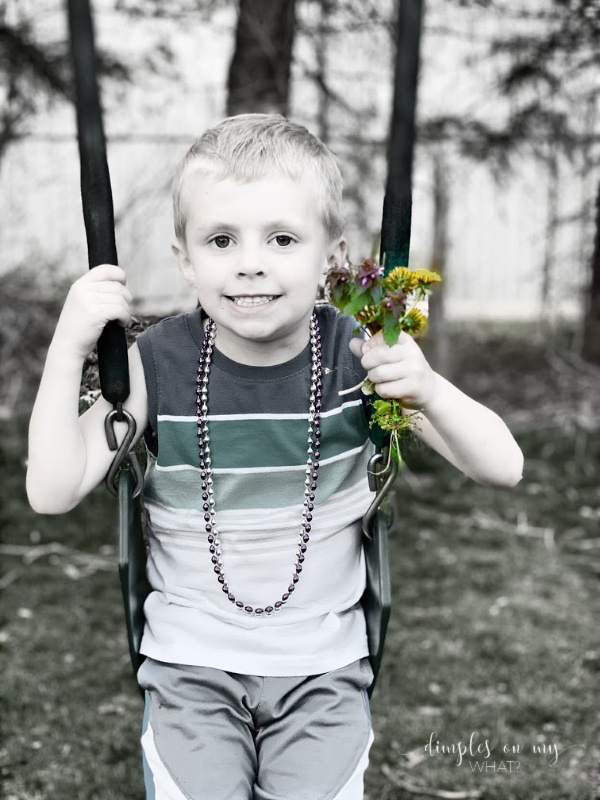 That same evening after dinner, The Mister and I were going to FaceTime with the other set of Littles but decided to see if they wanted us to pick up ice cream treats and bring them over to enjoy while we sat out in the yard. After we finished our ice cream the 5-year-old asked if I would push him "really high" on the swing. Sure, Buddy!
As I was pushing him, he asked me if I liked flowers. Of course, I do. He then gestures over to the left and tells me that after I got him high enough I could go over and get all the flowers I wanted… for free. There were yellow ones, purple ones, and white ones. And he reiterated that they were " free to take".
It took me a minute to get it. But then as I looked over at the early spring lawn and saw all the dandelions and other flowering weeds, it dawned on me that we see what we want to see. If we see weeds we have weeds. Meaning, we have a lawn that won't be "beautiful" until those weeks are gone.
Are We Relabeling What God Already Called Beautiful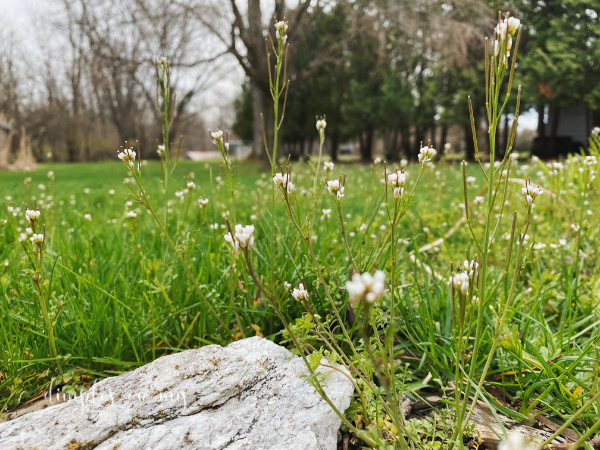 My Hubs made the point that in our desire to have perfectly manicured, weed-free lawns, we have labeled those flowering "grasses", weeds. God didn't call them that. In fact, the Bible specifically talks about how beautifully God "clothes the grass of the field". Matthew 6:30
If We See Weeds, That's What We'll Have
So, if like my little Eli, we choose to see the weeds as beautiful flowers, we already have a garden full of limitless flower arrangements to look at or to offer for free 😉 to someone who needs to be reminded that there is beauty in everything. The beauty of those weeds offered me a gift of knowing that sometimes there is a purpose in the things we think are ugly and unnecessary.
That night before bed, when I looked at that painstakingly written note on the Post-it paper and my little bundle of "weeds" in a spice jar vase, I saw that I had actually been given a lovely bouquet and a love note. How lucky am I?
And, I went to bed with a fresh perspective from my Creator that maybe I was looking at my other "issues" in the wrong way.
Beauty for Ashes
Even when we can't see how on earth God could turn our mess into our message, our heartache into joy, or make our brokenness whole, He can. He gives us beauty for the ashes of our lives.
Right now, I can't see how losing my voice or my constant struggle to turn my blog into a business will turn out beautifully or successfully. But, I don't have to see it. I only have to trust that He's got things handled on His end and that perhaps He's protecting me from or propelling me to other things by closing certain doors.
But, what I do know is that like the Post-it note turned love note and the transformed bundle of weeds to a beautiful bouquet, we have to choose to see the beauty in the mundane and ugly, hard parts of life because God already has a plan to turn them into something good and beautiful.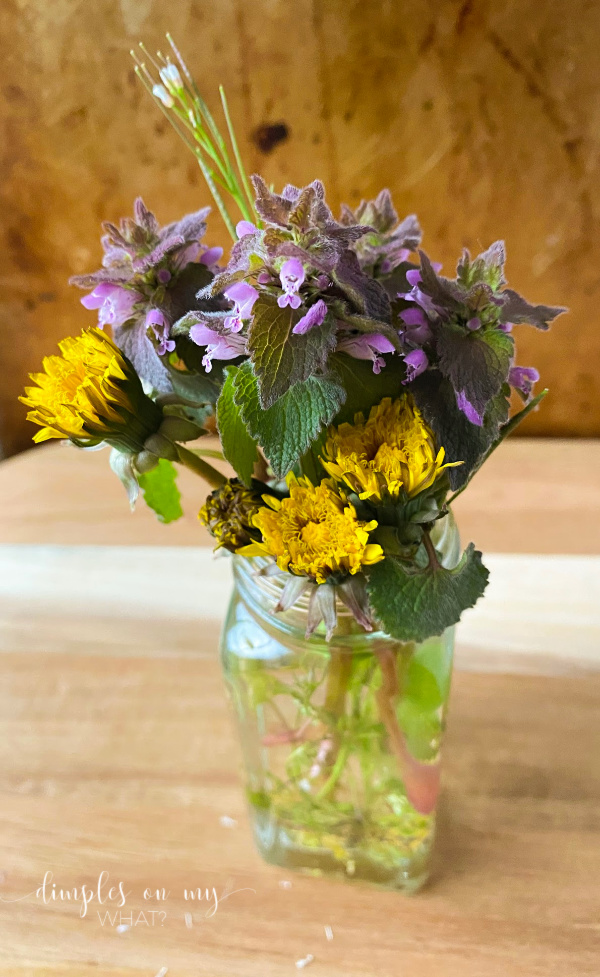 What Beautiful Thing are You Calling a Weed?
What are some of the weeds you see around you right now; the one it's hard to fathom how it could turn out positive? It's a struggle, I know. But perhaps what we see as problems aren't nearly as damaging as we think they are. We only have to trust that God and ask Him to help you see the beauty in weeds!
HUGS,

PIN IT