and Sweet Pepper Aioli
If you're needing a taste of the tropics right about now, have I got a recipe for you! Try these Honey-Lime Shrimp Tacos with Coconut-Mango Slaw and a Sweet Pepper Aioli. I know it might sound like too much to take on in the kitchen, but trust me, it's pretty simple. And don't worry, you don't have to thank me until after your STAY-cation is over.
This week would have been spring break in our neck of the woods and people from the north would have been making a mass exodus to warm places with tropical breezes. But like everything and everyone else around the world, travel has been suspended until further notice. However, that doesn't mean we can't pretend.
When You Can't Go on Vacation – EATING SHRIMP TACOS might HELP
If you can't go on vacation, you'll at least have the taste of vacation food. And these Honey-Lime Shrimp Tacos with a Coconut-Mango Slaw recipe with a Sweet Pepper Aoili will have you thinking tropical thoughts right in your own kitchen. Well maybe that's a stretch, but they're that good.
Oh, and you get two recipes for the price of one today. Who says the sales aren't good right now? I'm just kidding, they're both FREE. Could this day get any better? Okay, yes, we could really go on vacation, but let's make the best of the hand we've (the world) been dealt. 😉
VACATION FOOD INSPIRATION
Like my "Make You Famous" Fried Meatloaf Sandwich recipe, these shrimp tacos are inspired by a beloved restaurant dish.
Many years ago, Mr. Dimples and I went to Mexico and I fell in hard love with the shrimp tacos at the poolside cabana restaurant. Honestly, I don't love Mexico, but I would have considered going back just for those tacos. I have since ordered shrimp and fish tacos at many restaurants only to be seriously disappointed by bland, mushy, attempts of sticking some fish in a tortilla and calling it a taco. Yuck!
But then two things happened: On a day trip to St. Joseph, Michigan on Lake Michigan at a restaurant called Shu's I found a fish taco that was not the same, but it had a hint of that unique and delicious Mexican shrimp taco flavor.
And then on another getaway in Bloomington Indiana, we visited Sweet-Grass, a local farm to table eatery. They had the most amazing shrimp Po-boys I had ever tasted because they tasted VERY similar to those beloved shrimp tacos!
THE SECRET SAUCE – SWEET PEPPER AIOLI
Okay, I know a PO-boy and taco aren't even close to the same. But the ingredient that united both of them was a delicious sweet pepper aioli (although Sweet-Grass calls there's a herbed ranch it had a similar flavor) to dress it up.
Aioli is essentially flavored mayo. And it's really simple to make and I've included a quick recipe to make your own. I don't roast my own red bell peppers (I buy them in a jar – they're usually in the pickle section of the grocery store), but sometimes I use my homemade mayo I make with either avocado or grapeseed oil as I try to avoid soy oil products which is what typical store-bought mayo is made with.
Sweet Pepper Aioli is good on sandwiches and subs. It would also make a good dipping sauce for veggies or chicken.
Make Roasted Sweet Pepper Aoili
Print Recipe
Roasted Sweet Pepper Aioli
A tasty roasted bell pepper mayo will bring a touch of WOW to your fish or shrimp tacos. Oh yeah, it's great in place of mayo on sandwiches too.
Ingredients
1

Roasted Red Bell Pepper, Jarred or Homemade

or approx. ½ cup of canned roasted peppers

1

clove

garlic, minced

1/2

cup

mayo, of choice

I use homemade or Dukes

Salt & Pepper

to taste
Instructions
Add all ingredients, except salt and pepper to a mini food processor or use an emulsion blender and a wide mouth jar.

Blend ingredients well, scraping the sides to incorporate everying. Add salt & pepper to taste.

Transfer to an airtight container (if you didn't prepare it in one).

Keep refrigerated for 1 – 2 weeks.
Notes
Prepare at least a couple of hours prior to using it. The aioli will be kind of thin and runny at first; that's normal. It will thicken as it chills in the refrigerator.
---
HONEY-LIME FISH TACOS become HONEY-LIME SHRIMP TACOS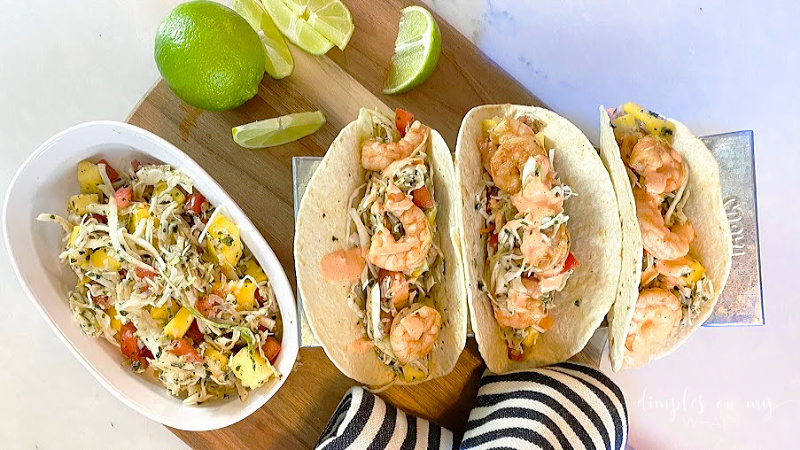 Now for the taco part of the equation. Years ago, I found a yummy fish taco recipe in a local grocery store chain's food magazine, Honey-Lime Fish tacos with Coconut-Mango slaw. They called for using cod or tilapia. I had made them a few times and they are completely delicious on their own but could they be even better with some sweet pepper aioli? Umm…. YEAH!
And how about making them with shrimp to give the tacos a less soft, "flakey" texture in exchange for a bit more "chew"? Again, YEAH!
DON'T BE INTIMIDATED
Don't be intimidated by the number of ingredients. It only looks like a long list and some you'll already have in your pantry like coconut oil, cumin, honey, and maybe even the flaked coconut.
I don't batter and fry my shrimp as they did at the tropical resort and the Sweet-Grass shrimp PO-boy, but I'm sure it would take the flavor of this recipe over the top. However, sauteing the marinated shrimp probably makes this recipe healthier anyway. 😉
MAKE IT
Print Recipe
Honey-Lime Shrimp Fish/Shrimp Tacos with Coconut-Mango Slaw & Sweet Pepper Aioli
Fresh tomatoes, mango, cilantro and a savory red pepper aioli jazz up traditional seafood tacos. Make them with talapia, cod, or shrimp to turn Taco Tuesday into a tropical treat!
Ingredients
3

tbsp

fresh lime juice

bottled will do in a pinch

3

tbsp

honey

1

tbsp

ground cumin

¾

tsp

salt

1½

pounds

peeled and deveined shrimp (tails removed), tilapia, or cod filets

If using fish, cut into 1 x 3 inch pieces

2

medium

tomatoes, seeded & chopped

2

ripe mangos, peeled, pitted and cut into ½" pieces

Use precut mango for a shortcut

2

cups

angel hair coleslaw mix

½

cup

sweetened coconut flakes

¼

cup

coarsely chopped cilantro leaves

I have used LiteHouse freeze-dried cilantro as well

3

tbsp

coconut oil

8

(6-inch)

flour torillas

Sweet Pepper Aioli (see recipe)

Hot sauce or salsa, and lime wedges for serving (optional)
Instructions
In a small bowl, whicsk together lime joice, honey, cumin, salt and red pepper. Place fish in a large zip-top plastic bag; pour honey mixture over fish. Seal bag, pressing out excess air; let stand 15 minutes gently kneading bag or or twice to mix.

Meanwhile, in large bowl, toss tomatoes, mangos, coleslaw, coconut, and chilantro.

Remove fish from marinade; reserve marinade.

In a large skillet, heat 1½ tablespoons oil over medium heat. Addhalf the fish and cook until fish turns opaque throughout andinternal temperature reaches 145°(or until it turns pink if usingshrimp), turning halfway thorough cooking. With slotted spoon,transfer fish to plate; keep warm. Repeat with remaining oil andfish.

In the same skillet, heat reserved marinade to boiling over mediumheat; cook 1 minute or until temperature reaches 165°, cool slightly.Add marinade to coleslaw mixture; toss to combine.

Heat tortillas on either on a microwave-safe place between 2 damppaper towels in microwave oven on high 35-45 seconds until warm. Or,between2 damp paper towels wrapped completely in aluminum foil. Heatin 200° oven for 8-10 minutes.

Fill tortillas with fish and slaw and topped with sweet pepper aioli.

*Serve with hotsauce, salsa, and lime wedges as desired.
RECIPE FOR A TROPICAL STAY-CATION includes HONEY-LIME SHRIMP TACOS
So, if you're jonesing for a taste of vacation, slap on some self-tanner, grab a good book and kick back with a few of these Honey-Lime Shrimp Tacos with the Coconut Mango Slaw and Sweet Pepper Aoili. It sounds like a mouthful and it is. A scrumptious mouthful at that! 😉
Oh and, don't forget the crashing waves sound machine and that aioli – They're the "secret sauce"!
Will you be creating vacation vibes on a STAY-cation this spring?
Stay well and think vacation thoughts!
Hugs,

---
Shop STAY-CATION & TACOS

SAVE IT – SHARE IT