I'm sharing a few thoughts to Help You Feel More Body Positive When You Don't, in today's post. So if, like me, you're struggling with body-image issues, whether it's embracing your size, your wrinkles, or your shape, let's talk.
"We drink the poison our minds pour for us and wonder why we feel so sick."

Atticus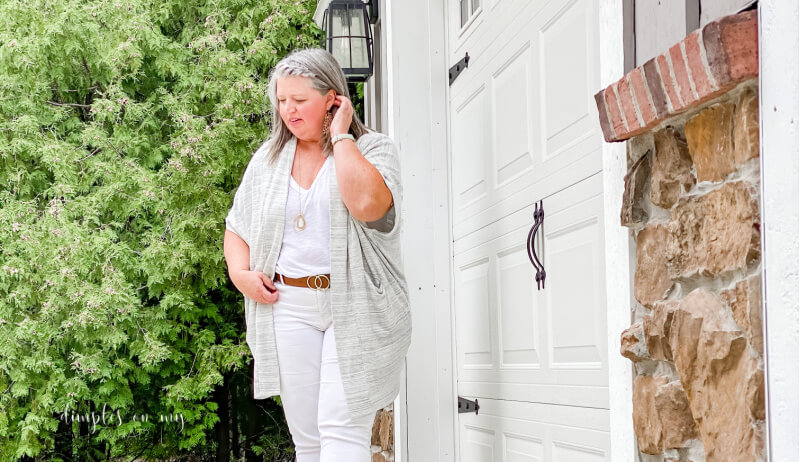 A Common Conversation
She sighs.
"What's wrong?" he asks.
"Just tired.", she replies. "Well, I'm just tired of being the fattest girl in the room."
"But nobody else cares and everybody loves you just the way you are.", he says.
"Yeah, I know. I guess I just wish that when I was skinny, I would have appreciated it more."
To which he replies, "You mean when you were thin but just thought you were fat?"
And…mike drop!
Friends, that was a conversation I had with The Mister a couple of weeks ago. Getting and staying body positive is not without hiccups and backslides. It is for sure a journey, and I can't say that will ever fully arrive, but I try to keep going after it. However, that doesn't mean I don't need to stop and redirect my thinking.
Important Note – Before anyone gets on a fat = unhealthy high-horse, understand that mental health is equally important (and sometimes more important) to physical health. I'm not saying that we should engage in harmful practices and eating habits. You can read more about my thoughts on all that here.
It's All Mindset
That being said, after a week with my skinny sisters, sister-in-law, and brother, I generally need to reassess where I'm at and get myself off the slippery slope of self-pity to get back on a positive, forward-moving mindset.
If only we could simply remove negative thoughts from our minds, right? But it doesn't work like that. I know I can't be alone in my self-critical attitude, so I thought I'd share some of the thoughts I use to crowd out the inner mean girl with a little more Pollyanna.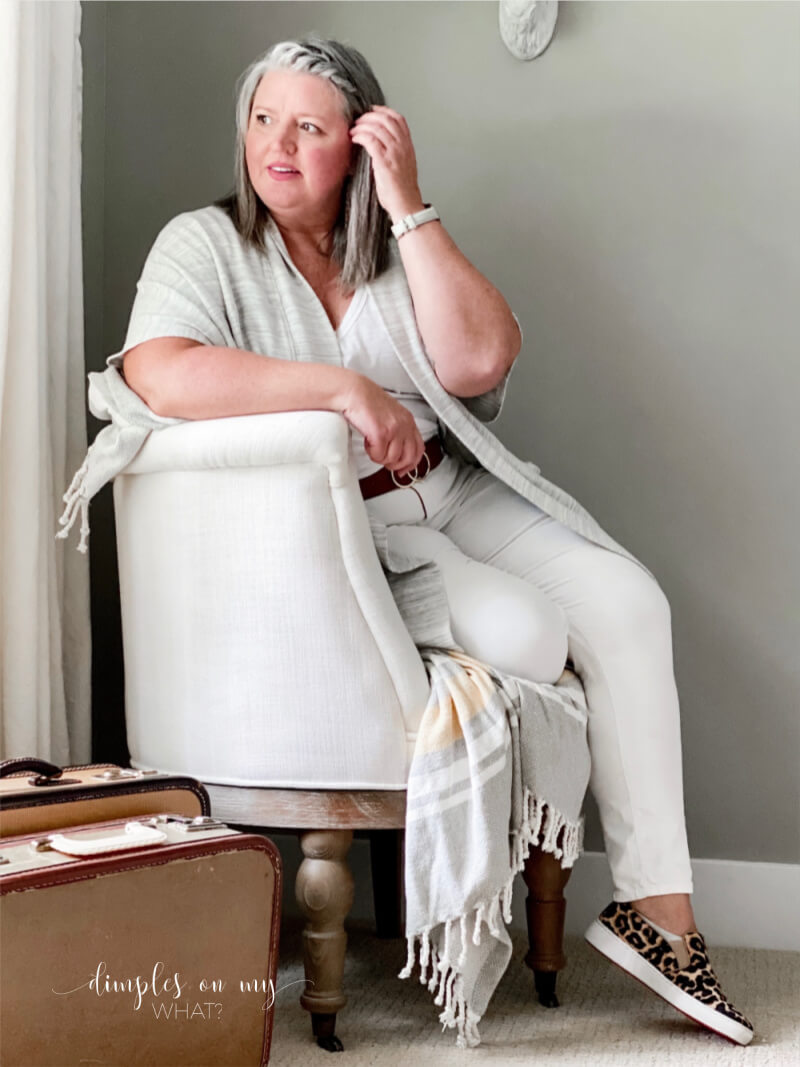 Links for this look. Because you'll ask!
WRAP wearing L/XL || JEANS wearing 18 || TEE wearing XXL || SHOES similar || WATCH || BELT similar; misses
*CHAIR (similar) is a Tommy Hilfiger Swivel Barrel Chair from TJ Maxx. I can't find it to link it but they will occasionally still have them.
To Get Yourself Moving Forward on Your Body Positive Journey Again, consider:
1 – We're in the Majority
The average woman is no longer a size 14. According to the International Journal of Fashion Design, Technology, and Education, "The average size of an American woman is now between 16 to 18."
Somehow it makes me feel better to realize that I'm not alone. In a world where the Thin and Beautiful (Is that a TV show?) 😉 seemingly get put on pedestals as the ideal, so having an affirmation that we're not abnormal is a bit of balm to our tender egos.
2 – Realize that Your Pants Size Determines NOTHING
When it comes to our self-worth, we should not use any number to measure our value, particularly our clothes' size. I have written about this before. There is no size standard across the board with the fashion industry so judging our size based on that scale is not accurate.
In this article, the writers over at Byrdie address the issues this can cause the average size woman and why it needs to change so very well. At the very least, it's another reason we shouldn't let clothing size determine how you feel about yourself.
3 – Surround Yourself with Body-Positive People
Having a body-positive tribe almost goes without saying. However, people don't have to be body negative to "harsh your jiggly jello mellow."
I have people in my life who don't necessarily talk negatively to me or about themselves. Still, they talk frequently about their size, the food they can and can't eat, how bloated they are, etc. Having someone obsess over their skinny body around your fluffy one is akin to body-shamming. If you can't avoid these conversations or maybe even the relationship altogether, limit the time you spend with them.
4 – Find Others Who Look Like You
If you must compare yourself to others, compare apples to apples, pears to pears, etc. Plug in curvy fashion, plus-size fashion, or full-figure fashion into your Pinterest search bar and be inspired by women who look like you. You'll get more than fashion inspiration because you'll hopefully see the potential you have just the way you are.
5 – Appreciate that Your Body is Exactly as God Intended
I couldn't write this entire post without mentioning the verse, "You are fearfully and wonderfully made." But really, consider how true this is.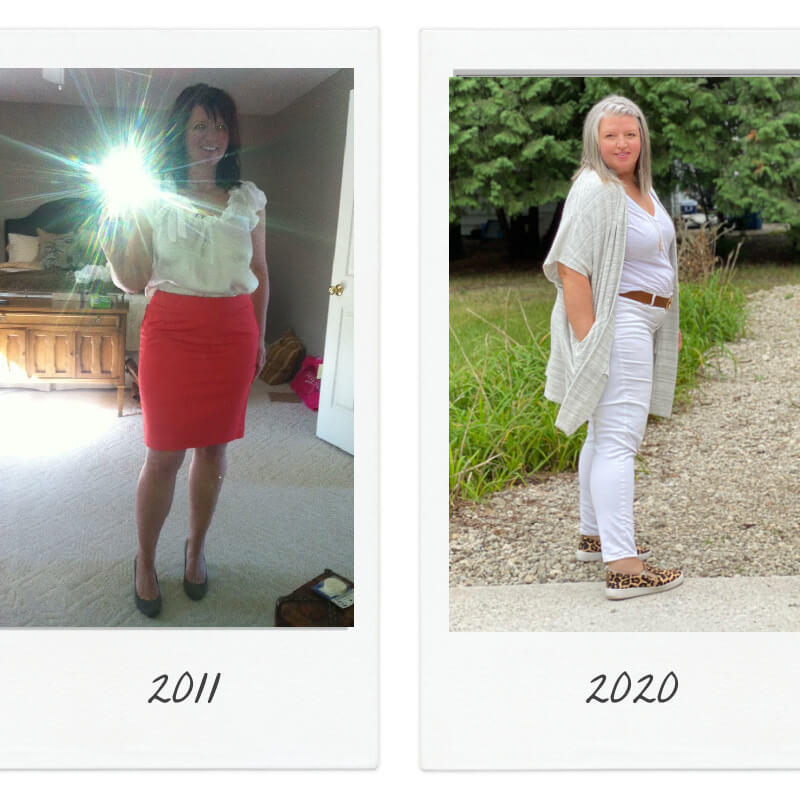 My Fat Little Story
I'm not one of those fat girls who say, "I've had weight issues my entire life." The truth is that I was pretty skinny, even when I didn't think I was.
I weighed 118 pounds when I was pregnant with my second son. When my boys were in high school, I was one of the "hot moms" – I didn't know this then. 😉 I was one of those people that lost weight when they were stressed.
But then, LIFE CHANGES! And even though I was walking everyday, sometimes with a weighted backpack, drinking ALL the water, being the person at the table changing the menu to meet "diet" standards, I couldn't stop the scale from moving up and up and up.
Because around 2010/2012, my life became Extra with a capital "E." Family, finances, health; you name it, it was out of wack. I had a summer that I cried Every. Single. Day. I bled Every. Single. Day. And we did not have an income for 12 straight weeks.
But the good news was, that when the smoke finally cleared, my lady bits had been removed, and I was getting my health in check, I found out that my adrenal glands were a wreck, as in, I had none.
Okay, I know you're probably asking, "Paula, how is that good news?"
Instead of looking at my body as if it were broken, I see it as it did exactly what God created it to do. It survived! When it was stressed to the max, it kept pumping and pumping out cortisol and adrenaline and all the things that kept me upright.
Was I fatter? Yes. But, it's not the worst thing that ever happened to me! Some of the things that I cried about were.
We have to believe that God created us with protection mechanisms, and one of those is holding onto fat. Sometimes that fat comes because we are allowed to seek comfort in food. He gives us all the right things.
But more often, some of our fluff comes because He perfectly designed our body to redirect vital energies toward survival. It may not look like how we think it should but God hasn't broken what He Created.
I still think it's a little unfair that some people can remain skinny their whole lives while others get fat. But just know that our bodies can do amazing things and thank God for them!
6 – Why Not Just Go on a Diet?
I can't close out this article without addressing what some might be asking. Why don't we just go on a diet to start "moving forward" and toward a thinner and healthier body?
Oh, sigh, again. Suppose it was only that easy? Well, let's not dwell there.
I'd venture to say that most of us fluffy girls have gone the diet route and have tried and failed so often that we have decided life is too short to live continually thinking about food and exercise. At least that what "diets" do for me.
Chasing a number on the scale or the tag in our clothes to validate our self-worth is like aiming at a moving target. Happiness and even self-satisfaction can't be based on something as temporal as our size, age, or appearance.
Those are elements of our life that continually change or could be changed by a single life event, sometimes entirely out of our hands. Basing happiness on the more profound things is a better life strategy!
7 – Focus on the Deeper Things
Let me end this post by saying that our bodies are a temple; not one to be worshiped but one that glorifies God. Yes, we are most certainly charged with its care and making healthy choices.
But, by concentrating such extreme devotion to thinking about our bodies, whether in love, hate, inordinate thought, excessive exercise, diets, or procedures, we are in the dangerous territory of making an idol of our body. Of course idols are not good in God's eyes. (Exodus 20: 3-4)
Instead let's focus on exchanging our negative body thoughts with those I've listed and choosing body positive friends. Also, continue to seek out scriptures to confirm what God says about us, and it will go a long way toward getting us back to moving toward body-positivity instead of away from it.
Check out this article from Deb at Count My Blessing for 3 Reasons You Need to Say, "I'm Beautiful."
Do you have any advice about what helps you on your body positive journey? I'm all ears!
Big Hugs,

PIN IT For Later