If you're a curvy woman, plus-sized or mid-sized, you know it's much easier for a cozy style to look frumpier on us than on a skinny girl. However, I think we can pull it off if we keep a few style tips in mind, and today, I'm sharing how to do a cozy chic style as a mature curvy woman.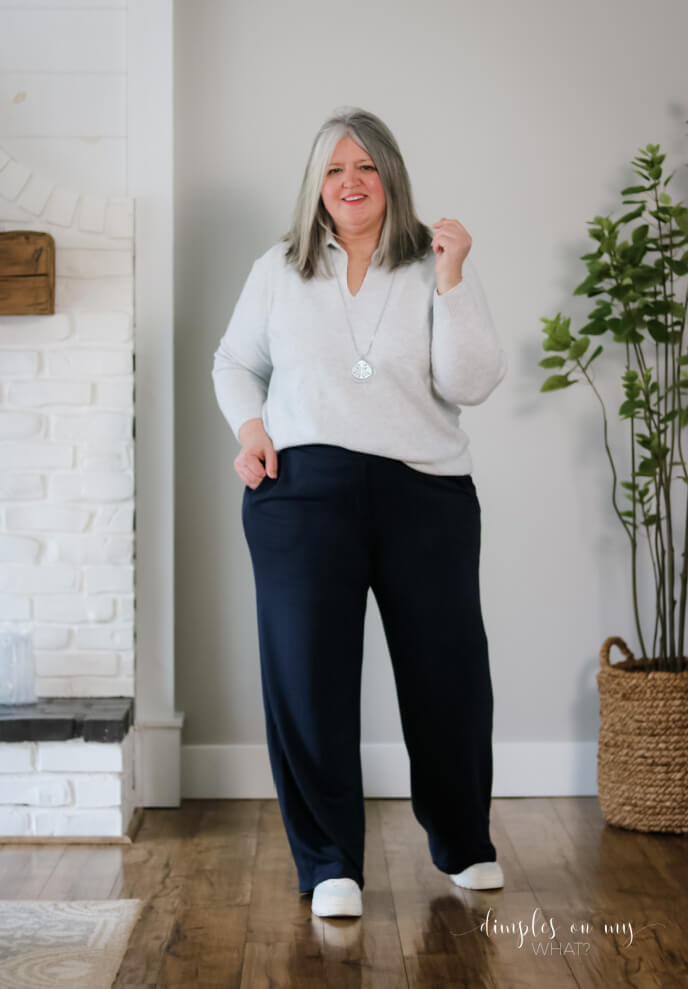 pants XL || sweater XL || necklace || shoes; similar
WHAT'S COZY CHIC?
My youngest sister, the fashionista, coined the Cozy Chic term for the style I like to wear. It's my favorite style.
My description has lots to do with cozy, soft fabrics with lots of stretch. And there's nothing rigid in the cuts. Of course, I'm describing PJs or sweats. But, of course, we would look like a sack of potatoes if we wore those all the time. 😉
A CASUAL, COZY CHIC OUTFIT FOR THE CURVY GIRL
While I still love an outfit with joggers, at my age and size, there's something a little chicer about a straight-leg or wide-leg silhouette. And like my favorite YouTube Fashion Stylist Melissa Murrel says, the wider leg can help balance a fuller bottom half.
These french terry wide-leg pants from J.Jill are almost like wearing PJ pants, so they look nice and feel like a dream no matter what I'm doing.
I paired them with the coziest collared sweater, also a J.Jill find, to keep the look simple and added a pair of white sneakers and a long wool top coat (old, from Old Navy) because it's been pretty chilly around here.
My sister calls this the 80's Brat-pack long wool coat look. ;-D
WE'VE REACHED THE CHIC AGE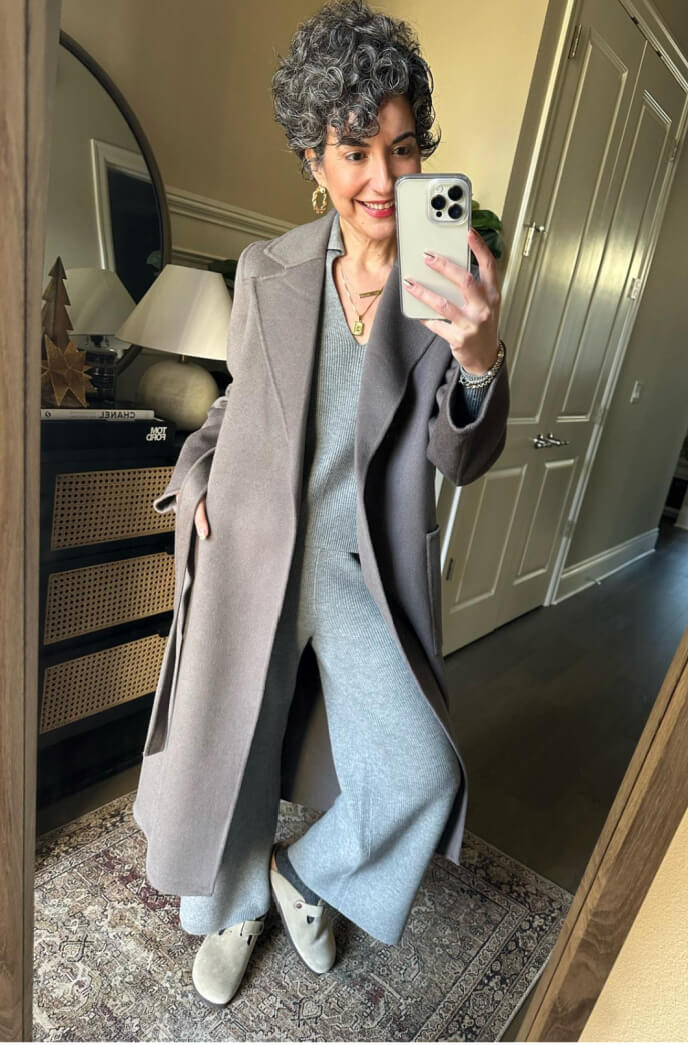 Let's talk about fashion and aging for just a second.
First, we can wear whatever we want, no matter our age or size, BUT if a cozy chic style is what we're going for, we should keep the silhouette, balance, and quality in mind when shopping for clothes.
Grazia Hearts Giorgio is one of the fashion bloggers I think does this exceptionally well. She's not fluffy, but she perfectly does a cozy chic style in midlife.
Notice how she chooses at least one chic layering piece, like a long cardigan, wide-leg pants, blazer, or a trench coat, even if she's wearing sweats.
A SIZE-INCLUSIVE RETAILER
Oh, and just in case you're looking for more options, J.Jill is now size-inclusive and carries most all styles in size XS-4X, Petites, and Talls, up to a size 2X in the store.
This is NOT a sponsored post, but as a curvy woman who is an average size 18 (sometimes 18W), this is good news!
Old Navy is another size-inclusive retailer, and their model for having all sizes in the store and on the same racks with all other sizes takes the stigma out of shopping for larger sizes.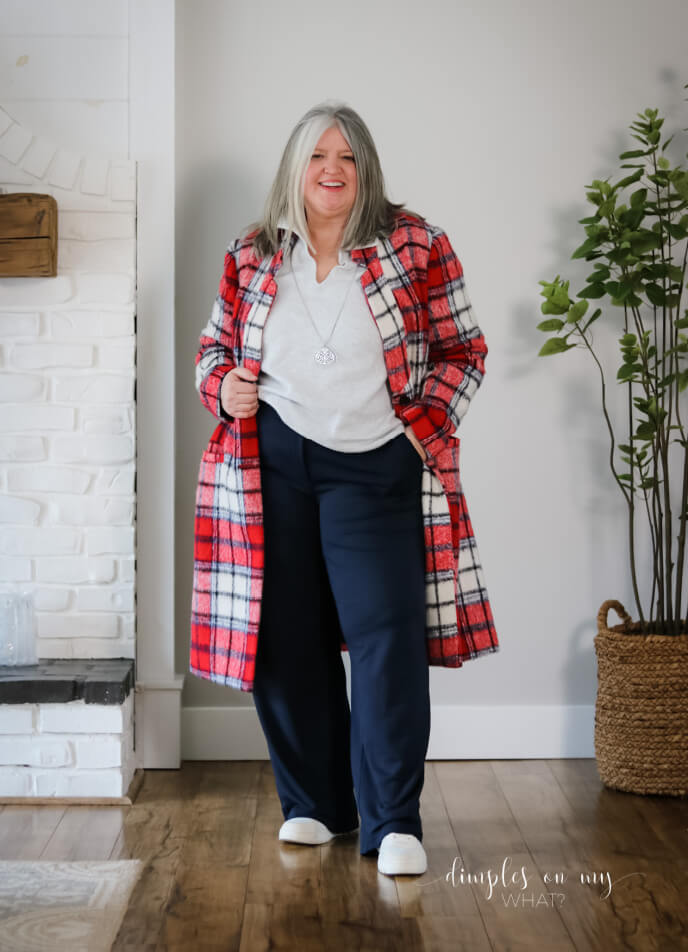 pants XL || sweater XL || sneakers; similar || plaid coat (old); similar plaid; neutral opiton || necklace
TIPS FOR HOW TO DO COZY CHIC STYLE AS A MATURE CURVY WOMAN
The sweater likely needs a small shoulder pad to help balance my hips and shoulders (again, that's Melissa's tip), but I don't always like to wear a shoulder pad as it can make me hot. However, if I practice good posture, that helps a little.
When I add a long top layer, like the plaid coat (old, from Old Navy), it not only looks a little dressier, it creates a longer line that helps streamline the look.
I also think a shoe with a slightly thicker platform, without going overboard, would help create more visual weight at the feet to ground and balance the look further. A pair of white platform sneakers are on my spring shopping wish list.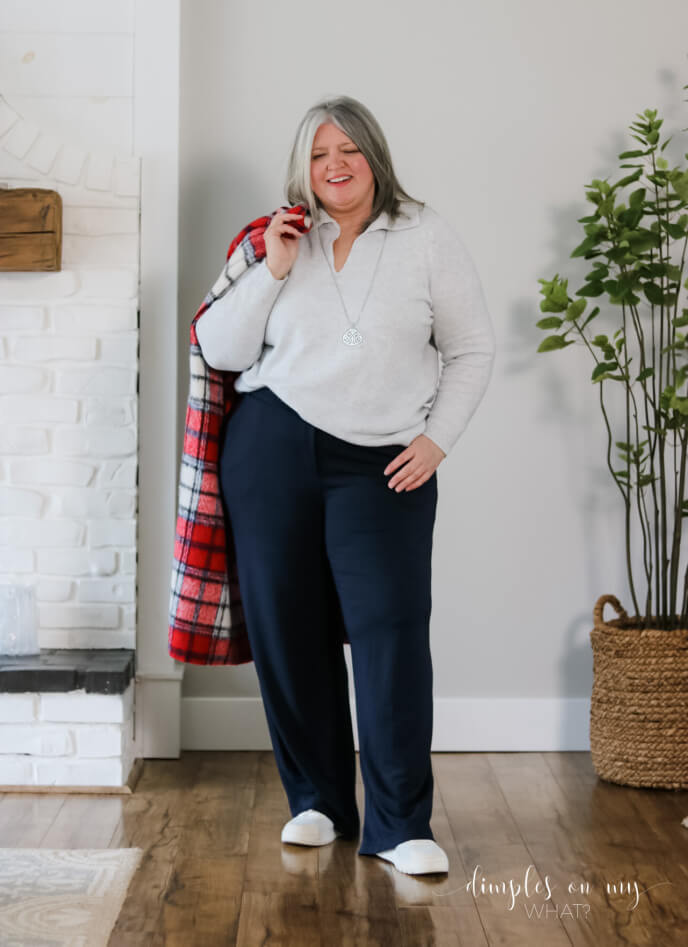 pants XL || sweater XL || necklace || sneakers; similar || similar plaid coat; neutral option
WHERE WOULD I WEAR THIS?
I've worn this outfit to doctor's appointments, running errands, the camera store, and hanging out at home. As you can see, it's very versatile.