Looking for a few ways to keep your favorite cropped jeans in wardrobe and still be trendy. I'm showing 4 ways to style cropped jeans with just a few tricks.
Let me start this post by saying that I do NOT find a cropped jeans particularly flattering on anyone but they are especially unkind on a curvy woman with larger calves. However, I recently had a chance to work with my favorite denim brand, NYDJ, and I jumped at the chance even though it was for the cropped length of their new Straight Cropped Thigh Shaper Jeans with Future Fit technology.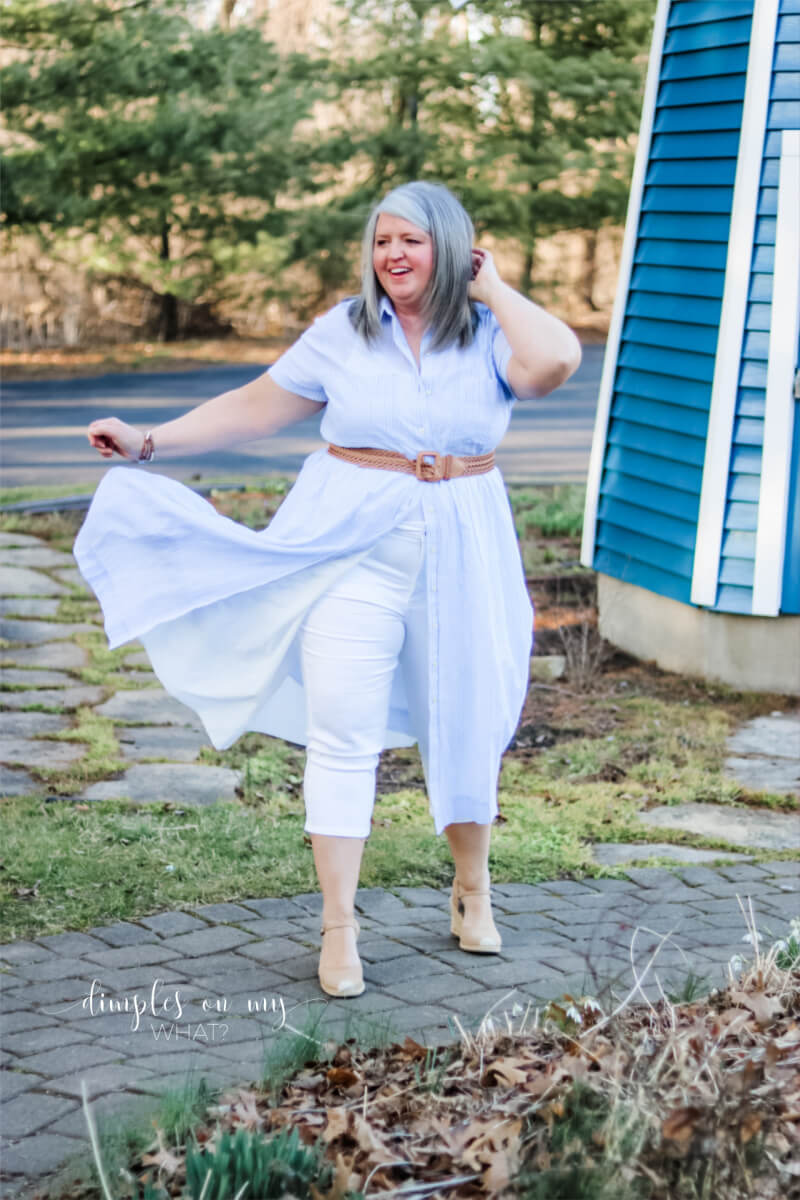 This post is not sponsored but my jeans were gifted. All opinions are my own.
While I'm not in love with the length, the denim and its superb ability to smooth and shape, even in white, does not disappoint! And, I'm a big fan of the criss-cross tummy panel that keeps that belly roll from flopping over my hysterectomy scar. Bye-Bye VBL (visible belly line)!
I'm not one to follow every fashion rule –hello, I'm over 50 and love hoop earrings – but even style-guru Tim Gunn agrees with me and says capri pants should be banished from our wardrobes.
BUT MAYBE YOU LOVE CROPPED JEANS
Seriously, I almost backed out on the brand opportunity because I was really struggling to put my full-figure into something that I don't think is my best look but then I thought – I know there are plenty of women out there who have cropped pants and love them because they wear them instead of shorts or skirts and I'd like to find a way to help make them as flattering as possible.
If this is you, take a look.
CROPPED JEANS vs. ANKLE JEANS
First, let's take a quick second to define a cropped pants. Sometimes called capri-length, pedal-pushers, or knee-knockers (as my mom would say) – these are lengths from mid-calf to just below the knee.
These are not to be confused with the more universally flattering ankle-length which lands an inch or two above the ankle thus creating a longer, leaner look while still keeping a sliver of skin showing. You know, keep it fresh!
I wore my white ankle-length NYDJ jeans in this post on How to Avoid Online Shopping Mistakes
Before I show you the four looks here are a few style points to keep in mind when styling cropped pants:
PRETEND IT'S A SKIRT
Treat the cropped length as you would a mid-calf pencil skirt – especially when thinking of the proportion of the top and shoes you choose to coordinate.
SHOES MATTER
Consider adding a heeled shoe which adds length to the overall look. Bonus points for the curvy girl if it's a pointed toe.
LONG LAYERS
Add layers that are as long as, or better yet, longer than the cropped pants. This draws the eye up and down and keeps the eye from stopping and "stumping" at the mid-calf. It all has to do with proportion and not cutting the leg in half.
CROPPED AND CASUAL
A denim shirt and white jeans just seem to go together and if you add a punch of leopard… grrr, Baby. In hindsight, I might have belted this top for a more flattering look.
JEAN wearing 16W || DENIM TOP wearing 2X || SANDALS (old) Similar || CROSS-BODY (old) Similar
FOR THE OFFICE
I'm treating the cropped jeans as a pencil skirt for this office appropriate look and belting the blazer adds further polish and shape. Adding a nude, pointed toe kitten heel helps elongate my leg.
See, THIS is why every woman needs a white blazer in her closet!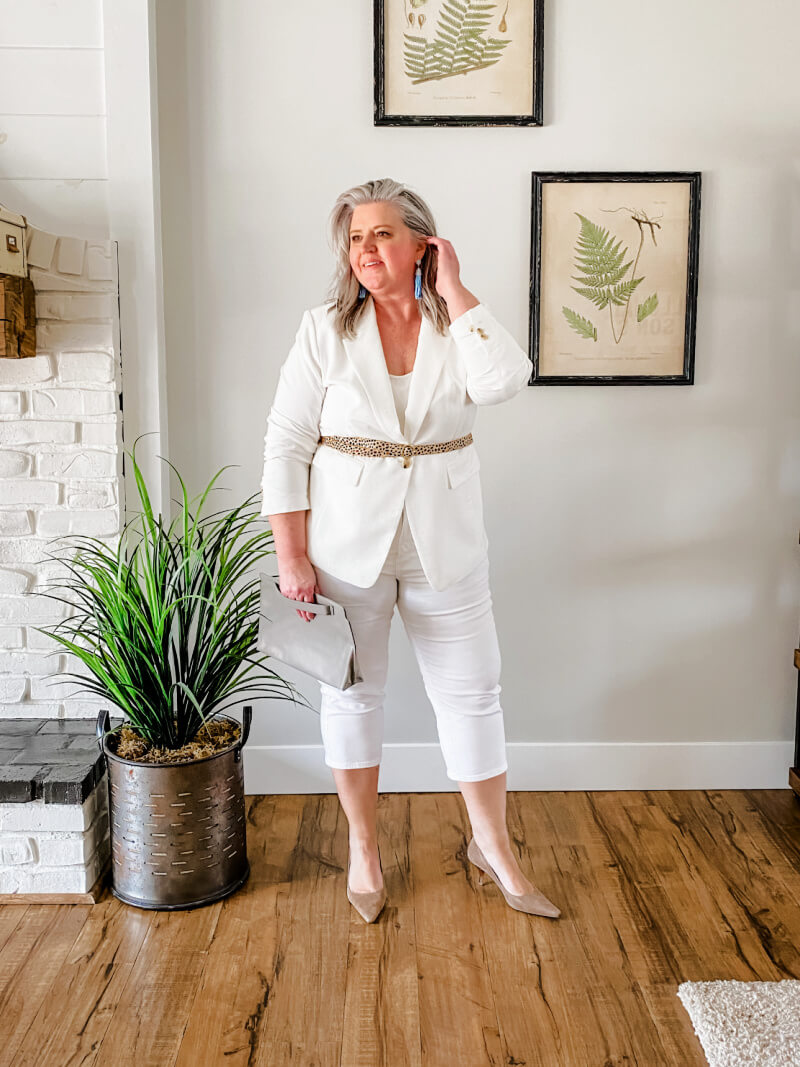 JEANS || BLAZER (old) Similar; Similar || BELT; Similar || SHOES (old) SIMILAR || EARRING similar
LONG & CASUAL
The camo duster was a gift from my sister and I wear it on repeat with so many things, even joggers! A wedged sneaker might be better here, but a chunky, platform sneaker lends a trendy flare.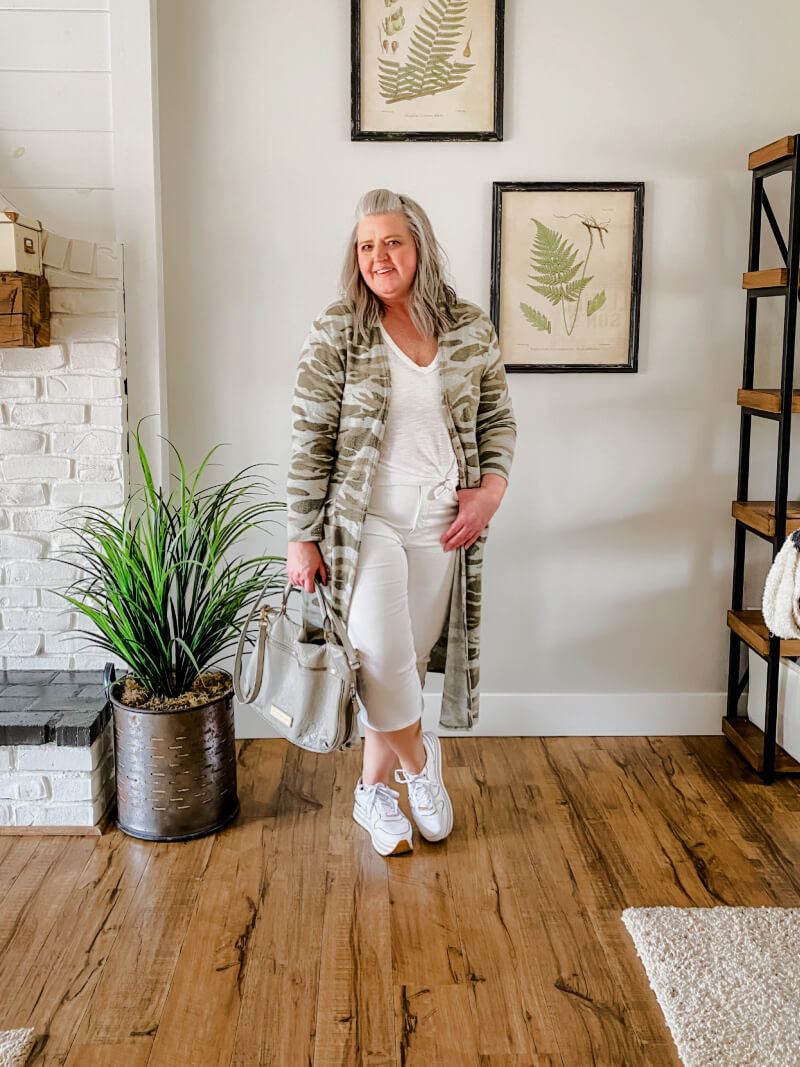 JEANS wearing 16W || T-SHIRT || SNEAKERS Similar; Similar || DUSTER (no longer available) Similar; Similar; Similar || BAG (old) Similar
OLD SCHOOL GLAM – My FAVORITE!
This is my favorite look out of all four because in my mind it conjures up the women in Cary Grant movies with their popped collars and open bottom shirt dresses over slim pants. See how the dress is slightly longer than the cropped pants? You could even style a maxi-dress over them too. Can you believe this dress is from Walmart? Wearing a XXL
DRESS, Similar || JEANS wearing 16W || SHOES (old) Similar; Similar || EARRINGS || BELT (old) Similar
WHICH TEAM ARE YOU ON?
Are you team cropped pants or do you pass them by?
I'm sticking with my NYDJ but I'll probably go back to my ankle-length jeans. But I'm pretty sure I'll be incorporating them into some of these same outfits.
Hugs,

PIN IT