He's here! Grandbaby number seven, Henry James, made his way into the world through a water birth last Saturday at a whopping 9 pounds. He's beautiful, and we're gonna keep him. 😉
We had the three big brothers with us for a few overnights, and the first night we had a puker. That's always fun.
The rest of the weekend, he had some loose stools. It wasn't really that bad except that he already deals with what my son calls EBS (Excitable Bowel Syndrome), and on top of that, he's like his dad, a worry wort, so he thought he was way worse than he was.
But we survived.
We are in love.
And the little family is adjusting to having a new baby in the house.
Now, here's the rest of this week's happenings:
**Since I share shoppable links with awesome peeps like you, this content may contain affiliate links for products I use and love. If you take action and purchase from one of these links, I'll make a little money to help keep this blog afloat. As an Amazon associate, I also earn from qualifying purchases.
WHAT I ATE
Since we had three of the Littles for a few days, we've had our fair share of junk food, so in the later part of the week, we had this Spinach Artichoke Salmon recipe. I didn't have any capers in the house, but it was still delish and heart-healthy!
WHAT I'M READING
Speaking of food, which indirectly leads me to my weight, alright, it probably directly relates to my weight; I just started reading Weight Loss, God's Way by Cathy Morenzie. It's actually a 21-day devotional that uses scripture as well as practical application to help break our "diet bondage," get healthy and deepen our faith.
To be honest, I could probably write an entire post about this, and maybe I will at some point. But as much as I struggle to come to terms with being well over 200 pounds, I'm not at all interested in another diet book or counting calories. I told you previously I'm a recovering diet addict.
In fact, I haven't even gotten to the devotion part of the book yet, and I almost chucked the whole book because, in the introduction, the first of only three practical daily suggested habits is to commit to tracking on a calorie counter app. Ugh, here we go again!
But here's the deal, I have to give this part of my life (health) journey to God because the Paula Method hasn't worked. It's so overwhelming to be the one trying to fix it all. Can you relate?
If you can, and want to read along with me, grab the book and let me know in the comments. Perhaps we'll start a weekly "support group" in a ZOOM call or Facebook LIVE or something.
WHAT I BOUGHT
one || two || three || four || five
Okay, after the holidays, I'm planning on doing another no-buy shopping month or two, where I don't buy clothes for that time period. So, I've been trying to find a few items on my wish list or replacement list, including a cooler-toned winter dress coat and some long boot-cut and/or flare jeans.
I ordered these flare jeans in Misses size 18. They are KEEPERS, and I hope to get photos of the outfit soon.
That outfit will include this puff sleeve sweater (size XL). It's so pretty and flattering with almost everything I paired it with.
P.S. Puff sleeves help balance out bigger tummies and hips, and these are not so big that they appear clownish.
As for the coats, they haven't arrived yet, so I'm hoping one of them will work.
I also ordered this silk pillowcase to have a second one. And we needed to replace our outdoor heated cat house before the weather got too frigid. For a man who hates cats, Mr. Dimples treats our outdoor cat, Pepper, like a queen.
WHAT INSPIRED ME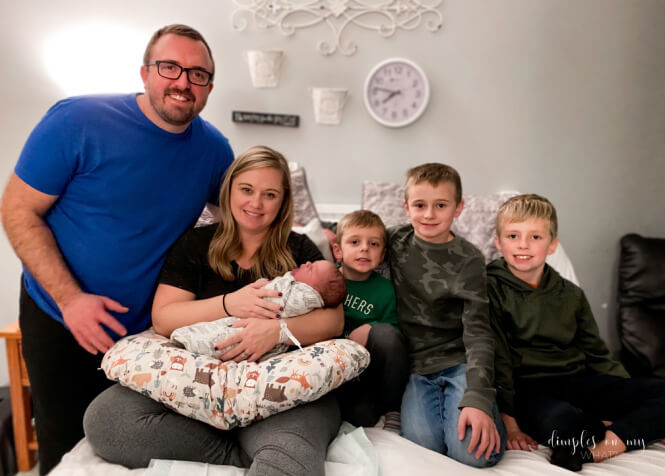 My daughter-in-law inspired me this week with her incredible strength during labor and patience as a newborn's mother. Can you believe how beautiful she looks only three hours after giving birth?
What you can't see in this photo is the pain she feels while she heals and the scars her body forever carries. They are masked by her beautiful glow and the glorious joy of having this new little life added to their family.
Heading into this particular week, it makes me think of Mary, the mother of Jesus, and her strength and resilience in giving birth in such rugged and crude surroundings after a long, arduous journey to get there and all the sacrifices she made to follow God's plan – Physical and emotional hardships, being having her reputation and probably her sanity brought into question, and finally, seeing her son crucified.
My friend, as women, we, too, have extraordinary, God-given strength and resilience; it is not unique to Mary.
Not one of us can walk through storms and the labors of life here on earth unscathed and unchanged. But our JOY is knowing that we are daughters of the King and that He promises to turn our mourning to dancing.
So no matter what you're walking through right now, trust that God has the big picture in mind and it won't always be this way. He will take the ashes and devastation of the things we think are destroyed and turn them into something beautiful. (Isaiah 61:1-3)
Have a fantastic week!