Do you look in the mirror and only see the fat or pores or wrinkles and so much more? Well, today I've got a little confession and some simple advice for How to Stop Obsessing About Your Flaws.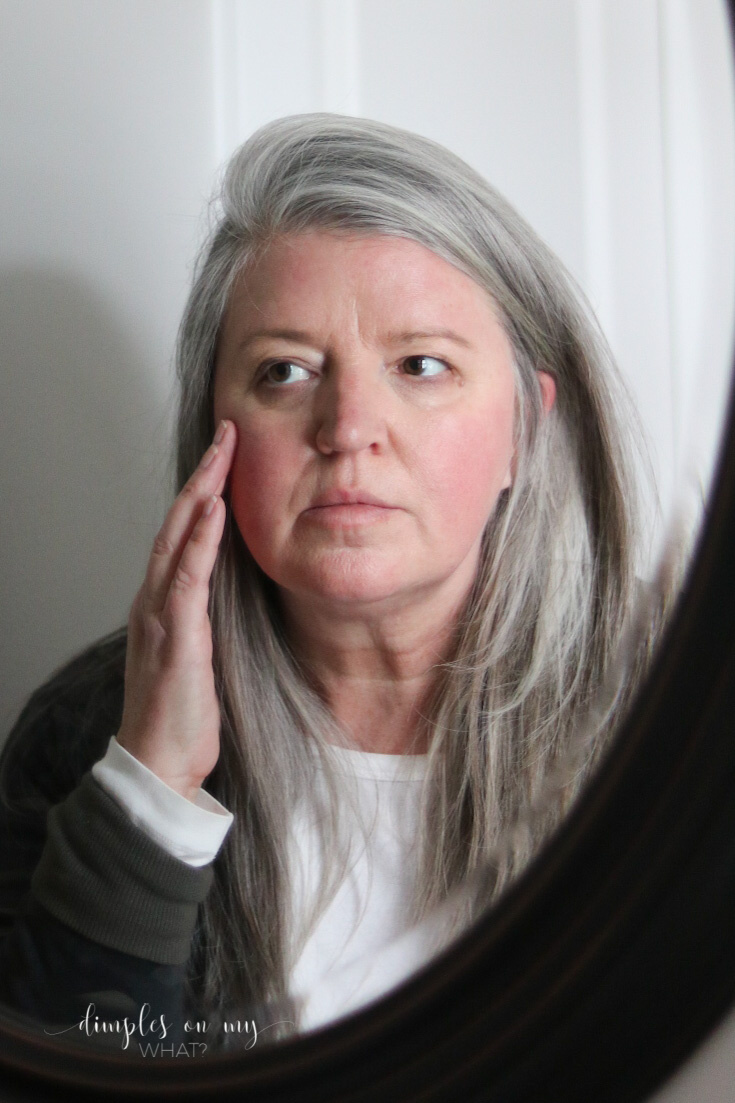 Friends, I had a meltdown this weekend. Seriously, bawling so hard I was in danger of a migraine headache and my husband refused to go to bed until I stopped.
You might be thinking something super tragic happened and in a way, you might be right. But before I get into why it was tragic, let me tell you about the trigger for such emotional waterworks.
Friday night, we celebrated my second grandson's 9th birthday at a local restaurant. It was a wonderful (and noisy) celebration of our sweet Ben complete with chips, my favorite ranch dressing ever, with some of my favorite people on earth. Kids, cupcakes, photo-ops, birthday songs, and sombreros, and we all left feeling stuffed and happy.
TRAGICALLY TOXIC THINKING
But some of those photos got leaked to the press (a.k.a. posted on social media) and instead of seeing the happiness and cherishing the memories those photos represent, I only saw a fat blob with a fat, red face and stupid flat hair!
I know, I know – That description is HORRIBLE and HARSH and HATEFUL and I would never speak or even think that way about anyone else. So, WHY do I think it's okay to think this about myself?
Or WHY do I judge myself so critically?
Do you do that too?
Perhaps it's not your body you're picking apart but your face. I too could have a list a mile long about sagging eyelids, a double chin, a big nose, flaky dermatitis… See? Once we start, we can't don't stop.
See? Isn't that tragic?
HOW TO STOP OBSESSING ABOUT YOUR FLAWS
My advice is simple – STEP BACK FROM THE MIRROR. Don't examine things so closely and with such a critical eye.
If, like me, it's a photo that has you torn up, zoom out and look at the entire picture. The faces, the smiles, the memories.
In both instances, it's important to look at the big picture and see yourself as a whole.
Friends, as you can see, I'm preaching to the choir here.
Most of the time I'm on the self-acceptance and self-love soapbox. But every now and again, I step too close to the mirror. I spend too much time looking at a magnified view of my flaws and shortcomings.
And the truth is, with the exception of my dentist, every six months, NOBODY else is looking at me this close!
Traci from The Love Vitamin says it like this, The mirror wants you to step back and look at yourself as a whole, like the way that others see you.
Now listen, I don't think we should avoid mirrors altogether. There is some value in looking at ourselves and learning to love the rolls and folds. It can definitely be a valuable practice to build self-esteem IF we keep the right perspective and avoid becoming self-destructive.
THE DANGERS OF OBSESSING ABOUT YOUR FLAWS
However, we need to stop turning on the magnification and see ourselves from a distance, both literally and figuratively. "From a distance, the world looks blue and green..." according to Bette Midler and I think she's right.
There are so many dangers in putting our perceived flaws under the microscope; especially when we are doing it so often.
This practice can lead us to:
Self-loathing.
Unrealistic comparison to someone else's (everyone else's) retouched and filtered highlight reel.
Unnecessary, unhealthy cosmetic procedures. Read my own breast implant (and explant) journey here.
And even worshipping our appearance. Our face or body can become an idol. Yeah, I said it!
One only needs to turn on the television to see how the faces of some of our favorite actresses have become (or are becoming) caricatures of themselves. I'm looking at you Leah Remini. 🙁 And our social media feeds aren't far behind.
You may also be interested in 12 Scriptures Affirming Your Beauty, Value, and Identity
---
LOOK FOR A DIFFERENT REFLECTION
When we step back, we're still seeing ourselves, but through a filter of distance.
I love what Stacy London (What Not to Wear) says about it:
Your self-esteem won't come from body parts. You need to step away from the mirror every once in a while, and look for another reflection, like the one in the eyes of the people who love you and admire you.

Stacy London
Of course, the most important thing is WHO we reflect.
We are made in the image of God and were created to glorify HIM.
The bible says:
Do you not know that you are God's temple and that God's Spirit dwells in you?

1 Corinthians 3:16 ESV
And when we reflect His SPIRIT, we are BEAUTIFUL from any distance.
Hugs,