Have you ever bought a pair of ankle-length jeans that were neither ankle-length nor full-length but don't want to spend more money to have them altered? Me too! But it's scary to take scissors to something you've paid good money for.
So today I'm going to help give you the courage to make the cut 😉 and show you how to cut your own jeans at the ankle.
NOW TRENDING: ANKLE-LENGTH, RAW-HEM JEANS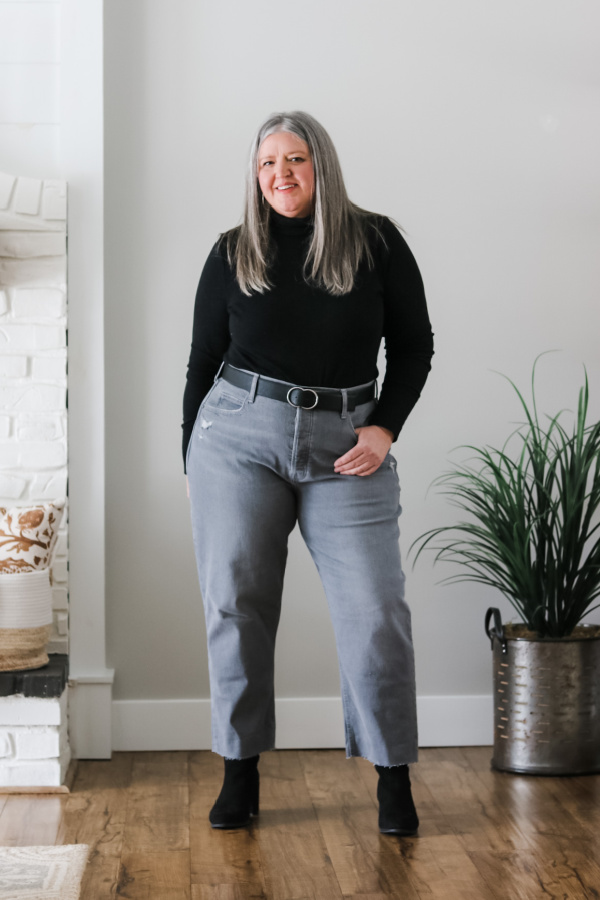 Jeans wearing an 18 || Turtleneck wearing XL || Booties || Belt (old) similar
Ankle-length, frayed or raw hem jeans are trending right now and I like them.
And NO, we're not too old or fluffy to wear them!
I know, most style gurus tell us that cropped pants aren't the most flattering style and if you remember, I do agree with that when it comes to capri-length pants. However, there's a modern edge to ankle-length jeans skimming the top of your booties or exposing a sliver of the ankle when you wear heels or flats.
But most of us don't have those long legs that the lanky lady modeling ankle-length pants on the websites do. So pants meant to be ankle length often fall at that uncool "high-water" length. UGH!
Or maybe you have some full-length jeans that you want to update?
I did this with a few jeans I've purchased recently that were an awkward length to start and you can see that just a small tweak can make all the difference!
Well, I actually purchased them at the end of 2021 because I'm doing another NO-BUY shopping season in January and February.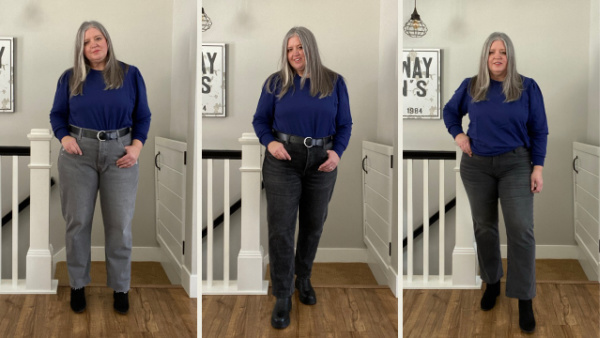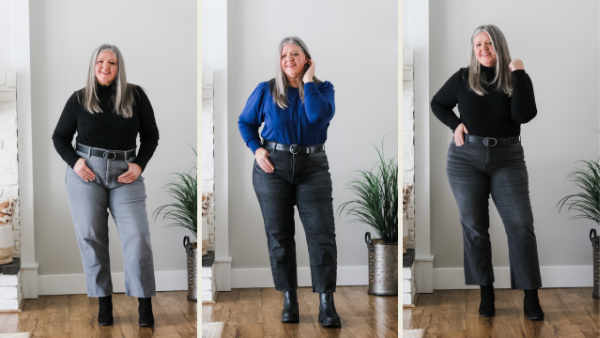 YOU CAN DO IT!
This is such a simple no-sew styling hack that I probably didn't need to write about it but most of us are scared to make alterations to our clothes for fear of ruining them.
If that's you, my suggestion is to start with something inexpensive or some jeans you already own. I want to help you overcome that fear and encourage you to just try the raw-hem ankle-length trend yourself.
Oh, speaking of sewing hacks – if you wear off-the-shoulder tops THIS SIMPLE FIX is a game changer!
HOW TO CUT JEANS TO THE PERFECT ANKLE-LENGTH
There's a short video above showing you exactly what to do but here are the things you need and the steps to take:
SUPPLIES
Scissors or rotary cutter & cutting mat
Tape measure and/or Slide Sewing Gauge – this is the one I use
Fabric Marker or chalk
HOW TO
1. Try on the jeans you want to shorten. It's best if you've already washed them once. (I did not do this with the black jeans above and they might be on the shorter side now that they've been washed.)
2. Wearing the shoes you'll most likely wear with them, roll the jeans up to a flattering length, then stand back and look in the mirror; this is where a mirror-selfie will help you out. Seeing a picture can you a different perspective than simply looking. (Do this with another pair of shoes you might wear with them to make sure .)
3. Measure or pin the fold BEFORE you take the jeans off so you don't lose your measurement.
4. Lay the jeans out so that the hems are even. I turned mine inside out so no markings showed if I wore them before I washed them. If you'd like the back to be slightly longer than the front (I wish I would have done this), lay them so that the seams are on top of each other and gradually adjust your measurements.
5. Measure and mark them all the way around. Err on the side of longer; you can always take more off.
6. Make the cut. I cut one layer at a time all the way around, but if you're using a rotary cutter or cutting through both layers, make sure the hems stay evenly together the entire time.
7. Try them on and make any adjustments. However, you may want to wash before you make any more cuts.
8. Once your jeans are washed, the bottom will gray on its own. You can then trim off the long strings.
*Your jeans will continue to fray with each wash unless you sew around the hem.
What do you think, will you try this trend?
---
OTHER CLOTHES INCLUDED IN THIS POST

---