simple sewing hack to keep off-shoulder tops off shoulders! (AND wear a regular bra too!)
*This post contains affiliate links and I will earn a commission if you purchase from one but it does not affect the price you pay.
The off-shoulder trend is still going strong. But, don't you hate it when your off-shoulder (OS) is more "sort of off and kind of on shoulder" than anything. Here's a simple sewing hack to keep off should looks, OFF your shoulder!
The OS look is sticking around as a fashion trend. Mmm….purr! I like the look of an OS top because it shows just enough skin without revealing too much of anything I don't want to be revealed. It keeps my cleavage in check and the wobbly arm bits I'd rather conceal undercover. The key to pulling this OS off (ha!), in my opinion, is to keep everything else at a decent length, whether it be skirt, pants, or shorts.
THE PROBLEM WITH USING HAIR TIES AND SAFETY PINS – OUCH!
There are two BIG drawbacks to the OS trend. The first, is the constant fussing to keep those shoulders where they are supposed to be. I saw a video on Facebook that inspired this tutorial in which the girl fixes the problem with hair ties and safety pins. When you watch the video, this will make more sense – She essentially pins the hair tie to the OS top so that it goes under your arm. Genius and a quick fix!
But BOY, if you're not a tiny person and that hair tie isn't made of super stretchy angel silk, it makes for a very long, uncomfortable date night.
Couple that with a thigh shaper and ain't nobody gonna get lucky at the end of date-night. Yep, firsthand experience talking!
YOU DON'T HAVE TO WEAR A STRAPLESS BRA WITH YOUR OFF THE SHOULDER TOP

The second issue is the strapless bra!
Is there really anyone above a B-cup who likes to wear these? This date night outfit is getting worse by the minute. I'll tell you that the G-sisters don't take too kindly to being corralled like that and with silicone stays rubbing all around the skin to boot…NO!
UPDATE: Even after having my breast implants removed, I don't like strapless bras.
Sure you can wear a regular bra and just pull the straps off the shoulder with your top, but they will creep back in. There's a simple fix for this too! See that photo…. I didn't follow my own advice, and for a photo even!
Although, if you're looking for a strapless bra, this is the only one I've found that I can wear for more than an hour without wanting to slap somebody.
WATCH THIS VIDEO TO SEE HOW KEEP YOUR OFF THE SHOULDER TOP OFF YOUR SHOULDERS
and How to Wear a Regular Bra with it too!



Don't worry, you don't have to be a sewing master to do this. You should probably know how to use a needle and thread. And if you can use a sewing machine, you can do what I did and get all of those off-shoulder tops that you don't wear because of the fuss out of your closet and set up an assembly line.
Here's what you'll need

Off Shoulder Top
Soft Elastic
Needle and Thread
Tape measure (optional)
To Do:
Measure under your armpit. (Approx. 6"- 10" of elastic per side.)
Cut elastic to that measurement. (2 per OS top.)
AT the front and back arm seam sew the elastic as high up on the top as you can go.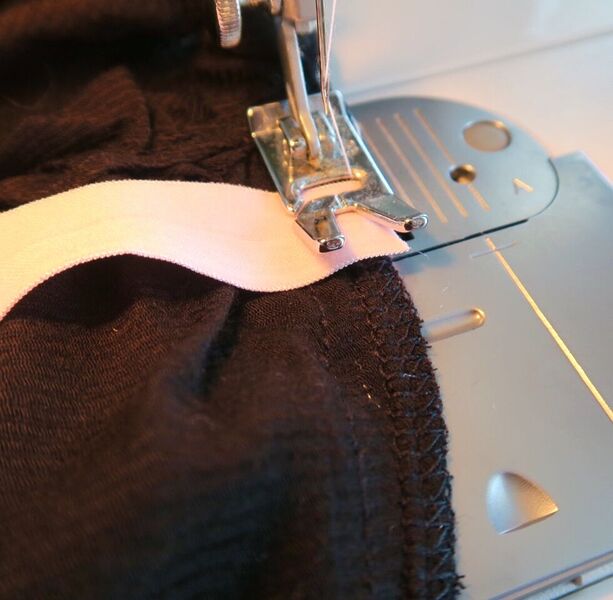 NOTE: I stayed below the blouse's elastic top seam because I was sewing on the machine and wanted to use the set-in sleeves seam to sew it to. (refer to video)
That's it! Put your off-the-shoulder top on, so that the elastic goes under your armpit. Raise your hand, Raise your hand, if you're SURE to wear these looks with ease now!
YOU CAN DO THIS!
Believe me, if I can do this, so can you! If you like this tip and video, please feel free to share!
Looking for more darling off-the-shoulder tops and dresses? Check these out!
Blouse similar to the one I'm wearing in the video
Off the Shoulder Sweater (Plus Size)
Eyelet Off-the Shoulder Blouse (Regular & Plus Size)
Black OTS Maxi Dress (Plus Size)
Black OTS Wrap Dress (Misses to size 18)
SHOP SOME OFF-THE-SHOULDER GOODNESS