Oh my goodness friends, between sickness and the holidays I'm getting a late start here in 2022. I just got back from my sister's baby shower that my other sister and I have been planning for months so I feel like THIS is the start new year.
Tell me I'm not the only one!
I've recently read lots of New Year "good riddance to 2021" posts on social media and I couldn't help but to think back on my year and how challenging and scary it was for me and my family. However, I still don't think it was the worst year ever.
But before I tell you a little about it, in case you start reading and think this is a laundry list of complaints, it's not.
This is my praise journal and is meant as an encouragement to you.
WE WERE IN IT RIGHT OUT OF THE GATE
My mom's metastatic cancer treatment stopped working in October 2020 and we entered 2021 thinking "this was it". Hard decisions needed to be made, like did she even want to fight this time around, and seeing her suffer took its toll on each of us.
At the same time in January, we rallied around my baby sister (who turned 40 in October) as she miscarried her first pregnancy and felt the loss of hope for the family she had dreamed of for so long. We cried with her and prayed that God would fulfill her hopes in His time regardless of what a biological clock might say.
Later, I had the worst flare-up of ulcerative colitis I've ever experienced, walked through a dark mental health valley this summer, and got my first and worst fever blister ever.
And of course, if you've been here a minute, you know we ended the year with sickness and the virus in our home and I really struggled with an overwhelming fear of losing my husband even though his symptoms weren't that bad.
BUT GOD
BUT Friends, GOD was with us each step of the way – to STRENGTHEN us, SUSTAIN us, TEACH, HEAL, and COMFORT us!
As you can see, my face didn't stay frozen in perpetual fever blister mode, even though at the time, I had my doubts.
And then, I had a colonoscopy in June, that showed a "completely perfect and healthy colon" (my doctor's exact words).
And this past weekend, as we CELEBRATED the upcoming birth of that baby sister's BABY, 🙌 with my mom present and accounted for (with her own hair) 👏, I couldn't help but feel overwhelmed with EMOTION for all the things that had happened before we arrived here.
Mom turned 74 in December!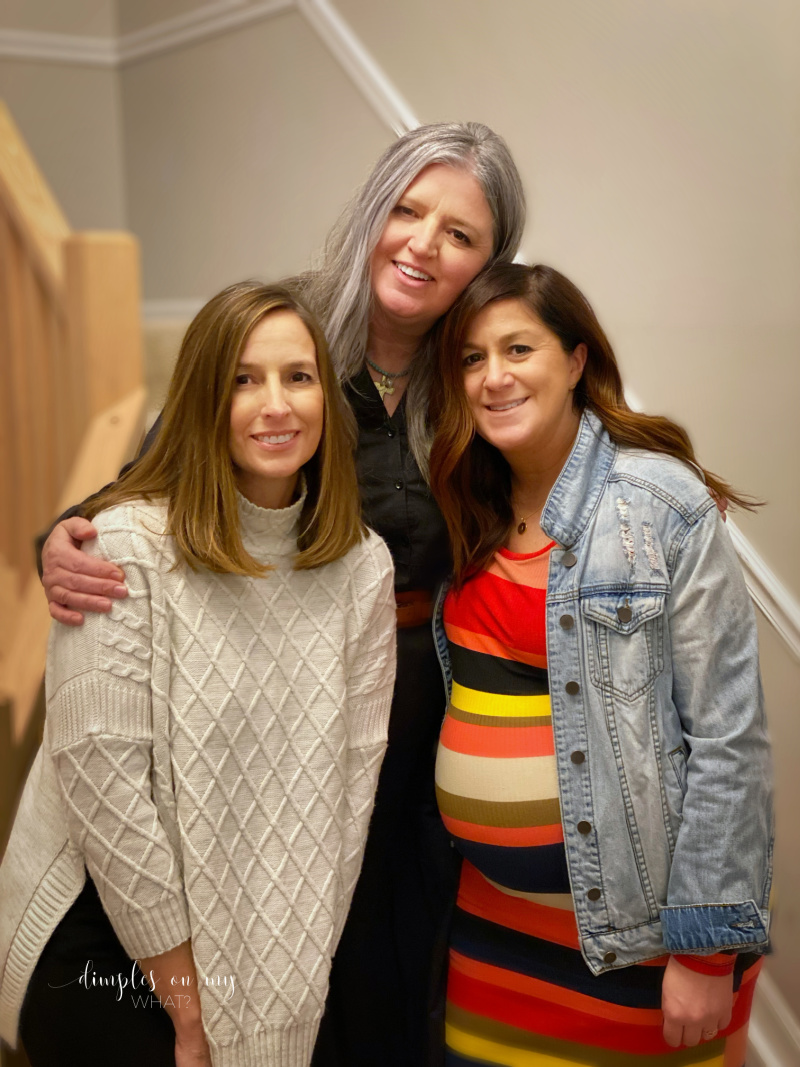 Sure, 2021 was tough, but I do NOT lament it because without our experiences, would it have felt THIS SWEET? Would we be THIS THANKFUL?
---
LOOKING BACK TO MOVE FORWARD
I know people say that you shouldn't look back but move forward. But I'm a big proponent of taking a quick pause to look back and HOW FAR GOD HAS BROUGHT US!
We are a LIVING PRAYER JOURNAL.
A look back allows us to see God, especially in the hard times. You might just be able to say, "OH, now I see what God was preparing me for."
I'm not talking about looking back and staying stuck there or not wanting to go where God is calling us; THAT didn't work out so well for Lot's wife.
But when we look back and see how God's hand was in each situation, we are better able to MOVE FORWARD and face the next challenge because we remember that He will never leave us. 😘
And don't you think that sometimes when we're miles from those trials and standing in a new situation we gain a clearer perspective? We might just be able to say, "OH, now I see what God was preparing me for."
Happy New Year Friends!