Oh, my friends, here we are T-minus 4 days until Christmas and while I'm saying I'm "ready", this year necessitated simplifying a ton. But though I'm super late in posting this, I wanted to give you a little Christmas Home Tour. However, here's a secret, this holiday home tour is actually from last year. Oops!
Having sickness in our home since Thanksgiving has a way of helping you put things into perspective. Simple and "just enough" are perfectly okay. In fact, it keeps your priorities in check.
The gifts are wrapped but there are no cookies made and I'm actually only going to make only one kind of cookie later this week and maybe some party mix, but that's it.
A Real Physical Christmas Home Tour
Since I never posted this on the blog last year, (new year blogger goals are basically writing themselves) 😉 I thought it would be fun to show you my home completely decked out from when I did a physical Christmas home tour for charity last year. We had over 100 people tour our house along with several other area homes and air BNB's and it raised money for a great cause.
So here's your private tour and a little video I made last year too.
This Year We Chose a Simplified Christmas Decor
Luckily, I had my tree up early and my mantle and table decorated and that was a real lifesaver for me this year. I didn't decorate bedrooms or bathrooms or even shelves and I simplified my tree a little and I really love the simplicity. There are a couple of changes to my table and mantle this year but it's basically the same. I made this wood bead garland for my tree and left off a lot of ornaments and once again, the simplicity is refreshing.
See how I made the beautiful Christmas tree bows to easily create a designer tree. YOU CAN DO IT!
So THIS is the Dining Room
Our dining room, with its unique fireplace feature, is the showplace of our open-concept living area so this is where I choose to decorate the most. It's really all we need to make the entire space scream CHRISTMAS!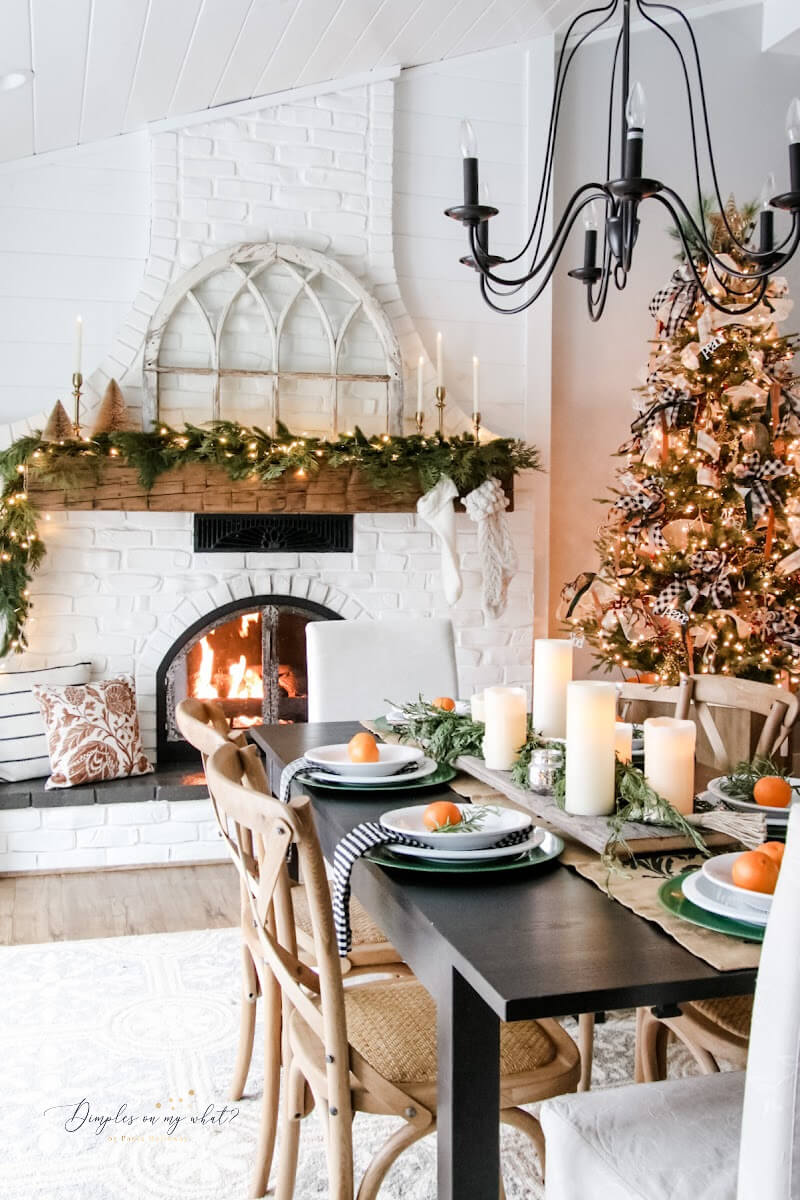 X-BACK CHAIRS || Similar FLORAL PILLOW || SIMLAR CANDLEHOLDERS || BATTERY POWERED TAPERS || BATTERY POWERED PILLARS || FAUX GARLAND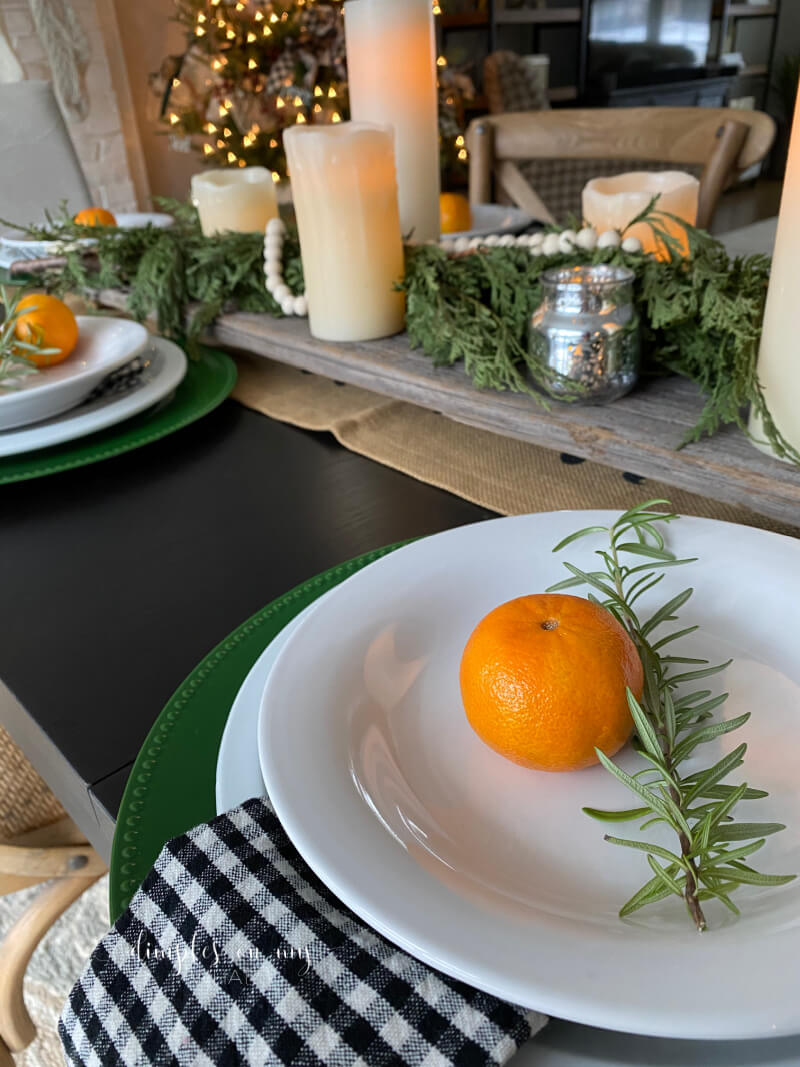 I chose to add touches of green throughout the house to keep continuity them continuity throughout the house. I wanted it to say "Christmas" not "Santa's workshop exploded here". 😉
See the complete before and after kitchen renovation here.
Basement Christmas Decor
This basement space is used mostly by our grandkids although I'm in the process of creating an office space where the colored light tree is.
Just this week I put up a little flocked tree in the basement because I love it so much. That's all it really needed.
SIMILAR TREE || GREEN PILLOW COVERS || Similar GREEN THROW BLANKET
I skipped the bigger tree with colored lights for the kids. They'll be happy to be together and open their gifts so I'm sure they'll get over not having it down there.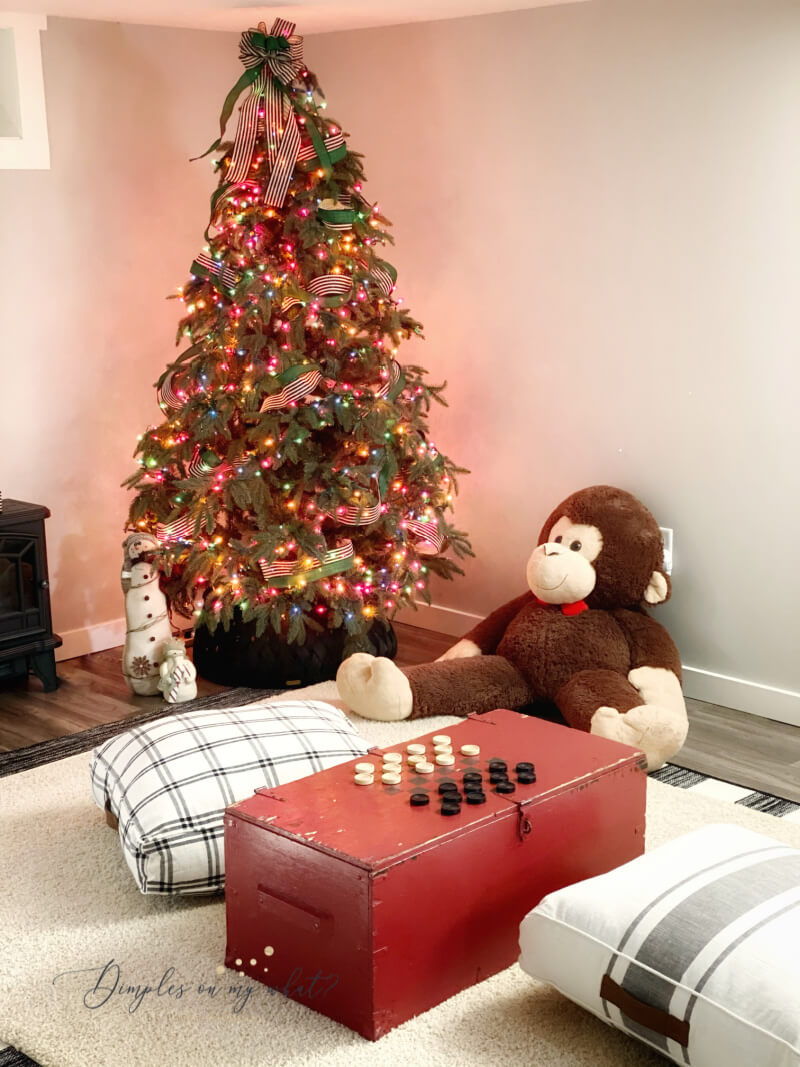 Bedroom & Bathroom Christmas Decor
If you're feeling it, adding little touches of greenery and lanterns to the bedroom and bath can bring the season into your private spaces.
Similar KNITTED THROW || SIMILAR PILLOW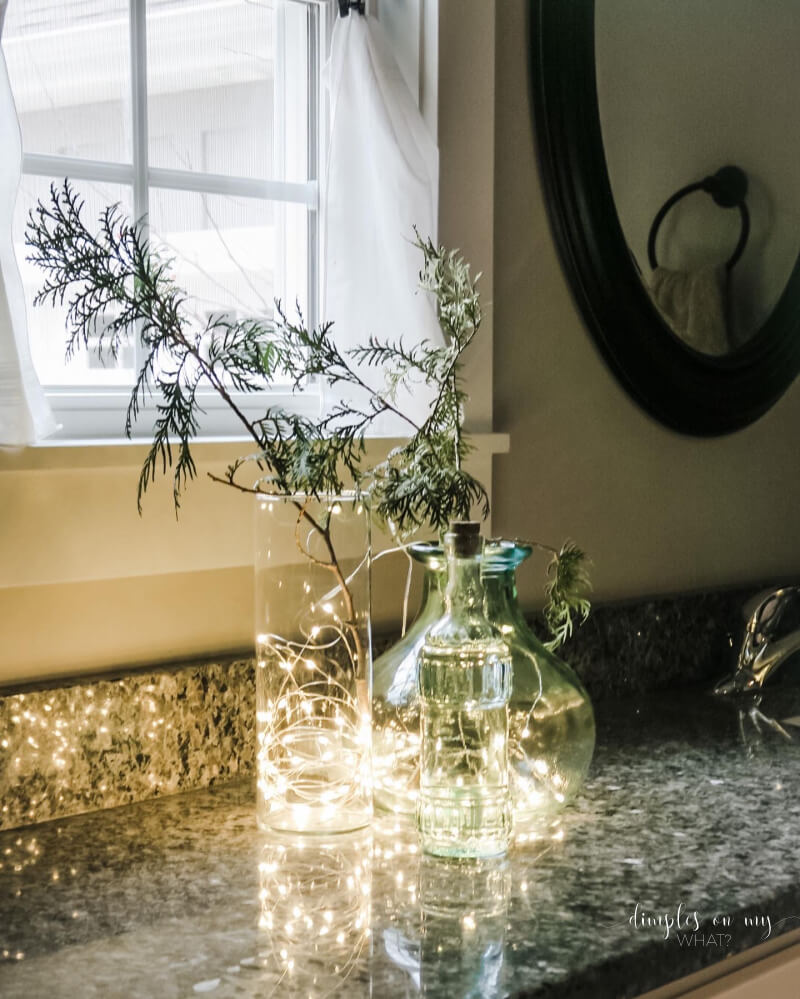 Friends, I didn't decorate half this much this year and I'm really fine. As they say in How the Grinch Stole Christmas, "Christmas came just the same."
So if you're feeling overwhelmed and frustrated about how you will get it all done, YOU DON'T HAVE TO!
Enjoy the season and remember why we celebrate. Bring the JOY and bring JESUS… that's all we really need. 😉
HUGS,

IF YOU RATHER JUST WATCH A VIDEO, HERE'S LAST YEARS HOME TOUR!