If you're still with me after my last post, and still want to follow someone who not only pees her pants but proclaims it to the masses, then THANK YOU! And, welcome back! You're rewarded for your loyalty today by a little light, palette cleanse for the eye. But, I'm probably going to mention puke, because well, I think I may be a disturbed, immature 51 year old person.
Home Office Decor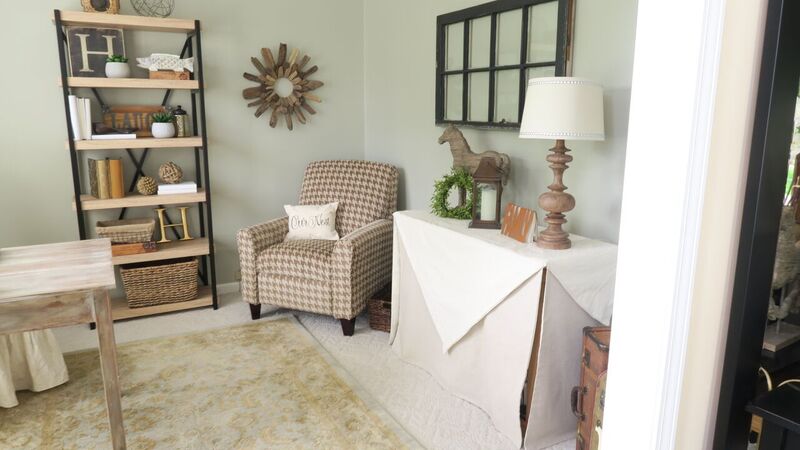 I present to you, the home office parlor! It's not a full on home office but it's right off my entry like the parlor of yesteryear. I keep my laptop charging in here most of the time, unless the grand kids (a.k.a. The Little's) are coming over, then I scoop it away to its second home and charging station, and the real work horse home office that I have in a converted closet. (I'll get to that in coming posts) Also, that covered console table serves as a changing table, with a quick clearing and added changing pad that is stored just underneath, along with extra diapers in various sizes (cause my Little's are like stair steps) and of course, where else would one store tons of extra candles and the paraphernalia that go along with them. You will find out that I LOVE multi purpose rooms!
This home office is quickly becoming one of my favorite spaces to work. It is likely where most of these blog posts will be dumped out of my brain and on to the computer, before pressing the publish button to direct it to you. Hopefully, you'll stick around! It's décor makes it feel light and airy and I sit at the DIY makeover, Restoration Hardware inspired desk. Yes, there's a post coming on that too. I sit right by the double windows that let me be the resident Gladys Kravitz of my hood (not really). And, can we talk about how much I love that chair? Seriously great Sam's Club find right there!!! I've had people tell me that my home looks very "Pottery Barn" in person, which I take as a great compliment. I really just want my house to look like Pottery Barn puked all over it, but at a lower price. I love finding Pottery Barn dupes or Pottery Barn hacks, they are just more budget friendly for us normal (but kind of weird) folks.
Décorating Tip:
I'm working on a project for the wall left of the bookshelf but overall I like things simple. One important key to most good design in anything, is to give your eyes a place to rest, as well as all the eye candy we love to look at. General rules for good style and design are the same whether we're talking fashion, landscape or home décor. It was Coco Chanel who said:
"Once you've dressed, and before you leave the house, look in the mirror and take at least one thing off."
Less is usually more. . . Unless we're talking about chocolate!