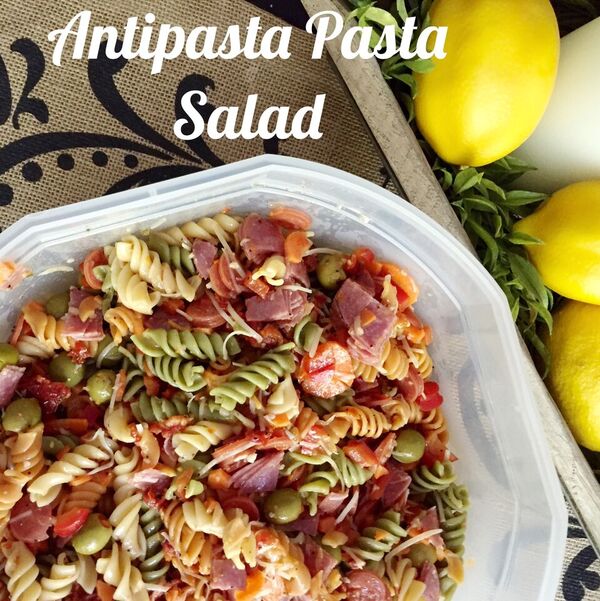 You know those ever so hot summer days when you just don't want to cook a thing? Okay, ANY day, in ANY season when you don't want to cook anything? So ANY day! And you're doing that wrack your brain exercise called "What do I cook?" You feel like you have cooking amnesia and you don't remember what in the world you have ever cooked in that room before. I have those a lot!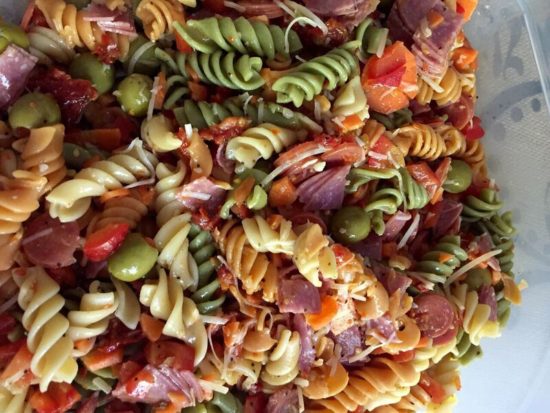 Most recently when I wanted to make a simple side dish to go with some brats and baked beans for my son's 29th birthday celebration, I had a stunning memory of this super easy pasta salad that can easily be turned into a meal. I love these kind of recipes, just dump in all in and nothing fancy to do. Your 2 hardest choices are what kind of pasta will I use and do I want to make my own dressing. My answer to the first is usually the colored rotini because it just looks healthier. And the second is most always, NO! Remember we're talking easy here.
It's all pretty simple really, boil water , cook pasta (the ONLY cooking involved in the whole deal), chop a plethora of veggies (whatever you like really), chop up the cold cut meats (this is what makes it a meal in itself) and toss it together with store bought dressing and season. There really needs to be no dissertation on the whole process though I'm sure I could get all Food Network on you and use delectable words like, zing and tang, firm bite, tartness, crunchy, smooth…. But you can find all that out for yourself.
Make it your own creation by using all sorts of veggie, meat and pasta combos. You could even use a sweeter type of dressing. I used Newman's Own, because I like the taste, quality and what they stand for. But, I was just thinking about trying it with a sweeter Italian dressing like the one from a local Italian restaurant. How good would that be? And if you're feeling all Giada DeLaurentis that day, make your own.
But I'm going to keep it simple so I can stay out of the kitchen but have something to plop on the table when my husband gets home after a hard day at work and so it seems like I did something other than surf the web while laying at the pool (or on the couch in my case).
Anti-Pasta Pasta Salad
2016-07-27 22:41:20
Easy pasta salad
Ingredients
16 oz. Box Tri-Colored Rotini; Cooked Al Dente, drained and cooled
2 plus cups of various veggies chopped;
bell peppers, grape tomatoes, sun-dried tomatoes, olives, banana peppers etc.
1 plus cups pepperoni and salami (or any other Italian meats you might like)
1 Bottle Italian Dressing of choice
2 TBSP. (or to taste) McCormick Perfect Pinch Italian Seasoning
1/4 to 1/3 cup Parmesan Cheese, (I like shredded but you could use what you have on hand)
Salt/Pepper to taste
Instructions
Cook pasta to al dente according to package directions. Drain and cool slightly.
Chop meat into bite sized chunks or pieces.
Chop veggies into bite sized pieces or even smaller
Combine all ingredients except cheese. (It might melt a little if your pasta is hot)
Refrigerate to cool and add cheese before serving.
Enjoy!
Notes
Experiment with veggies, meats and dressing or even the pasta. Make it yours... It's that simple.
dimplesonmywhat https://dimplesonmywhat.com/