It's What's Cooking Wednesday
The Dimples household is going Italian for What's Cooking Wednesday (and always) with amazing homemade pizza. Mix up a batch of this easy and amazing Rustic Italian Pizza Crust a couple of hours before you fire up the grill, and summer supper will not only take you out of the kitchen but you might feel like you've been transported to Italy!
The Pizza Crust I've Been Waiting For
I've been searching for a fool-proof, easy and delicious homemade pizza crust recipe for years. Mr. Dimples and I have eaten some real stinkers during the ongoing experimentation. But, I think I may have found THEE one!!! I mean it. This Rustic Italian Pizza Crust Recipe by Florentina of Ciao Florentina is easy to put together with a stand mixer, it rises relatively quickly and is mostly easy to work with. And this crust gets that "crispy on the outside and chewy on the inside" texture just right.
Keep reading for tips and tricks of this pizza dough or scroll to the bottom for the recipe.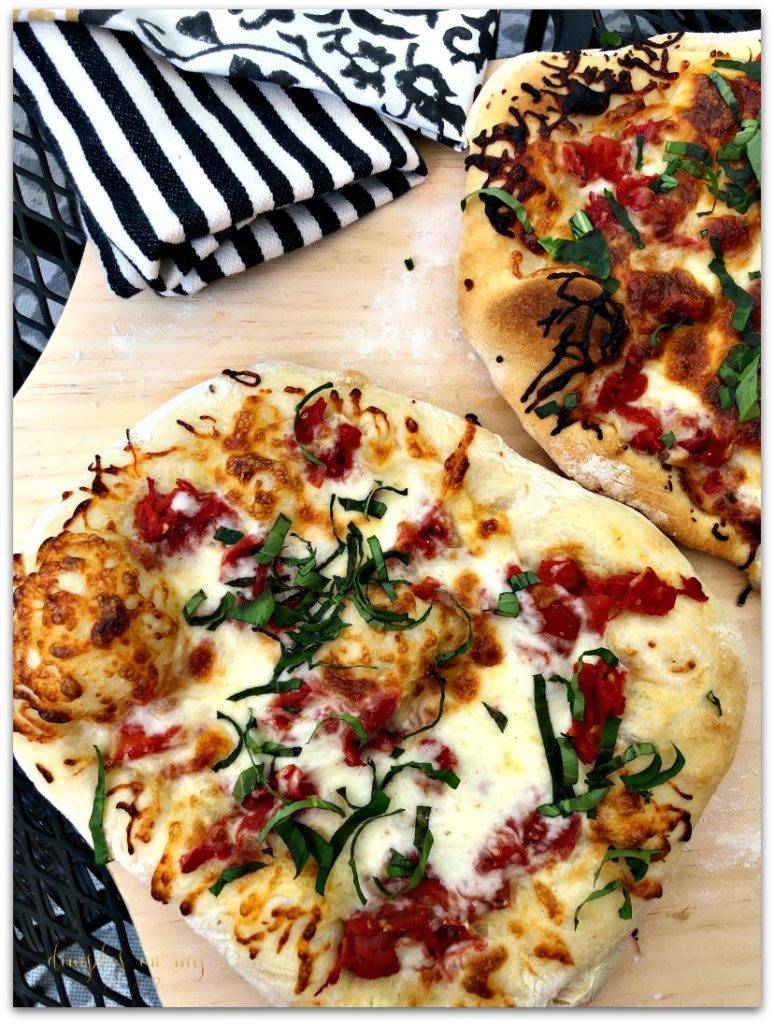 I'm not a pizza snob and I have a few frozen pizza brands I absolutely love. But ever since I found out I have a gene mutation (MTHFR) which makes enriched flour products nearly impossible for my body to process, it is said they are like poison for my system, I have greatly limited my consumption of them.

But, this girl loves stuff made with flour on occasion, but I'm not a fan of most substitutes for traditional flour. And since it's the synthetic folate enrichment (folic acid) that's the real trouble maker for anyone with this genetic mutation, at home I only use organic unenriched flour whether I'm making cookies for me the grands or this homemade pizza crust.

Let's make it clear, the Rustic Italian Pizza Crust recipe isn't mine and it's a relatively new find. However, I've been busting out homemade pizza at the Palace at least once a week since and I'm going to give you some of the tips and tricks I've worked out so far.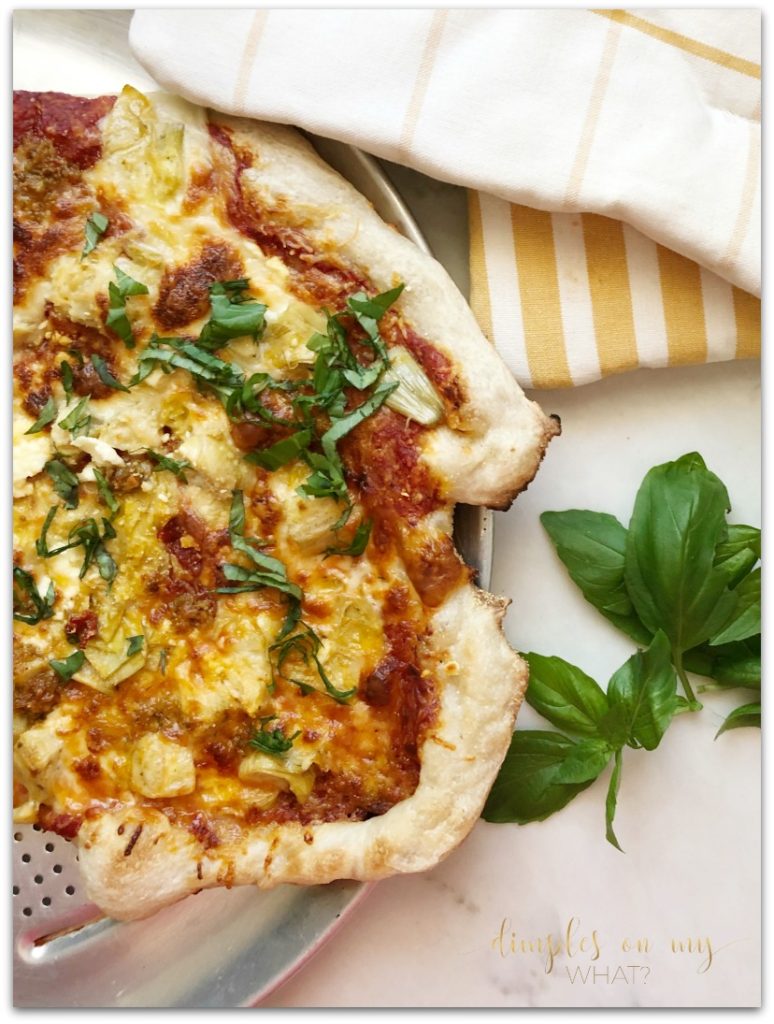 ---
Texture Tips

I find the texture of the dough a little sticky to work with when using the measurements as written. The recipe calls for 2 ¼ cups of cold water, but the next time I make this (probably next week) 😉 , I'll start with only 2 cups of water and add the rest as needed.
Baking at a very high temperature is important whether you're using the grill or oven

---
Tools I consider a necessity:

KitchenAid Stand Mixer – You will definitely need some sort of a stand mixer with a dough hook because it takes 8-10 minutes of blending to "knead" the ingredients together.

A pizza stone – If you're making your pizza in the oven, a pizza stone is a key to getting a perfectly crisp pizza crust. But it can be helpful on a grill as well.

A *wooden pizza peel – This makes the job of sliding the uncooked pizza onto the grill or pizza stone MUCH easier. However, I've also used a *baking sheet turned upside down to lay out the dough and add the toppings.

*Be sure to use flour or cornmeal (my preference) on whatever the surface you use to prep your pizza. Your pizza should slide right off.


                
                


                    
                    
                


            
Pizza On The Grill

Not all of us are lucky enough to have a pizza oven. But, I've made this pizza on the gas grill with success and a flub or two. Here are a few tips for cooking your pizza on the grill with success.

You can use a pizza stone on the grill but I put mine directly on the grill grate. Make certain to heat the grill to 500-600 degrees and then oil the grates before sliding pizza onto the grill.

Oil the grates but do so safely – Soak a wad (technical term) of paper towel in a high heat oil, grab with a pair of long-handled tongs and wipe all over the grill.

If you have a large enough grilling surface, keep only one or two zones lit and cook the pizza over indirect heat (the unlit area), while still maintaining the hottest temperature possible. BE EXTREMELY CAREFUL TO NOT BURN YOURSELF. Try these.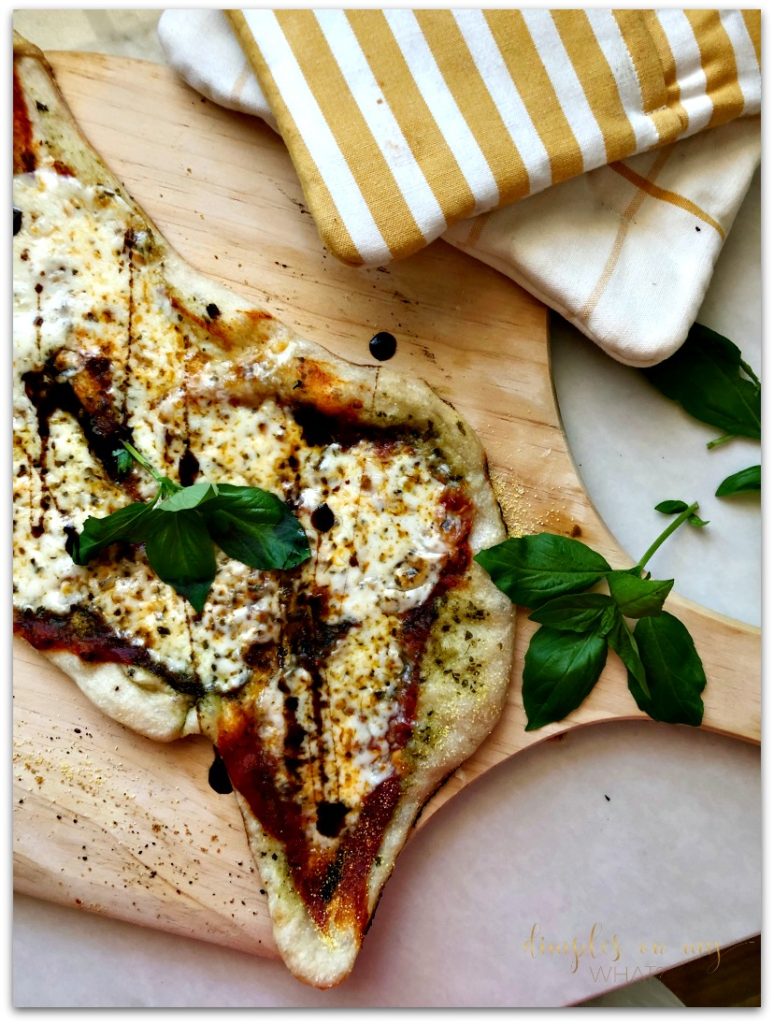 Freezing the Dough
This Rustic Italian Pizza dough can be made ahead and frozen. Yay! I've had a bit of success freezing it after I've already let the dough rise. HOWEVER, it's BEST to mix the dough and form into six dough balls, rub each ball with olive oil, wrap in plastic wrap and pop those balls into a freezer bag (unrisen).
Another Italian Style Favorite – Easy Anti-pasta Salad

To use frozen dough, take the dough out of the freezer a few hours before you need to use it. Leave the dough on the counter and let it do its thing!
Dress up for a dinner date at home? This would work.

Top that Thang!

Use any yummy toppings you like but make sure the sauces and ingredients aren't too juicy. They'll make your pizza soggy.

My favorite pizza is a Margherita pizza with fresh buffalo mozzarella (the one in a big round ball) and drizzled with a delicious aged balsamic vinegar.
If you live in the Lake Michigan area, my absolute favorite place to get balsamic vinegar is The Olive Cart. Their tasting rooms are so fun to visit and great for a day date, but you can also place an order.

What's Your Favorite Pizza Topping? I'm looking for something unique and delicious. 😉
The Recipe
There's no need for me to rewrite a recipe that's already perfect – Click on over and check out Ciao Florentina's EASY Rustic Italian Pizza Crust Recipe!
---