Could Social Distancing Really Be a Blessing?
Today is day seven of social distancing and yeah, that title does say, "blessed time." I'm serving up a little inspiration and an almost perfect, cheap meal with a comforting rustic rye sausage hash recipe.
You can feed a family of four for under $8 and have dinner on the table in less than 30 minutes. That's just under $2 a serving and includes the roasted potatoes on the side! It's almost perfect because you'll have to supply your own dishwasher. But I've got a feeling your house might be full of them right now. 😉
It could easily serve 5-6 smaller appetites making it a much more economical meal.
Take Time to Enjoy More than a Meal
But before we jump to the recipe I want to say, I hope you're all well and taking this time to be present with your families. It's not ideal of course but there are silver linings if we look for them. I recently read a post on Instagram from Jordan Page of Fun, Cheap, or Free:
I just can't help but feel like this uninterrupted family time has been a challenging and unique blessing. …And one that I plan to take full advantage of before we get thrown back into the busy hubbub of our crazy schedules.

Jordan Page (read full post)
You'll Never Get Today Back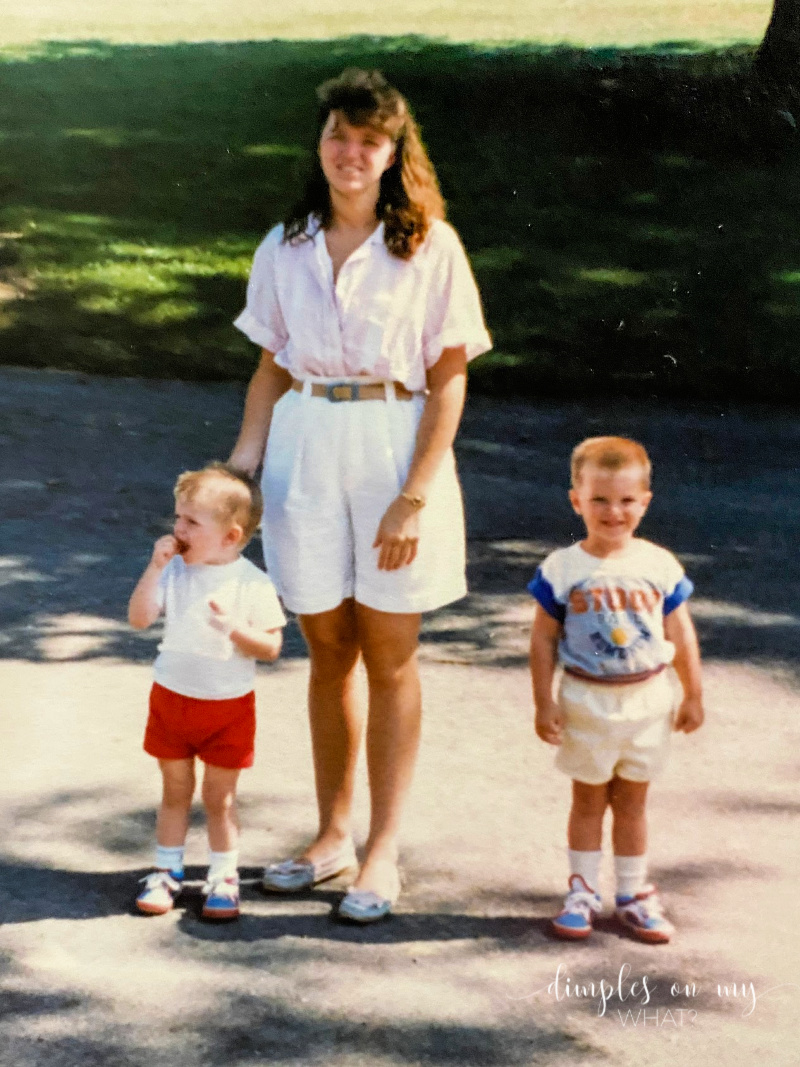 One of my biggest regrets as a parent is that I spent so much time just trying to "make it through", I didn't ENJOY THE JOURNEY more. Play more with these two cuties, yell less, and worry less about the house being clean. Or just watch in amazement while my boys grew into men. Maybe that's why grandkids are so great; we get a do-over on the enjoyment part.
Let me tell you one of the fondest memories that for the longest time my oldest son used to remind me of. He was probably around the age he was in the photo (he's on the right) and he and I were both really sick. In hindsight, we probably had the flu. So, Mr. Dimples took the youngest with him to work and Josh and I stayed in bed together all day long. I would get up and get us medicine and drinks but mostly we slept on and off.
For years after, that little boy would say to me, "Mom, remember the day we were sick and just you and me stay in bed all day long?"
Friends, our kids are craving our undivided attention. And like my and Josh's best (sick) day ever, we've been given a gift that right now doesn't look like one. But down the road, we'll come to realize a precious memory was stamped on their hearts and minds. What do you want yours to be?
… God just might be giving us the opportunity to slow down and put things into perspective in more ways than one
While I understand that your patience might run short because the whining is running on high-octane, step back and cherish every minute! I had three of the Littles today and I was tested on these words (because Josh's middle son has a whine that goes straight to your last nerve), but in the end, I hope that if they remember this strange and uncertain time, the memory is one of the coolest and coziest ones of their lives.
So make this the BEST DAY(S) EVER! Plan special days, build blanket forts, have junk food lunch picnics on the living room floor, take a nature walk scavenger hunt. During this quarantine, God just might be giving us the opportunity to slow down and put things into perspective in more ways than one.
Feed them Well On the Cheap
You Really Can Feed A Family of Four for Under $10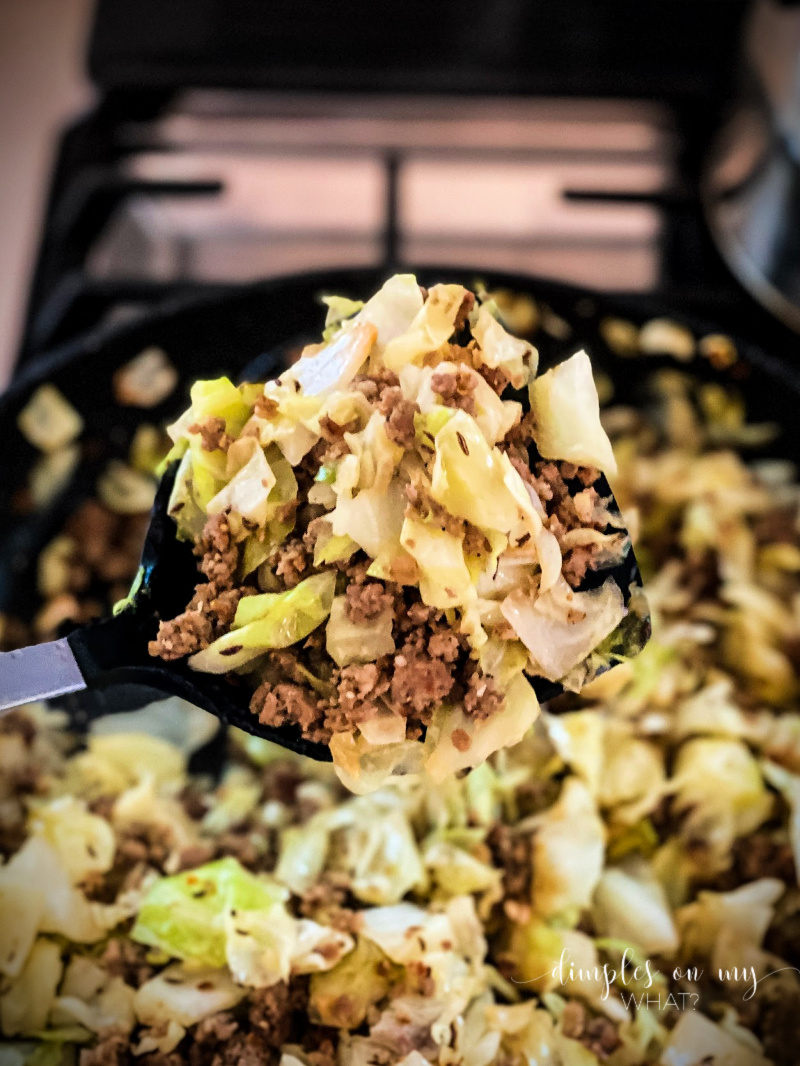 What She Lacks in Beauty…
Years ago, one of my manicure clients gave me this recipe. It had no name, until this post as it wasn't so much of a recipe to be written down as it was an explanation of a "good quick meal" during the hour-long conversation while I did her nails. Conversations, relationships, and recipe sharing were some of the best parts of being a nail tech.
Obviously isn't the prettiest dish ever even if my photos were better. But, who doesn't love a super quick, easy, and inexpensive meal that's less than 5 ingredients? I know I do. I'm calling it Rustic Rye Sausage-Hash because in this case rustic translates to rough, plain and simple.
Three-Ingredient Rustic Rye Sausage Hash
You'll only need a roll of your favorite breakfast sausage (I'm a Jimmy Dean girl through and through), a small head of green cabbage, and a sprinkle of caraway seeds. Caraway seed is where the "rye" comes in. If you don't think you like the flavor of rye, I'd still encourage you to try it because number one, you control how much goes in, so it's not concentrated rye flavored like a piece of rye bread. But it's the perfect complement to the savory sausage and braised cabbage in this quick, inexpensive meal. If you're still worried, add the caraway as a garnish.
Complex Comfort
But, I think if you try it, you'll be amazed at the complexity of flavor in such a simple dish. I always like to serve it with cubed oven-roasted potatoes and OH MY WORD, comfort food at it's SIMPLE BEST! And who doesn't want comfort food right about now?
If you can't find potatoes at the moment – I know my local grocery store shelves are pretty bare of root vegetables, you could serve this with rice or quinoa, or even doctored up instant mashed potatoes.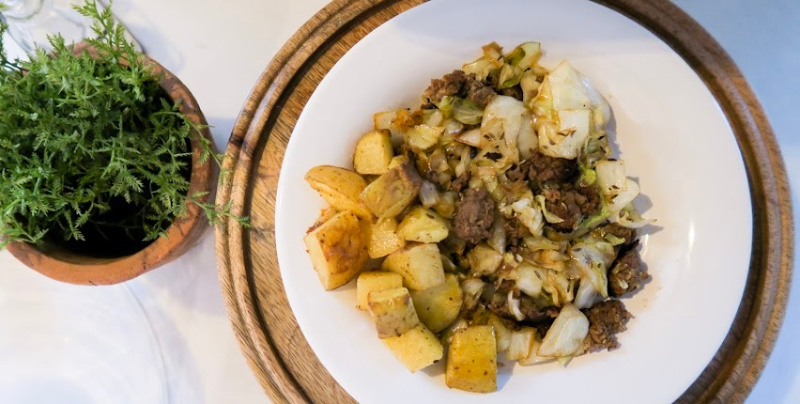 Talk about a Cheap Meal – Under $2 Per Serving!
I've divided this recipe into four large servings and priced it out on Walmart's shopping app using Jimmy Dean sausage, a small organic head of cabbage, half of a 3-pound bag of organic red potatoes, and guesstimating about 25-cents worth of caraway seeds. You will need oil and salt & pepper for the potatoes and I line my baking sheet with foil and these costs were not factored in. The price will also vary a little depending on where you shop and how many you serve with it. It could easily serve 5-6 smaller appetites making it a much more economical meal.
Easy Peasy Recipe
On a cooking difficulty scale of one to ten, I'd say this is about a "2.5", mostly because you have to be old enough to use a knife. And the ".5" is because there's a tiny bit of skill in keeping the cabbage from spilling over the edge of your pan as you sauté it. 😉
A Potato Side is Key to a Cheap Meal
A simple roasted potato is the perfect complement to this dish but feel free to use what you have available. Rice would also be good.
How I make the taters:
To make the potatoes, I wash and cut them into about 1" cubes. I pour about a couple of tablespoons of olive oil on a baking sheet lined with aluminum foil (to keep cleanup easy) and add the potatoes. Season them with salt and pepper and toss it all together until every potato is coated. Then, roast for about 20-25 minutes in a 450-degree oven until they are fork-tender and crisp on the outside.
As Simple as Chop and Sauté
It doesn't get much simpler than chopping and sautéing. Chop the cabbage into small pieces. Brown and crumble the sausage in a large skillet (I like this one). Once it's brown add the chopped cabbage to the same pan and sauté to your desire crispness. I like a tender but crisp consistency. Then mix in a bit of caraway seed. Done and yum!
And don't forget this FAVORITE ground meat chopper.
This Rustic Rye Sausage-Hash recipe will take the pressure off of you for at least one meal, leaving you time to engage in something special with the special people in your life. You can't get a day back, so let's not waste it.
Do you have a go-to cheap meal to serve your family? I'm a fan of breakfast for dinner and I love a big pot of soup that you can eat all week long.
You might also like Cheesy Chicken Chili and Instant Pot Vegetable Soup in your quarantine meal-plan. All the YUM in no time at all!
Make It
Print Recipe
Rustic Rye Sausage-Cabbage Hash
This 3-ingredient hash (4 with the side dish) feeds 4-6 people for under $10 and under 30 minutes!
Ingredients
1

Pound

Breakfast Sausage

use your favorite but NOT spicy

1

Small Head of Green Cabbage

chopped into "rustic" size pieces 1"-ish

1-2

tsp

Caraway Seeds (to taste)

Salt & Pepper (to taste)

I often don't add any because the sausage and caraway take care of seasoning
Roasted Potatoes
1½

pounds

potatoes of choice

2 or more

tbsp

olive oil

Salt & Pepper

to taste
Instructions
Preheat oven to 475° (450° for convection oven). Line baking sheet with aluminum foil and pour a few tablespoons of olive oil in the center with seasoning (S&P) of choice. (Be generous with oil so your potatoes don't stick)

Wash and dry potatoes before cuttiing into ½"-¾" cubes. Place them on the baking sheet and toss with olive oil until they are WELL coated.

Place in preheated oven and bake for 20-25 minutes until fork tender and golden on the outside.
For the Hash
In a large skillet, brown and crumble the sausage.

As the sausage browns, rough chop a small head of green cabbage into bite-sized pieces. Not too small, remember, this is "rustic". 😉

Once the sausage is no longer pink, add the chopped cabbage and saute' until it's cooked to your liking. I like mind tender, crisp.

Lastly, stir in the caraway seeds and plate it up with the roasted potatoes. ENJOY!
Notes
*The cost of this recipe was estimated using potatoes as the side dish. However, rice or quinoa would be perfectly wonderful too.
ENJOY the YUM and the EXPERIENCE!