If you have sensitive skin and are over 50, you know finding good anti-aging skincare can be a pain. Possibly quite literally, a pain. In this post, I'm sharing some of my tried and true anti-aging skincare products for sensitive skin. And I'm not too proud to want to hear your suggestions in the comments.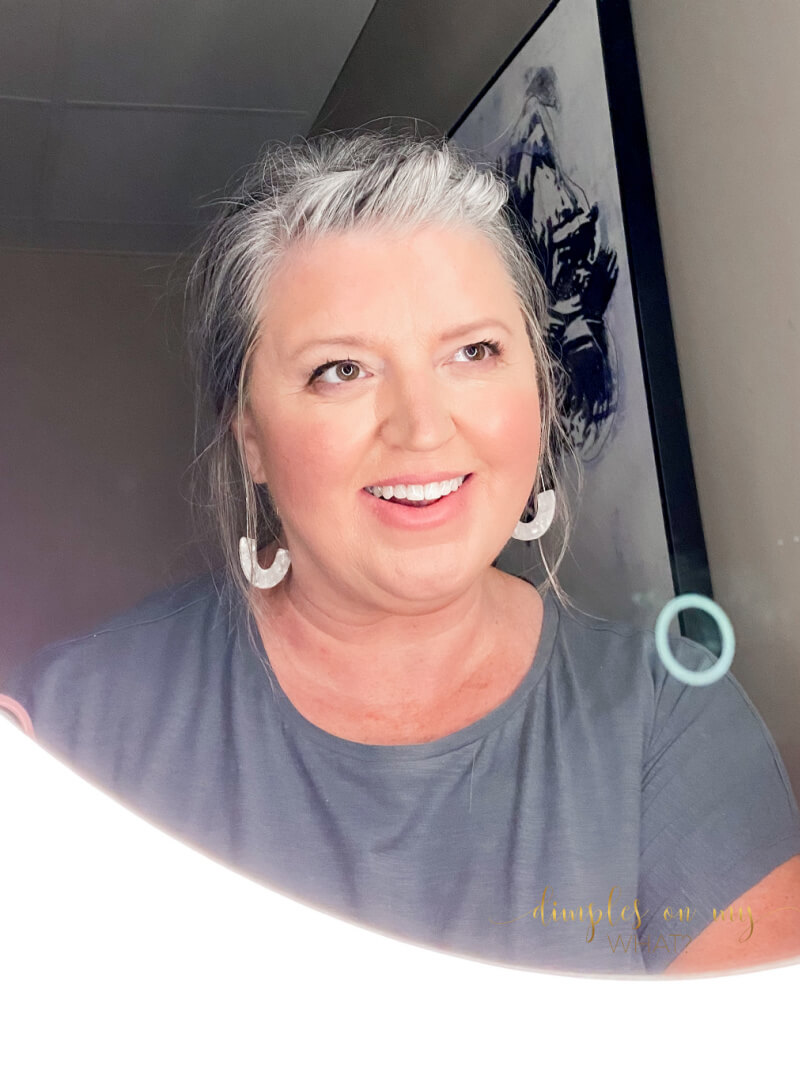 I owe this photo to the lighted vanity mirror at the medical spa that did my later treatment. I want one at home!
As we age we're often told we "need" to add so many things to our anti-aging beauty routine like – retinol, vitamin C serums, creams, and lotions and potions galore. But if your skin is super-sensitive the trial and error can be is expensive, painful, and sometimes unsightly.
When I was having laser treatment for my rosacea, the medical spa recommended lots of products to further benefit my skin. Some were major losers and inflamed my skin terribly. But, I loved other ones enough to have kept them in my routine and have even repurchased them at least once.
So in this post, I'm only including products that have worked for my 55-year-old, ultra-sensitive, rosacea and seborrheic barraged skin. Some of these are on the luxury end of the price scale but so far, I haven't found less expensive options that compare. But you can bet your booty, I'm looking. 😉
HOW TO CHOOSE ANTI-AGING PRODUCTS FOR SENSITIVE SKIN
LESS IS MORE when it comes to sensitive skincare; especially rosacea. I use or have used each of the products I'm recommending, but not all at once. And when I'm in a major flare-up of rosacea, I go back to the bare minimum which is a gentle cleanser and either a prescription cream I use for seborrheic dermatitis or a very mild moisturizer.
CHOOSE CREAMY formulations especially if you have dry skin.
AVOID FRAGRANCES as fragrances can spur irritation. Look for unscented or fragrance-free on the label. Sensitive skin products are another good go-to.
STAY AWAY FROM CITRUS BASED PRODUCTS as they can be irritants to some of us with sensitive skin. I am speaking from personal experience here.
LOOK FOR MOISTURIZING INGREDIENTS. Hyaluronic acids are good because they attract water to the skin. Glycerin and ceramides deliver an extra boost of moisture while aloe vera and soy can feel soothing.
WATCH THE ANTI-AGERS. Wait! What? I know, this is a post about anti-aging beauty products however, some acids can be too harsh for sensitive skin. And ingredients like glycolic and lactic acids can strip our already dry skin of the oil it needs. *See the last product in this list for another option.
So without further ado here are the products you will currently find in my bathroom cabinet.
CLEANSER

The self-foaming Alastin Gentle Cleanser is non-irritating and cleans the skin really well without leaving it feeling dry. It is free of sulfates, paraben, gluten. A little goes a long way making the price tag a bit easier to swallow.

My dermatologist has recommended Cetaphil to me for-evah! It is the gold standard for sensitive skin however, you will likely have to wash twice in order to remove makeup and cleanse. But, the price is so good, the ROI is still very good.
I most always use this with a micro-fiber cleaning cloth like these to create gentle exfoliation and remove more makeup. Just be sure to go easy and do no scrub if you have extra-sensitive skin.

I wouldn't necessarily use micellar water alone to wash my face, but this All-in-1 waterproof formula makes a great pre-wash makeup remover. It can be used all over your face but it's especially nice to remove your waterproof eye makeup and much cheaper that those tiny bottles of eye-makeup removers.
You might then follow-up with an inexpensive gentle cleanser like the Cetaphil from above.
SUNSCREEN & MOISTURIZER
The number one product we need for anti-aging is sunscreen! Up until recently I thought the SPF protection in my foundation was enough, but it's not. We'd have to really glob it on and that's not a good look on our aging skin. Remember, The Makeup Mistakes that Make You Look Old?

I LOVE this calming, daily hydrating sunscreen lotion for my sensitive skin! It's slightly tinted and illuminating to blur skin imperfections and doesn't have any tell-tale sunscreen scent. It's lightly hydrating but if you have really dry skin you make want to put another moisturizer on first. I wear it every day, alone and under my makeup.
The retail is loco but I found it here for less. I've ordered it from here and there is no indication that it isn't the real deal.

This is another product I purchased at the med-spa and it bears the price tag. However, it's calms and hydrates without irritating sensitive skin and it's non-comedogenic.

Let me tell you a little secret, I once had my dermatologist recommend this Cetaphil Moisturing Cream for my FACE!, You know, the one in the big tub, that says body?
I had been having issues with a sandpaper texture on both sides of my face near my hairline and no one could diagnose it. The verdict is still out but, you know what, it worked wonders! Although thick, it softened and didn't break me out. I still use it on my body and my face when it feels really dry.

This is the one product recommendation I haven't tried yet but after hearing my story about the tub-o-moisturizer above, I feel safe sure that this Cerave' night cream with peptides, ceramides, and hyaluronic acid would be great. It offers a special delivery system that continually releases hydration all night long.
SERUMS & TREATMENTS

This hydrating vitamin B3 serum is liquid gold to me! Pam, at the medspa, used it to soothe my skin after one of my laser treatments and I was hooked. It's formulated with Hibiscus and Abyssinian Oils, which have antioxidant properties but it's not really oily. The oils have a fragrance but they have not irritated my skin. In my opinion, at $98 it's crazy expensive and I'm still looking for a dupe, but for right now, I found it here for a reduced price.
ALASTIN RENEWAL RETINOL .25

We're told retinol should be in every woman's anti-aging arsenal but it can be irritating for those of us with sensitive skin. If you have ultra-sensitive skin like me, the Alastin Renewal Retinol .25 could be for you. Because a small amount of active retinol is encapsulated in a solid lipid, it creates an anti-inflammatory and non-irritating formula that can be used every evening.

This gentle, non-irritating chemical exfoliant contains lactobionic acid which is in a group of acids called polyhydroxy acids (PHAs) which are acids derived from sugar. Polyhydroxy acids in IDR minimize the appearance of pores and visible signs of aging by gently exfoliating dull, old skin cells. I don't find it overly moisturizing but paired with a good moisturizer or the Obagi Hydro Drops, I wake up with baby soft skin.
*I have not tried these other lactobionic acid treatments personally but they may warrant a test drive: Exuviance Radiance Serum and NeoStrata Restore Bionic Face Cream
SKINCARE SYSTEM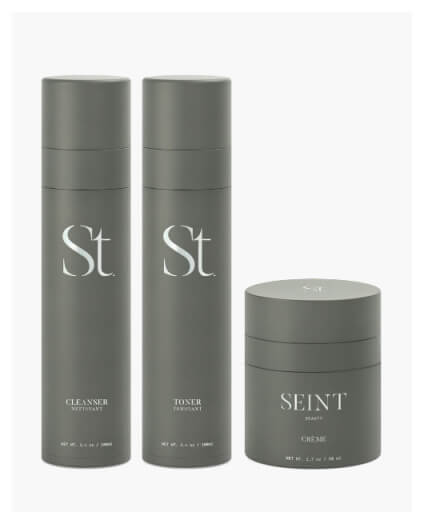 I love this super simple skincare system by Seint, formerly, Maskcara Beauty. It was formerly called MILK because it contains lactic acid from actual skim-milk! It does contain fragrance but I was not sensitive to it. I stopped buying it because of the cost, but after spending what I have in the recent past, I may just head back over to this system. In my opinion, you could easily skip the toner altogether.
(The set is sold out at the time of posting but each item is available individually.)
*I'm not thrilled that several products listed contain dimethicone, so I'm on the hunt for cleaner products that don't break the bank. I've found some but they contain parabens, so my research will continue. But until then, I try to choose the lesser of the evils.
RECOMMENDATIONS
If you have sensitive skin or rosacea, do you have any product recommendations for the rest of us sensi-sisters? Should this be our new club or Facebook group?
I'd love to know if you'd had any luck with Vitamin C serum and hear how or if it has improved your skin.
Hugs,

---
SHOP THIS POST

---
PIN THIS POST