Makeup Mistakes (and Other Weird Things) that Age You – Part Two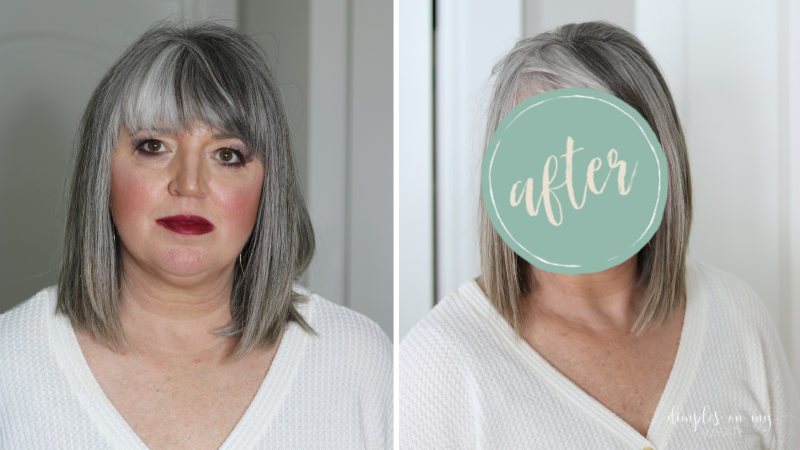 Today we're continuing our Weird Things that Make You Look Old series, and I'm talking about the Makeup Mistakes that Age You. Can you believe I actually got to a second in a series? NEW YEAR GOALS, bump it!
PART ONE – ACCESSORY MISTAKES THAT AGE YOU
As we get older, we can't always get away with the makeup trends that work on a younger woman. While I don't think we have to give up all makeup trends, there are a few no-no's we need to remember if we want our makeup routine to bring out the youthful soul living beneath our "experienced" skin. Can you guess what some of these makeup mistakes are?

I never thought I could be a model but…
I'm the "spokes-model" today to save anyone else from finding their photo highlighting their makeup mistakes posted on the internet in a "don't" photo. Mama didn't raise no dummy. But she did raise someone who loves a good laugh and is willing to "dress the part" to make a point. *No animals or humans were injured in the making of this post; only my pride! 😉
NOTE – These photos have been taken at close range and not in the most flattering light, though I did not apply unnecessary harsh light either. I have not edited these photos nor applied filters to them. I have indicated the light source used in the caption below each photograph. Any differences in color are dependent on the amount of natural light coming through the window as one day it was sunnier than another.
Aging is Natural, and It's Beautiful

But sometimes we need a little help!
I won't get on my positive-aging soapbox today, but let me just say, I don't think there's anything wrong with aging naturally. You know, sans major surgery, injectibles, and fillers. It truly is what's inside that counts the most. But wearing a bit of makeup to enhance our best features is a great way to look and feel our best about our maturing faces. However, we can also enhance the "features" we'd rather keep on the D.L.

---
Not Wearing Makeup isn't the Most Youthful Option – for some of us…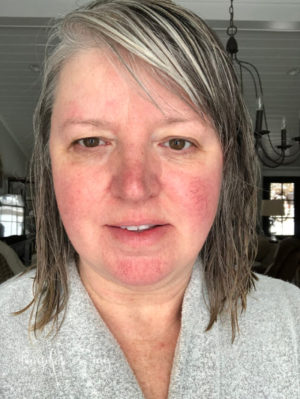 For me, not wearing any makeup at all can be ugly because of my skin issues, which I address further into the post. But not wearing makeup isn't always youthful even if you have great skin. A little blush, lip-tint, and mascara might be all you need to brighten up your face a give you a glow similar to what you once had.
Your Style is Unique to YOU
I've decided to add this disclaimer at the beginning of this post instead of at the end, as I usually do in this type of personal opinion post. I did not create these parody photos to make fun of anyone.

Style is unique to the individual and each woman should wear what makes her feel beautiful and that includes makeup. The cosmetic recommendations I'm making today are opinions based on my observations and study (a.k.a. people-watching) of what, cosmetically, might make one woman look older than another of the same age.

---
Makeup Mistakes that Adds Years to Our Faces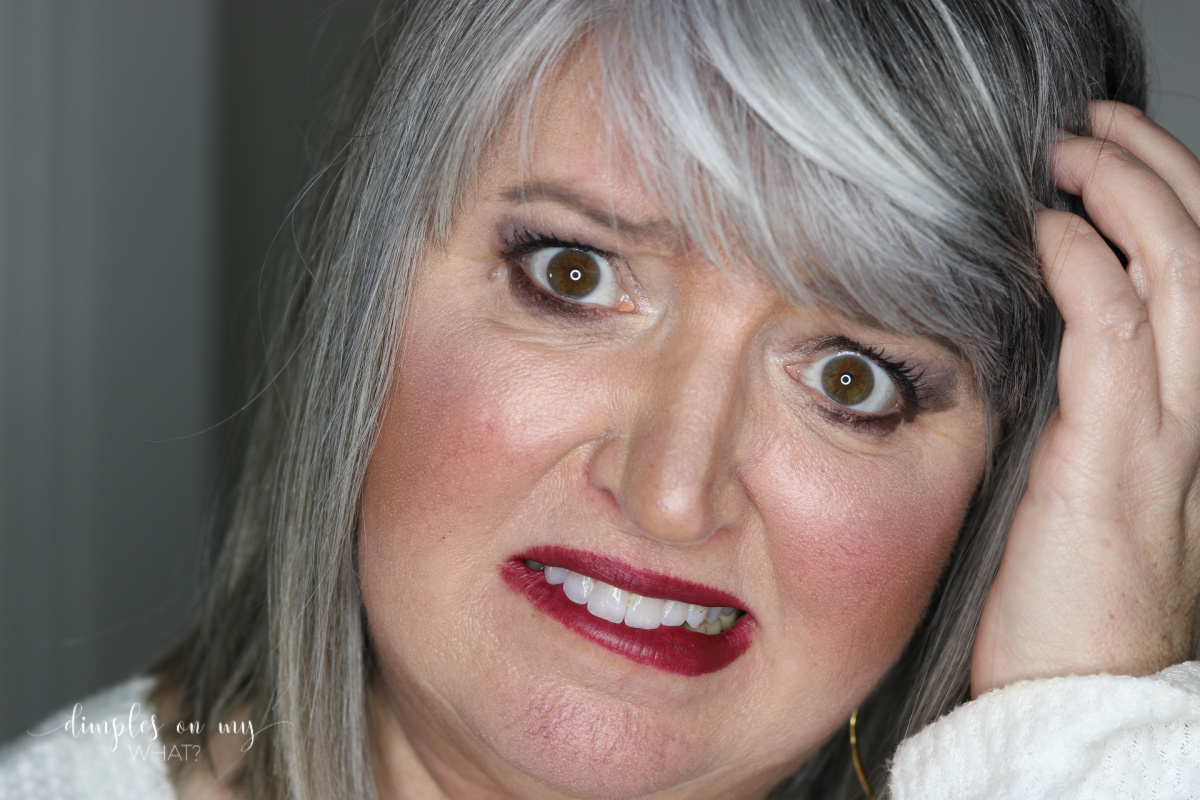 Foundation
A foundation that's too heavy or the wrong color can instantly age us. I struggle with this one because I need adequate coverage for my rosacea. However, I have to be careful because a full coverage foundation can sink into my pores, crevices, and the flakey areas caused by seborrheic dermatitis. Yeah, I got lucky in the skin issue department. ;-(

Choose a formula that's hydrating and with the correct undertones for your skin. Also, go as light coverage as you can get away with. If you don't have skin discolorations to cover, you might like a tinted moisturizer. A trip to a beauty counter or makeup artist can be invaluable for finding the right makeup. But don't be afraid to say you don't like it and check to see if the store has generous return policies.
---
ESSENTIAL FOUNDATION PRODUCTS
I've had LOTS of questions about what foundation I'm wearing in the AFTER photo. So here ya go:
It Cosmetics CC Cream in Light (However, I have since switched to the It Cosmetics Bye-Bye Foundation Full Coverage Tinted Moisturizer because while it doesn't have as many anti-aging ingredients, it's not as heavy.)
Hourglass Mineral Veil – If you need a primer this one is EXCELLENT. It is a bit pricey so my next recommendation is Porefessional by Benefit.
Sonja Kashuk Makeup Brushes are high-quality brushes for less money. I can't find my exact (favorite) one anymore but this one is pretty close and with almost 400 5-star reviews and at only $10, it's a MUST-HAVE!
Drmtlgy Tinted Moisturizer SPF 45 is a new-to-me medical grade tinted moisturizer that I really do love and it's at a fabulous price point. I love a multitasking product because less is more. Remember?
Another valuable resource for getting makeup reviews from brow pencils to a foundation, including which specific colors of a foundation to avoid because of too much pink or orange undertone (because nothing says "makeup mistake" like that tell-tale orange makeup line on your jaw), is BeautyPedia. Not only will you find a product rating from the experts, but you can read customer reviews as well.
Highlight and Contour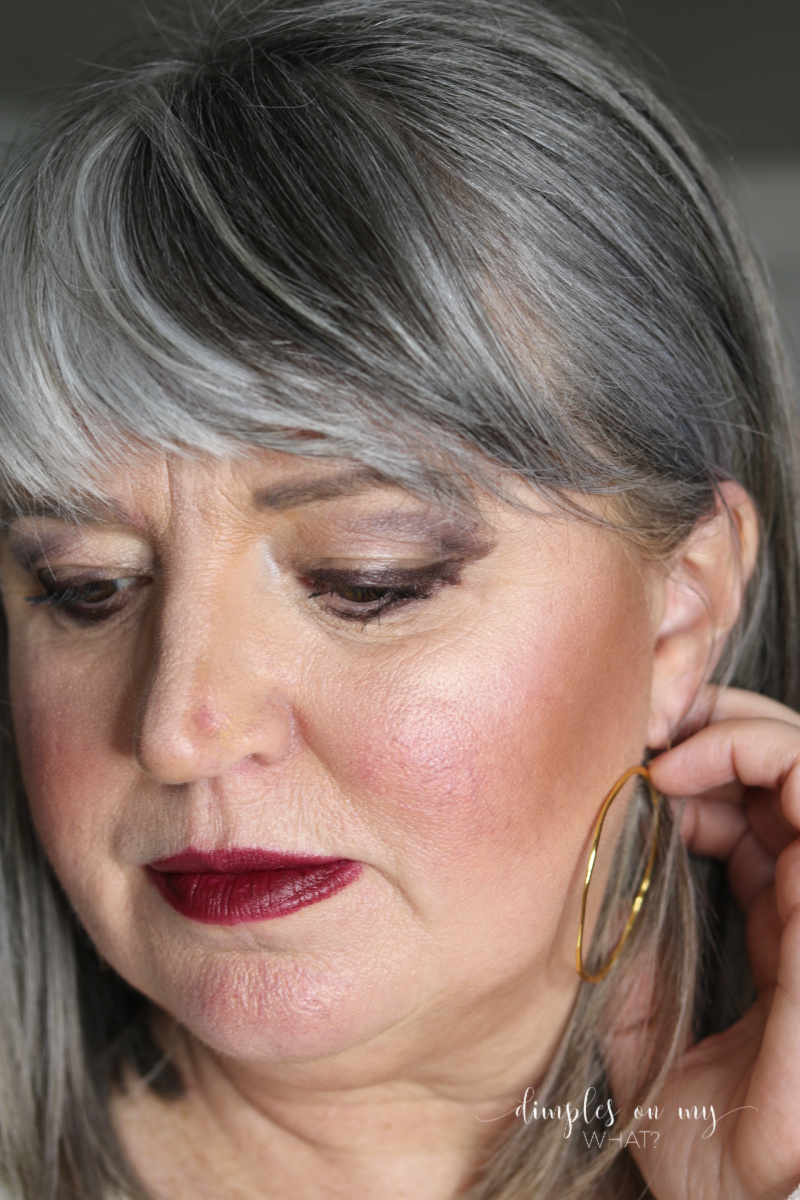 Okay, I don't know anyone who is this heavy-handed with highlight and contour, but overdoing either is an instant-ager. A perfect real -life example is an actress and advocate, who I love, Leah Remini. She (or more likely her makeup artist) often overdoes contouring, and it looks harsh.

Highlight
Glitter is a no-no on mature skin. But even if we're talking about a shimmery highlight, too much of a good thing is not a good thing. Depending on the texture of your skin, shimmer can settle in and exacerbate crepey skin texture, fine lines, and wrinkles.

Consider a highlight with very little to no shimmer or add a bit of highlight on your high points but under your foundation. You will find some of the combination highlight and contour kits I recommend in the "Contour" section below.

Contour
As far a choosing a shade of contour, stay away from orangey tones. Contour is mimicking a natural shadow on your skin; it's not a bronzer.

Powder – Smashbox makes an excellent powder highlight and contour kit with a universal ashy-brown contour color. I have two go-to choices for creamy highlight and contour.

Cream – NYX's contour face stick is convenient and affordable.
A Highlight and Contouring Makeup System
Another fabulous option is Maskcara's HAC Makeup. They offer so many great color options for contour and highlight that IS actually the foundation. You have to see it to believe it. Check out my post for a full Maskcara HAC Makeup review and video.
You can also get connected with your own Maskcara Makeup Artist who will help color match you. If you don't already have one, check out my friend Shannon Mason and she will hook you up! She is ready and waiting to answer your questions through her Instagram or you can look around on her website.

Bronzer
As I mentioned above, bronzer is not contour. Even so, stay away from orangy shades. Two that I like are The Balm's Bahama Mama and Laguna by NARS.
Cheeks
I love blush. It's probably the one makeup product that will add youth to your face as long as you choose the right colors for your skin tone and blend, blend, blend it in. We've all seen those old ladies with the little clown dollops of blush on their cheeks.
Cream blush works wonders on mature skin! But that doesn't mean you can't use a powder if you have the skin texture for it and choose formulas that don't settle into lines.
I've linked several of my current favorites below.
Favorite Blushes
IT Cosmetics, Bye Bye Pore Blush in Naturally Pretty
Thrive Causemetics Triple Threat Stick in Dionne (Doubles as a lip tint too!)
Flower Beauty Lip and Cheek Gel Crush (I have the strawberry crush and it's so pretty)
Laura Geller Baked Blush & Brighten (Marbleized Powder) in Tropic Hues


---
Eyes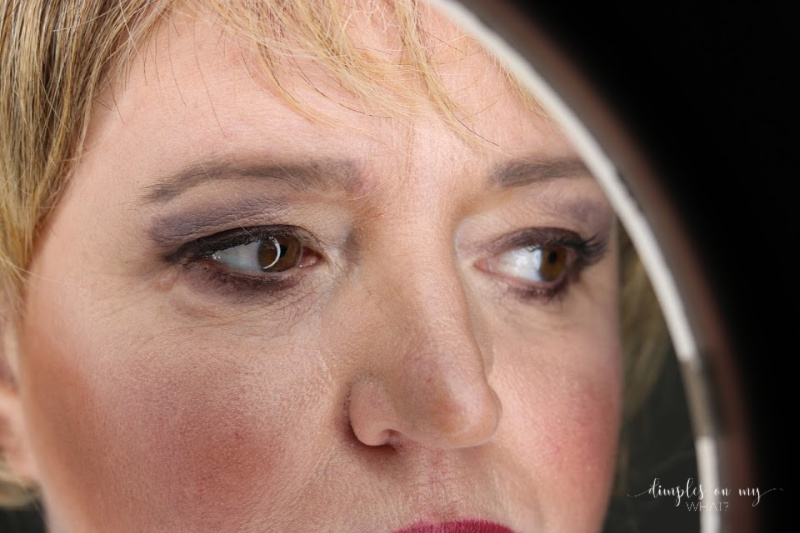 Eeks! Where do I begin? Again, this is an area in that we can take a few risks but BE CAREFUL because it's so easy to make a slew of makeup mistakes with eye makeup.
If you haven't already noticed an advice theme running throughout this post, it's MODERATION. Anything harsh or overdone will make us look older, especially around our eyes.

Eyeshadow
Having hooded eyes that are now pretty saggy, I'm still trying to figure out the best eyeshadow for me, and I'm considering booking an appointment with a makeup artist to help me out. Most days I don't wear any eyeshadow because it not only closes in my already small eyes even more, but eyeshadow gravitates downward throughout the day.

But having seen women with an ample eyelid area wearing too much and too dark an eyeshadow, the principle of too-much still applies. You can still add color, but softer colors in medium to light tones are a bit more youthful to an older face.

Eyeliner
Let's just make sure this is the first thing: stark eyeliner on the bottom lash line is no bueno! If we have that down the rest is easy.
Black is an excellent choice for eyeliner for a more dramatic eye or photos, but for every day, you might choose a softer tone, like brown or slate. Keep the eyeliner on the upper lid either in the lash line or barely above and "smudge" it out.

I have a little trick where I use a smudging brush or sponge-tip to smudge out the top liner, but then I smudge the leftover on the sponge onto the bottom lash line. That way, there's no harsh line below the eye, but I've created a little definition. I like to say, "I put my eyes on."
Eyebrows
The same mature beauty makeup principle applies to eyebrows; keep it soft. My advice is to choose a pencil that is only one (or two at the max) shades darker than your natural brow color. I also prefer an eyebrow pencil that is not too thin because my eyesight isn't excellent and I can't be super precise. Follow your brow shape and don't go too big.
I did a video review of the Brow Trio here that I like to call, Eyebrows for Dummies.
Favorites for Eyes

---
NOTE: I am not a huge fan of eyebrow micro-blading for me. One, it's permanent makeup, and trends come and go. All those ladies walking around with harsh black eyeliner on their lower lids – TESTIFY! Two, for some reason, it's not recommended for people with rosacea. And three, after having my breast implants removed, I am incredibly cautious doing anything that injects things into my skin as we don't know what it does to us. However, we want to accentuate our thinning brows.

Lips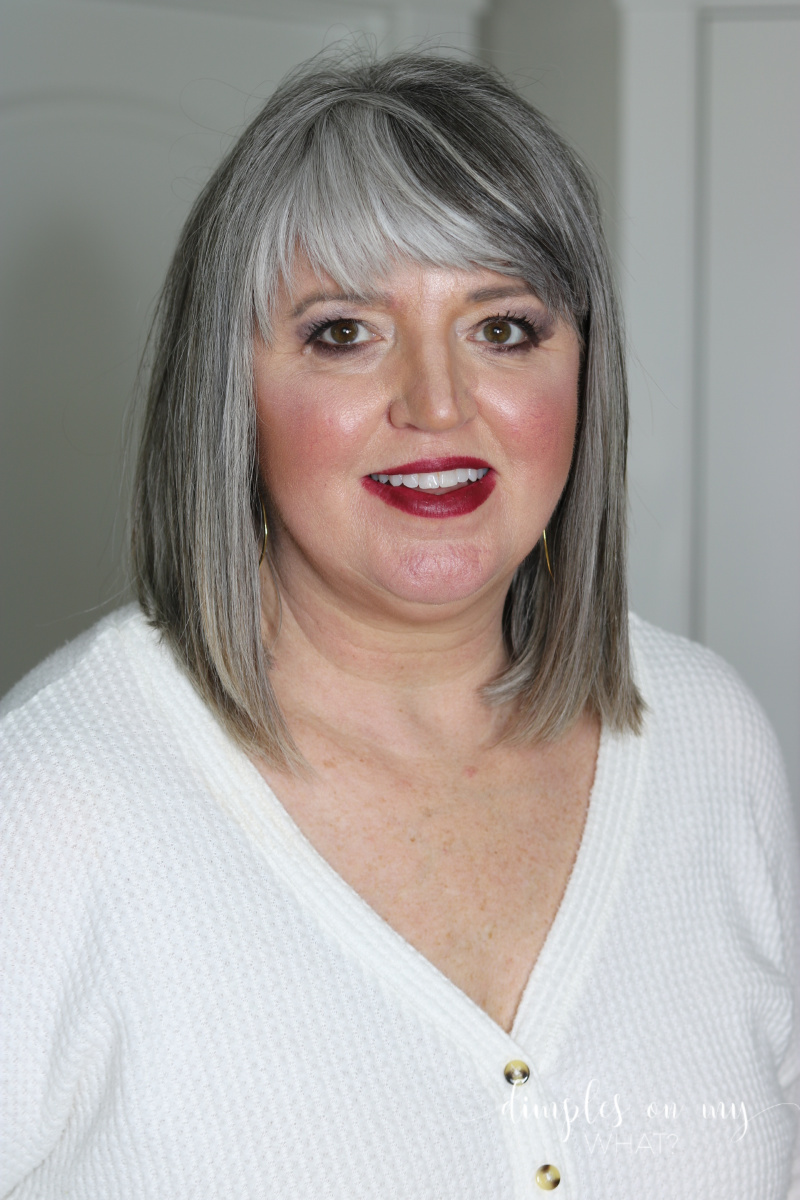 Okay, lipstick will probably be the one I get the most pushback on. Any lipstick that is "too" can age mature lips. Too bright, too frosted, too matte, and too shiny. But in my opinion (as is this entire post), lipstick that is too dark is the number on lipstick mistake we can make. It's quite possibly the number one makeup mistake we make that can make us look older.

As we age, not only are our lips thinning, and we get lines around our mouth and on our lips, but our teeth can look dingier, and our face might be sagging at different rates.
Take my face, for instance. I still have reasonably decent lips, but my face sags more on the right side, and that includes the down-turn of my mouth. My lips are also asymmetrical, and I'm only highlighting the imperfections by wearing a dark lip color. And believe me, I didn't haphazardly apply this lipstick, this is the state of my lips. The imperfections are only exaggerated by the dark shade of the lipstick.

But the lips are also a great place to play with color if we keep a few things in mind:

Don't try to overline your lips too much. If you've lost lip volume, I think it's best to give them oomph by choosing better colors (remember, dark recedes, and light brings forward) and drawing only slightly outside the lip line. There are plenty of helpful YouTube video tutorials.
If we want to wear a darker color, consider a sheer color wash. I like Almost Lipstick by Clinique. The Black Honey is a universally flattering berry shade.
Red lipstick isn't a great choice for me. But if I were going to wear red lipstick, I keep it in a flattering tone, and I still like it to be less matte and a little sheerer. Revlon Lip Butter in Cherry Tart is my all-time favorite red lip color, but of course, it's been discontinued so I'll have to update this post once I find a replacement.
Choose flattering lip colors that mimick your natural lip color but better. For a little more pop, what do your lips look like after they have had a good kiss? That's the color you want to find! As we get older, our lips also lose color, and we do want to add a little bit of "just kissed" youthfulness to our faces.
Favorites for Lips

---
Agree? Disagree? Anything to Add?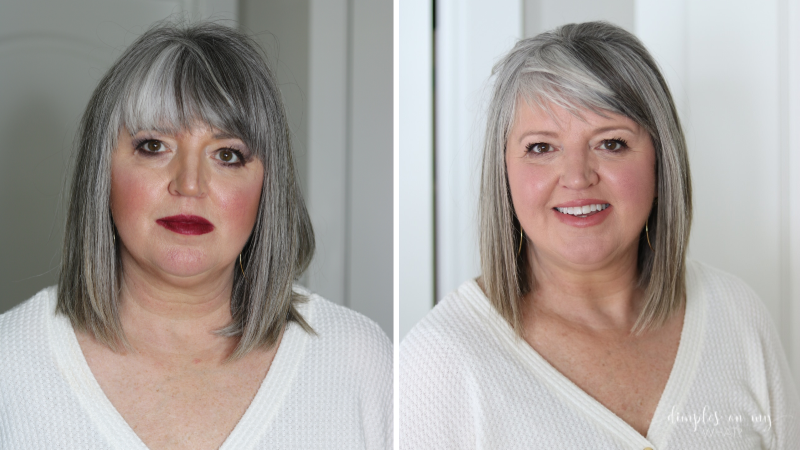 Aahhhh, I feel MUCH better. My lips are still uneven but the imperfections aren't as pronounced with a lighter lipstick.
And my eyes are just as hooded and small as before yet they don't look as heavy and closed in. I think the wrinkles around my eyes are also less pronounced too. I like to think of anything too dark like a dark picture frame making the photo inside take center stage.
And maybe my face doesn't look as "chiseled" without gobs of contour but a full face looks less wrinkled. I like to say, "who needs Botox, eat another donut!"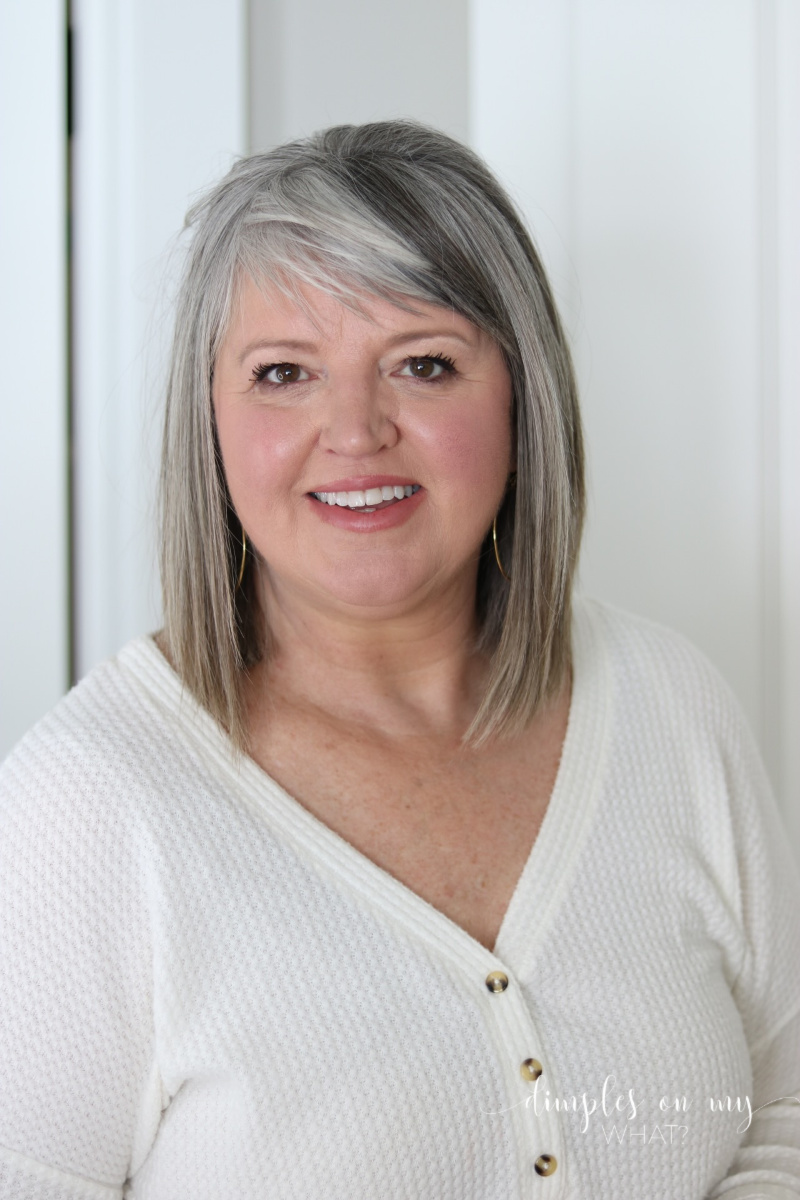 What's your opinion on makeup for mature women? Are there makeup mistakes you've seen that definitely add years to an already maturing face? Let me know in the comments below.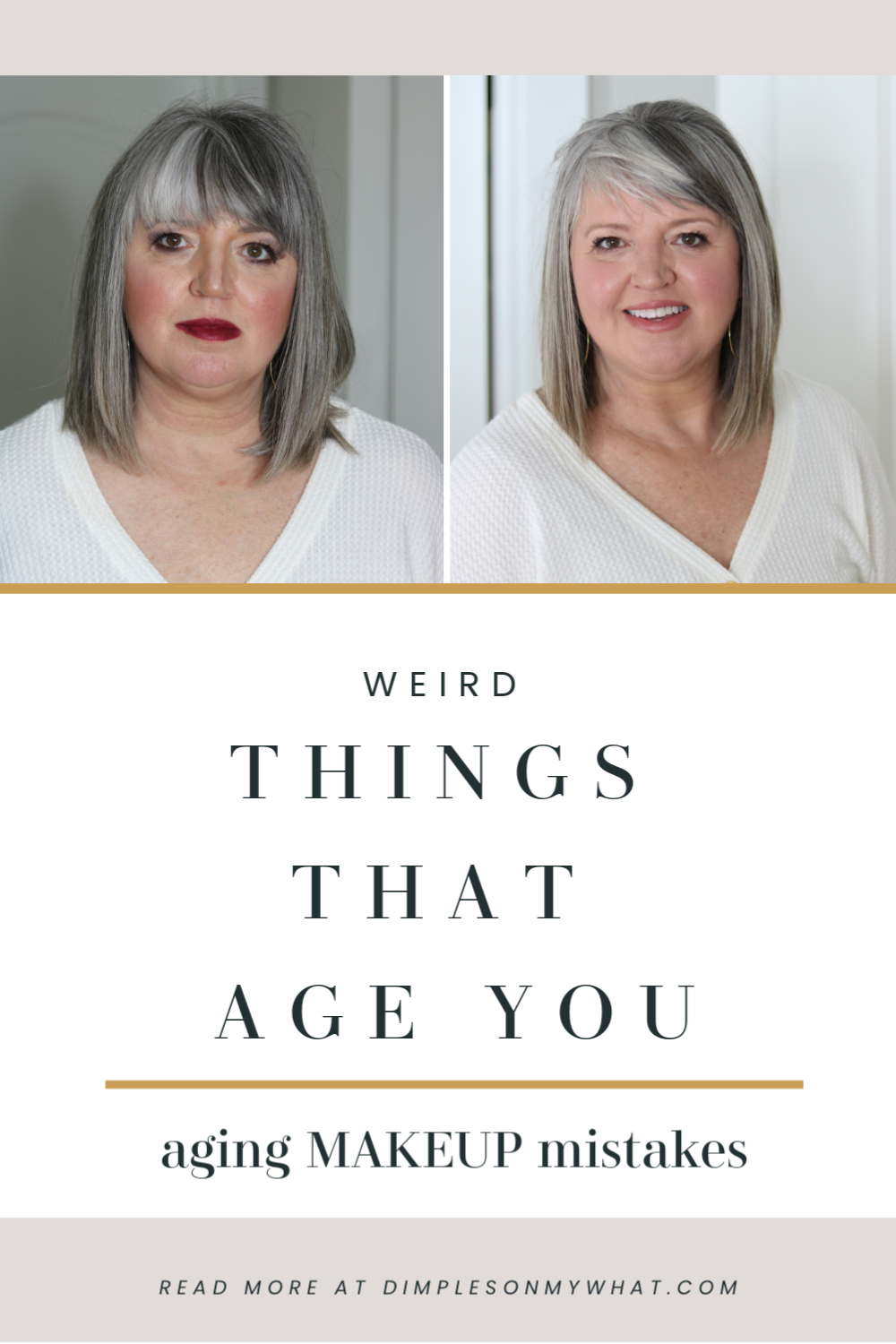 ---
Don't want to miss out?
Enter your email below to receive all new posts via email.