Laser Treatment for Rosacea using Laser Genesis & Excel V Plus
If you deal with rosacea and the redness that accompanies it, broken capillaries, fine lines, and enlarged pores, today I'm dishing on my experience with Laser Genesis and Excel V Laser to treat rosacea and texture issues. I'm sharing my before and after photos to prove that it works not only to reduce redness but it leaves your skin bright and more youthful-looking.
Laser Genesis also works well for active acne, acne scars, brown spots, and scars in general. So if you're plagued with any of these issues or are simply looking for a non-invasive way to get glowing skin, keep reading.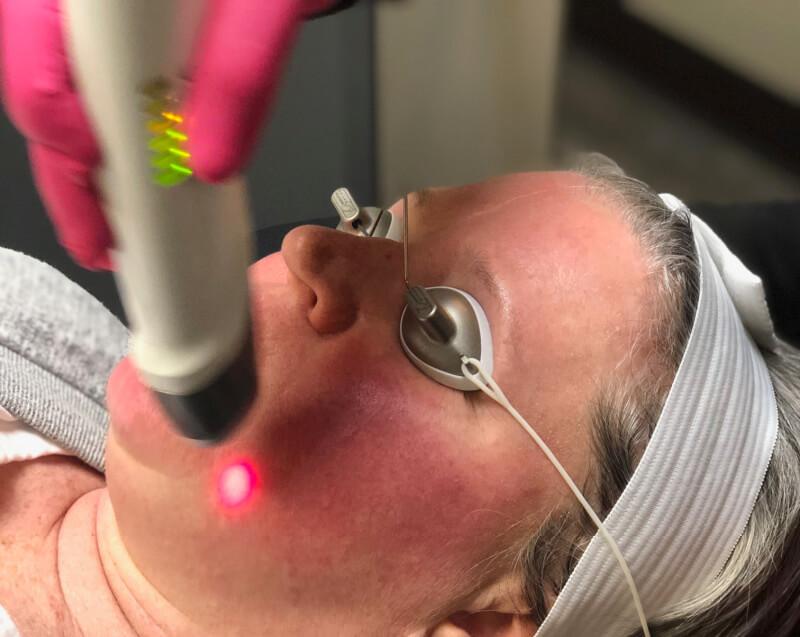 DISCLAIMER – I paid for this treatment with my own funds, at a reduced cost in exchange for my review. The opinions are my own.

WHAT YOU'll FIND IN THIS ARTICLE
This article is jam-packed with information! Here's what you'll find below:
My reason for choosing to treat my rosacea with laser therapies.
The overall results of Laser Genesis and Laser Vein (Excel V Plus by Cutera).
An overview of Laser Genesis including pain level, recovery, and cost.
A brief overview of Excel V Plus laser therapy including pain, recovery, and cost.
Best Practices when considering cosmetic procedures.
My favorite new skincare products that work for my extra sensitive skin.
My Rosacea Story: The Year of Better Skin
I've been dealing with rosacea for the majority of my adult life. The redness, breakouts, stinging, and overall inflammation have caused plenty of discomfort and self-consciousness over the years, and covering it with makeup doesn't always prove successful depending on how severe it is at any given time. Since topical medication can only do so much when heredity deals you the rosacea card, deciding to have Laser Genesis and laser vein treatments was a dream of a lifetime for me. (If you have bad skin, you'll get it.)
I deemed 2020, Operation Better Skin. A little pandemic tried to derail my plans but with the help of Pam at Pam Chaney Esthetics, by the end of my first consultation, I was excited to have a plan and a hope for better skin.
The plan included six Laser Genesis sessions to improve overall redness and texture and to reduce pore size, followed by a series of targeted laser treatments for the broken capillaries
---
SPECIAL OFFER

If after reading this post and seeing my results you'd like to try Laser Genesis with Pam (Pam Chaney Aesthetics) for yourself (and if you live in the Chicago/Northern IN/Southern MI area), you can mention my name and receive 25% off a package of 6 Laser Genesis Treatments.
---
The Overall Result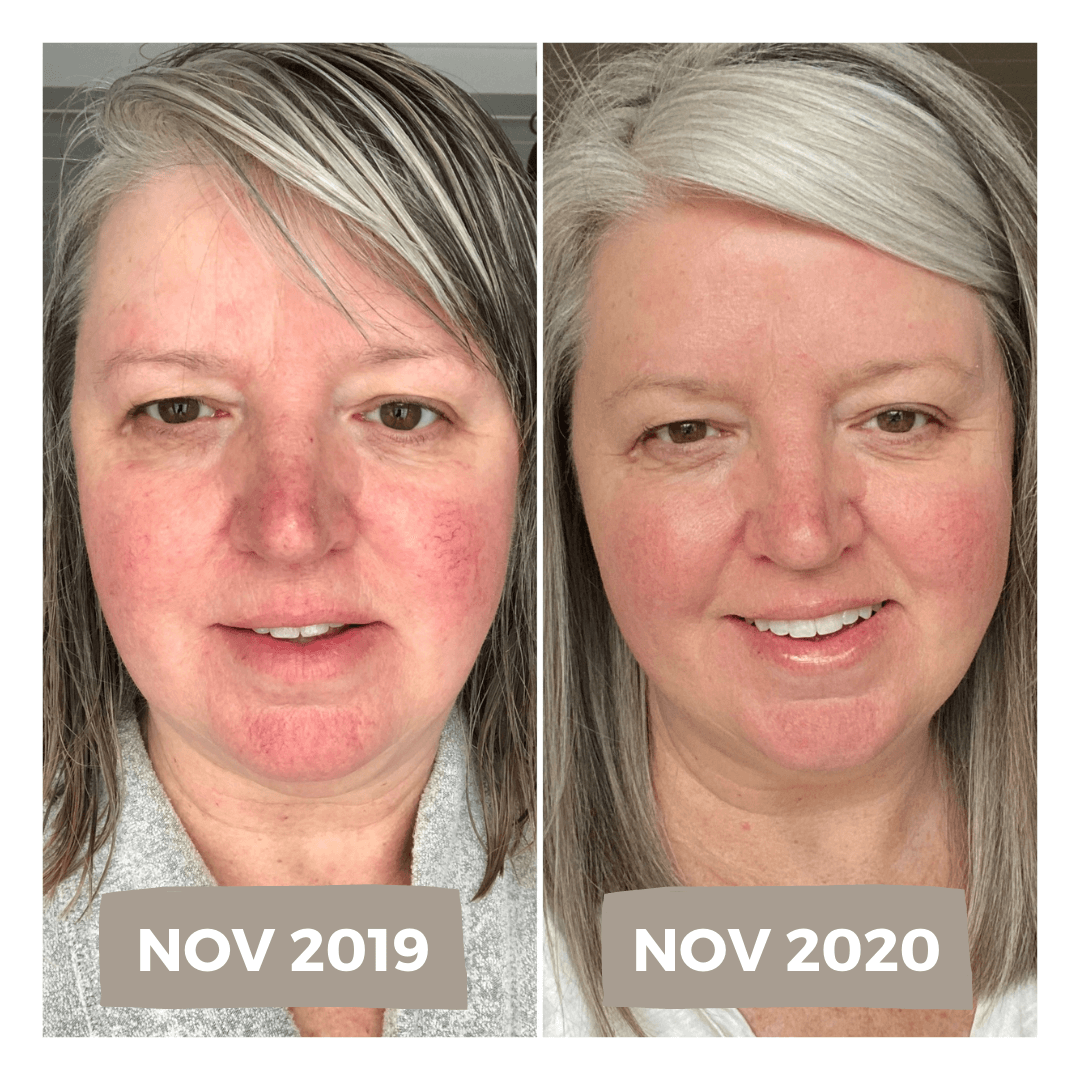 My main goal for this treatment was to get rid of the overall rosacea redness and broken veins as well as a sandpaper texture I had on the sides of my face. I have had a least 3 different diagnoses for this texture problem by as many dermatologists but a general conscientious is that it likely has something to do with my seborrheic dermatitis.
Getting rid of wrinkles wasn't necessarily high on my priority list. However, I was pleasantly surprised by the result of the Laser Genesis on the overall texture of my skin, especially the reduction of enlarged pores.
But the biggest impact really came from the laser vein treatments. I'm elated to have that unsightly mini road-map of broken capillaries disappearing off my cheeks. They had become increasingly hard to cover with make-up.
You can see for yourself that using the Laser Genesis in conjunction with laser vein therapy has made a marked improvement in the coloration and inflammation of my skin. And while there is still some roughness in those patches on the side of my face, my skin feels softer and smoother than it has in years.
Targeted skincare is helping with the texture too. You can find my current favorite 11 anti-aging skin care products for sensitive skin here.
---
LASER GENESIS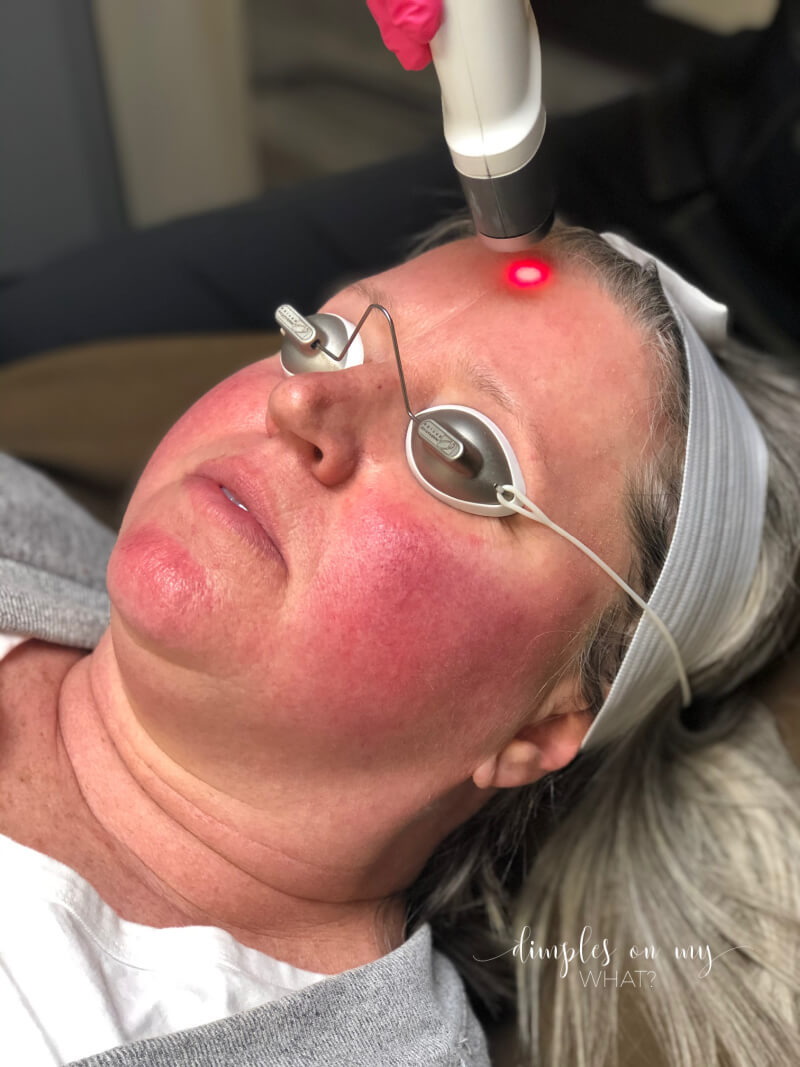 What is Laser Genesis?
Laser Genesis is a non-invasive, non-ablative treatment, meaning it doesn't injure the surface of the skin, so it doesn't cause peeling. It gently delivers heat to the dermal (deeper) layer which stimulates the body's natural healing processes to boost collagen growth resulting in a more youthful skin tone and texture.
Is Laser Genesis Painful?
Overall, I didn't find the procedure painful. However, occasionally spots would get hot but it left no residual pain or heat sensation once the laser was moved.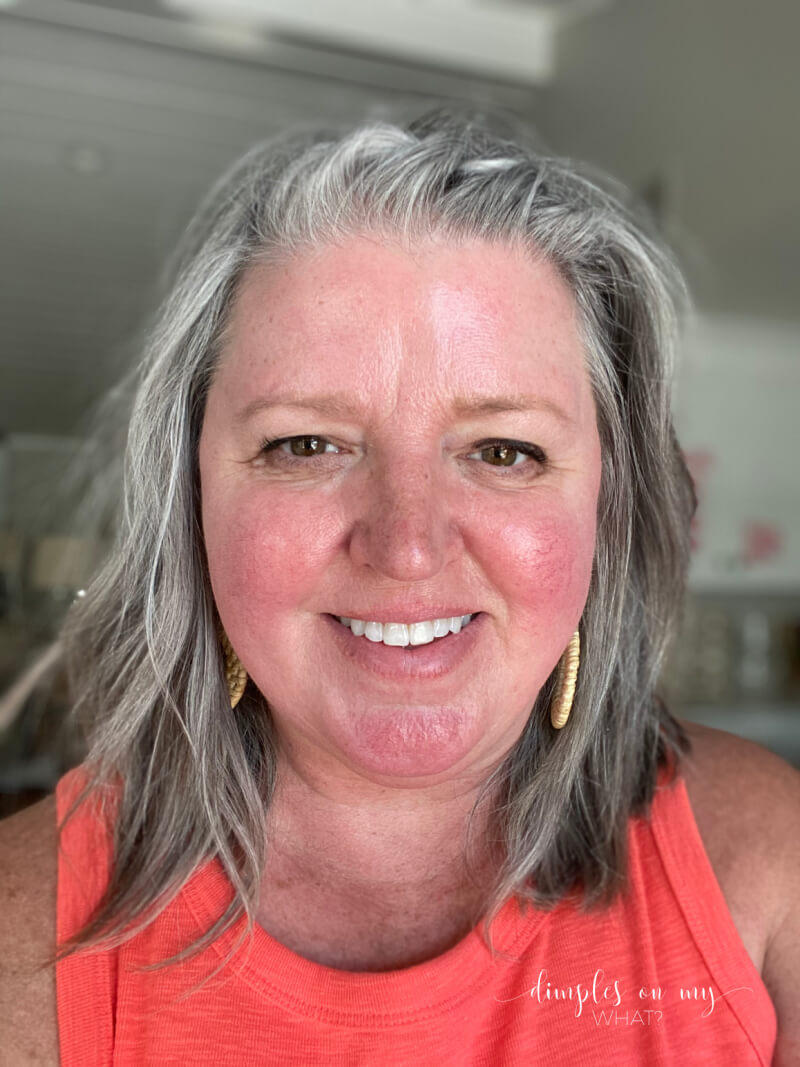 What is the healing time?
There is little to no downtime with this laser and you can apply makeup immediately afterward. Some may experience some redness and swelling but that should resolve within a few hours.
My skin looks very red during the procedure but the estheticians treated me to soothing masks and serums which calmed it right down. See product recommendations below and a full list of recommended skincare products here.
Be sure to use gentle skincare and protect your skin by wearing sunscreen following the treatment.
Do the results last forever?
You know the saying: Nothing lasts forever. The same applies to most cosmetic procedures and this is no different. You may find you need touch-ups from time to time.
How many sessions will I need?
Most people will need three to six laser treatments to see the full impact. I had the full six over as many months.
What does Laser Genesis cost?
Prices will vary depending on your area but according to Healthline: Laser genesis typically costs between $275 and $400 a session.
---
LASER VEIN Treatment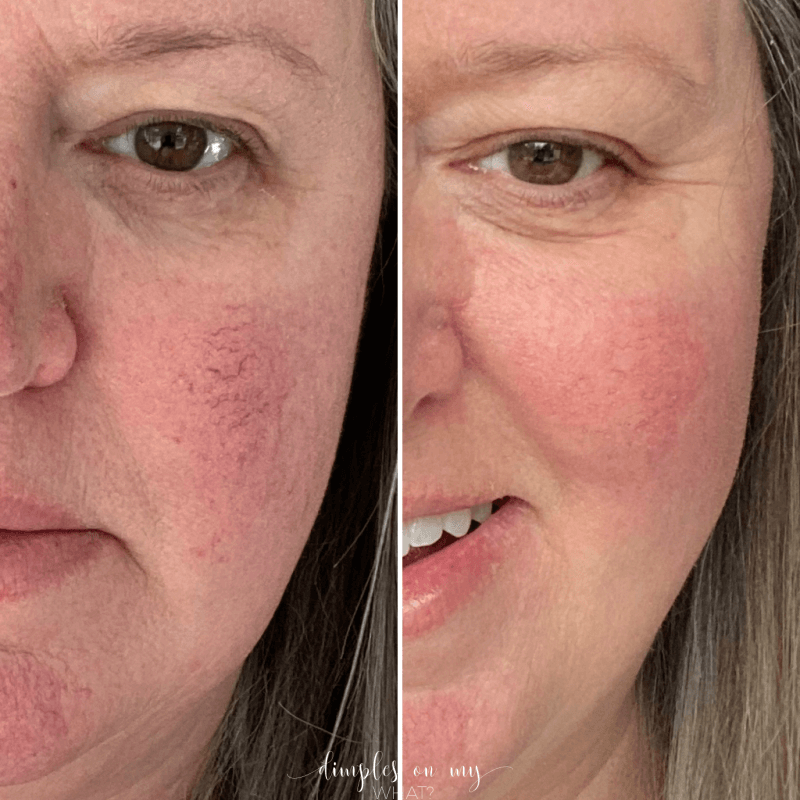 While the Laser Genesis made a big impact on the overall redness and appearance of my skin, the next step in clearing up my face was to target the broken capillaries (telangiectasia) with laser vein therapy.
I have had two treatments to date and I'm guessing that I will need at least one more. These sessions are spaced out at longer intervals but I believe they have made a huge impact on the appearance of my skin.
The Excel V Laser System by Cutera uses a unique high-power green laser that is absorbed by abnormal blood vessels in the skin. The laser heats and eliminates those abnormal vessels.
Was it painful?
This laser was also quite comfortable as it has a unique cooling feature. I would describe the sensation as a microscopic shock.
Will there be any downtime?
Once again, there is little to no downtime and any noticeable spots can be covered with makeup and do not last long.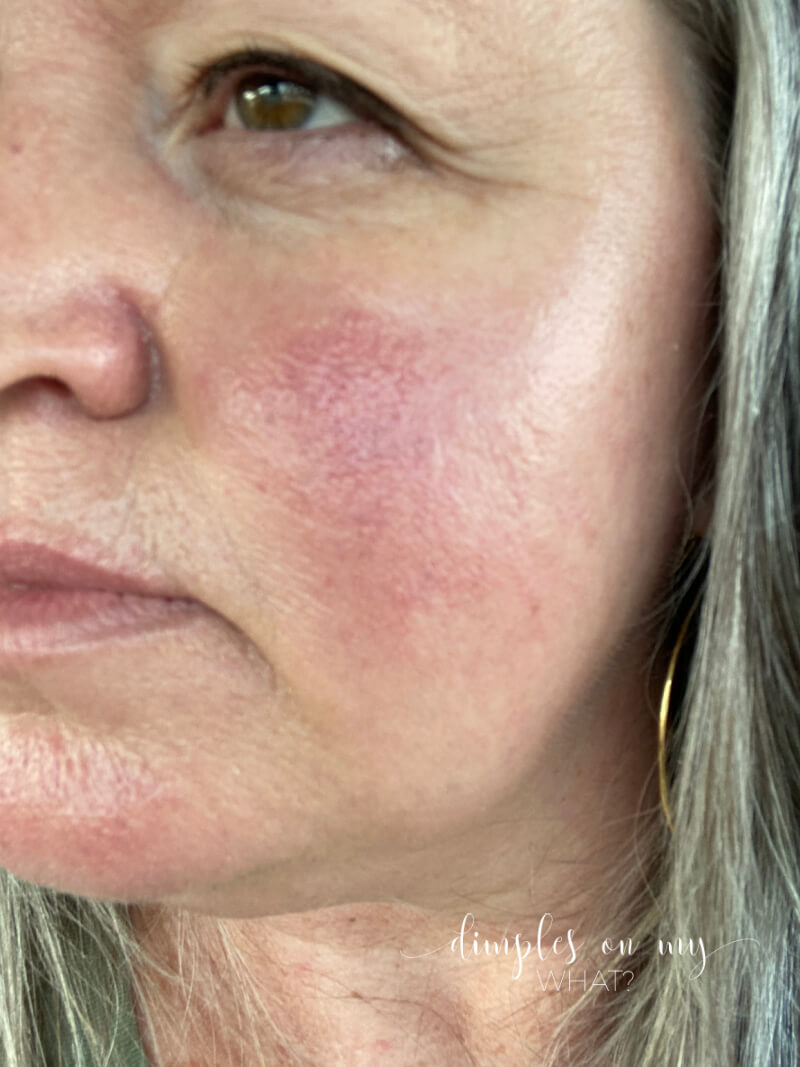 How much does Excel V Laser Cost?
Excel V cost varies depending on the size of the area and the condition being treated and where you live. It can range from $100 to $800 per treatment. In my case, it was $375 per treatment.
GOOD & NOT SO GOOD SKIN DAYS
We all have good and bad skin days no matter how great our skin is to start with. The "after" photo I'm using in this post was taken on a good skin day in natural light and in the same location as the first. Both are makeup-free and without filters.
I still have days when my skin is redder than others and I generally like to put on some foundation (I'm loving this one in the color Light). But the overall improvement is still pretty great to me.
---
TRY LASER GENESIS FOR YOURSELF
If you live anywhere in the Northern Indiana/Southern Michigan area and want a highly skilled medical spa, be sure to check out Pam Chaney Esthetics. Mention Paula Holloway/dimples on on my WHAT? and you will receive 25% off of a package of 6 Laser Genesis Treatments.
---
BEST PRACTICES FOR SCHECULING A MEDICAL SPA PROCEDURE
Laser treatment for my rosacea was a long time dream of mine. Most cosmetic procedures come with a big price tag and my funds are limited for unlimited services, if you know what I mean.
One could easily keep saying yes to add-on procedures and the next little tweak until they are having to spread out the cost on multiple credit cards all while trying to convince yourself at the checkout, "It was totally worth it." (Not saying I sadly witnessed someone doing that, but I might have.)
So, based on my experience and what I might have seen, I've come up with a few recommendations for how to proceed once you've decided you want to have a cosmetic procedure done. These are, after all, medical-grade treatments and much like any elective medical procedure, you need to make sure you're positive about what you're doing and how much it will cost.
Get a second opinion. Pam was my second opinion, but the first was given to me by my dermatologist, several years before going to Pam Chaney Aesthetics. Honestly, I should have gone back to my doctor so I could better compare treatment plans and options.
You'll want to see how their plans compare and understand the pros and cons of what each is recommending. For instance, is one treatment more invasive with a longer recovery but will get you to the end goal sooner? Just decide what works for you.
Note: Pam Chaney Aesthetics is growing and will hopefully have an on-site dermatologist and/or cosmetic surgeon in the near future. That will be a great asset to us as patients.
Get your treatment plan in writing. Once you decide on the procedures you want, having an agreement can keep you and your esthetician/doctor on track. It's a great way to avoid any misunderstanding of what was discussed.
My Laser Genesis treatments were scheduled out over 5 or 6 months and then the Laser Vein therapy started with months between each session. When that much time is lapsing between appointments it's easy for each of you to forget something.
Know the complete cost up front and have them in writing also. This should be included in the treatment plan. That way, there are no surprises at checkout. You'll also be able to say, "How much is that?" when discussing something that wasn't in the original treatment plan.
In my case, after my first laser vein treatment, I was mistakenly told how much I owed at the checkout counter. Since I had everything in writing, I was able to go back and say, no that was already included in the amount I paid upfront. Phew!
Don't be afraid to ask what everything costs. There's no shame in having a budget and sticking to it, after all, these are elective treatments. A soothing mask for $50 might not seem like much, but add that to all those add-ons and soon you're having to sell a kidney for cosmetic reasons. 😉
Questions? Questions? Anyone?
I hope you found this article helpful if you're contemplating having laser treatment done for your rosacea. I've accepted that I'll never have peaches & cream skin, but I highly recommend Laser Genesis and Laser Vein therapies to help calm down the red and put your best face forward.
Let me know if you have any specific questions about the treatment. Be sure to call Pam Chaney Aesthetics for a consultation if you live in the Michiana area.
NEW TO ME SKINCARE PRODUCTS WORKING FOR MY SENSITIVE SKIN
Pam also suggested some skincare products and while I wasn't a fan of everything, there are a couple that I absolutely love and have repurchased – more than once. They are on the luxury end of the price scale but so far, I haven't found less expensive options that compare.

I have linked my favorites here, but here's a comprehensive list of my favorite anti-aging skin care products for sensitive skin! I'll include more details about each product then. Subscribe below to receive new post notifications by email.
Don't want to miss out?
Enter your email below to receive all new posts via email.
I've linked each product using an affiliate link (see full disclaimer here) but they are also available at Pam Chaney Aesthetics.
Do you have rosacea and hypersensitive skin and a simple and effective anti-aging skincare routine? If so, I'd love to hear about some of your favorite products!