This Instant Pot Bolognese Sauce is comfort food at its savoriest. Is that thing? It's thick and delicious and it only takes 20 minutes to cook. Once you try it over your favorite pasta, I can almost guarantee you'll never go back to jar spaghetti or marinara sauce again. I know I haven't.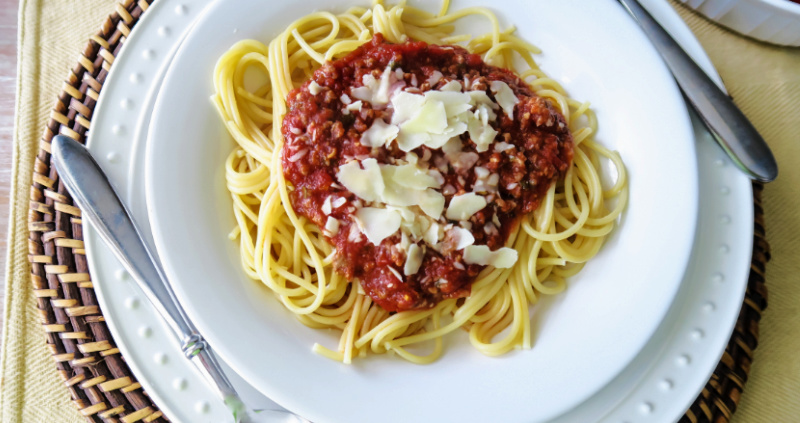 WHAT IS BOLOGNESE SAUCE?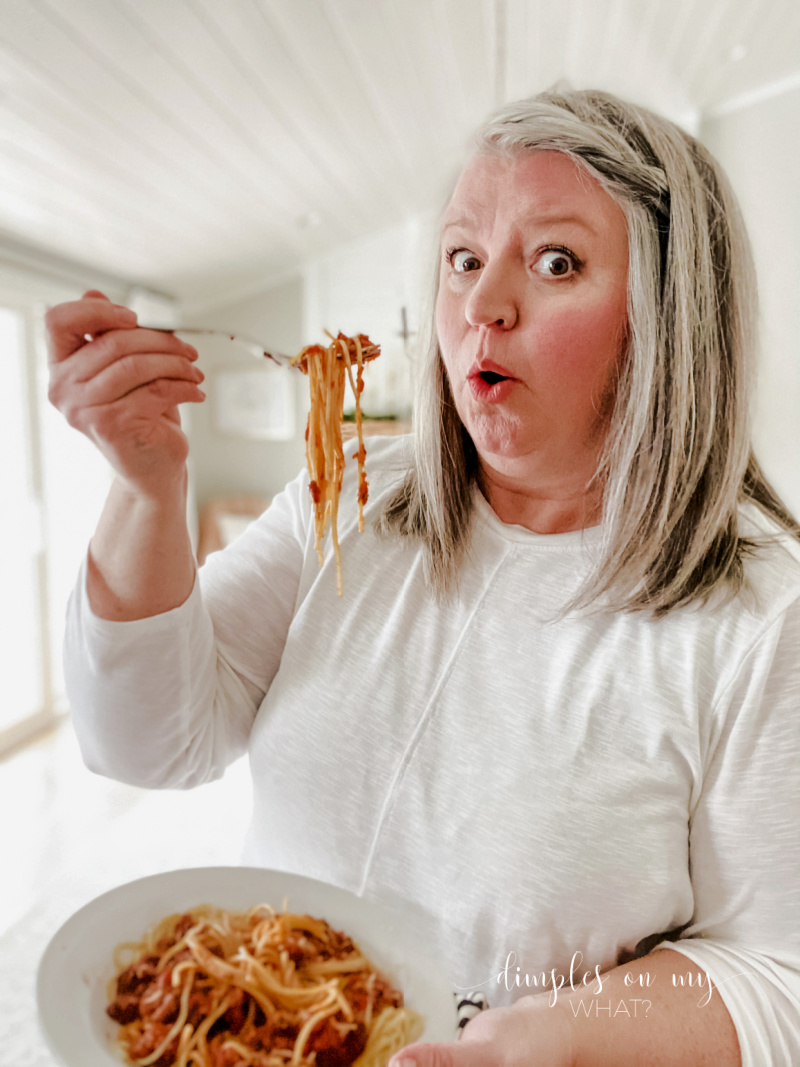 According to Olivia's Cuisine, Bolognese is a kind of ragù (the Italian word for meat sauce), original from Bologna, Italy. She says it's a thick, creamy sauce that usually contains milk.
Today's Instant Pot Bolognese Sauce recipe is milk-free so I'm not claiming this to be an authentic Italian recipe. However, when compared to jar sauces, you might think you've slipped away on an Italian getaway. 😉
There are no additives or chemicals in this amazing pasta sauce and even though the recipe calls for a little sugar to help cut the acidity of the tomatoes, you control the amount. I generally like a little zip to my sauce, so I often leave it out altogether.
THE MEAT
Since Bolognese Sauce is ALL about the meat with a little tomato included, you're gonna need meat. Duh! Use ground beef or sweet Italian sausage or a combination of both.
The rest of the ingredients are probably already in your pantry! How great is that?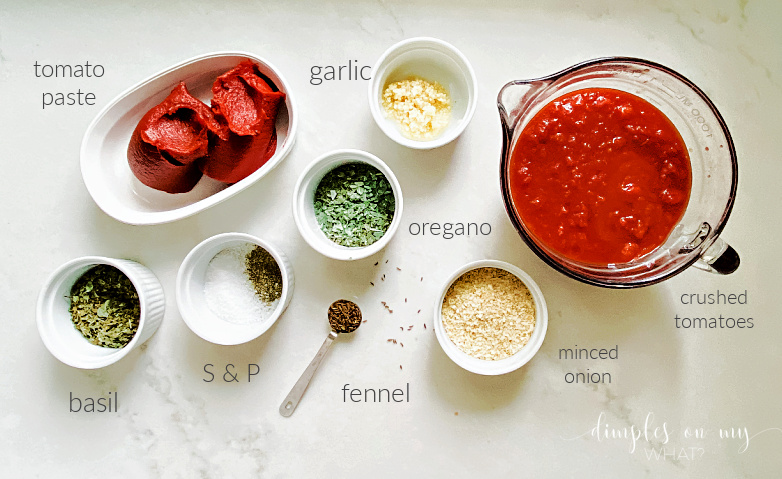 INGREDIENTS FOR INSTANT POT BOLOGNESE SAUCE
1 pound ground beef or Italian sausage
3 Tablespoons minced onion flakes
4 teaspoons minced garlic
1 (28 ounce) can crushed tomatoes
1 (6 ounce) can tomato paste
1 cup water
2 Tablespoons sugar
1 Tablespoon dried oregano
1 Tablespoon dried basil
1 teaspoon *fennel seed
1 teaspoon salt
1/2 teaspoon pepper
*All the seasonings are important but in my opinion, the fennel seed is what makes this taste so authentic. If you don't think you like fennel seed, try half the amount to start.
Instant Pot Goodness
The beauty of an Instant Pot is that it's a one-pot wonder. I use this Instant Pot Duo 7-in-1 Electric Pressure Cooker, Sterilizer, Slow Cooker, Rice Cooker, Steamer, Saute, Yogurt Maker, and Warmer.
Saute' the meat, add the other ingredients, mix it up, and select how you want to cook it, and set the time. The sauce cooks in twenty minutes if you choose to pressure cook it.
HOW TO MAKE THE SAUCE
ONE: Turn Instant Pot to SAUTE' setting and add ground beef or sausage when the pot is hot.
Brown the meat and break it up as it cooks. I like to use one of these Chop-Stir thingys to get a fine crumble. But a wooden spoon works too.
TWO: Add in other ingredients and stir to combine.
THREE: Place lid on your Instant Pot, move the valve to the SEALING position and press the MANUAL button. Set the timer for 20 minutes and wait for the magic to happen.
It will take a few minutes to come to pressure, then it will start the countdown.
Most bolognese recipes simmer all day, but the Instant Pot will give you that all-day simmered flavor and texture in just 20 minutes. (See slow cooker times below.)
Step 4: When the cooking time is done, do a QUICK RELEASE by moving the valve on top to VENT. (Use a towel or oven mitt to be sure not to burn yourself!)
Once all the pressure has released and the pin has dropped, remove the lid and stir the sauce.
DIRECTIONS FOR SLOW COOKER SETTING
Use the Instant Pot as a slow cooker or use your own Crock Pot. (I need a new slow cooker and I think this one looks like a great option.) Follow steps ONE and TWO above.
Then for step THREE: put the lid on but keep the vent UNSEALED. Select SLOW COOKER and set the time for 4-6 hours. (If using a traditional slow cooker, cook 8 hours on "low".)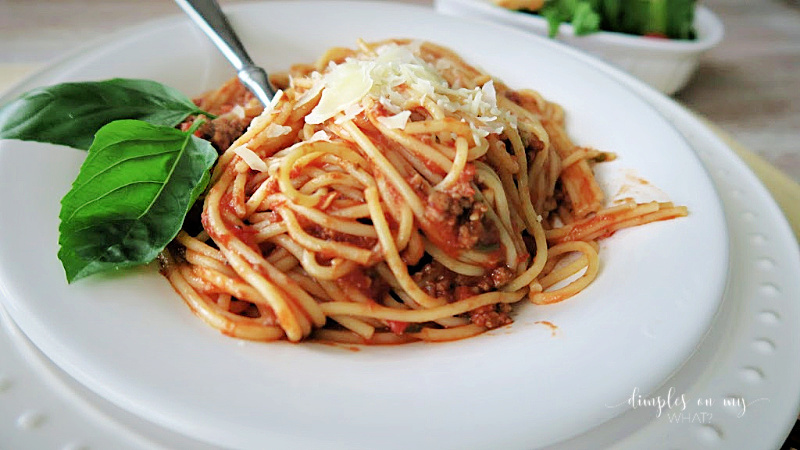 ENJOY IT YOUR WAY!
That's it! Simply enjoy this Instant Pot Bolognese Sauce with your favorite pasta or pasta substitute and a great salad.
We usually eat it with traditional spaghetti with the sauce on top for the first night. But then we mix it all together for leftovers, which is Mr. Dimples' favorite way to enjoy it.
This sauce freezes well too.
MAKE IT
Instant Pot Bolognese Recipe w/ Slow Cooker Option
If you're like me, you'll never buy jar spaghetti sauce once you taste this easy slow cooker bolognese sauce.
Equipment
Slow Cooker or Electric Pressure Cooker
Ingredients
1

pound

Italian Sausage or Ground Beef

3

tbsp

Minced Onion Flakes

4

cloves

garlic, minced

or 2½ tbsp minced garlic from a jar

1

28 oz.

Canned Crushed Tomatoes

1

6 oz.

Canned Tomato Paste

½-1

cup

Water

for thicker sauce, use l1ess

1

tbsp

Dried Oregana

I like this brand

1

tbsp

Dried Basil

I use this brand

1

tsp

Fennel Seed

1

tsp

Salt

½

tsp

Pepper

2

tbsp

*Sugar (OPTIONAL)

omit or use a lessor amount to taste,
Instructions
Set the Instant Pot to SAUTE' and cook Italian sausage or ground beef in a skillet until browned (or use a skillet if using a traditional slow cooker). (If using a traditional slow cooker, transfer to a 5 qt. slow cooker.)

Stir in all remaining ingredients, mix well.

COOKING TIMES TRADITIONAL SLOW COOKER or INSTANT POT set to Slow Cooker: 6-8 hours on low INSTANT POT: Set to SEAL. Then select MANUAL and use the "+/-" to set for 20 minutes. When timer goes off, manually release the SEAL, being cautious NOT to burn yourself on the steam.

ENJOY over pasta of your choice.
Notes
I prefer a less sweet sauce so I omit the sugar altogether. But if you need to cut the acidity, adjust the sugar to your taste preference.
---
THINGS YOU MIGHT NEED TO MAKE THIS RECIPE