Oh, oh, tidings of comfort and joy! That's what I'm calling this look. You know, when your Cozies become "GOzies" because you wear them out of the house and fancy it up with a cute plaid coat! 😆⠀⠀
So this is my HAPPY NEW YEAR post and it's coming at you with all the love and encouragement I can cram through these here inter-webs. ⠀⠀⠀⠀⠀⠀⠀
Who couldn't use more COMFORT & JOY anyway?
I had originally intended to post this at Christmas but time and life got away from me. But the thing is, if you're like me, comfort and joy are everyday goals. And while comfy joggers and cute coats can physically give you all the feels, lasting JOY, HOPE and PEACE aren't circumstantial. They require us to dig deep. Deep into our faith. And deep into the Word.
If you're feeling uneasy and upended by your circumstances and you want a bit of encouragement heading into this new year, read on.
One Specific Gift
If 2020 taught us anything, it's that our very system of living is fallible, and putting our hope in people, things, or politics only leads to frustration and anxiousness. But, before we get sad about that, here's the GREAT NEWS:
We are promised all the good things. Peace. Hope. Joy. Comfort. It was so important to God that we feel loved and secure, that he gave us the Holy Spirit specifically to comfort us.
Getting out of our Comfort Zone to Find Comfort
Want to hear something weird?
Being uncomfortable doesn't mean we're aren't comforted or secure. It doesn't even mean that our circumstances have to change before we can feel at peace.
Think of it this way, even in non-religious speak we talk about leaving our comfort zone to drive us toward goals, transformation, success… Being challenged on any level is uncomfortable. And honestly, I don't like discomfort whether it's a restricting waistband or doing something I'm scared to do.
Promises of Comfort & Joy
But the promise of God is that no matter what, God will be with us. His presence is continual. So that's where the COMFORT comes back into play.
"Be strong and courageous. Do not be afraid or terrified because of them, for the LORD your God goes with you; he will never leave you or forsake you"

Deuteronomy 31:6
The promise of God's omnipresence is not only evident in scripture but it has been borne out in our lives. Although, if you're like me, sometimes it's only in hindsight that we see how God was with us in a challenging situation.
As a girl who could spend 24/7 in cozy clothes, I like to think of it this way – His never-ending presence in our life is like the coziest outfit you own and you never have to take it off. Am I allowed to say that about God?
Praise be to the God and Father of our Lord Jesus Christ, the Father of compassion and the God of all comfort, who comforts us in all our troubles, so that we can comfort those in any trouble with the comfort we ourselves receive from God

2 Corinthians 1:3
Think of how it feels to get into your cozies at the end of a long day, it's soothing and you instantly feel calmer even though nothing about your situation has changed. That's what the presence of God does. COMFORT! And that makes me JOYFUL.
Maybe my analogy is elementary but it's the way my mind thinks sometimes. Okay, pretty much all the time.
For more encouragement you might like, Are You Living in the Overflow?
He's Up to the Challenge and We Can Be too!
There's no doubt we are living in challenging times. And you might even be living through a personal crisis of faith, health, financial, or relationships beyond our current world situation.
If you follow me on Instagram, you may have seen that we've gotten news that my mom's metastatic cancer is no longer responding to treatment. They've switched up her treatment and we are praying for the best through this new therapy. However, we put our trust in God for the comfort we seek for our broken hearts and beyond. We have hope and joy that goes deeper than what we see and feel because God told us that He would never leave us and would be with us through all the things.
These things I have spoken to you, that my joy may be in you, and that your joy may be full.

John 15:11
And that my dear friends, is my wish for you – Despite what you're going through and what you are facing or will face this year, may you be blessed with exceedingly glad tidings of comfort and joy!
Hugs,

And if you want to find some of that comfort and joy on the outside, some cozy joggers and a cute coat might just do the trick. 😉 Just sayin'.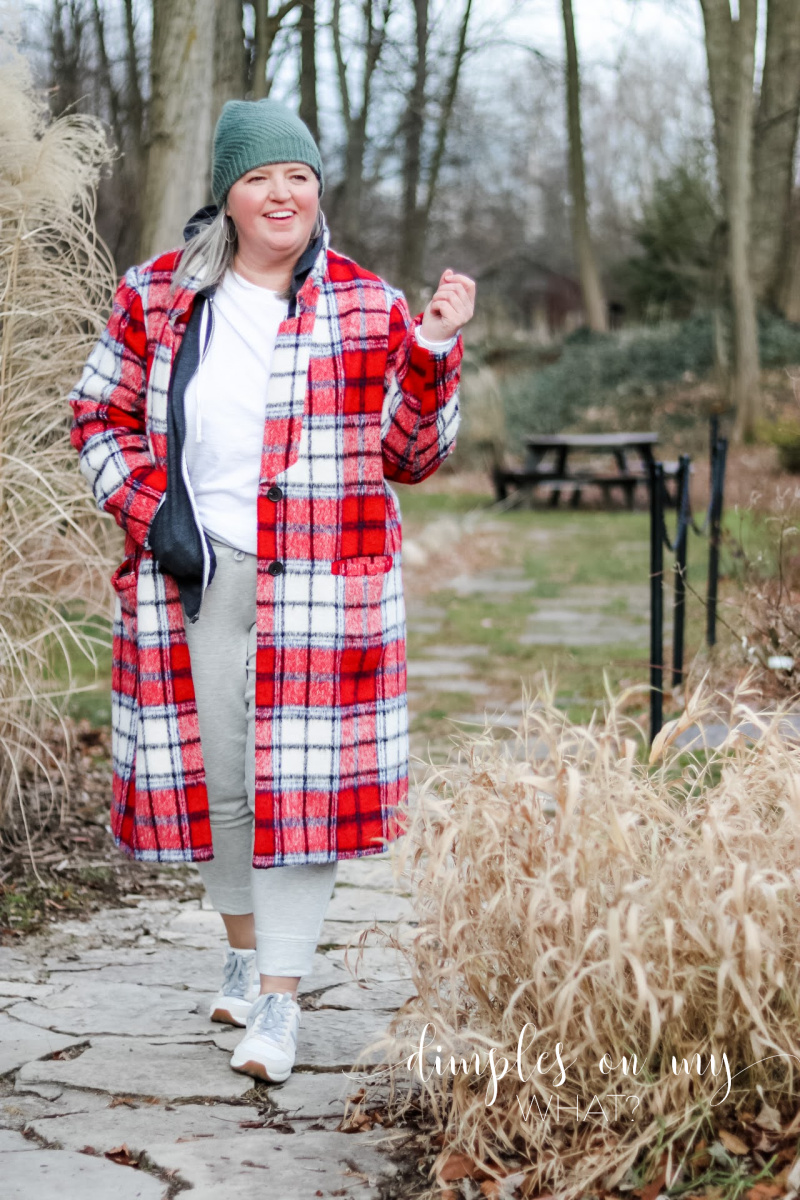 ---
Shop Comfy & Joyful Jackets