& Giving Thanks
Hey friends! I've been so busy around here getting my home ready for a holiday home tour for a charity that I haven't been faithful to this blog. But I wanted to take a minute to not only show you this enchanting and affordable holiday-ready leopard maxi skirt outfit but to tell you that I'm thankful for YOU.
Yes, it's true, YOU!
And yes, it's also true that we've already had a little snow.
Giving Thanks, an Elastic Waist Maxi Skirt, and a Whole Lot of Retrospection
If you follow me on Instagram, you might have seen some of my Stories where I get all personal and teary trying to figure out what direction God is leading me. To blog or not to blog? If so, what about?
I've been seeking direction for my life for the last several years since I closed my manicure studio and as of late, I still don't exactly know what I want to be when I grow up.
This blog was created to be an outlet for my thoughts and opinions about getting older and fatter, and how we should and shouldn't dress an expanding body. It's been a place to share recipes, our home remodel, and from time to time, share some faith-based encouragement.
Where I Might Be Failing
But the truth is, I haven't really done any ONE THING well or consistently and THAT'S why I'm still floundering a bit. In this industry, we are encouraged by experts to niche down; which essentially means, pick a lane, and stay in it.
But I have trouble with that. Maybe because I get caught up in other people's successes and think I should try to replicate it. Or could it be that I just have so many interests or possibly that I get different feedback depending on the platform where my content is shared?
For instance, besides my perpetual pleaser, "viral" post on The Best Booties for Curvy Women, my gray hair content and my home decor content perform really well on Pinterest. Whereas my fashion and style content do the best on Instagram. And here on the blog, I get the most engagement on posts with Faith Inspiration.
See? How's a girl to know what to do?
Hashtag GRATEFUL
Okay, what's this have to do with YOU?
Well, you're here, aren't you?
If you're here because you just clicked through from Pinterest or a Google search to see this post, I APPRECIATE YOU.
And, if you are one of those who show up week after week (well, IF I post every week that is) 😉 to read and comment, I am humbled by your faithfulness and support. You, my friend, show up for it all!
I am ever so thankful for YOU.
If there was a way to express it more profoundly, I would. But I simply say, THANK YOU!
An Enchanting Leopard Maxi Skirt Outfit Made for Holidaying
Now, how about this outfit for the holidays? I don't really have to say much about it because it makes its own statement. I'm wearing the largest size, XL-XXL.
It's really stunning and I think the maxi skirt conjures up both old-world glamour and Little House on the Prairie at the same time. Well, if you wore lace-up booties you could be like a fashionable Miss Beetle in the classroom. 😉
I can't find this Free People sweater again this season to link it, but I've included another slightly less bulky sweater in the shopping links below.
You could easily wear the maxi skirt with no shoes for a boho vibe when entertaining your friends in your home. Because no matter what, don't allow viruses and mandates to dictate people out of your life.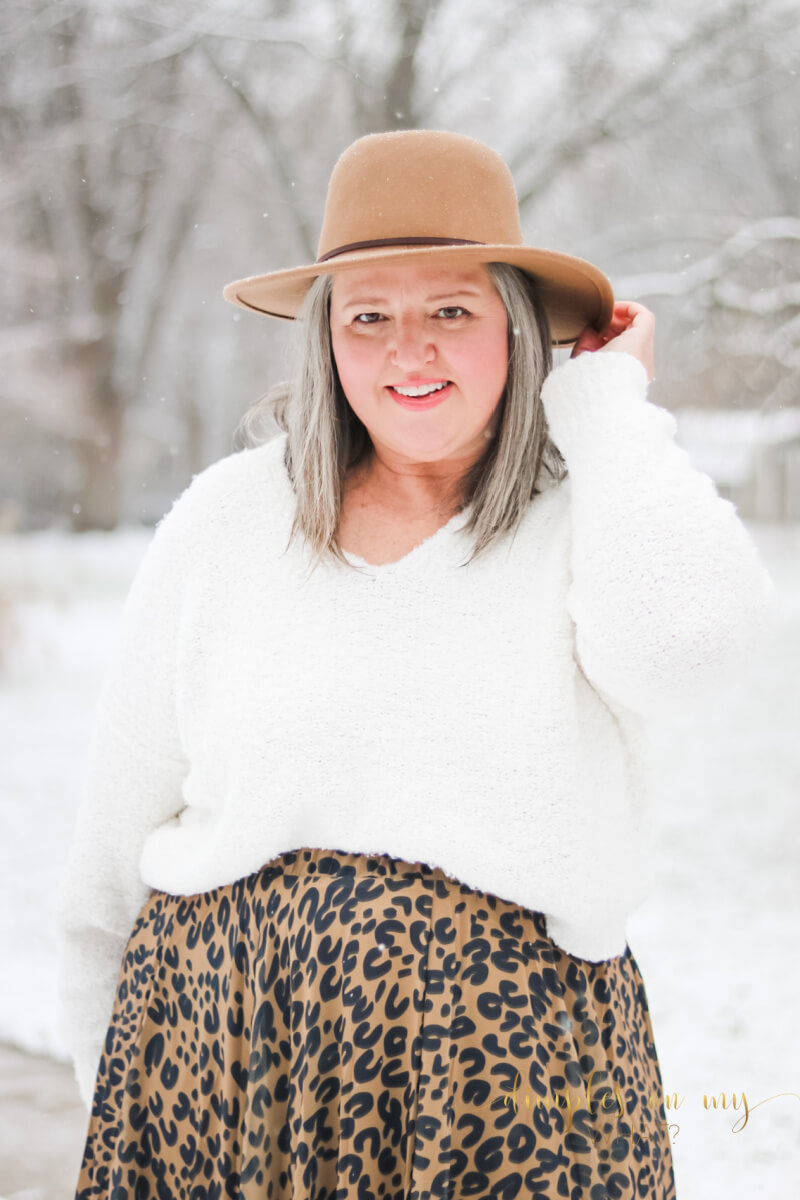 Assemble Yourself Together, and Be Thankful for It
This statement is in no way political; it's passionate. But, in a year where we have been made keenly aware of how much we need other people because we've been separated from them for long periods of time, another mandate to not be with family and friends is bordering on lunacy. Just be smart and careful.
We NEED each other for support, friendship, encouragement, and because God made us that way. It is not good for man to be alone. (Genesis)
God said it in Hebrews 10 when He told us to not forsake assembling ourselves together. Yes, it certainly means assembling for worship, but the command was actually more for exhorting each other, specifically uplifting and encouraging each other in faith.
And friends, I am more convinced than ever that we need each other for encouragement. So as Paul ended almost every letter he wrote to the churches abroad – I do not cease to give thanks for you and I remember you in my prayers.
Happy Thanksgiving!

---
You might also be interested in Holiday Gifts for Men
Shop this look