Full calves and slim-shaft booties don't always go together. It's a problem I'm very familiar with, but I have a few tips and will show you the best way to style straight, slim-shaft booties on a curvy woman. I'm also going to show you a few close-fitting booties that might work for a fuller ankle and calf.
If you're a curvy woman, do you ever wonder if you can wear all the trendy clothes and shoes as everyone else and still look as good as the skinnty girls do? Well, I'm here to tell you that if you pay close attention to the details and the proportions, you can!
As a full-figure and sometimes plus-size woman, I'm always looking for comfortable outfits that don't look frumpy and still fill my need to add a little feminine flare to my look.
While in Tennessee, I got some photos for a recent brand collaboration with Vionic Shoes, and I loved the outfits I styled so much that I thought it a pity not to share a bit of fluffy girl outfit inspiration with you.
**Since I share shoppable links with awesome peeps like you, this content may contain affiliate links for products I use and love. If you take action and purchase from one of these links, I'll make a little money to help keep this blog afloat. As an Amazon associate, I also earn from qualifying purchases.
BREAKING THE STYLE RULES
One of my biggest claims to fame on this website is the post I did on The Best Booties for Curvy Girls, in which I show you that V-notched top booties are very slenderizing to curvy (and petite figures). However, in this post, I'm breaking my rules and wearing a bootie with a higher, straight-across shaft with a dress.
This bootie type is more flattering with the current wider-leg denim trends – flares, straight-leg, and wide-leg denim. As long as they have a slim, close-fitting shaft, they look particularly nice with a cropped length because they show off the booties as well as being slenderizing to your ankles and the perfect juxtaposition with fuller-leg jeans.
However, we don't all have the budget or the closet space to have a pair of booties for every outfit. But I believe we keep a couple of things in mind; even we full-calved girls can wear what I consider the "it" booties of the season.
DETAILS AND PROPORTION MATTER
I recently saw an IG account posting side-by-side outfit recreation photos of herself alongside a photo of a "PINspiring" influencer in a similar outfit. Please don't hate me; it was more of a dissection than a judgement. 😉
It's not that she's not wearing the exact items because that's not what inspiration is about. She may wear similar clothes, but the proportions and details are off. In this case, the hem length, proper fit, and bootie choice make or break the outfit.
I'm not picking on anybody; I get it wrong or not quite right a lot of the time too. We learn as we go, and mistakes, especially when caught on camera, are our best teachers.
The model on the right has impeccable style, an incredibly toned body and affords high-end clothing. But I believe that we can get denim and booties right, no matter our budget or size.
To prove my points, I'll show you how these outfits go from okay, to better and best because of the booties and outfit choices. And you will see that hemlines and booties can be unflattering or flattering depending on how we style them.
THE BEST WAY TO STYLE HIGH, SLIM-SHAFT BOOTIES ON A CURVY WOMAN
MEH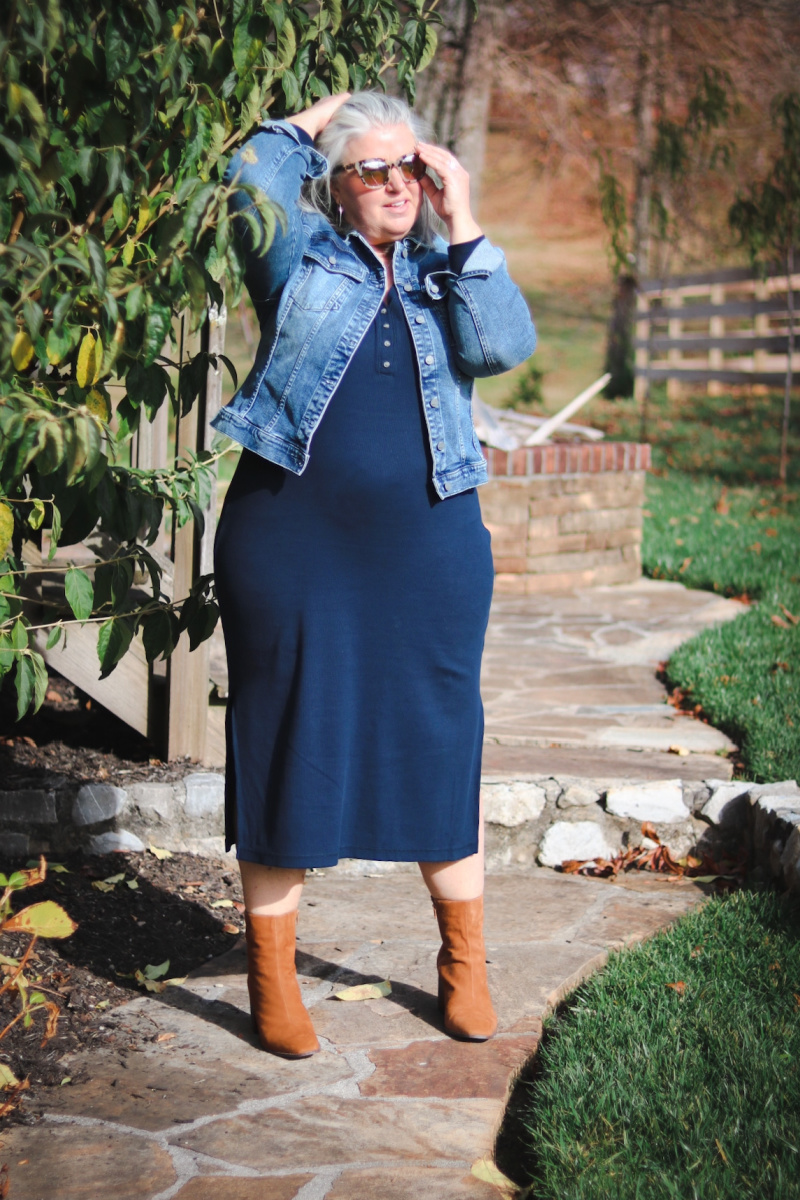 dress wearing XXL; similar; similar || jacket wearing XL; similar wear an XL || booties || sunglasses

This type of bootie is least flattering on me with the column dress. Can you see how the straight hem and the straight booties horizontally break up the leg line in not one but two places?
This could work and would look better on someone with a more slender calf. It's okay, but not the best for me.
These booties would work much better with this look.
BETTER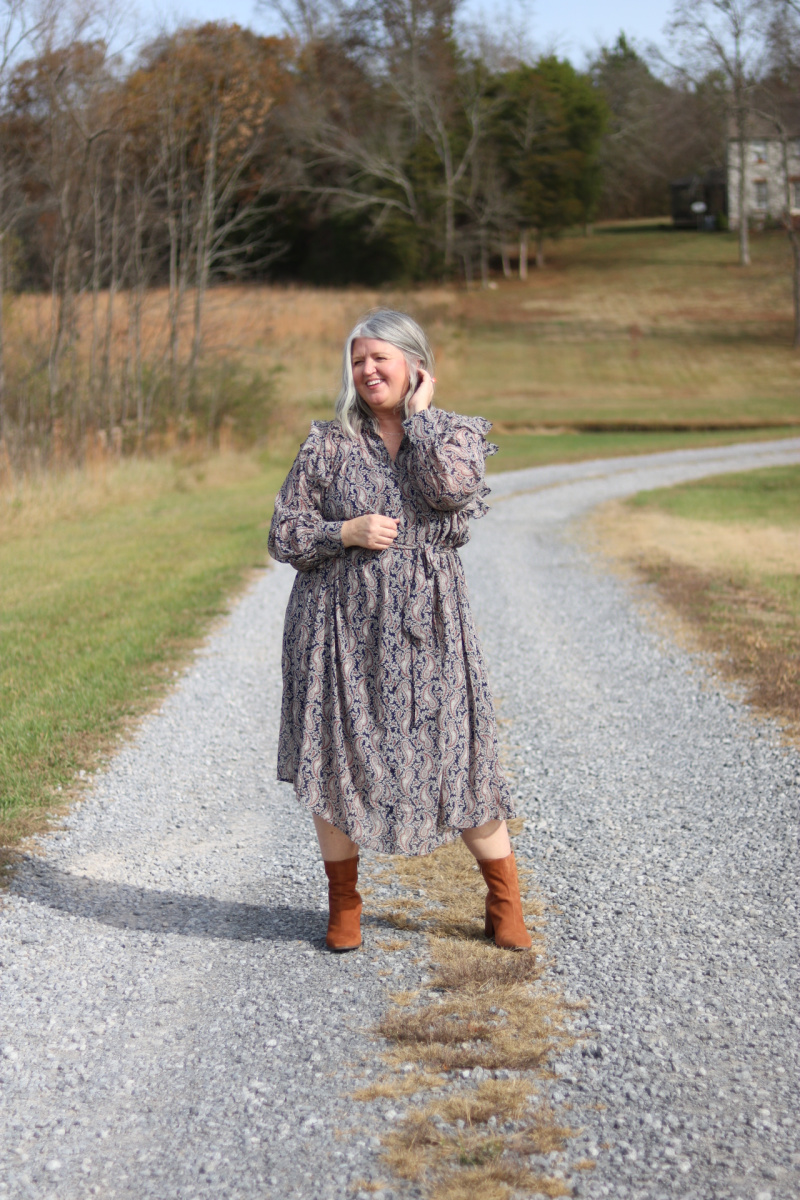 Dress, wearing XXL but could size down || Booties TTS
And next, I think the boots work pretty well in the flowy feminine dress. The dress is longer, and with a more curved hemline, I don't have two straight horizontal lines visually cutting my leg off in two places. Also, as I walk the dress moves a lot and further breaks up the horizontal lines.
BEST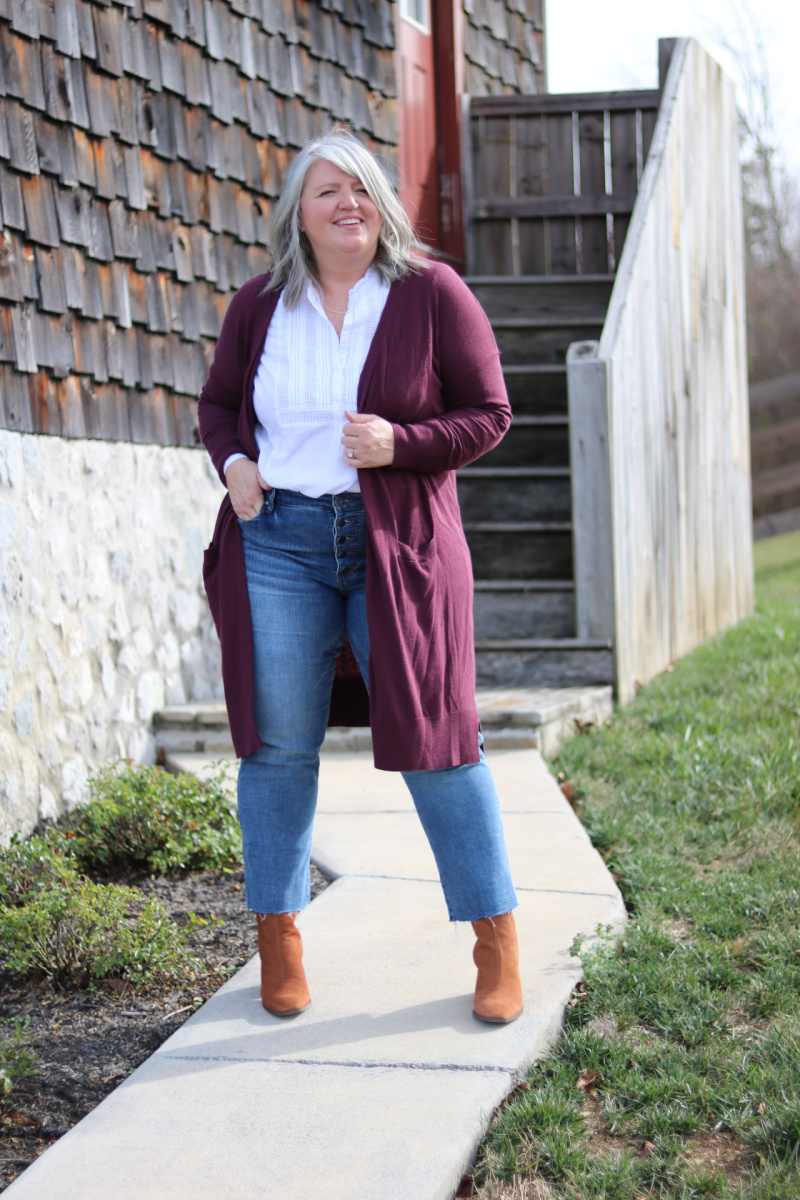 jeans wearing misses 18; plus size || blouse old – similar || cardigan wearing 2X; misses size || booties
But, as you can see in the photos, these booties are the most flattering with my straight-leg jeans. They would be even better with wider-leg denim.
However, if I wore a wide-leg denim, I'd choose a more slim-fitting top and not the long cardigan. But that's a tip for another day.
ABOUT THE BOOTIES
These booties have a higher heel than I'd normally wear, but because of Vionic's Vio-Motion engineering, your heel sits back a little bit, taking the pressure off the ball of the foot. The shaft is not stretchy but is just slim enough and still fits my ankle and lower calf.
However, if you have larger ankles, look for a Chelsea-style bootie with elastic gussets on each side. Better yet, find booties that have an all-over stretchy shaft. I've included several options below.
I love a good bootie and always strive to buy classic, well-fitting pieces that make putting outfits together effortless. But I'm sure I'll still put together some stinkers, and I won't know it until I see myself in a picture.
Surely, now that we've seen it with our own eyes, we both know the best way to style straight slim-shaft booties on a curvy woman. 😉
Hugs,

---
MORE SLIM SHAFT BOOTIES TO LOVE