Do you want a pair of bright, fun sneakers for spring but aren't sure how to where them? Today I'm sharing 8 ways for how to style turquoise sneakers. They are the CUTEST addition to my closet in a while.
Are you as ready for spring clothes as I am? If your weather is cooperating, I'm jealous.
Right now we're still in sweatshirts and long sleeves. WHA! I know, I'll be complaining about under-boob sweat soon enough, but SERIOUSLY, could we just get a little consistency!
Anyway… I'm sorry, let's get back on track and talk about these fancy, bright sneakers from Vionic Shoes. If they don't at least put SPRING in my step, figuratively, I don't what will. But, let me tell you a quick story before I show you how to style turquoise sneakers in 8 different ways.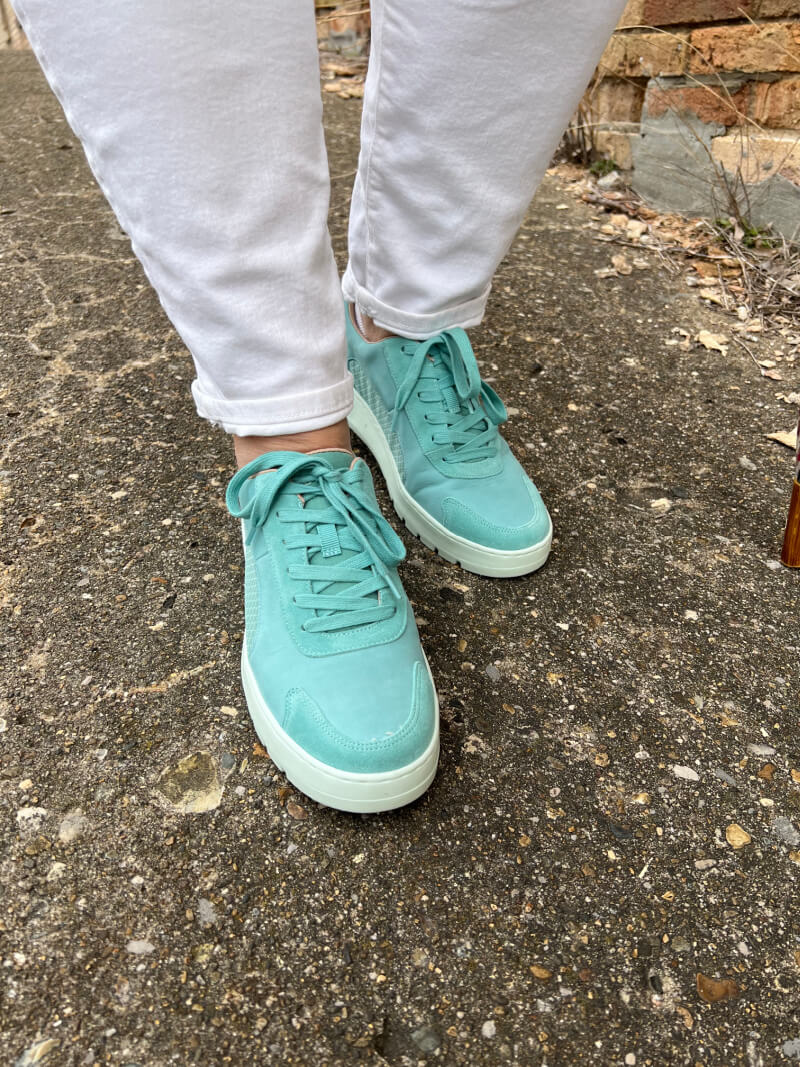 NOTE: This post is not sponsered although I was provided the shoes for a paid social media campaign. All opinions are honest and my own.
WHAT COLOR ARE THEY?
I recently had the opportunity to work with Vionic Shoes on an Instagram post. If you're not an influencer you may not know that oftentimes we don't get to pick just anything we want from a brand. They send you what they are promoting.
In this case, they only told me which shoe I'd be promoting and I think there may have been a photo of the shoe in this color only. I did, however, get a first and second COLOR choice, but guys, this shoe wasn't online yet so I was choosing blindly based on the color names alone.
My first choice for sneakers is ALWAYS white! I like basics in my "tena-shoes", remember?
I thought for sure that the sneaker we're talking about today was the Ice Blue. So I picked the Wasabi as my second choice, thinking they would be greenish.
I was sent my second choice and when I saw the photo shipping notification I PANICKED! This was far out of my comfort zone and I couldn't settle my mind on what to wear with "turquoise" shoes.
But I said all that to say this: Once I calmed down and started putting some mood boards together (see how to create your own here), I saw how much FUN and EXCITEMENT a bright shoe can add to an outfit. Then I went a bit crazy planning outfits around these beautiful Wiley Sneakers from Vionic Shoes.
CURVY GIRL STYLE TIP
I favor a chunkier shoe, like this minimal platform sneaker, which adds visual weight, but not too much, to an outfit as I think it provides a balancing foundation for a larger frame. Plus they are still so lightweight and with Vionic's 3-Zone Comfort Technology they have plenty of support without adding my prescription orthotics.
8 WAYS FOR HOW TO STYLE TURQUOISE SNEAKERS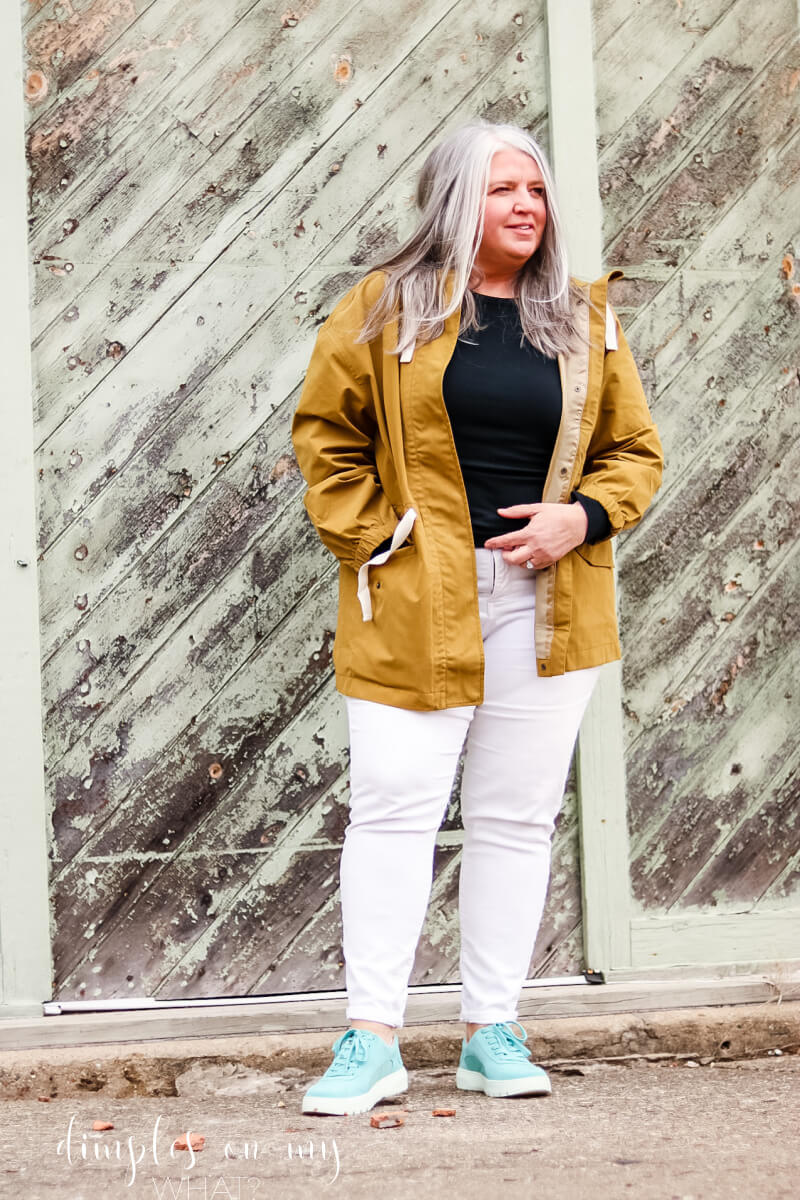 sneakers || white jeans 16w || black tee xl || rain jacket xl
My baby sister actually put me on the right track for styling "turquoise" sneakers by suggesting to pair them with white jeans and a black tee and that served as the jumping-off place for the rest of these looks.
I think you could definitely pair them with patterns but I'm loving the simplicity and sophistication of playing with color alone. Take a look and tell in the comments which is your favorite.
BLACK & WHITE BASE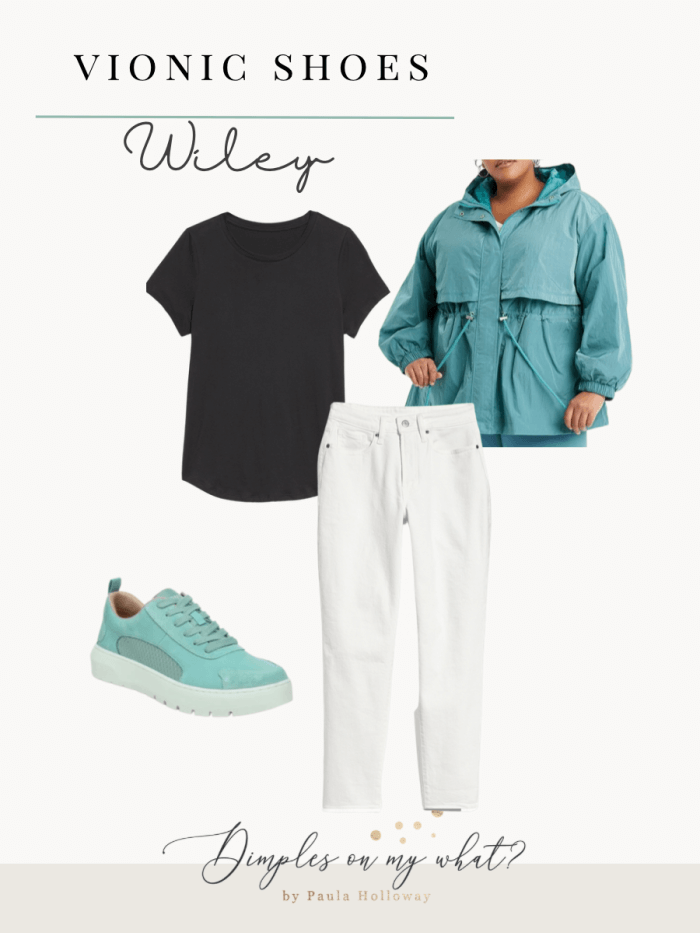 sneakers || white jeans || black tee || rain jacket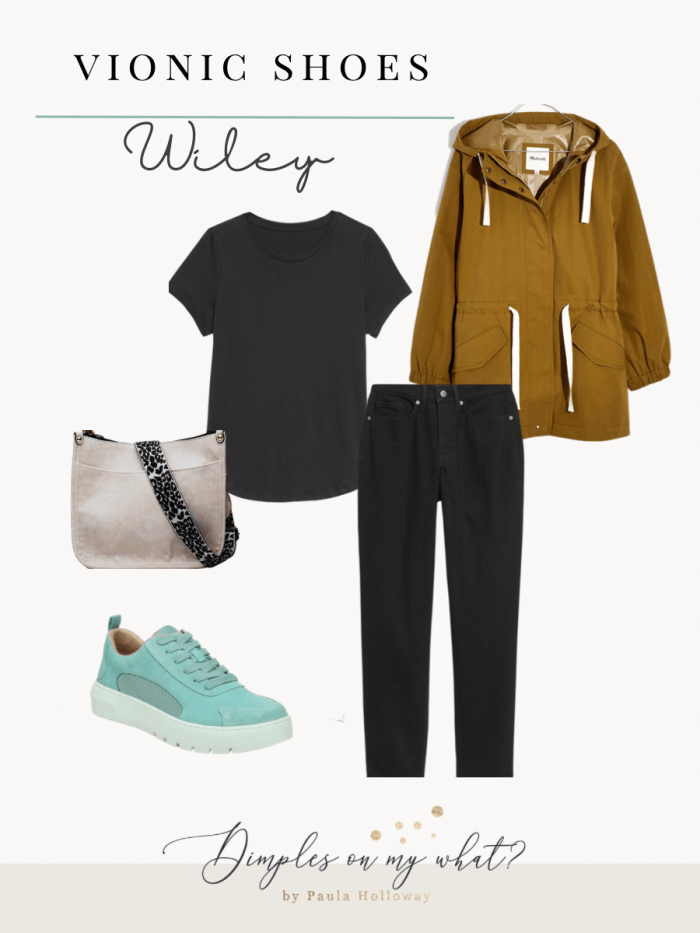 sneakers || black denim || mustard coat || black tee || gray bag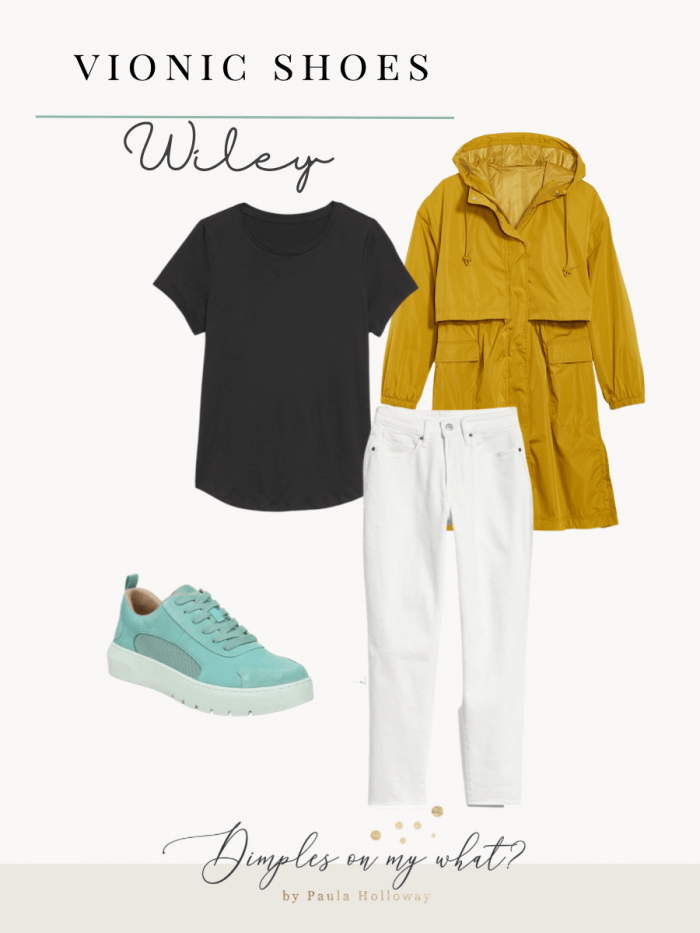 sneakers || white denim || black tee || yellow rain jacket in plus size
ADD A TONAL PATTERN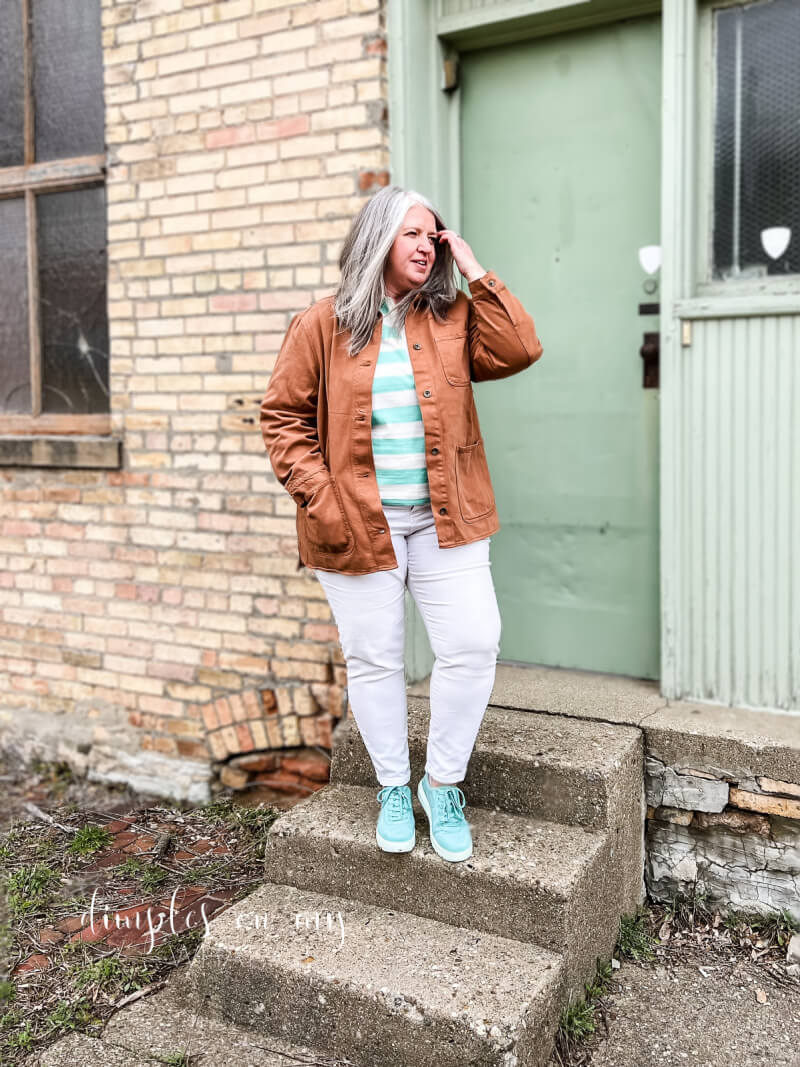 sneakers || white denim (wearing 16w) || striped top (wearing xl) || rust shacket (wearing xl)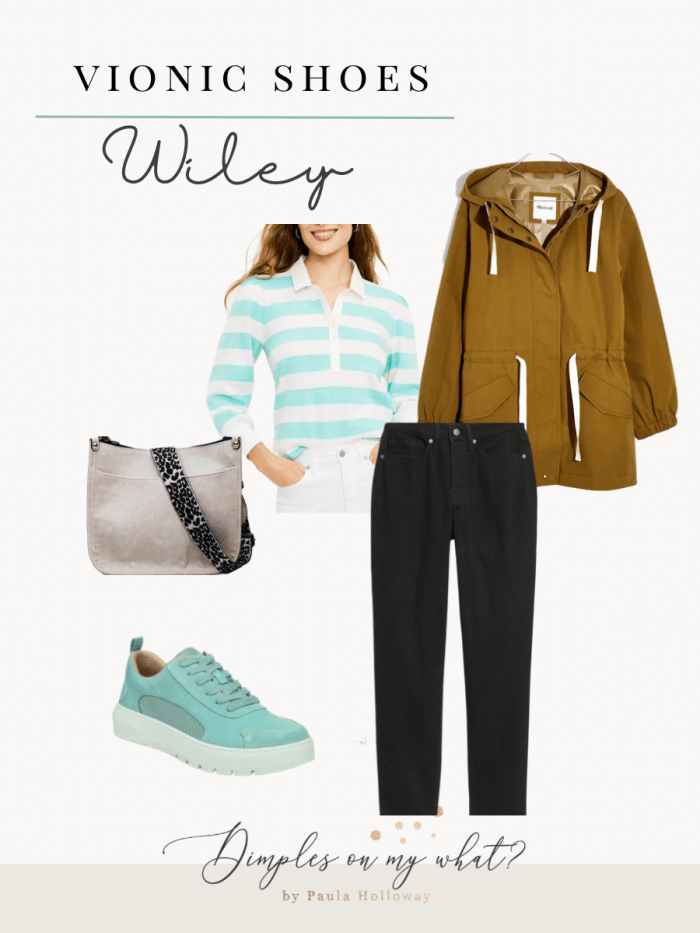 sneakers || black denim || striped top || rain jacket || crossbody bag
TURQUOISE & NAVY = TRUE LOVE 4eva!
Let me just say that I LOVE these last two so much that I may be adding some navy pieces to my wardrobe SOON.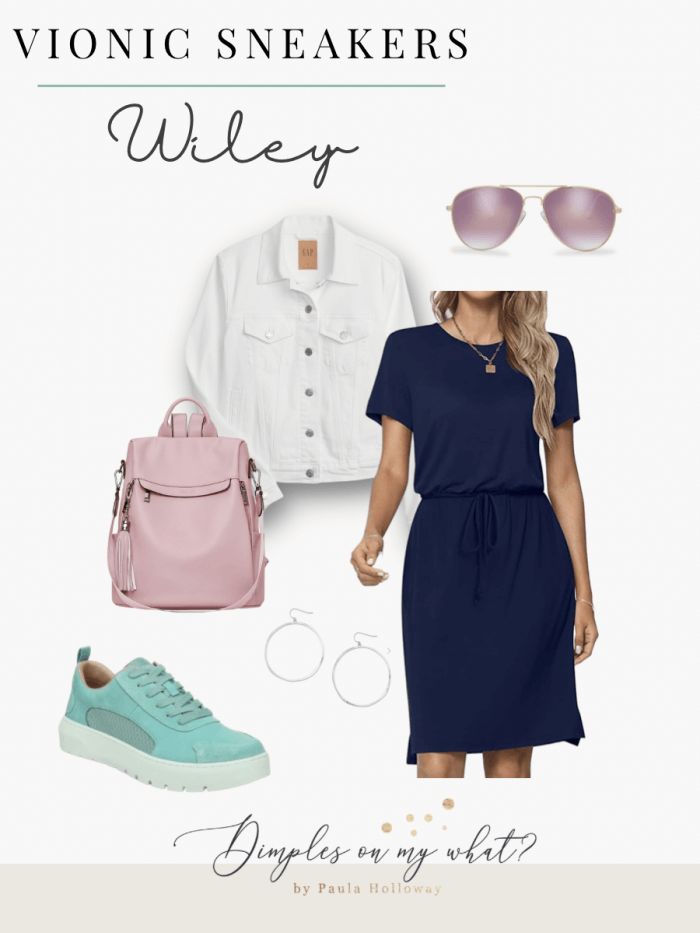 sneakers || navy dress || white denim jacket (cutest ruffle collar) || silver earrings || rose aviators || backpack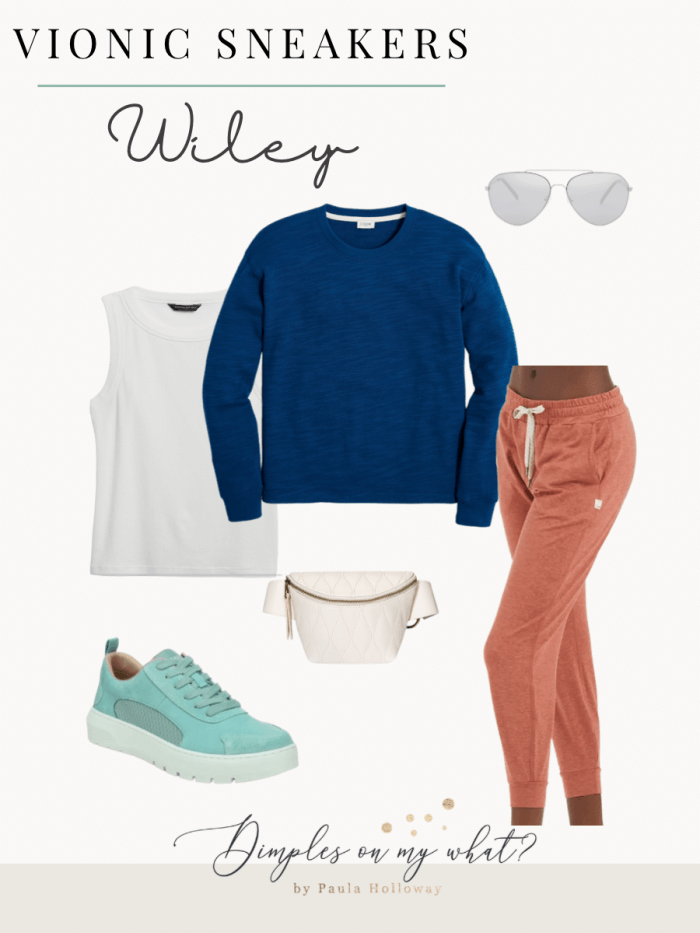 sneakers || joggers || white tank || sweatshirt || fanny bag || aviators
ARE TURQUOISE SNEAKERS FOR YOU?
I may officially be on the bright shoe bandwagon and I'm thinking my neutral shoe closet is gonna get a splash of accent colors.
Is your shoe closet full of color, neutrals, or a good mix of both?