[ This post is sponsored by Hair Biology. All thoughts and opinions are my own.]
Have you jumped on the natural gray hair bandwagon yet? Natural gray hair is beautiful but there are a few tricks for how to have gray hair without looking old. I'm currently four years into having my natural gray hair and I LOVE IT. Oh, the FREEDOM!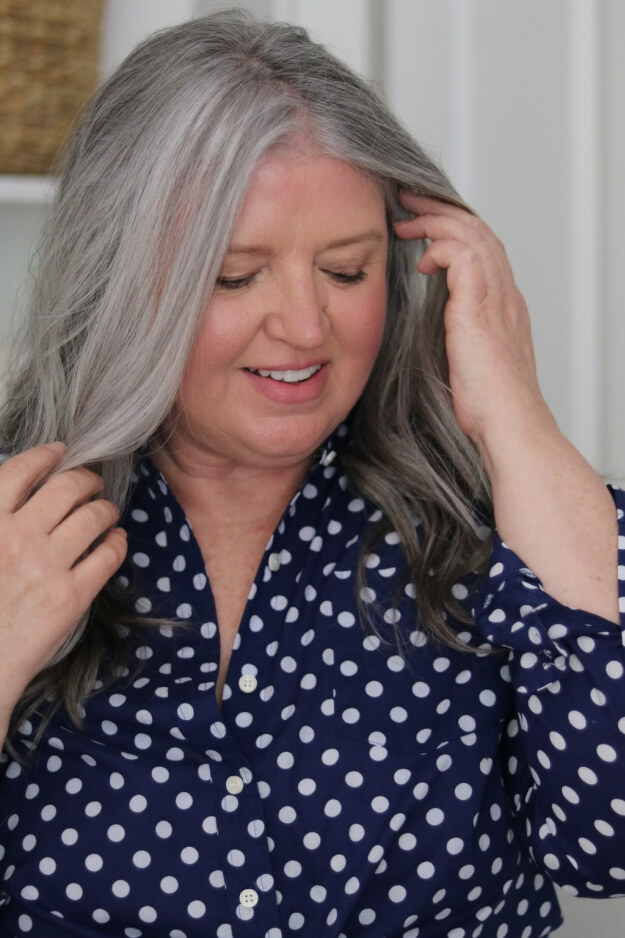 I've only had one person ever tell me that it makes me look older to which I responded, "Well, I am older so I'm okay with it that."
Honestly, I just turned 57 and I am a grandma after all. But of course, I naturally want to look my best and there are a few things that we can do to keep gray hair from making us look older. So today I'm sharing seven tips for how to have gray hair without looking old and you might be surprised that they don't all have to do with your hair itself. 😉
BUT HAIR IS THE SUBJECT SO LET'S START THERE
Hair Biology is on a mission to celebrate aging and to help us have the most fabulous hair in this "second act" of our life. But even though we both want to encourage women that it's okay to "show your age", we still want to look amazing, fresh, and relevant and that includes having the best hair possible.
Our silver hair is our glory after all and if you're like me, you want yours to make a statement. So, let's take some steps to make it one FABULOUS statement!
7 WAYS TO TO HAVE GRAY HAIR WITHOUT LOOKING OLD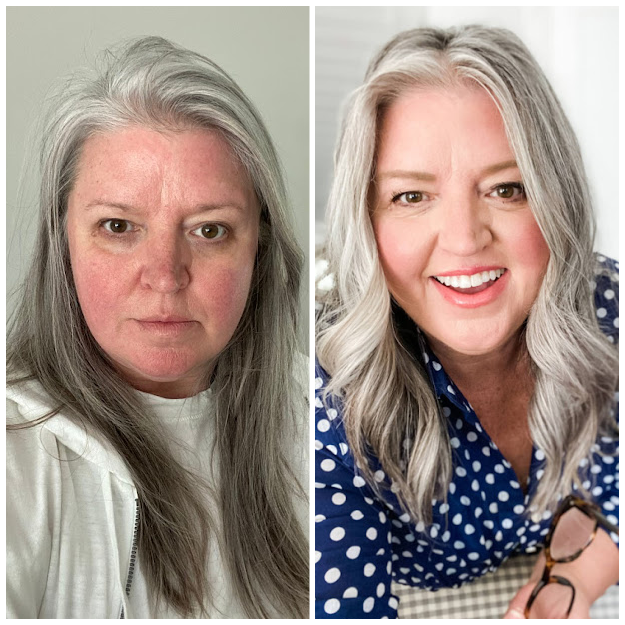 CHOOSE A HAIRCUT THAT FLATTERS YOU.
The "rule" about gray hair needing to be short is antiquated; there is absolutely no perfect length for gray hair. Whether we have dyed or natural gray hair, the style and haircut we choose should work with our hair type, flatter our face shape, and fit our lifestyle.
If you look great in a pixie, rock it! Wear long hair if you love it and it loves YOU! Bangs. No bangs. Side part. Center part. There are no RULES!
FIX IT.
In my opinion, messy gray hair can age us more than unkempt dyed hair – or at the very least, it will more quickly put us into the "hag-ish" category. Don't go all "Tammy Fay" or helmet-head because that WILL age you, but a little effort goes a long way toward a polished and more youthful look. However, go easy on heat styling as it can easily burn or discolor our beautiful but delicate silvers.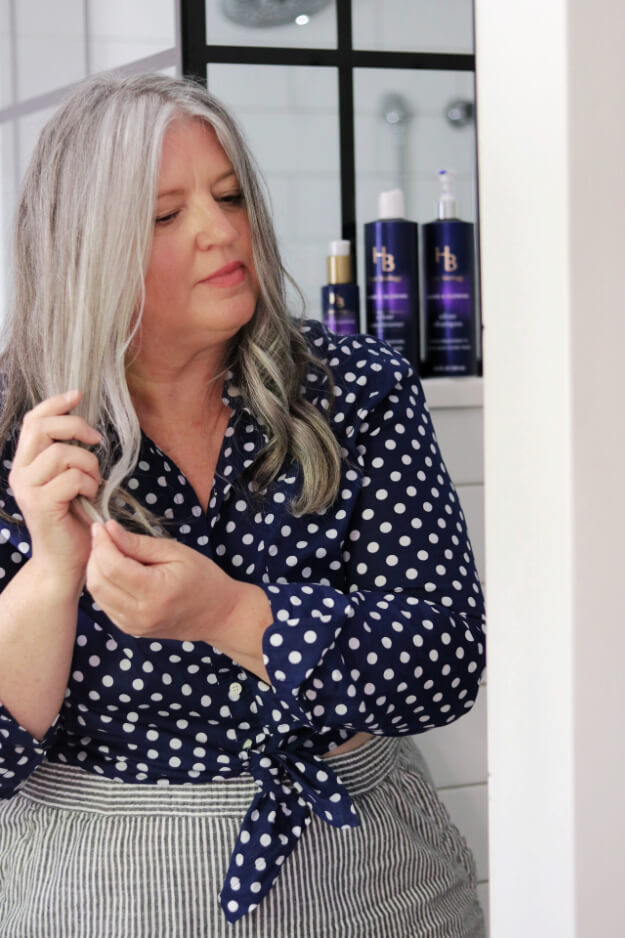 HEALTHY HAIR IS YOUTHFUL (no matter your age or hair color).
Gray hair needs a little extra TLC because it can be more dry and brittle and without dye, it can look lifeless and limp. That's where Hair Biology's Silver & Glowing line comes in. They use ingredients to work with our maturing hair's unique biology not against it. And bonus, this affordable yet luxury product line is available exclusively at Target!
The Silver & Glowing Purple Shampoo and Conditioner contain purple pigments to help brighten our hair, which is easily dulled and yellowed, and other beneficial ingredients to cleanse, moisturize, soften, and add shine. And I don't think I'm imagining that my hair has more volume and keeps its style longer. Seriously, how do they do it?
*If your hair is thinning, Hair Biology also has a thickening serum.
The thing I miss the most about dying my hair is the shine. So I have to say that the Silver & Glowing Silver Shine Serum might be my favorite, although the shampoo is a contender. But the Shine Serum helped smooth my ends which can get pretty broom-like at times. LOVE THAT! And you can use it on damp or dry hair.
Note: The conditioner and serum both contain dimethicone, so be sure to use a clarifying shampoo or an apple cider vinegar rinse every couple of weeks to eliminate build-up and discoloration over time.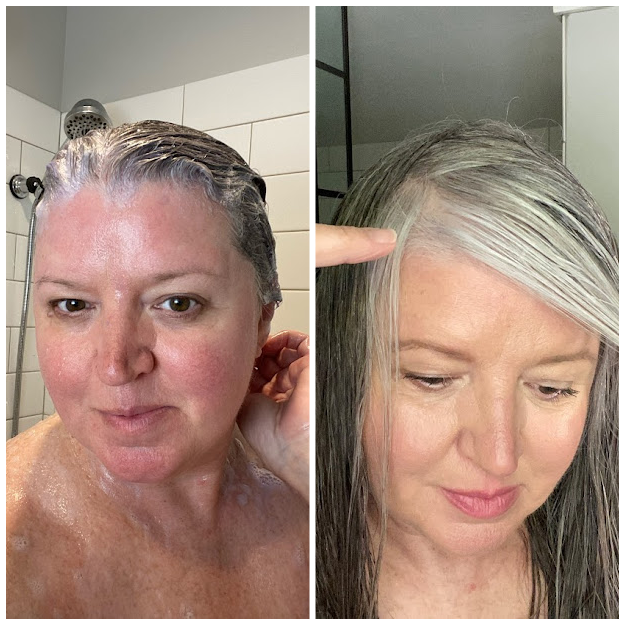 Hair Biology's Silver & Glowing Purple Shampoo subtly tones brassiness without that tell-tale harsh purple tint.
SLEEP ON SILK
This one is actually hard for me because I'm a cotton girl to the core but switching to a silk pillowcase made a huge difference in the appearance and condition of my hair. It's less frizzy and the breakage has decreased significantly. I've found that this one is much cooler to sleep on than less expensive imposter brands. And my hairstylist swears by this one.
WEAR YOUR BEST COLORS.
I LOVE wearing light neutral colors like white, gray, and beige. You know I can't resist a good white tee. But since going gray, I find more saturated colors look better on me. It does NOT have to be black either; lavender, red, amethyst and all hues of blues are all great options. Have a try-on session and experiment!
CHANGE YOUR MAKEUP.
This could mean that you wear more or less makeup than you currently wear. I personally haven't changed a ton about my makeup routine because I think super pigmented colors look harsh on me, but some women find that they need to wear brighter lipstick or highlight their eyes more. Again, experiment to find YOUR BEST LOOK.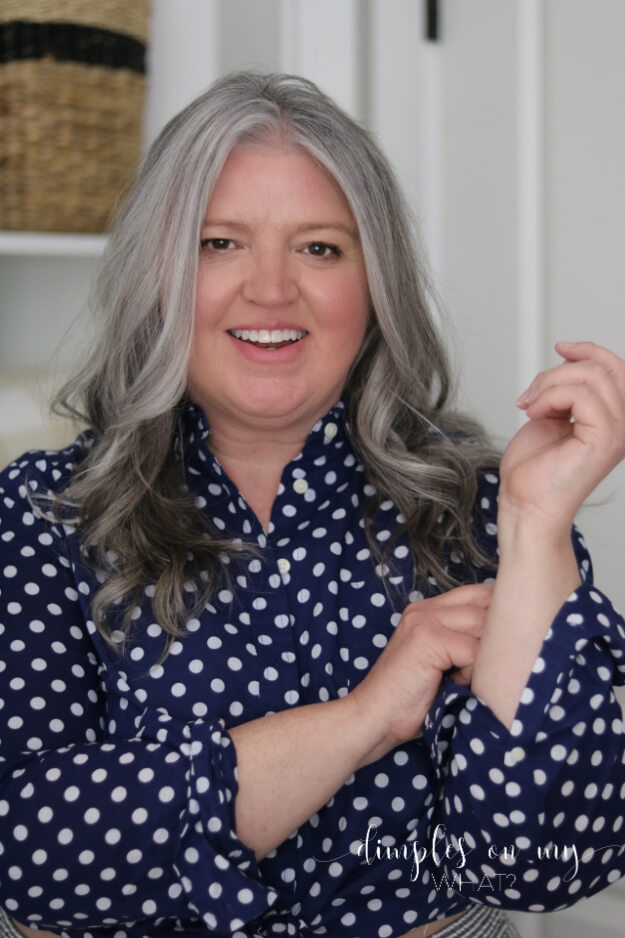 SMILE!
A smile on your face is the most YOUTHFUL accessory you have. And it will definitely contribute to your overall beauty.
My Silver Sister, God did not get it wrong. And your silver hair that is radiant and healthy is definitely something to smile about and Hair Biology's Silver and Glowing line will help keep us in that GLOW and keep our gray hair from making us look old!
Hugs,

Thank you to Hair Biology for sponsoring this post and to you for supporting brands that not only allow me to keep bringing you posts to encourage you to LOVE YOURSELF at every stage!