Is your love of shoes bigger than your closet space? Mine definitely is!
This is why I've come up with the BEST shoe and boot organization for a small closet. They say where there's a will there's a way but try as I might, I couldn't will my closet to be any bigger.
The other saying is, that necessity is the mother of invention and this girl got inventive so she could keep more of the shoes she loved.
We're talking all things shoe organization, bootie organization, and a solution for how to store and organize your tall boots too!
You may still want to do a little purging and let go of shoes you can't wear for more than an hour without your feet screaming. It's really one of the best things I've done for my feet. 😉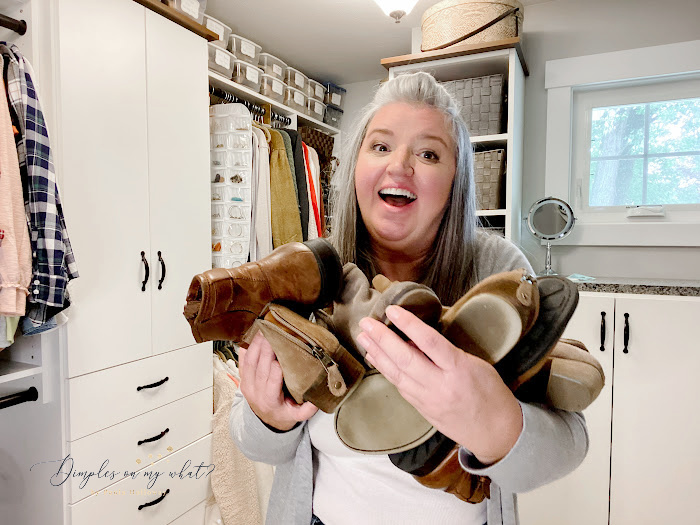 FOR THE LOVE OF SHOES & ORGANIZATION!
I LOVE SHOES! Boots, too. Let's not forget sandals. Oh, and booties! And, of course, you know sneakers are high on my love list.
Shoes can make your outfit and they don't make you look fat (except for maybe booties or boots). But I really don't function well with a ton of stuff around me.
Now hear me, stuff only becomes clutter when it becomes too much stuff.
And to me, too much is defined by things that don't fit within the space we already have. This is a discipline I myself am still working on but I will say, that if we allow our space to be our boundary, it's easier to stay accountable and keep our spaces less cluttered.
That being said, a little organization can make a world of difference and allow us to have a few more shoes to choose from. 😉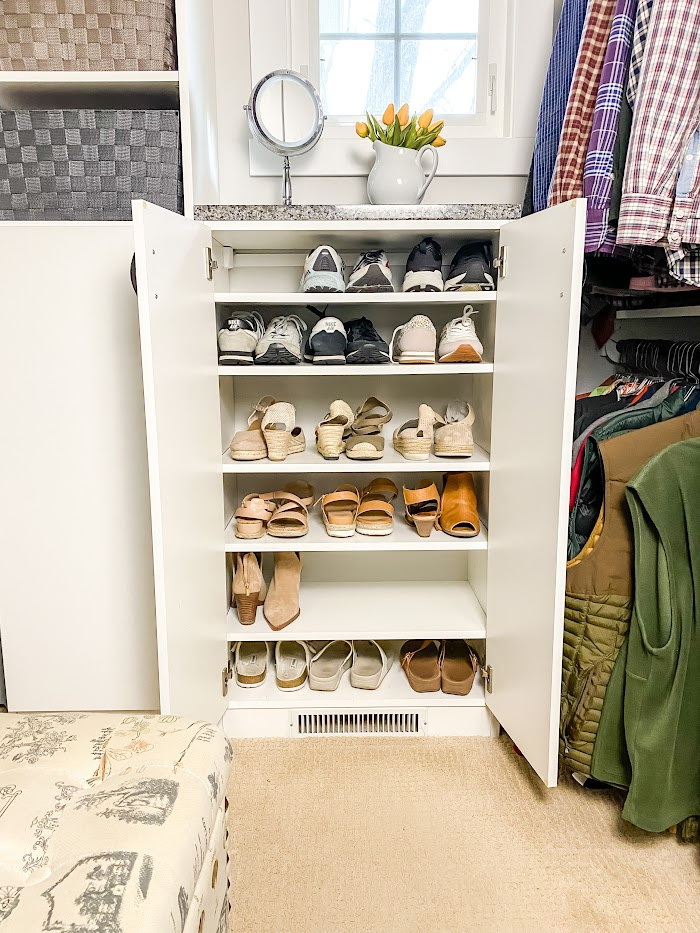 YOU DEFINE YOUR STORAGE BOUNDARIES
I am blessed with a lovely, moderately sized walk-in closet. But, I have to share this modest space with my husband and I have no wish to turn another room in my home into a closet because that real estate is precious to me for hosting grandkids and out-of-town guests. So I've created a system that allows me to maximize my shoe and boot organization in the space I have.
I do, however, think that even if you have a smaller area than I do, you could store out-of-season shoes in another storage space like an attic, basement, or another closet if necessary.
You might also be interested to see how I created an organization system that helps make purging your closet SO EASY!
MY FAVORITE SHOE STORAGE SOLUTIONS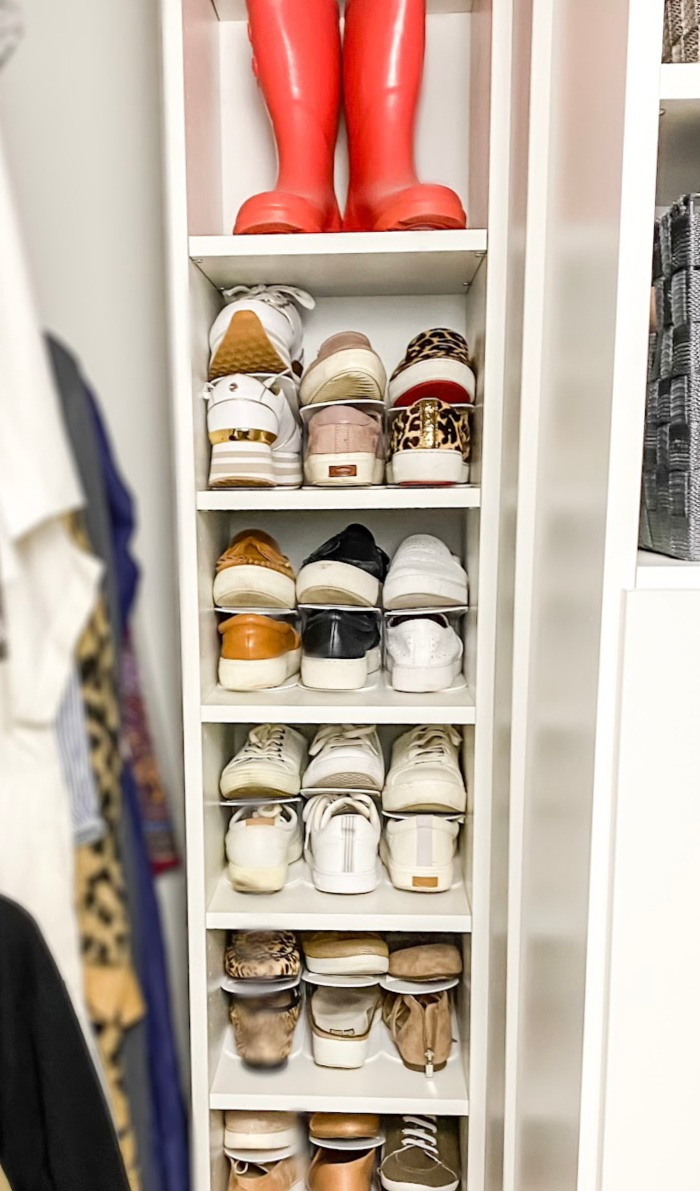 Over the years I've curated some of my favorite tools for this closet hack.
There will be some upfront costs if you don't already have some of these things at home. But it's money you're going to spend only once and it will give you flexible storage solutions for years to come.
Also, you can use one or all of these tips based on your needs and your space.
I've created a video to quickly show you exactly how the shoe organization hacks work but first: Here are some supplies you may need to create an easy, seasonal shoe and boot storage solution in your closet.
SUPPLIES (you can gather these over time)
Plastic Shoe Boxes (by the case)
Larger (Men's) Shoe Boxes (these may work better for booties)
My Favorite Pretty Box Label
---
Stackable Shelving (I had these in my previous closet to extend my shoe storage space)
*Hanging Jewelry Storage in Background (I know you're gonna ask)
---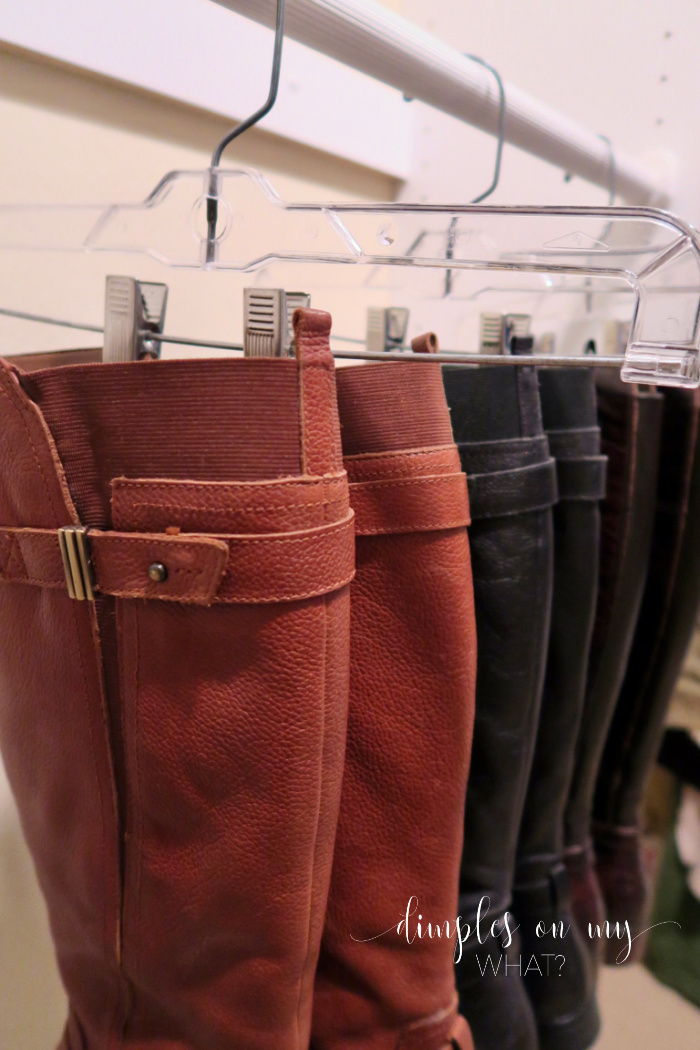 OOPS! I FORGOT…
In the video, I forgot to say that because I rarely wear them and don't need access very often, I store dress shoes like pumps in shoe boxes at the top of my closet.
Okay now, are you ready to corral all those shoes in your closet?
Check out this video and let me know what you think.
THE BEST SHOE AND BOOT ORGANIZATION FOR A SMALL CLOSET