What Boot Heights Look the Best on Wide Calves?
We are in the heart of boot season in the midwest and I'm not mad about it. But if you're a curvy girl with thick legs, whether or not you need wide calf boots or not, you know that boots that fit us and look good can be hard to come by. And if you need a plus size wide calf boot, that can be even harder.
We don't need an entire closet full of boots, but we need to make sure the few we do have are the perfect boots for a curvy body or more specifically thick, curvy legs. We're gonna cover mid-calf boots, knee-high boots, over-the-knee boots, and thigh-high boots in this article. Here are a few tips to keep in mind when shopping for plus size, wide calf boots of any height.

But first…
Let me say that these are style opinions based on observations made about myself and other women with curvy body types. Lest you feel like I'm being overly picky and judgy, please scroll to the last section of this post to read my thoughts on individual style. 😉
I started this post in the fall of 2018 before my dad's medical crisis caused a halt in production for the next six months. By the time I got back to blogging it was not boot-season. So that's why the photo above shows my hair with only about 6 months of gray regrowth and I had just accidentally turned it purple and was in the process of scrubbing that out. 😉
---
Proportion is EVERYTHING for Curvy Women and Boot Height is No Exception

I've never written a full post on this subject, but I've mentioned it numerous times; when it comes to looking our best in clothes, the proportion is everything, especially for curvy or plus-size women.

A quick Pinterest search should give you some good guidelines. But, one of the key principles we need to remember for today's lesson is to not create a "line-break" at the widest point of any body part unless you're trying to make an area look larger. I'm confident in assuming most of us are not going for that.

Where our boots hit our leg is no exception. And since I'm primarily talking to us wide-calf girls, the height of the boots we choose is super important to maintain a sleeker look.


Wide Calf Boots or Not, Boots for Curvy Girls Require a Little More Thought

It's not impossible to find boots wide enough and tall enough to fully cover our calf, but it's why we'll never have a gargantuan boot collection. Keep in mind that having a massive collection of anything should never be our goal. It's better to have fewer pieces that fit and flatter us to perfection.

I myself have a wide calf, sometimes even an extra-wide calf and require wide calf boots. However, even if you don't need wide calf boots, if you're a big girl with chunky legs finding the correct boot height is key.
The visual examples below show boots in varying height on my muscular calf. These were all taken with my iPhone 11 set to 1x zoom and placed at about knee height, giving the illusion that my leg is slightly slimmer than it is. I have turned my left leg out slightly to show the boots from the side. Where your boot hits on the back and side of your calf is equally as important as it is from the front. You can see this a bit further down in the post as well.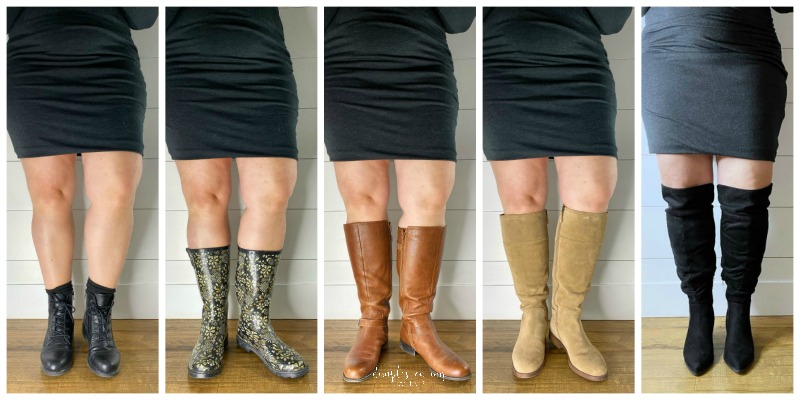 My left calf is the largest and measures 18 1/2″ at the widest point. For more tips on finding boots for wide calves, read How to Buy Wide Calf Boots.

Never Let a Boot Cut a Muscular Calf in Half

Mid-Calf Boots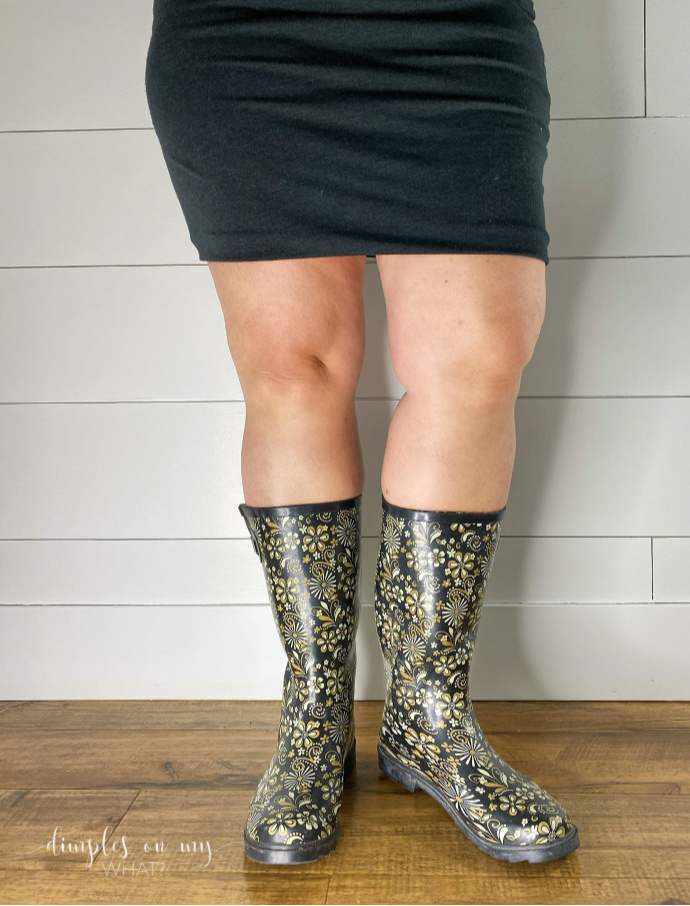 Let me keep this short and sweet, mid-calf boots on a muscular calf are a big ol' NO. Although, you probably already know that.
But did you also realize that it's not super flattering or slimming if your boots hit you anywhere on the swell of your full calf? Yeah, this is what makes finding boots for full calves extra hard.

If you have an extra-wide calf, whether or not you're plus-size, consider looking for boots at a plus-size retailer like Torrid or Lane Bryant.
Keep Your Unique Leg Shape in Mind

Not all shapes are created equal and that goes for curvy girls too. My grandmother was a big and tall woman but she had bird legs. I didn't inherit, obviously. 😉

Keep your own leg shape in mind when choosing a boot so you can find a boot that hits your leg at a flattering, not fattening place. If you inherited fat knees, thunder thighs, or a weird, bulbous drumstick thigh ("Thanks Other Grandmom) find what works for you.

But in general, use these style guidelines to find flattering boots for your leg shape.

Knee-High Boots

A tall knee boot is the Goldilocks of boots. Not too tall, not too short. They're just right for almost any outfit.

In my opinion, these tan boots (above) from last season are the perfect height for me from the front and the side. They stop at the knee cap which is the narrowest place on my leg besides my ankle. 😉

---
A Little Height Difference Makes All the Difference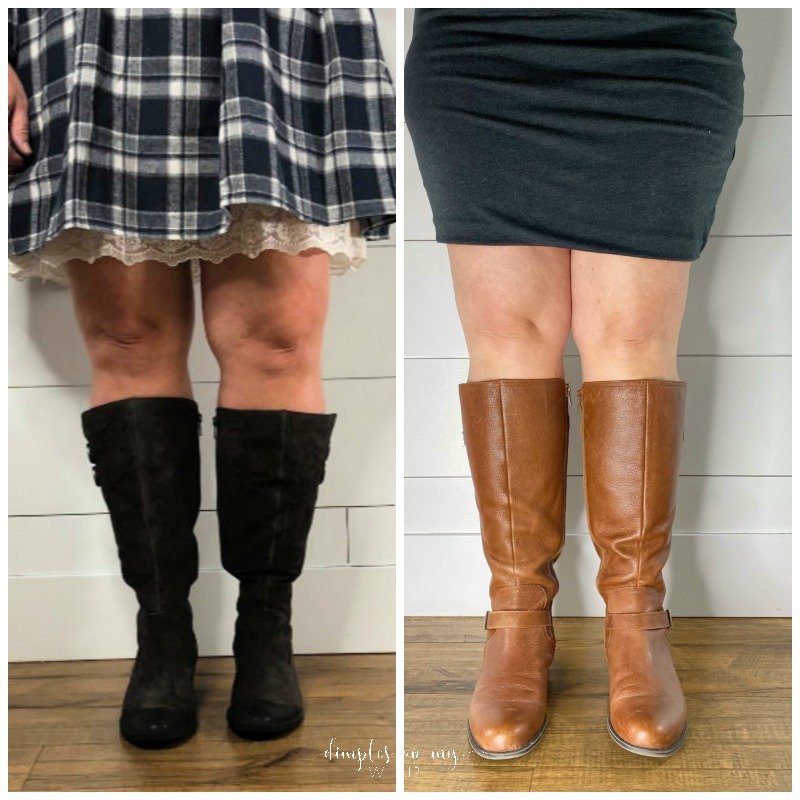 Take a look at the two "tall" boots above. There is only a slight difference in the height by look how much leaner my calf looks in the boots on the right.

---
Over-the-knee Boots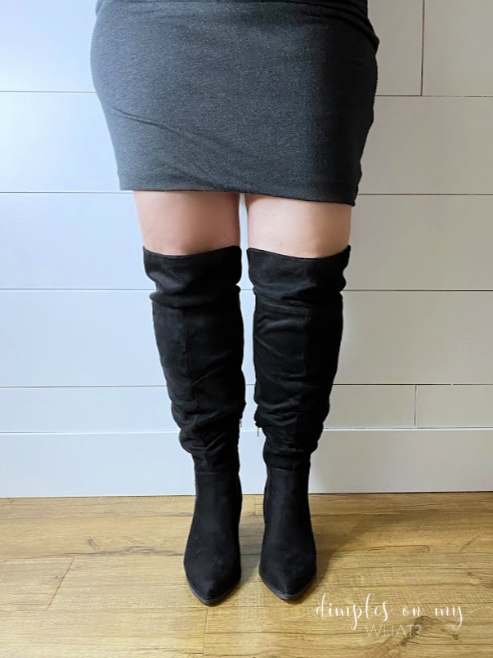 IF we're careful about the height and what we wear them with, over-the-knee boots can look good on a curvy body. I'm really cautious here because I think if the boot is too high it crosses over the line into "thigh-high" boots and I'm not necessarily a fan of them on most people.

Is it just me or have some styles crossed the modesty line and have made looking like Vivian before she morphed into the Pretty Woman not only socially appropriate but even desireable?

So, if modesty is a concern, be careful what you wear with over-the-knee boots. If you choose to wear them with dresses or skirts, for good taste and modesty, keep the dress length just above the boot or even a bit below. (In my example photo, for photographing purposes, I've pulled the dress up higher than I normally would wear it.)

And since most of us curvy girls have large thighs finding a pair of over-the-knee boots that leave a little wiggle room in the thigh for comfort and to avoid the dreaded muffin thigh bulge above the boot.

I wore over the knee boots with this wild Faux Fur Look and with a Denim skirt and kimono outfit.

Thigh-high Boots

Higher hair might be closer to God, but higher boots might not be.
As I mentioned above, I would steer clear of thigh-high boots myself. However, if you must try it for yourself make sure the boots aren't so tight that your thigh is spilling out over the top.
Choose a Boot Height That's Best for You

I always end this type of post by reminding you that style is individual to YOU. If you have wide calves and you like accentuating that feature by wearing mid-calf boots, by all means, go for it!

But if you prefer a leaner look in your boots, be a bit more discriminating (a.k.a. picky) when you are choosing the boots. Be patient because you will try on lots of boots that just aren't right. But remember, we're not trying to build a huge collection of just any old boots. We want boots that make us look and feel great.
Let's Talk Boots
Have you found your sweet spot for boots? And do you have an opinion about thigh-high boots? I won't be a hater if you're a big fan.

---
Wide Calf Boots to Try

---
Let's be friends…
Don't want to miss out?
Enter your email below to receive all new posts via email.
---