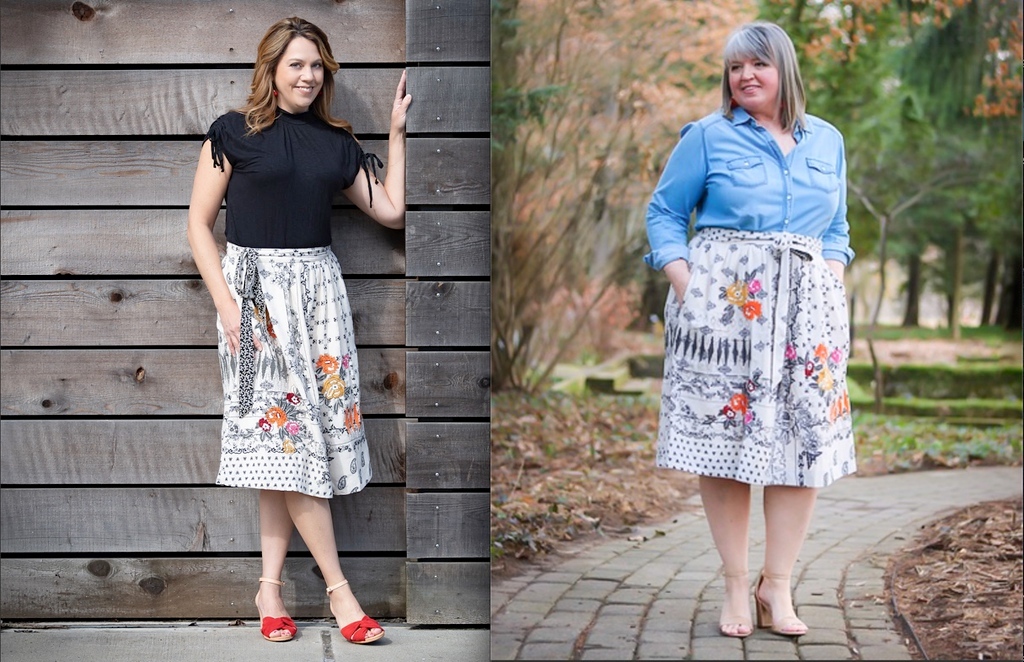 The Same Pretty Skirt Styled on Two Women with Different Body Sizes and Shapes
Today I am so excited to share the first in a body-confidence series we're calling Style-Inclusive. My friend and I bought the same Anthropologie embroidered skirt, hers was a small, mine was a 1X, and we're each styling it for our individual body shapes and in our unique way. We would love this series to inspire you to find your confidence regardless of your shape or size.
Don't want to miss any of this series? Subscribe here:
Don't want to miss out?
Enter your email below to receive all new posts via email.
Preaching and (sometimes) Faking Body-Confidence
I love spreading a message of body-confidence and preaching (sometimes to myself) that our worth is not indicated by the number on a clothes tag or what we see on the scale or even what we see in the mirror. But every now and then, I know I need a reminder especially when I can't stop the scroll and I find myself down a rabbit hole of critical comparison.
You might also be interested in Go On THIS Diet if Social Media is Ruining Your Self-Esteem
But, it doesn't have to be that way and that's why I'm so excited to share a fun body-confidence style collaboration I'm doing with my fellow blogger friend, Angie of Act Your Style. Angie approached me about teaming up on a post and possible series of posts to emphasize that style and confidence are so much more than size. Okay, she's preaching my message!
Putting Body-Confidence Together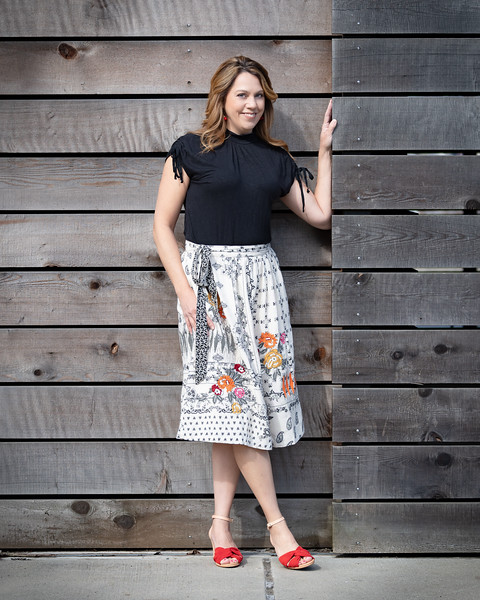 Angie is younger and smaller than me but we want to show you that no matter your age or your size you can feel confident knowing you look great and put together. On her blogs About page, Angie says: "I love it when I see a woman whose overall look says "I'm put together and should be taken seriously." Shouldn't we all strive for that first impression?"
I think that sums up "How to Be More Confident" in a nutshell. People say to me all the time, "I wish I had your confidence." But honestly, a lot of the time I don't feel that way. However, the times I feel the most assured and confident is when I'm "put together" and that's just what we're showing you today with this beautiful embroidered skirt from Anthropologie, how we put it together to work for our individual styles and shapes. Honestly, the photos don't do it justice. 😉
The Tale of Two Sizes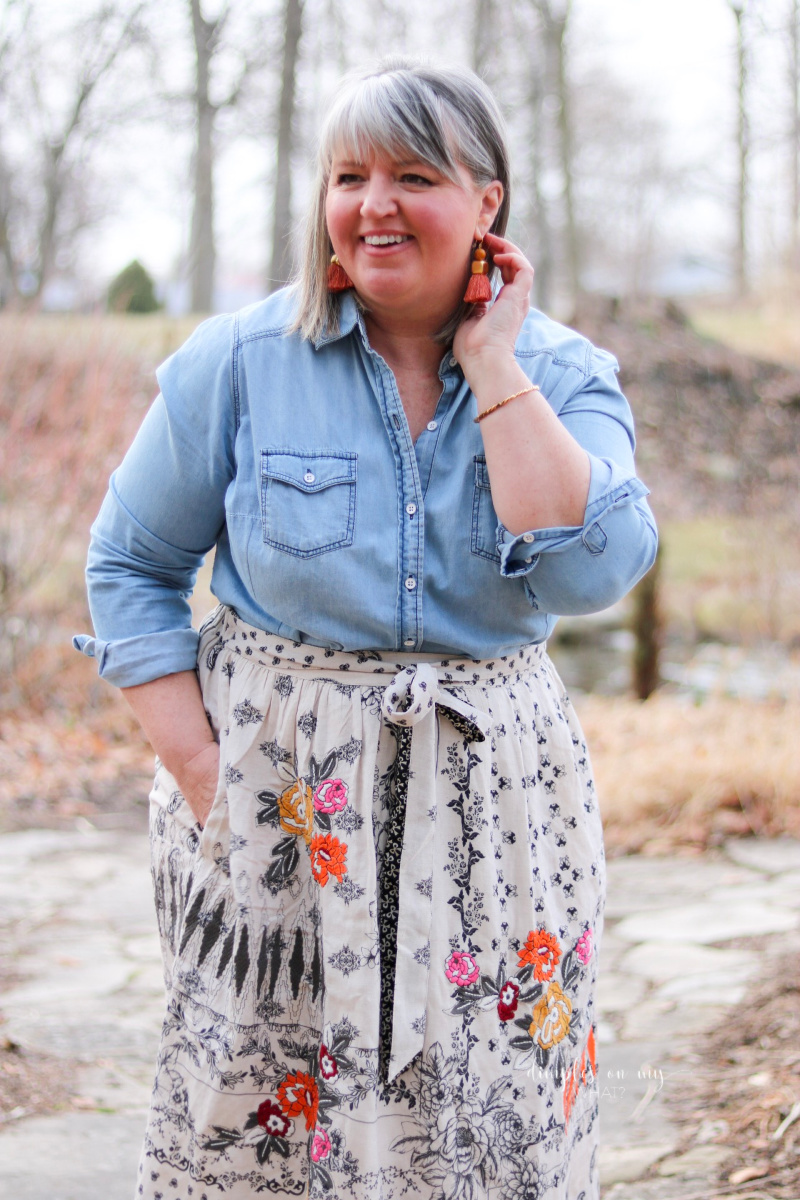 Not only are Angie and I different sizes, but we're shaped differently. I'm curvy, coming and going 😉 and she has a straighter figure. However, we both purchased the same skirt and are styling in a way that makes us feel our best.
I hope you'll be encouraged to not let your age or more importantly, your size or shape, hinder you from feeling and looking your best. Yes, confidence is a mindset, but it can start with how you style yourself and finding an outfit in which you feel your best is a step in the right direction.
Here are my tips for confident dressing:
Be comfortable. If you're uncomfortable, you'll be adjusting and picking at your look all day long. If you don't like to wear form-fitting clothes, wear a loose dress or top and belt it for shape. If you don't like skinny jeans, wear wide-leg jeans instead. There are always other options for comfort.
Don't dress over the top. Similar to choosing comfortable pieces, when you're shooting for confident, don't go overboard on accessories or eccentric pieces. If you're already struggling with body-confidence, it might make you wonder why people are looking at you.
Choose pieces that are flattering to your body. This doesn't mean you can't choose something that only looks good on your skinny friend. As you can see with this skirt, it fits both our shapes well.
Buy the right size. Trying to squeeze yourself into a smaller size for "numbers" sake will only result in you feeling uncomfortable and probably not looking as good as you potentially could. The same applies to wearing clothes too large thinking you're hiding under volume. Here's a post explaining why clothing size doesn't really matter anyway.
Play up your assets and accentuate them. And choose pieces to detract from your problem areas. We all have some of both!
Embrace light shapewear. If you saw the post on my favorite everyday shapewear, you know a little smoothing goes a long way to making a girl feel more confident.
Do the Work and Build Your Body-Confidence
A great outfit might not change your life, but it could change how you feel about yourself and even build your body-confidence. No, it won't happen overnight and it might have to be touched up every now and again. Realize that it's not vanity, it's your sanity. You're so worth the effort! I hope you'll be encouraged to not let age or more importantly, your size or shape, hinder you from feeling and looking your best.

Hugs,


Angie and I have one more outfit we'll be bringing to you in the next week or two. But let us know if you liked this type of post and would be interested in seeing more like it. We're thinking maybe a once a month series. What do you think?
---
Shop my Look