We're in our 5th summer here at The Cedar Palace and we've finally finished our deck makeover. Oh, who am I kidding, nothing is ever completely done around here. But today I'm sharing her (I think my deck is a she) journey with you and where she is right now. I still had dark hair when we started.
I know, we all just want to see the before and after deck makeovers photos. You can jump right to the pictures if you want, but…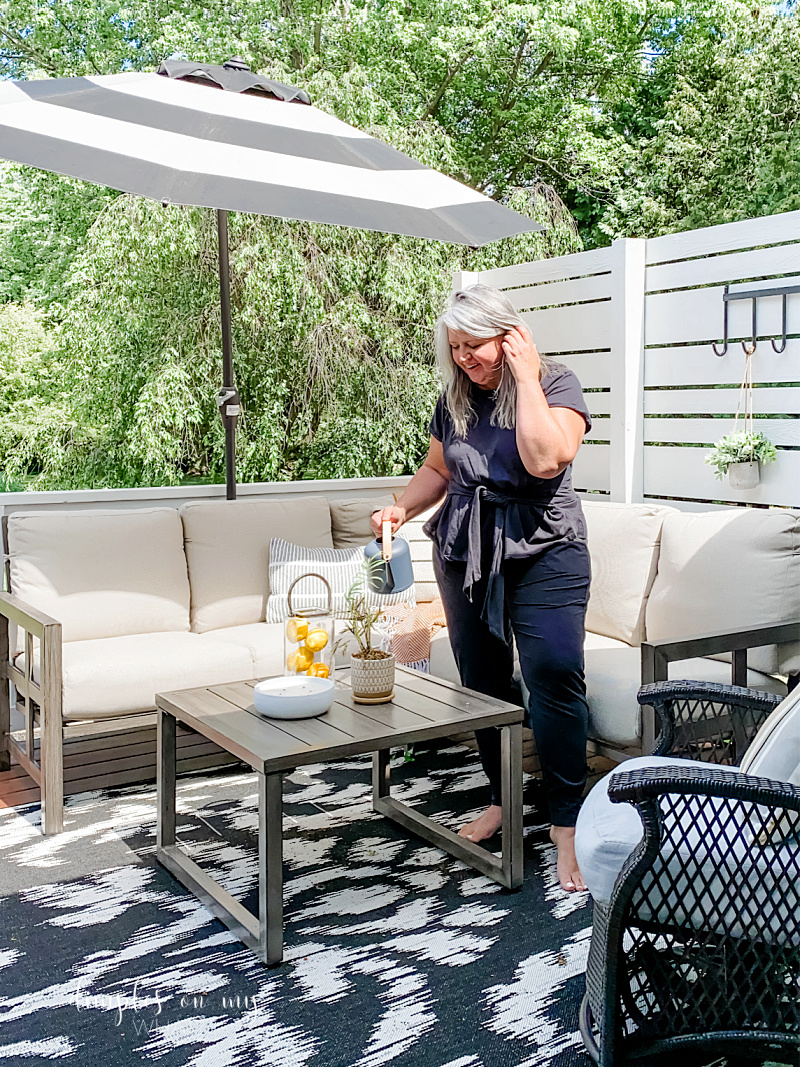 Lessons in a Deck Makeover
As you look at every version of our little deck, let me take a quick second to remind you, that if you can't makeover an area in one magical HGTV-esque manner, IT'S OKAY.
We're not all Joanna Gaines, we may not have the big budget or the time. Perhaps we need to live in a space for a bit to see how it functions best. It's a journey!
The purpose of our deck remained the same in every season. Whether we were making do with what we already had or we bought something specifically for it- we wanted a space that flowed well, was functional yet pretty (well, that was more me than Mr. Dimples), and that accommodated our family and friends well.
So here's our deck makeover story…
The small platform step was removed last year when he had the old, cracked and heaving patio replaced and enlarged. The flow is so much better without it.
The Deck We Inherited
Once the contractors finished the interior of the Cedar Palace and we moved in, it was time to move on to the deck makeover. It was (mostly) solid but some of the boards were warping and splintering and the finish had seen better days.
We used the existing foundational framework and had composite decking installed. Honestly, I hate the color and can't believe I would have chosen it.
I don't like reddish or orangeish wood on anything. And here I am, starring at a big slab of red out my windows every. single. day.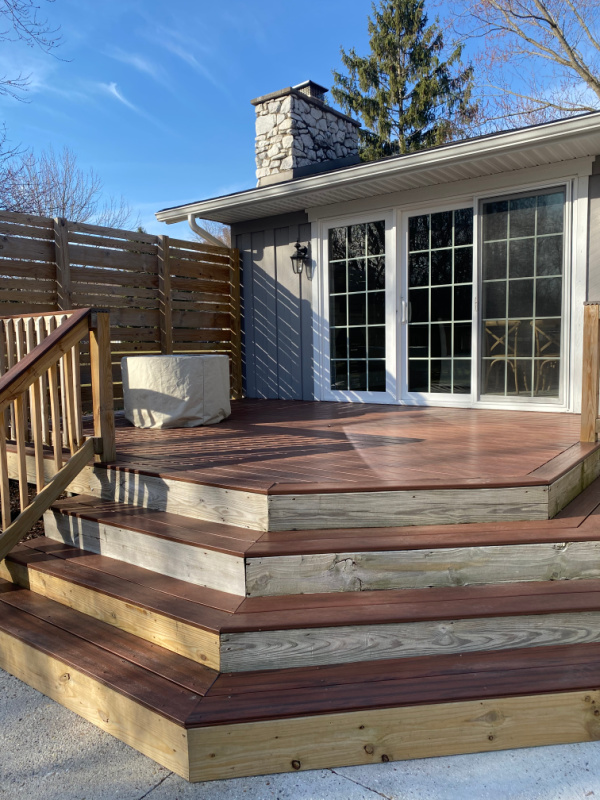 But after 6 months of renovations maybe it was a case of decision fatigue. Or maybe someone else ordered the wrong thing and when it arrived I said, "Is that what I chose?" and they said "Yes." I was too tired to remember or to argue.
However, the new horizontal slat privacy wall fits the style of our little ranch home much better than lattice.
The During Part of Our Deck Makeover Lastest 4 Years
All those competing wood tones were getting on my perfectionist's last nerve.
But, I couldn't decide what color to stain the pressure-treated lumber so it stayed that way for 4 YEARS. We just made the best of it by using what we already had, keeping it neat, and decorating the deck a bit.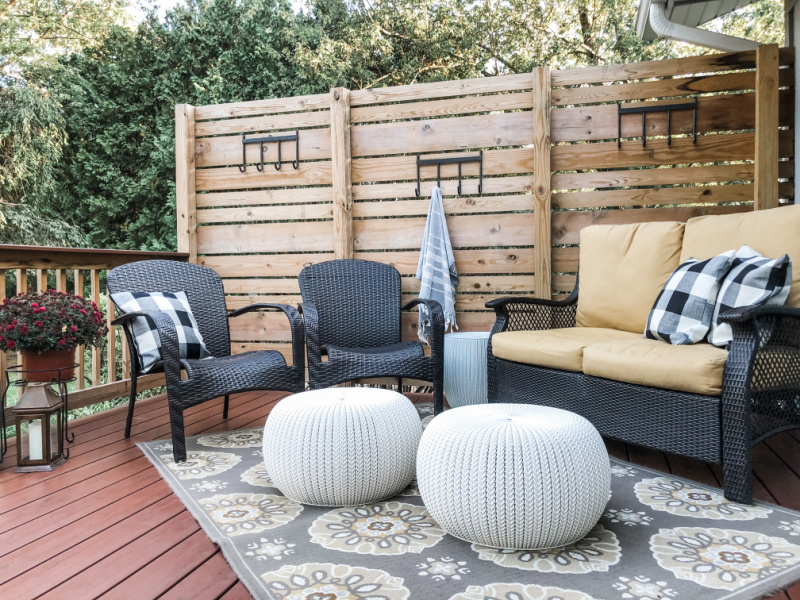 I already owned the yellow cushioned patio set so we used it and tried to find replacement cushions as the old ones were starting to looking worse and worse. But since they are a unique shape, I was out of luck.
So I painted them! They look much better but feel a bit like vinyl. (Let me know if you want to see a tutorial on painting outdoor cushions.)
This year I finally decided enough was enough. On top of some other things in our backyard that looked a little unkempt and wild, the red composite decking, several tones of aging wood, and the weird style handrail we're making me a little crazy. I had to make a decision!
The After or NOW Deck
When in doubt, pick white.
WHITE won out and while I still don't love the color of the red composite decking, the entire space is cohesive and makes sense. We used Sherwin Williams Woodscapes Exterior House Stain (Solid) in *Extra White because it matched our existing trim.
And with a new 2″x4″ wood top handrail on top, the style of railing looks so much better too. Even Mr. D, who I think was second-guessing the bright white as we were painting (and painting and painting) thinks it looks like a magazine pretty.
*I'd probably choose a slightly warmer white if I had to do it again. But after a painting for nearly two weeks (2 to 3 coats on spindles and slats is a LOT of painting), it's great the way it is! 😉
I LOVE it now!
Speaking of white, have you seen our kitchen?
Don't Discount the Details
We added an outdoor rug that I had already been using in my basement and the new outdoor sectional from Menards and it fits perfectly.
I had added a set of bucket-style outdoor chairs that I picked up at a local discount store and was using in another area. But while taking the "after" photos I realized I preferred the look and the proportions of the painted cushion chairs from the previous set.
And of course, it's the little decor details that pull it all together.
I already owned the pillows and the throw. And the hooks you saw in the "midway" photos. We hang swimsuits and pool towels there to dry – it doesn't always look this magazine quality.
Which reminds me, "decorate" with purpose in mind and so that your outdoor space "serves" you as much as your indoor space does.
Work in progress…
There are still a few things I'm looking to do. I need an umbrella solution that will shade more of the deck. But, we'll get there.
With that, let me remind you that if you have areas you're not loving and you don't have the ideas, or budget, or energy to change it right now, that's okay!
Make your space the BEST it can be for today.

---
SIMILAR ITEMS TO SHOP