FabFitFun Fall Box 2021
FabFitFun's fall box is here and it highlights why I think it's the best value in subscription boxes.
Friends, it's GOOD! I want to share the amazingly rich goodies I picked. As a FabFitFun Partner, I get to curate my box the same as you would as an annual member, but more on that in a minute.
Disclaimer I am a compensated FabFitFun partner. However, all opinions (and I have plenty) are my own.
What is this FabFitFun Box of Which I Speak?
In case you missed the summer box post and need a refresher, FabFitFun is a lifestyle subscription box unlike any other. That means there's a ton of different goodies to choose from including decor and household pieces, full-size health and beauty items, and even fashion (there are some jewelry offerings this season too).
Use my code DIMPLESONMYWHAT to get $10 off your first box at FabFitFun!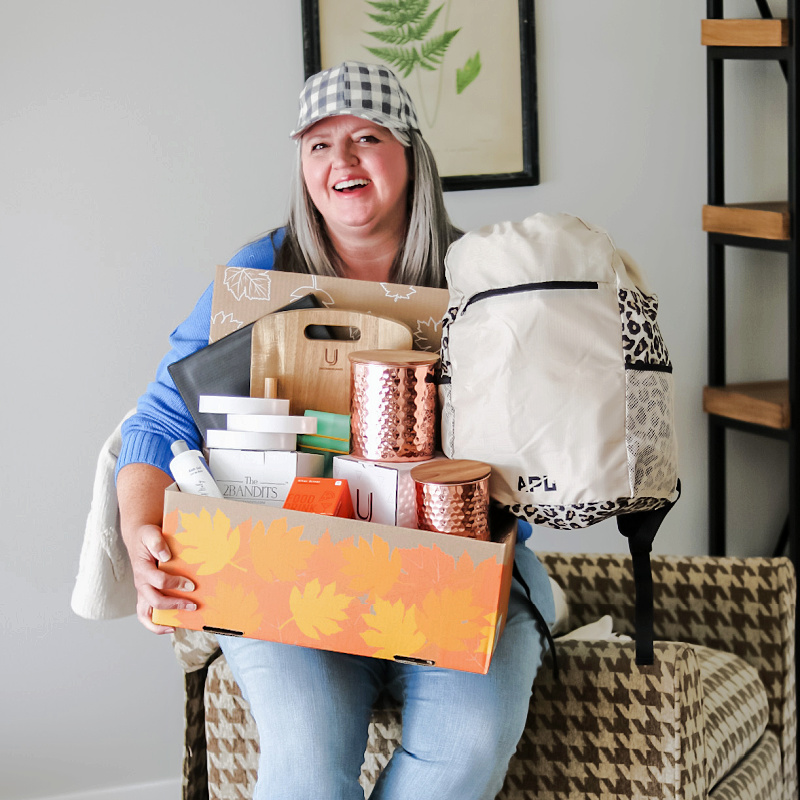 The Best Value in Subscription Boxes
The value of these subscription boxes is really amazing, IMHO! And I'm not just saying that, let me show you.
FabFitFun members pay only $49.99 for a box!
New members can use my code DIMPLESONMYWHAT for $10 off, making it a $39.99 purchase here!
Your box can be valued at up to $300, depending on how you customize it. My fall box is valued at $284!
Some of the individual items could be worth more than you pay for the entire box!
Two Subscription Options
Seasonal – Seasonal members subscribe to individual seasons. You will be able to customize some of the pieces in your box and let FabFitFun pick the rest.
You will benefit from flash sales and specials throughout the year, like Happy Home Week and FabFitFun Week.
Annual – If you're an annual subscriber you will get all four seasonal subscription boxes (at slight savings) and you can customize EVERYTHING in your box. You also get early access to curate your boxes and to those special weeks and flash sales.
* ALL MEMBERS benefit from special customization-pack options this season.
So let's get to my FabFitFun Box, Fall 2021
I keep saying SO GOOD and I mean it. Some of these pieces have such an impressive, rich fall esthetique and are giving me all the cozy feels. Read as: I want to add all things wood and copper to my decor now!
Uncommon James Cheese Board (Pass the goat cheese, I'm smitten.)
Uncommon James Canisters Set, Copper (Heart eyes, heart eyes, heart eyes!)
APL – All-Purpose Packable Backpack
Cocus Pocus Buffalo Check Baseball Cap
Talking Tables After Dinner Food & Drink Trivia Cards (The Holloway's are trivia nuts!)
Hip Lunch Pack
The 2 Bandits Tiered Catchall Tray
Islands of Italy Bath Gel, Capri (peach champagne fragrance)
It's the PERFECT Fall Subscription Box
I'm ready to head out and hit up some fall farmer's markets – I can smell the apple stands now!
Or we can stay home, light a fire and invite some friends in (or outside) on a crisp fall evening.
Either way, my personally curated FabFitFun Fall 2021 box has me covered. SO GOOD!
Don't forget to use my code DIMPLESONMYWHAT to get $10 off your first box at FabFitFun!
---
Keep an eye out on my Instagram to see how I style some of these pieces in more detail as well as some other items available to choose from.