If you want to jump on the wider leg jeans trend but aren't sure what to wear with them, today I'm showing you how to style faux leather ankle flare jeans in a number of ways. You'll look edgy-chic whether you're in the grocery store, on date night, or kicking around on the weekend.
Contrary to popular opinion, I haven't given up my skinny jeans forever. But Friends, the wider leg silhouettes we're seeing in denim are right in my comfort zone.
I highly recommend diving into this trend! Your calves will squeal in delight from being freed from their skinny jean prison. 😉
SEXY & COMFORTABLE JEANS
These *Kut from the Kloth faux leather ankle flares are actually coated stretch denim that has a similar look to leather, but they aren't hot or sticky. They're also more of a charcoal gray than black which makes them unique.
These are a bit on the long side for ankle length but I was able to cut off a couple of inches (I think they need to be a tad bit shorter still) because they are a raw hem to start with.
Slip them on and you'll feel FIERCE! I do!
*As these jeans are sold out 🙁 these looks work with regular denim flares too. I've linked the uncoated version to those below too. Uncoated Dark Ankle flares Or possibly even the straight leg version.
A WORD ON SIZING
I'm sharing the size of each piece I'm wearing (if applicable) and you can find my measurement here (or at the bottom of this post) if you need a better perspective on fit.
KEEP IT SIMPLE
First, you can never go wrong with a white t-shirt. Here I've chosen a short sleeve version but a long sleeve t-shirt would work too. I love the look of pointed-toe booties with the ankle flare jeans, but sneakers look good too.
SPORTY
I was sent this pretty Free People sweater by FabFitFun to use to create some content to promote their week-long trendsetter sale. Paired with sneakers, it creates a casual sporty outfit for cooler weather.
CURVY GIRL FIT TIP Cropped sweaters with high-waisted pants can be our friends. If our tops hit too far below the hip bone, they often land within one of our widest areas, creating extra width we don't like.
COZY CHIC
Leopard print and buffalo check make the perfect lumberjack-chic pair. You could wear sneakers with this to further dress down the look, but the leopard flats keep it classy for running errands.
CAPED CHIC-CRUSADER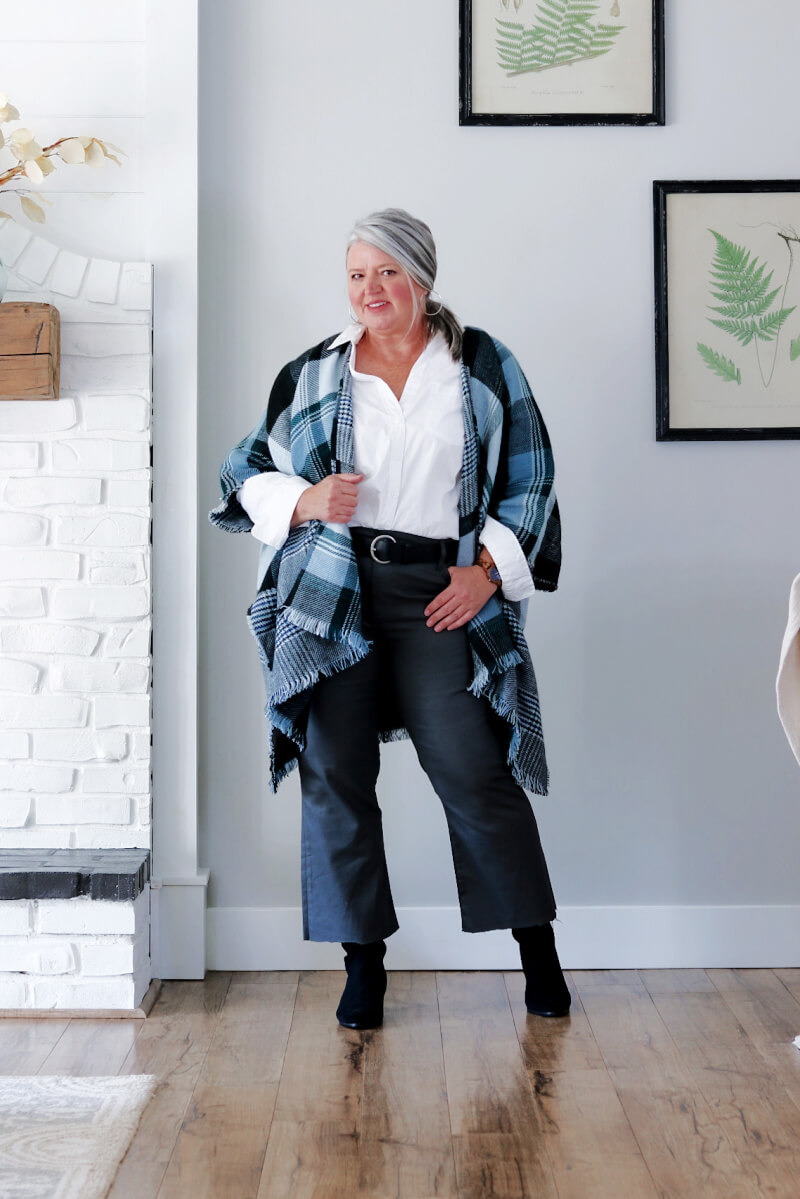 I don't know why I think a ruana is so chic and paired with a classic white button-down shirt and it only becomes more so. Since I don't currently own a dressy black sock boot, I wore my knee-high boots underneath.
FLARE LEG ANKLE JEANS STYLE TIP: When wearing booties with wider-leg ankle pants, choose one that fits very close to the ankle.
FAUX LEATHER (ANKLE FLARES) & LACE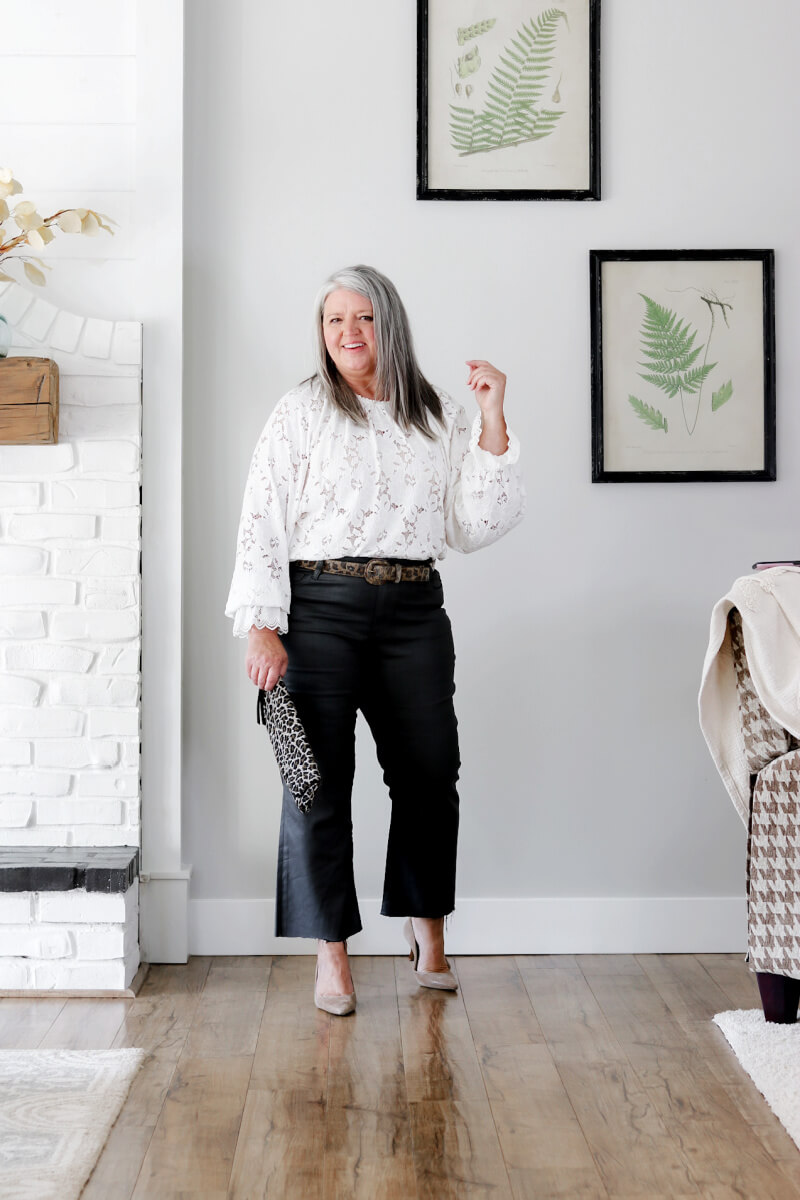 The juxtaposition of leather and lace together is so good. Edgy-sweet! I shopped this look from my closet including the kitten heel pumps. You could also wear a strappy-heel sandal for a fancier, night-out look.
DATE NIGHT
These faux leather ankle flare jeans just scream DATE NIGHT to me. The edgy look is kind of sexy, especially paired with a neutral faux-suede moto jacket. This jacket is available in plus sizes and misses sizes and is stretchy. I could have gone down one size for a more fitted look.
WHAT DO YOU THINK?
Have you already jumped on the wide-leg denim trend or are you sticking with your skinnies?
Like I said before if you want to give them a try, a straight-leg is a good place to start, but don't be afraid of ankle flare jeans.
You'll feel as cool as you look. 😉
Hugs,

---
My Measurements for Sizing Help
Full Bust 44.5"
Under Bust 38"
Smallest Waist: 38.25"
At navel: 40.5"
Full hip: 50.5"
Top of hip bone: 48"
Right calf: 18.25"
Left: 18.5"