Olive pants are a neutral in my mind. But as a curvy woman, I've had a hard time finding any tailored olive chinos that I like, or at all. So I decided to take my FAVORITE summer pants and show you how I'll style olive joggers for this fall.
I kept this Now & Later style post simple, because I was photographing this look while I was at my parent's in TN a couple of weeks ago. Besides not wanting to pack my entire closet, it was sweltering out so I could only go so deep into the fall looks.
With menopause, I can't even pretend to be cool. 😉
But, I did want to get some photos around my brother's house (he lives just down the hill from my parents), and everywhere I turned there was another pretty spot for taking photos.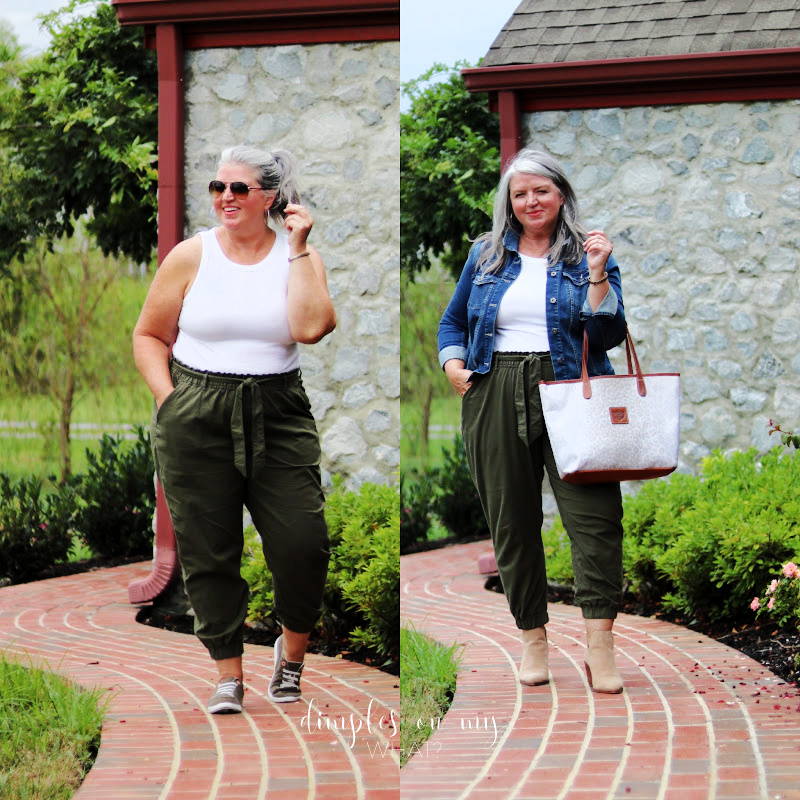 Olive Joggers
But first, let me tell you a little about these joggers. They are made from a stretch twill fabric and they have been my go-to summer pants along with last year's camo version, which I'll share here soon. (But you can see them here.)
The fabric is substantial but not so much that they're hot. And this year, Levi's added belt loops and a self-tie belt but you could leave that off or wear another belt.
You might also be interested in How to Wear a Belt if You're Curvy.
Sizing
These are available in plus size (I'm wearing the 14W) as well as misses sizes. They run a little big but the XL in the misses is too small for my liking. You can find my measurements here for sizing reference.
Okay, this summer to fall outfit formula is so simple so let's jump right in.
Styling Olive Joggers for Summer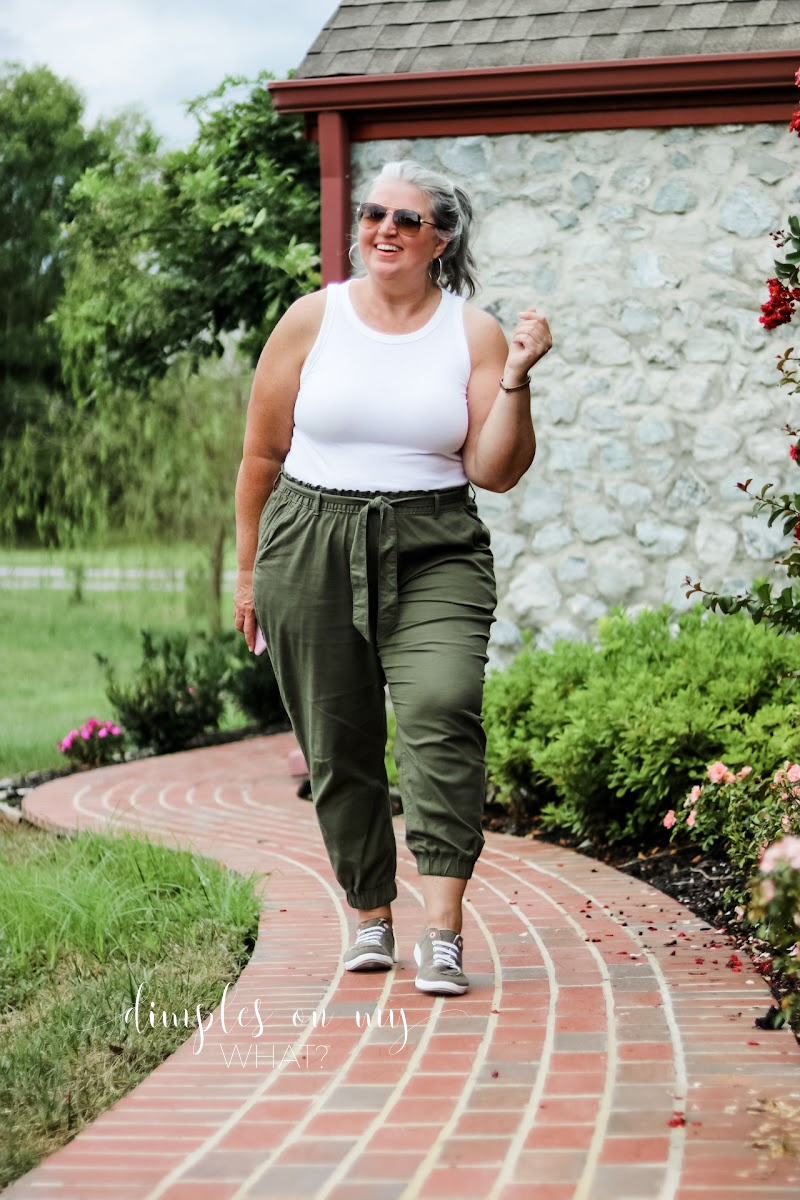 I have worn these joggers with a tank all. summer. long; to ballgames, the grocery store, and just around the house. You could call it my signature summer style.
THIS LOOK
Transitioning Olive Joggers into Early Fall
Typically with loose pants like joggers, I would recommend keeping the top fitted.
However, this blouse is the one purchase I made in my two-month shopping sabbatical because I love it SO MUCH and it begged to be paired with olive. At least, I heard it that way. 😉
THIS LOOK
Just Add Denim Jacket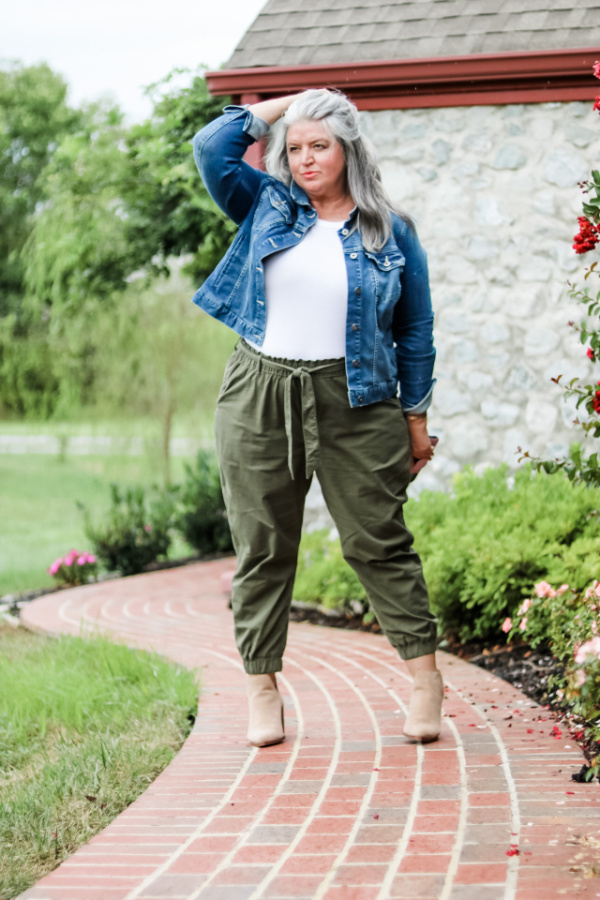 There are few pieces that will work as hard as a denim jacket in transitioning any outfit into fall, except maybe booties. Okay, booties and a denim jacket. That's all I need.
If you're curvy and transitioning a summer dress into fall I recommend a cropped denim jacket but with pants, let's wear a traditional denim jacket.
THIS LOOK
---
CURVY GIRL STYLE TIP My advice is to skip the loose trucker denim jackets in favor of one that has a bit of shape and ends no lower than the top of your hiney-crack. Trying to hide our curves isn't flattering. Instead, accentuate them with the correct proportions and fitted or more tailored silhouettes.
As the weather cools off even more,
I recommend a long sleeve fitted tee to replace the tank-top as it gets cooler out. And I like the idea of adding athleisure sneakers or even combat boots with this look.
If You Love Them They Will Come
Ideas! Honestly, I have so many more ideas for styling these olive joggers. The concepts would be the same as they were when I styled high-waisted green pants in a bundle of different ways.
Because what I find is, when we love a piece of clothing so much, because it's comfortable and flattering, the piece can be seasonless.
So keep an eye out, I'll probably be taking these babies right on into winter. 😉
How would you style them?