Today I'm continuing to talk about getting more mileage out of our summer wardrobes and showing you how to transition a summer dress into fall.
My No Buy July and August are over and I've actually started buying a few (or more) new pieces to add to my fall wardrobe. I'll talk more about that in another post, but mostly, I'm updating my denim collection, and I'm adding a few staples pieces to complete outfits.
But, I don't know about you, I don't have the budget to reinvent my wardrobe every season. Plus, I love lots of things in my closet, especially my summer dresses, and I'd like to wear them a little longer.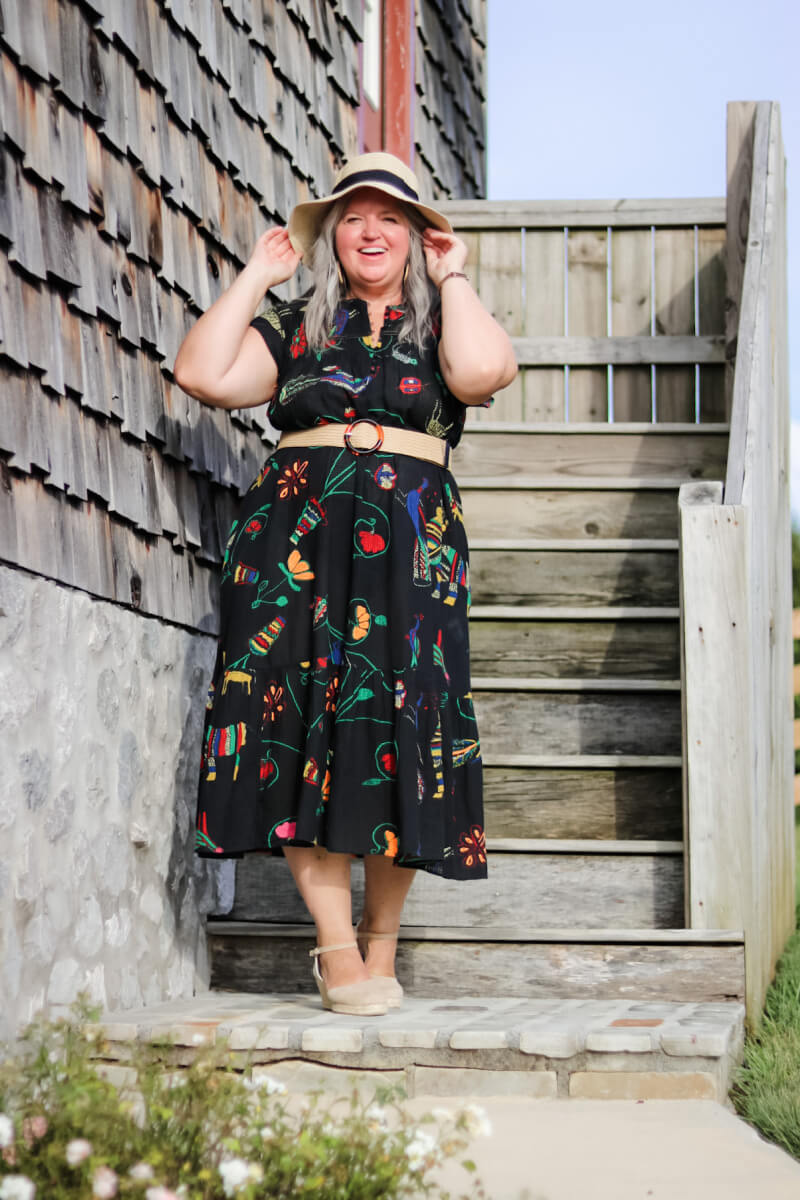 YOUR SUMMER DRESS
On a whim, I purchased this gorgeous dress from Urban Outfitters earlier this year and instantly fell in love. It wasn't even the dress I went there to buy but I've worn it over and over this summer so it was the perfect candidate to come with me into fall.
Unfortunately, this particular dress is only available in limited sizes but this transition formula can apply to your favorite summer dresses too.
I've worn it belted and unbelted depending on my mood and how hot I am. 😉
THE PERFECT INGREDIENTS TO TRANSTION A SUMMER DRESS INTO FALL
Jean Jacket
This girl loves a jean jacket to transition anything into fall. You still remember those olive joggers, right?
But let's talk about the most flattering denim jacket for curvy girls to wear with dresses. Even though a regular denim jacket looks okay here, I highly recommend a CROPPED DENIM JACKET!
They can be hard to find, but they will help define your waist and don't add width to our already curvalicious booty and hips.
CROPPED DENIM JACKET (mine is older from J. Crew Factory) || Similar Plus Size || Similar
BOOTIES
Booties and middie dresses were made for each other.
However, if you have a full calf, finding a flattering bootie can be tricky. In one of my most popular posts ever, I show you that the most flattering bootie for a curvy woman to wear is a front V-notched bootie. I have some linked over there, but they are incredibly hard to find. (The same principle applies to petite women.)
So another option is to choose a bootie that is nearly the same tone as your leg.
BOOTIES – Exact || Budget Friendly (I own both)
*If you have slim legs any bootie will work.
SWEATERS & BOOTS
Though not shown here, a cardigan and knee-high boots would also transition some summer dresses into fall.
Cardigan
If you're slimmer, you could easily wear a longer cardigan over the dress. But I find that for me, a cropped cardigan is still the best option. But that's coming from a girl with a big booty (bootay) – not to be confused with booties. ;-P
Boots
BOOTS – Wide & Regular Calf
And oh my goodness, I will do a post on these boots but if you have a wide calf, YOU NEED THESE!
They are one of those recent purchases I was telling you about and they won't last long! Of course, these are spendy, but if you're a lady with full calves, you know that good ones are hard to come by so consider them a long-term investment piece.
DO YOU HAVE ONE IN MIND?
Are you already thinking about a dress you want to transition into fall? I've got another one or two I'm gonna work on and I'll likely post those over on Instagram. So if you don't already follow me there, I'd love to have you join in on the fun.
Hugs,

---
SHOP THIS LOOK