Happy Saturday, Friend! It's shaping up to be a beautiful weekend, and we're looking at great weather next week too! That means lots of yard work and spring cleanup around here. But even though it means more work, it's amazing how good weather can lift our spirits and make for extra happy thoughts!
HOLLOWAY HAPPENINGS
As I told you last week, we spent last weekend celebrating grandson number four, turning eight, with our son and his family in Winchester. It was cold and ridiculously windy, so we pretty much stayed in and watched Lyle, Lyle, Crocodile until we went to Buffalo Wild Wings for a birthday dinner. I cuddled the baby while he napped – it was as you can imagine – PERFECT!
We stayed overnight and went to church on Sunday morning, and my daughter-in-law snapped this picture at the end of worship. I want to say the boys loved on me, but they can't get enough of their baby brother. 😉 But seriously, these fellas are all precious (I know they love me), and I miss them living near with every fiber of my being.
**This post may contain affiliate links that may result in me making a commission from your purchase at no extra cost to you.
ANOTHER WEEK, ANOTHER SICKNESS
I don't know what it is about coming home from visiting my son, but I came back under the weather again this week, feeling fine on Monday but waking up with a screaming sore throat that night. It was another week of Kleenex, naps, and movies.
I believe I have a sinus infection, and I've treated it with home remedies. This propolis nose throat spray and these cough drops got me through every time. These cough drops are marvelous for sore throats.
WHAT I ATE
Don't you love a sheet pan dinner? Me too! And these Sheet Pan Shrimp Fajitas were so easy and quite yummy. TIP: Slice the peppers and onions very thin so they cook simultaneously with the shrimp.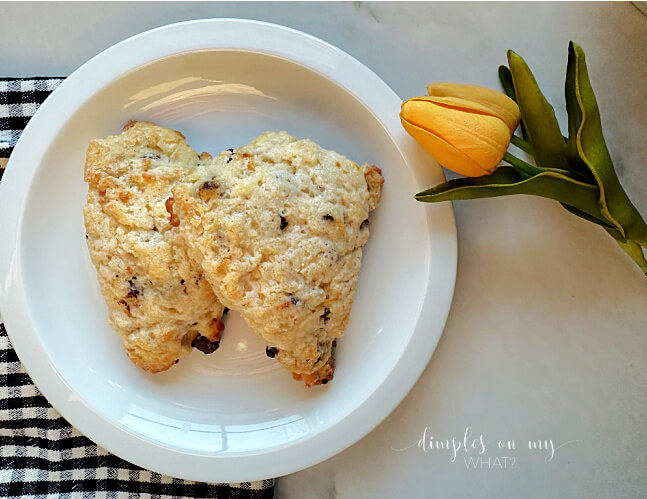 Thursday evening, I started feeling better and craving something sweet. We watch so much British TV that I needed a scone – even though I've only had a couple in my whole life. I had the ingredients for these simple Chocolate Chip Scones on hand, so I whipped them at 7:45 pm. No, it wasn't a healthy choice, but it felt decadent and special, and they were SCRUMPTIOUS!
WHAT I WORE & WHAT I DIDN'T
I didn't wear a bra most of the week – now you know. It wasn't a big deal because I didn't go out most of the week until I had to run and pick up our tax papers, but the thought of putting on a bra was too much. This Lululemon sweatshirt dupe (Size XXL in Rose Red) from Amazon came in clutch – soft, cozy, and just big enough that I ran to the accountant's office without anyone being the wiser that I was free-boobing it.
The rose red color was perfect match for my summer season color palette. Read about the color analysis here.
WHAT I DID
My other daughter-in-law's sister contacted me a while ago to help her find a plus-size black and white outfit for her ministerial ordination in May. She found a dress before I found what was on my mind, but as I looked for shoes and accessories, I found this outfit and put this look together.
This black jumpsuit and a white blazer are simple enough and elegant enough to take someone from day to night. The polished style creates a look that says you're stylish, confident, and authoritative, whether it's styled with heels or a more sporty sneaker.
Even though she won't be wearing it the night she is ordained, it would be perfect for any speaking engagement she has.
IT'S A GOOD WEEK
I haven't forgotten about this being Holy Week. For me, this is the most thought-provoking spiritual week of the year. It's sad, brutal, and joyful at once. How can it be?
Because we know the ending, we know that hell and death were defeated! We know that with Jesus's death, the veil was torn, allowing us all access to God and his atonement for our sins.
And Jesus cried out again
with a loud voice and
yielded up his spirit.

And behold, the curtain
of the temple was torn in two,
from top to bottom.
And the earth shook, 
and the rocks were split.

Matthew 27: 50-51 ESV
Happy Easter – HE IS RISEN!

Here's one of my favorite songs for your encouragement.