Do you love wide-leg pants? Wide-leg pants and pant suits are on trend right now; many women wear them with sneakers and look cool. Today, I'm showing you how to wear wide-leg pants with sneakers even if you are plus-sized and over 50.
I'm sharing the outfit I wore to church about three weeks following meniscus surgery; it looked smart, yet I was in sensible shoes for comfort and stability.
**Since I share shoppable links with awesome peeps like you, this content may contain affiliate links for products I use and love. If you take action and purchase from one of these links, I'll make a little money to help keep this blog afloat. As an Amazon associate, I also earn from qualifying purchases.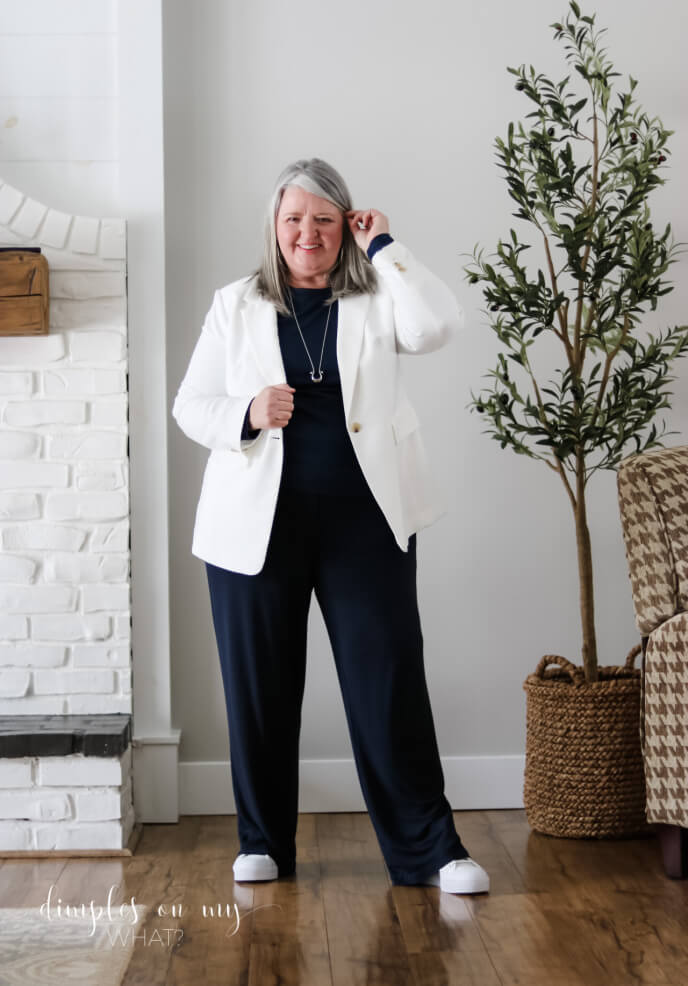 MAKING FASHION TRENDS WORK FOR PLUS-SIZE WOMEN OVER 50
I believe plus-size women can wear any fashion trend they want, and I believe women over 50 can too. However, small adjustments sometimes need to be made to keep us looking fresh and from looking like we're trying to look like a teeny-bopper.
Trying to look too young can do the opposite, and we also end up looking silly. (This is my personal opinion.) Let's respect ourselves enough to embrace our maturity and wear trends in ways that honor our age and body structure.
KEEPING IT CASUAL & COMFORTABLE
I know I've told you before, but I could live in my jammies, but that would definitely send the message that I've given up. 😉 So, a soft pull-on wide-leg pant is the next best thing, and I can actually head out in public and look presentable. Well, even more than simply presentable.
WHICH WIDE-LEG PANTS WILL WORK?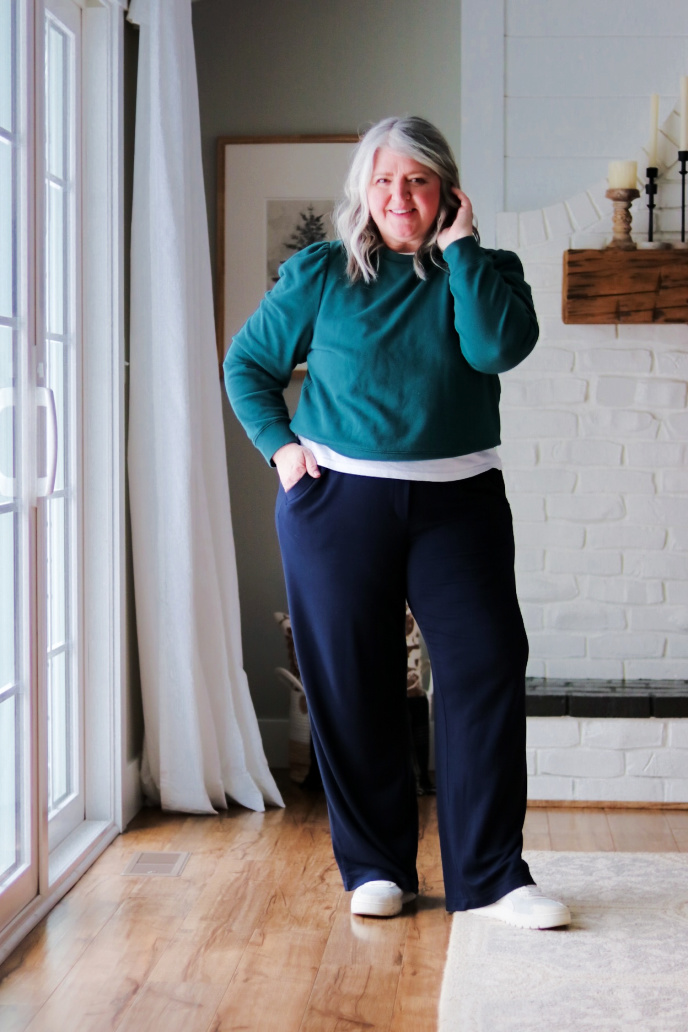 I'm styling the J.Jill pull-on knit straight-leg pants today. But any well-fitting wide-leg pants will work. They can be a pull-on like these from Old Navy or more structured wide-leg pants with or without pleats.
However, be very careful of pleats if you have a tummy and large thighs. These from Madewell work well in my regular size. But in others, you could try sizing up so they flow over the tummy AND thighs but then have the waist taken in.
SEE THE J.Jill PANTS STYLED HERE TOO
PLUS SIZE WIDE-LEG PANTS

A WHITE BLAZER WILL TAKE YOU ANYWHERE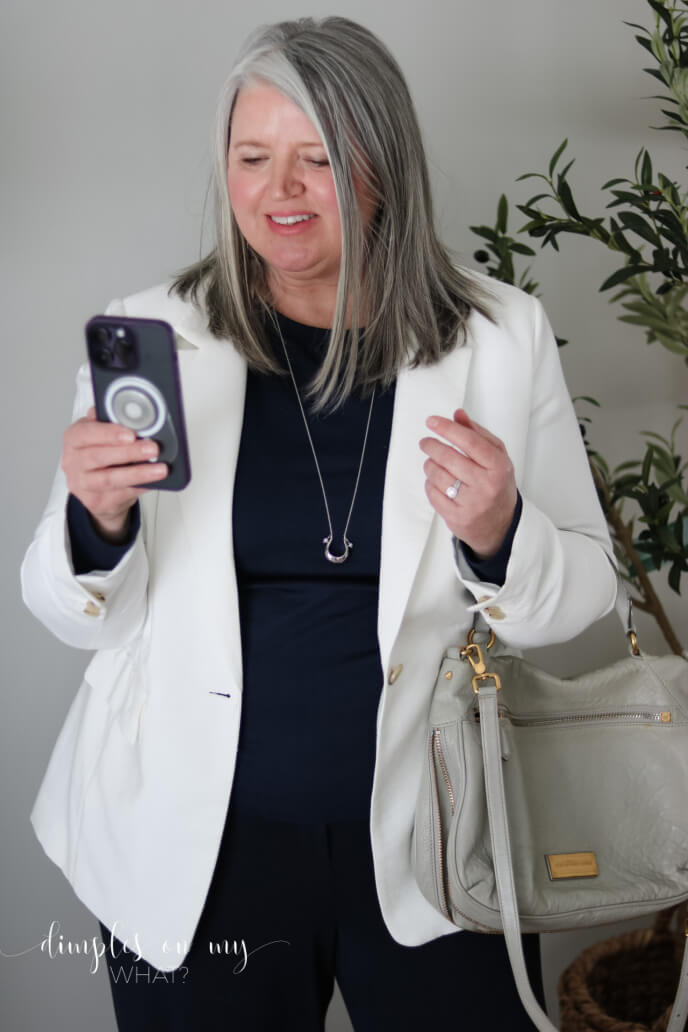 I've worn a white blazer more than any other completer piece in my closet. Here with paper-bag waist pants and again here with a black jumpsuit. It dresses up jeans and a tee, and in today's wide-leg pants outfit, it elevates a single layer of monochromatic knits to the next level.
I would have looked slightly better had my blazer been shorter and slightly contoured. But the trend is boyfriend blazers, and this single-breast style works well on me.
WHITE BLAZER OPTIONS

If you need more convincing, here's why every woman needs a white blazer.
HOW TO WEAR WIDE-LEG PANTS WITH SNEAKERS
To quote a sneaker brand – Just do it!
There's not a lot of "how-to" on how to wear wide-leg pants with sneakers, but there are a few general plus-size fashion principles to keep in mind if you're fluffy and want to wear this trend.
CURVY GIRL STYLE TIPS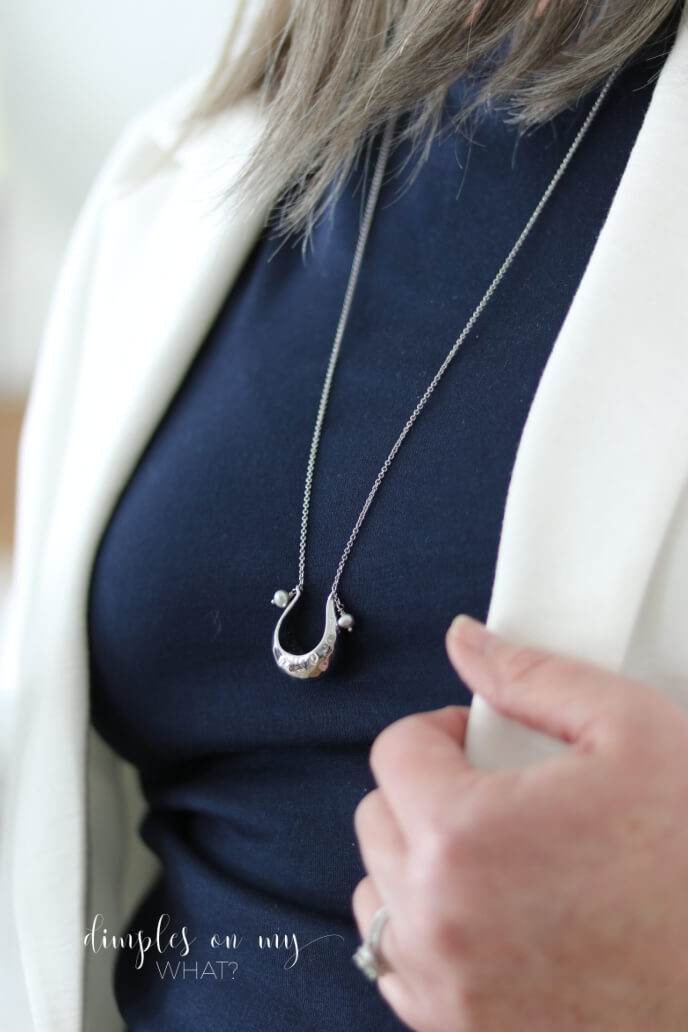 PROPORTIONS – But if you're plus-sized, be extra sure to keep proportions in mind and wear chunkier sneakers to keep the look balanced – especially if the pants have extra wide legs.
THINK SLIM & SIMPLE – I chose to keep this looking very streamlined with a column of navy and then add the pop of soft white to the blazer. However, a graphic tee could up the cool factor if that's your style.
AVOID EXTRA WIDTH ALLOVER – Plus-size women can wear this loose pants suit trend but avoid sloppy over-large pieces. As mentioned above, single-breasted blazers work best on me, especially with loose, wide-leg pants.
ADD LONG LINES – I have a short neck, and a lower neckline looks best on me, but I love a crewneck, so adding a long pendant necklace takes the eye up and down further, adding length to the silhouette.
PLATFORM SNEAKERS

EXTRA STYLE TIP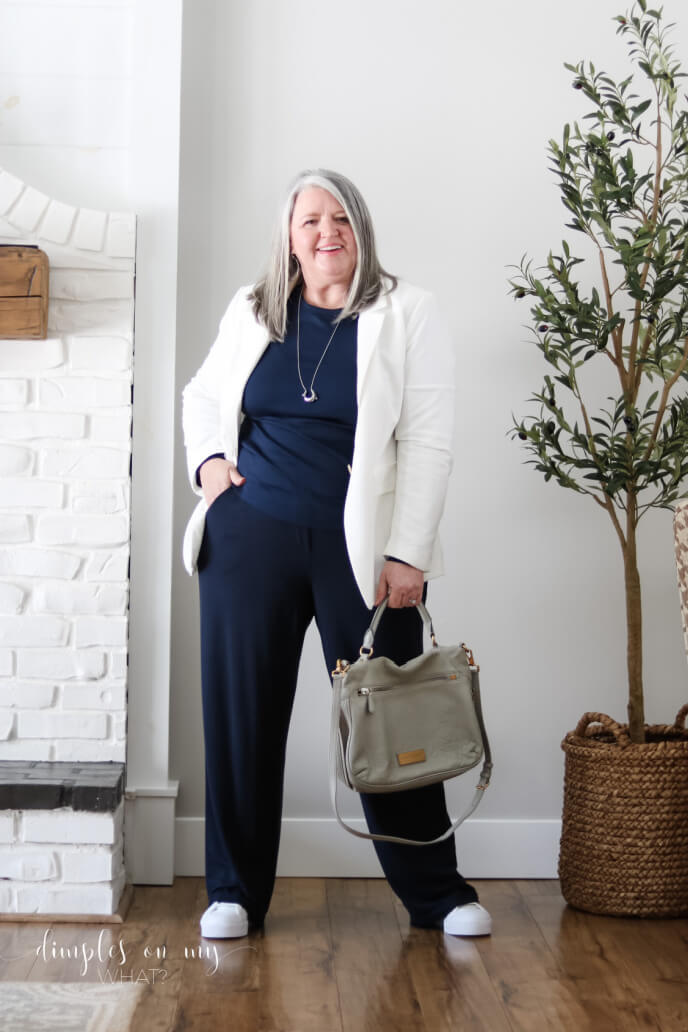 Pants wearing XL || Long Sleeve Tee XXL || Loft Blazer (old) Similar Plus Size; Similar Size Inclusive || Sneakers || Bag (old) || Necklace
Melissa Murrell of MM Styling suggests repeating a color in your outfit to create a more cohesive outfit. My white blazer and sneakers do just that, but I like the idea of having a purse close to my hair color so that I automatically apply this style rule. Plus, I'm not particularly eager to change my bag all the time, so I figure if it matches my hair, it always goes with my outfit. 😉 TADA!
WHAT SAY YOU?
I'm loving this wide-leg pants trend. How about you?
And as I've gotten older, I also love comfortable shoes more than ever!
No matter what your size, you can pull off current trends if you keep a few things in mind. I hope I've shown you how to style wide-leg pants with sneakers if you're a plus-size woman over 50.
Will you be trying to take on this comfortable, chic style too?