Happy Weekend my Friend,
Today I'm at my sister's house for her little one's first birthday celebration. We are so thankful for this little blessing in our lives! I'm sure I'll have lots of photos to share next week… If I remember to take any. We are kind of notorious for forgetting.
My parents, my other two siblings, and their spouses will be there, and I'm excited to see them too. When you live far from each other, every opportunity to be together is a blessing. If everyone is up to it on Sunday, we may all drive the 2 hours to Winchester so they can see and hear my son preach. He's my parent's second oldest grandson, and they are proud of him too.
**This post may contain affiliate links that may result in me making a commission from your purchase at no extra cost to you.
WHAT I DID THIS WEEK
I went to my son's house and helped them pack up some of the larger wall decors, like mirrors and framed art. My sister and I have this down to a science as, over the years; we've packed up our parents, our youngest sister, and my house. Oh boy, did I ever miss her because it took me a bit to regain my groove – I even called her to make sure I was doing it right.
We create sleeves out of flat moving boxes, combine two to make tall ones if needed, and tape the dickens out of them. It's very tape intensive. Tape is key, and this tape is my favorite kind; I always keep it on hand and use a dispenser like this.
I also discovered I'm too old and out of shape to do this intensive work anymore. At least while I'm recovering from surgery too. When I got home, my back hurt worse than my knee, so my trusty heating pad was a welcomed companion.
It's good that I had dinner ready to warm up when I got home…
WHAT I ATE
One word – Big Mac! Okay, that's two words but one good sandwich from McDonald's. The only thing is, it's a bit bready with that extra bun. I loved when they had The Little Mac, a regular burger with lettuce and special sauce. But even better and healthier, especially if you make your own "special sauce" with healthy mayo, is this Big Mac Casserole. It was delish and easy to heat up for me while the Mister was away and again after an afternoon of packing.
WHAT I WATCHED
I watched many good movies this week while recovering from surgery, catching up on some paperwork, and keeping my grandkids on president's day. In fact, President's day was a day of movies for us. And then, another day, we watched a movie before school while they had a two-hour delay, but their parents had to get to work.
We watched:
Come Away Home (Amazon Prime) – is a feel-good movie about a girl who is nearly forced to get to know her grandfather and a daughter making peace with her father. It was reminiscent of an "after-school special." Do you remember those?
Dog Gone (Netflix) – is based on a true story about a lost dog and the family that sets out to find him. I'm not an animal person, but I loved that it was entertaining and yet had a deeper meaning. This was the grandkid's favorite of the day. And ladies, it stars Rob Lowe, who honestly never ages and can actually act, but if you prefer, you can also listen to the audiobook. 😉
Lyle, Lyle, Crocodile (Netflix) – is a musical delight, and I loved it as much as the kids. And it's hilarious to see Javier Bardem (Old Country for Old Men) play a singing, dancing, eccentric entertainer.
GRANDKID CHRONICLES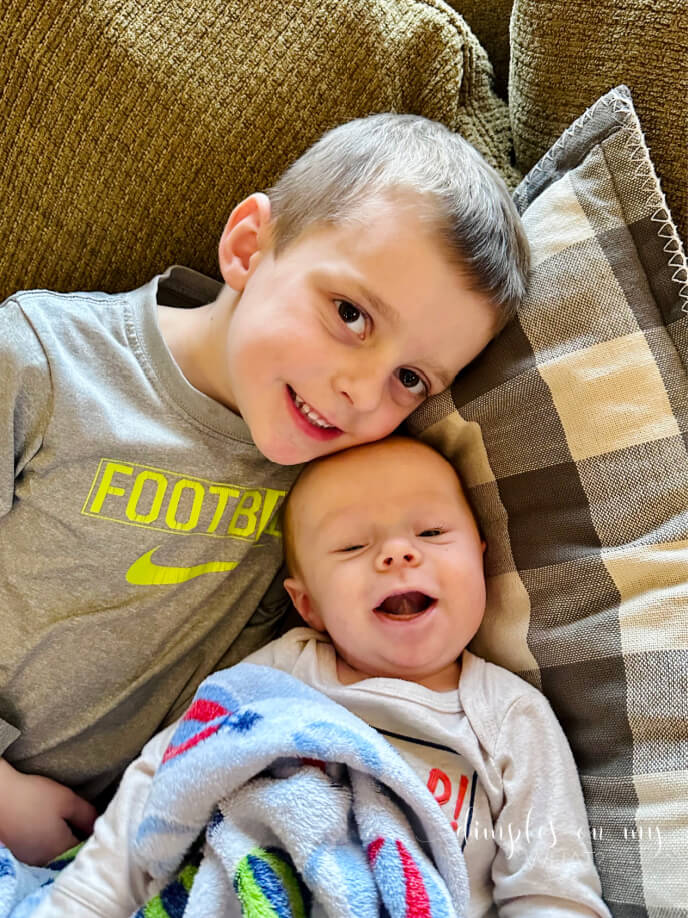 If you haven't guessed yet, it was a week of lots of grandkid time which is an exhausting blessing. But leading up to our youngest son and 4 of the grandbabies moving, I'm trying to soak all the convenience in and facilitate as much cousin time as I can muster.
So on Tuesday, I picked up two after school while their big brother had an away wrestling meet. I then grabbed three more and took them with me to do a curbside return to Walmart (that's a story for another day, but insert an eye-roll here as their system wasn't working correctly.) Then I treated them to dinner at Culver's.
Taking five rambunctious boys to eat all by yourself isn't for the faint of heart, but I think they all had a good time, and I didn't lose anyone.
EXTRA PHOTO TIP:
But why on earth do I always sit on the front end when we do a group photo?!?! So here's a tip:
We all look slimmer in group photos if where toward the back. I should have got up and moved behind the last kid on the outside.
WHAT I BOUGHT
Adidas platform sneakers (some say they run large)
This is really an update on last week's "what I bought." If you remember, I'm looking for a pair of white platform sneakers, and I think I've narrowed it down to these Adidas canvas ones; they have excellent arch support. I have them coming in a half-size larger to ensure the best fit.
These from Vans were a close second and have a slightly higher platform (I love that), but the arch isn't as prominent in them.
UPDATE ON MY MOM
As you may remember, my mom has metastatic breast cancer, and I've lost count of which round of treatment she's currently on for it. With metastatic cancer, treatments are palliative (ongoing care), not curative, so each one will stop being effective after a time.
Back in October, she had a section of her bowel removed as cancer had spread there. But the treatment following that was not tolerable and caused terrible blisters in her mouth, so she couldn't eat and became very ill. She's currently on a shot and chemo pills and has not been feeling very well because of it.
We pray that this will be effective and that she can tolerate it, and I ask you to join me in that. Ultimately I'm still praying for a miracle because I know God can do that too. But I also know that if that's not how God writes my mom's story, His promises still hold true – He will fight for her. He will be with her. He will sustain her.
WHAT INSPIRED ME
And that leads me to this week's inspiration – knowing the Word of God and His promises. Lately, I've been hungry to know more about God and how we do that through the Word.
But I'm kind of embarrassed to say that I feel totally inept when it comes to bible study. Where to start? How to go about it? What tools to use?
So I've been searching for practical methods to help me dive deeper into scripture. Because as much as I love the YouVersion Bible App, I don't want to only rely on a "verse of the day" or a reading plan written by someone else to "learn" the word.
Here are two videos that I found helpful:
This is a deeper dive and a simple, general guide to bible study. I think it lays a good foundation for understanding how the bible is laid out. Take a little time to watch this one.
---
This is a simple YouTube "Short" that gives some simple yet practical advice for bible study and is a great place to start.
---
Okay, so this ended up being longer than I thought. Apparently brevity is not my spiritual gift. 😉
You have a great week!