A Funny Girl's Guide to Overcome Despair
And Finally, Laugh Again
I am a woman of faith. You may know me as the woman who laughs a lot, openly talks about chin whiskers and peeing her pants in public. I'm the girl who doesn't take herself too seriously. So, it may surprise you to know, that I've had seasons of deep despair. The most recent left me with a heart so heavy, my thoughts frightened me. Realizing that God did not give us the spirit of heaviness but of joy seems an impossibility when we're under what feels like the weight of the world.
But that's just it; we don't need to carry the world's stuff. We have to pick up God's thing to overcome despair. So, I'm sharing the basics to "shake it off" God's way. Sorry, Taylor! More than that, I'm telling you exactly what that looks like in my real life. Weak spots and all.
To appoint unto them that mourn in Zion, to give unto them beauty for ashes, the oil of joy for mourning, the garment of praise for the spirit of heaviness, that they might be called trees of righteousness, the planting of the Lord, that He might be glorified." Isaiah 61:3
An Imperfect Reality
I think I have started this post a hundred times and just couldn't get my thoughts together enough to share them. Will I be able to tell you enough of my story convey to you how broken and hurt I've been without giving you details that could exacerbate my situation? Even for a transparent person, putting myself out there for possible judgment is scary. But once again I thought, what good is my story unless it can help someone else.
I also want to be an authentic voice for the real women, but especially women in midlife. We might look around and think that other women have it all together. You may look at the pictures I share of smiles and laughter and think that I'm one of those peeps who's got it all figured out. Nope!
Did you know that some of the best photos I've had taken are total fake-outs? Not all of them of course. But nothing gets me laughing faster than saying to myself or even out loud, "My life is so perfect. I don't have any problems at all. My kids are great. My marriage is amazing… and so on." My good friend, who is often my photographer will even say to me, "Do your 'my life is perfect' thing.'"
So, welcome into the sarcastic hilarity which is my perfectly imperfect life. I pray you'll walk away from here with new hope for your less than ideal life situations that might have you on the brink of a breakdown or feelings of desperation. I may not be perfect, but I know someone who is. And together with Him, we can both overcome despair.
When The Spirit of Heaviness Sets In
I have a recurring situation in my life that rocks me to my core. It's not a one-time explosive event. It's more like water torture. Behaviors that are like slow drips of someone else's emotional crap dropped on me until it feels like one more will leave me drowning in a pool of it. But then, the infested waters recede, and I get lulled into thinking maybe things have changed, only to feel and smell the poo all over again.
While I can't spill the deets for fear of alienating myself from this person who's important to me, trust me when I tell you, it's hurtful. In the past, I have been reduced to a sobbing heap on my basement floor. I have cried at some point every day for months on end. But the latest season of jabs and digs had me, for one split second, thinking of doing myself harm. This is NOT a highlight in a Jesus girls life.
These disturbing thoughts came in an instant, like seeing your life before your eyes when you're about to get into a car crash. I couldn't change the person or situation. But what I could change was if I was still here and in their lives. It scared me even to have a thought like that enter my mind. But at that moment my heart and soul were weary and burdened down to the max.
It took me a couple of days to start tunneling out of the hopeless valley I found myself in. This funny girl had to remember how to fight like a Jesus girl to be able to find her laugh again.
How to Overcome Despair
Identify The Oppressor
The truth is, we CAN'T change people or situations. Period. We also can't fight them. It wouldn't do any good and only exacerbate the situation. But that doesn't mean there's not a fight to engage in. I had to battle my way out from under the spirit of heaviness that was suffocating me. That fight is not here on earth. There's a war in the heavens for our hearts and minds.
The enemy wants nothing more than to get his claws into us. He will use whatever means he can. This time in my case he's using personal relationships. But he might use your marriage, your job, your finances, your mind or maybe your vices and addictions.
What he wants, is to get us to look away from God for other solutions that are even poorer choices than Ben & Jerrys or Cheetos. But, God lays out an action plan to help us. It's not easy, but it's simple.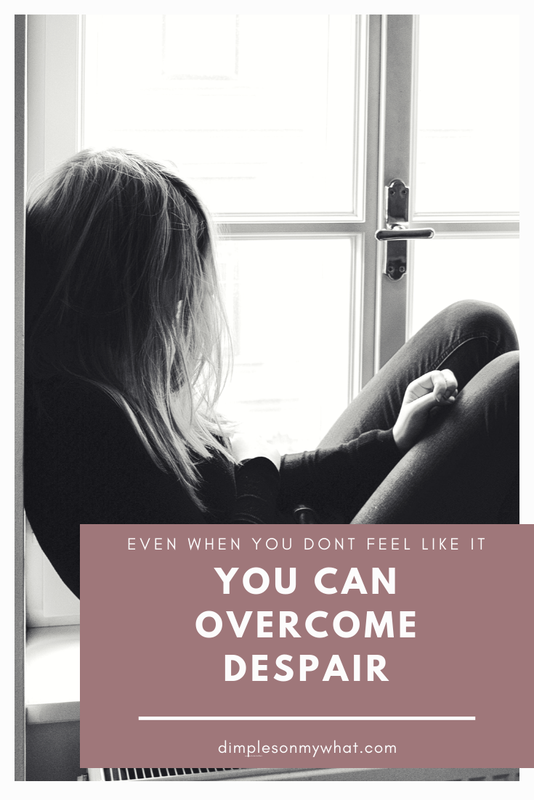 Step 1: Pray. Duh!
God said that all of us who are weary should come to Him. (Matthew 11: 28-30)
Just after my desperate thought, I prayed. Isn't that what Jesus girls are supposed to do in these situations, pray? But, it wasn't easy! At that second, I couldn't even tell Mr. Dimples what I was thinking. I don't remember what I said to God, but I don't think it was full of hope and vigor.
In Real Life:
Honestly, my prayer was most likely tearful, wordless, disjointed and shallow. I didn't have the emotional strength to talk to God in that way. But He made way for situations just like this.
The scripture tells us:
In the same way, the Spirit helps us in our weakness. We do not know what we ought to pray for, but the Spirit himself intercedes for us through wordless groans. Romans 8:26 NIV
The point is; turn away from the burden or grief and turn toward God. He'll do the rest. Yay!
When you can pray coherently, pray specifically. Remember, Satan is not only trying to get you, but he wants or may already have your adversary. Pray for THEM too!
Prayer is just talking. We don't have to sound like scripture. So talk it out.
Step 2: Praise!
Oh man, it's getting harder! If you're a Christian, you already know that there are a ton of scriptures that tell us to praise God in all situations.
But seriously, how is this possible? Because, we're a sobbing mess and can barely even pray (aka talk), remember? But there's a keyword absent from every single text; for.
…give thanks in all circumstances; for this is God's will for you in Christ Jesus. 1Thess. 5:18
I will bless the Lord at all times: his praise shall continually be in my mouth. Ps. 34:1
Therefore by Him let us continually offer the sacrifice of praise to God, that is, the fruit of our lips, a]giving thanks to His name. Hebrews 13:15
Right now we only need to praise God. That's it! Nothing more. Phew.
We aren't going to praise Him for the situation. Obviously! That would be like turning around and thanking your dad for your brother slapping you across the face because it must be teaching you something. That would be sort of ridiculous.
And guess what? We don't even have to think of anything to be thankful for. You can certainly create a gratitude list if that helps you. But come on. When you're grieving and heaving, you're probably not gonna come up with much. But God!
In Real Life:
Here's what that looks like for me. I keep it simple. "Thank you, God. Thank you for being God. I praise you for being my creator, savior, and friend. Thanks for loving me."
Step 3: Find a Song
When I'm dealing with smaller challenges finding a song is step one for me. When grief or pain is so heavy I can barely swallow, I can't "do the work" by myself. An inspirational song will often start the unlocking process for me. Even if it just causes me to cry and release.
In Real Life:
I had and have been obsessed with the Michael W. Smith's song, Surrounded (Fight My Battles). You can at the bottom of this post. It's only 18 words sung repetitively.
It may look like I'm surrounded, but I'm surrounded by you… This is how I fight my battles…
On that particularly lonely night, these words were NOT running around my head. But once they started reverberating is when I began to see hope for real victory over my oppression. A visual of Joshua's army marching around the walls of Jericho blowing trumpets forms in my head. (Joshua 6)
Do you get that they were tooting horns? They weren't singing, fighting, praying or commanding their foes to drop their weapons. I wonder if they felt silly. This was an army for goodness sake. Maybe they thought they were playing their own funeral song. Could they have started tentatively but then grown louder, stronger and finally, fearless? The only action they needed to take was to walk around the wall playing music in the name of the Lord. And they were victorious because they did it God's way!
Other Songs You Might Like
Tauren Wells – Hills and Valleys
Scott Krippayne – Sometimes He Calms the Storm
Tamela Mann – Take Me to the King
Gary Oliver – Cast All Your Care
Know This Strategy By Heart
As if on cue, while I've been working on this post, my husband lost his job. Guys, right now there's a lump in my throat and a pit in my stomach while I'm sitting in a beautiful home with a considerably higher mortgage than the house before it. Talk about a spirit of heaviness!
However, I believe in everything I've just told you. But it never gets easier. Does that mean I'm a sucky Christian? I hope not.
I do hope that I will be a real life and in real time example of a Jesus Girl. One who admits she's weak. A woman of faith who still feels fear and gets IBS and reaches for the Cheetos in a crisis. But I'm also a funny girl who finds her laugh again because she prays, praises and sings her way to joy. Joy in the Lord!
Other Practical Things To Do:
The above three steps are the very first course of action to take in a crisis. But once you're out of the danger zone, so to speak here are a few other ideas for getting out of the funk.
Now, you can make that gratitude list.
Exercise. Even if it's just an evening walk after dinner or with a friend.
Pray for other people. This gets you looking outside of yourself.
Do the things that fulfill you. DIY projects, antiquing, shopping, reading, etc.
Can You Relate?
Are you up against your own walls? Are they like gut punches or cumulative like and Jenga tower that's teetering? Whether it's people, job stresses, illness, emotional or spiritual strongholds, I hope you find inspiration in these resources. If you allow the joy of the Lord to be your strength, you won't stay cloaked in heaviness for long.
It's is said we fight spiritual battles on our knees. I get that. But like a tangible war, there are stages to battle. The first is strategizing. Prayer is us, going to our commander, giving him the scouting report and getting the game plan.
But then, we have to get up and raise our horns, voices or hands and dig out.
What can I pray for you?
It helps me to pray for you too. It allows me to look outside of myself. If you're struggling, I'd love to pray for you. Drop a note in the comments or send me an email. www.dimplesonmywhat@gmail.com
Be encouraged!
With Love,
Paula
---
Want to remember all the scriptures and song resources in this post? PIN IT below.

---
If you are clinically depressed and/or have a serious thought of harming yourself, there is no shame in seeking professional help and medication. I believe God offers solutions and healing in multiple ways. Please seek help.
National Suicide Hotline: 1-800-273-8255
National Suicide Online Chat: Suicide Prevention Lifeline