+ Ageless Style Linkup
This month, the ladies of the Ageless Style linkup are changing up our wardrobes for fall. We're pulling out all our old favorite fall colors and some new ones that might just surprise you. Can you guess what they might be?
Welcome to the Ageless Style Linkup! The link-up runs the first Tuesday of each month and features ten women over the age of 40. Every month we style an outfit based on one theme, and, because every one of us is unique, so is the way we interpret the theme. Each month, one of the co-hosts invites a guest co-host to join us for the linkup. Our goal is to show you that style is ageless.
This month, Shelly, of The Queen In Between, chose for us to style our favorite fall colors. She invited Cathy from My Side of 50 to joins us for all the fun. So, let's get this party started!
---
Typical Colors of Fall
Olive, burgundy, gold, plum, rust. These are the colors of I think of when I think of fall fashion. Any color that looks like leaves or Halloween candy works too. I mean, caramel apple anyone?
I love rust and plum. And I'm kind of obsessed with olive pants. Although I don't currently own any olive pants that aren't camo. Okay, I'm kind of obsessed with camo too.
Trend Alert: Unexpected Fall Color
But for this style challenge, I thought it would be fun to check out what colors are trending for fall 2018. What I found out is that depending on the trend report you looked at you'd find different results.
One report suggests khaki is having a moment. And while other articles tell us what we already know; rich color rules the leaf-lined runway, there are a few surprises. Two of the most surprising color additions in the fall fashion palette were fuschia and lavender/violet. They have been spotted on multiple fall fashion color trend reports.
And as many other stories begin: I was walking through Target…

Lavender – It's not just for Easter
I decided to add a little lavender to my fall wardrobe when I spotted this silky cami (wearing XXL) on a stroll through Target. (Honest to Pete, I was only there for toiletries!)
If you're on the fence about this purple hue, consider, lavender is a flattering color to almost anyone's complexion. And it looks especially lovely with a lingering summer tan. Lavender looks really good on most men as well. I know Mr. Dimples looks good in it.
---
I also love violet coupled with more traditional fall colors like marigold. But OMGoodness, paired with rust or copper it becomes all the autumn goodness of a grape Laffy Taffy from that Halloween candy we're not successfully hiding from ourselves, unwrapped and laying on the table next to our fall decor! Go on. Picture it. Alright, I know it's not the most excellent description. But, you've gotta admit, it looks delicious together!
The Shop and Shape of Things
My cardigan is two years old, but I've linked lots of other options for lavender and rust outfit combinations below. You'll also find the cute flats I'm wearing from Target (fit TTS -wearing a 9 1/2) as well as the exact bootcut jeans (wearing size 14). While I love skinny jeans for their ability to flatter a curvy figure, I'm a little excited to see the body huggers get a break from being the star of denim silhouettes.
So, what do you think? Will you be pairing some non-traditional fall colors into your autumn wardrobe?
For some reason, I need to go get some taffy. Until next time…
Be comfortable. Be confident. Be cute.
Paula
---
Shop this Look

Other Posts You Might Like
Compare Yourself to a Dog to Gain Body Acceptance
---
The Linkup
This Party Has a Few Guidelines:
Have fun and make some new friends! Please visit at least two other links.
Please link to your actual post and not your blog's homepage.
Please link back to the Ageless Style Link Up in your linked post.
Feel free to use #AgelessStyleBloggers in all of your social media posts
Please follow each of your hosts on at least one social media channel via the links below.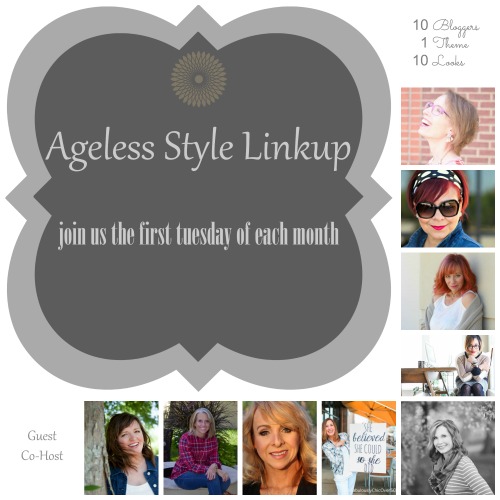 +
Debbie ~ Fashion Fairy Dust bloglovin, blog, Instagram, Pinterest, facebook, twitter
Jennie ~ A Pocketful of Polka Dots blog, Instagram, Facebook, Pinterest, Twitter, bloglovin
Jodie ~ Jodie's Touch of Style blog, Facebook, Instagram, Pinterest, bloglovin, twitter
Jonet ~ Fabulously Chic Over 50 blog, Facebook, Instagram, Pinterest, Twitter
Kellyann ~ This Blonde's Shopping Bag blog, Instagram, bloglovin, twitter
Lisa ~ Coast to Coast blog, Facebook, Instagram, Twitter, Pinterest
Paula ~ Dimples on my What blog, Facebook, Pinterest, Instagram, Twitter
Shelly ~ The Queen in Between blog, Instagram, bloglovin, Pinterest, Facebook
Meet Cathy
---
---
Add your LINK