Bacon and oatmeal – together? YES! Brown sugar bacon puts a unique spin on this, otherwise, healthy peach-baked oatmeal. Trust me and give it a try.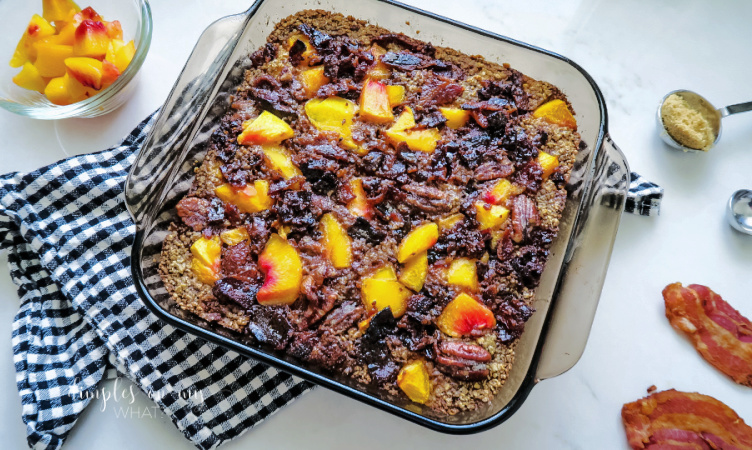 I really don't eat baked oatmeal every day. You might think I do because this is the third baked oatmeal recipe I've put on the blog.
Check out this Coconut Peach Baked Oatmeal and a Healthy Blueberry Baked Oatmeal too!
But, baked oatmeal makes such a great dish for brunch with a girlfriend and that's exactly what I made this one for. My friend and I both enjoyed it and I hope you do too.
Also, don't forget to set the stage even if it's just for one friend.
*Kitchen rug and more kitchen stuff linked lower in this post. Outfit links, below.
SAVORY, SWEET, OR ALL OF THE ABOVE
I prefer savory, eggs & bacon breakfast but I sometimes order yummy baked oatmeal with a side of bacon at our local Amish diner. They have the BEST bacon! I've been known to crumble the scrumptious, salty bacon on top of the baked oatmeal to help balance out the sweetness. And so, the idea for this recipe was born.
I've done a little experimenting with the bacon for this peach-baked oatmeal recipe; using plain bacon and now brown sugar bacon (candied bacon). And I think the latter gives it a little something extra.
Don't worry, the baked oatmeal itself isn't that sweet so the extra sugar on top doesn't overpower. And I used unsweetened frozen peaches which add tartness. I think it's a pretty nice yet subtle combination of flavors.
THE BROWN SUGAR BACON
Oops! Even if you don't burn the bacon as I did, the sugar helps keep the bacon crisp when it's baked into the oatmeal.
HOW TO MAKE THE BACON
Cover a baking sheet with aluminum foil or parchment paper.
Lay 6 – 8 pieces of bacon in a single layer and sprinkle with brown sugar. Gently press the brown sugar into the bacon. I smooth mine on with the back of a spoon.
Bake it for 20-30 minutes at 350 – being sure to keep a close eye on it – because of the sugar, it can burn quickly.
Remove from oven and let cool before breaking or chopping it into topping-sized pieces.
GO NUTS
I also added another crunchy layer to the top with about 1/4 cup of these cinnamon glazed pecans. It was the last of them so there was extra cinnamon sugar in the jar too.
HOW TO MAKE THE OATMEAL
Chop the fresh or frozen (unsweetened) peaches into bite-sized pieces; set aside.
Beat the egg then add the other wet ingredients, including the melted butter after letting it cool a little bit. You don't want to cook the egg. 😉
Add the oatmeal and combine. I used rolled oats for this recipe.
Add the chopped peaches.
Pour into an 8×8 or 9×9 greased casserole dish.
Top with bacon pieces and nuts (if using). Then top with a few more chopped peaches, they make it look really pretty.
Bake it and enjoy with your choice of toppings, like more brown sugar, maple syrup, and milk of your choice.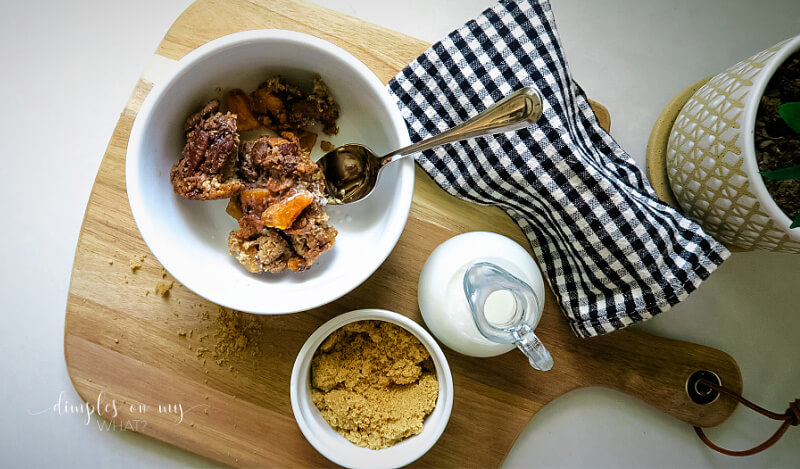 Freeze it
Baked peach oatmeal with candied bacon isn't complicated and it also freezes well. I generally cut it into individual portion sizes, wrap it in plastic wrap, and put it in a freezer bag.
NOTE: As you can see above, the peaches won't retain their color during cold or frozen storage, but it still tastes delish!
To Reheat
Remove the oatmeal from the plastic wrap before reheating to eliminate chemicals leeching into your food. If thawed, microwave for about a minute; if frozen, about two minutes.
---
SHOP MY KITCHEN
---

---
MAKE IT
Print Recipe
Peach Baked Oatmeal with Candied Bacon
A sweet and savory baked oatmeal recipe.
Ingredients
6-8

pieces

bacon

2

T.

brown sugar
For baked oatmeal
2

cups

rolled oats

1

tsp

salt

1

tsp

baking powder

1

tsp

cinnamon

2

cups

unsweetened almond milk

I used Kirkland's Unsweetend Vanilla Almond Milk

1½

cups

cubed peaches fresh or frozen; no need to thaw

¼

cup

pure maple syrup

2

T.

melted butter

1

egg

¼

cup

Cinnamon Glazed Pecans

optional
Instructions
Prepare the bacon
Preheat oven to 350°F and grease an 8"x8" or 9"x9" square casserole dish

Line baking sheet with aluminum foil or parchment paper

Lay strips of bacon in a single layer on baking sheet. It's okay if they overlap.

Sprinkle bacon with brown sugar and pat in a little bit. I used the back of a spoon.

Bake for 15 – 20 minutes – keeping a close eye on the bacon as the sugar will cause it to burn quickly.

Remove from the oven and let cool before chopping it into pieces for the top of the oatmeal.
For the Oatmeal
Combine dry indredients and set aside. (Honestly, I never do this but it sounds good.)

Beat the egg and add the rest of the wet ingredients, making sure the melted butter is cooled slightly before adding. Stir to combine.

Combine the wet and dry ingredients and add the chopped peaches.

Pour into the prepared casserole dish. Top with bacon pieces, optional glazed nuts, and dot with extra peach chunks for color.

Bake for 30 – 35 minutes or until the center is set and the edges are just beginning to turn brown.

ENJOY with your favorite toppings.
---
PIN ME!