If you're stretching your wardrobe these days, look no further than a knit LBD. You can dress it up, dress it down, and every way in-between and today I'm showing you how to style this perennial favorite, Leith knit LBD, nine ways.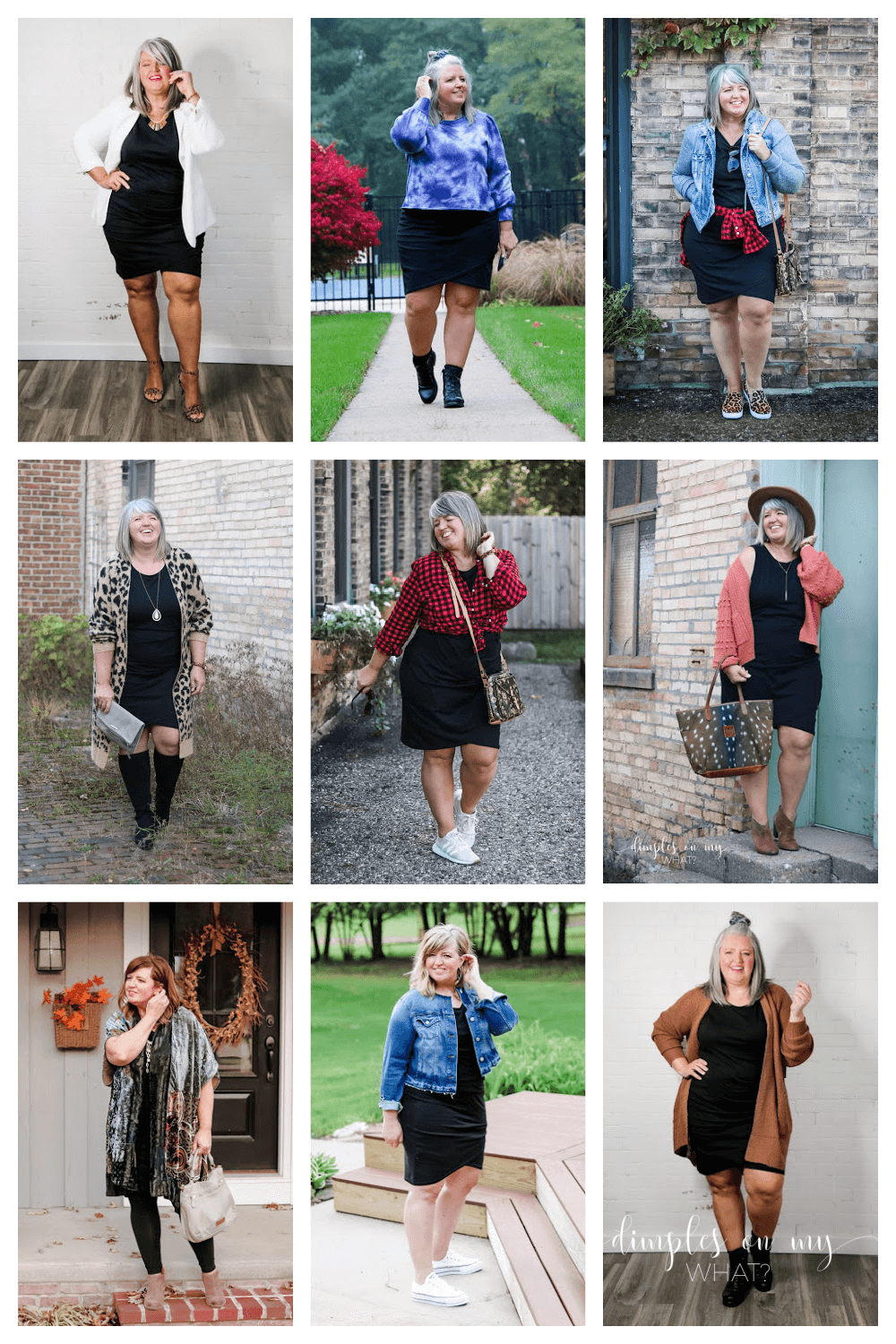 SPEND LESS – HAVE MORE…MONEY
I have been trying to duplicate the success of that two-month clothes shopping fast I did a couple of years ago, since November of 2020. But, I've failed miserably.
My budget would sure appreciate it if I'd rein it in and I'm sure Mr. Dimple's prayers would be answered. But honestly, my mind would probably like the break again too. Not to mention, the inner peace of being able to conquer a minor shopping addiction. (Hey, I'm just being honest here.)
HAVE LESS CLOTHES BUT HAVE MORE OPTIONS
But, whether I can get back on the living-with-less-clothes-and-more-money bandwagon or not, I still love being creative and wearing more of my clothes, more of the time. Some may think that having fewer clothes means they'll have less to wear.
If you're one of those thinkers, I hope today's post will prove that when your closet is built on a foundation of classics (or staples), you own the building blocks for a mega wardrobe. And you can't go wrong with wardrobe staples like a knit LBD.
So I thought it would be fun, and hopefully inspiring to you, if I showed you how I've styled the Leith Ruched LBD nine different ways. It's available in both misses and plus-sizes.
And now it's also available in LONG SLEEVE!
THE DRESS
LONG SLEEVE PLUS SIZE || LONG SLEEVE MISSES
HIGH R.O.I ISN'T JUST FOR BUSINESS
I'll add some links to other knit LBDs in various lengths so that if you don't already own one, because I'm betting by the end of this post, you'll see how versatile they are and "need" one. 😉
There is a high ROI on this type of garment, so I don't feel bad adding them to the closet – even when pairing down.
You'll see that with just a few other wardrobe staples (which I'll talk more about in a coming post), a soft, knit LBD can really take you from day to night and maybe even for a little lounge on the couch.
Oh, and think you just have to stick to black and white for "wardrobe staples". Remember when I styled a pair of green high-waisted pants eight ways? And even a leopard print slip-dress can be super versatile.
SIZE & FIT
I'm wearing a size 2X in the Leith Dress because I wanted it a bit looser and I like the added length.
But speaking of length, if you find an LBD that fits you well but isn't a flattering length for you, have it hemmed to your perfect length.
UNDERWEAR
I'm wearing a smoother under this dress for two reasons. First and obviously it smooths things out under a body-conscious dress. And second, it prevents thigh chafe. I'm wearing this one, but see my other favorite shapers in this post.

NINE WAYS TO STYLE A KNIT LBD
WITH A KIMONO
Let's start with the oldest photo. As you can tell, this is BG – Before Gray. I added a pretty kimono with leggings and booties because it was fall. But a light kimono and sandals would be another great warm-weather option. See, I'm still coming up with styling options. 😉
CLASSIC DENIM JACKET & SNEAKERS
Okay, the transition to gray has started and the weather has warmed up. You can't get much more classic and frankly, ageless, than a denim jacket and sneakers. I recently found this denim jacket and it easily trumps ALL others in my closet.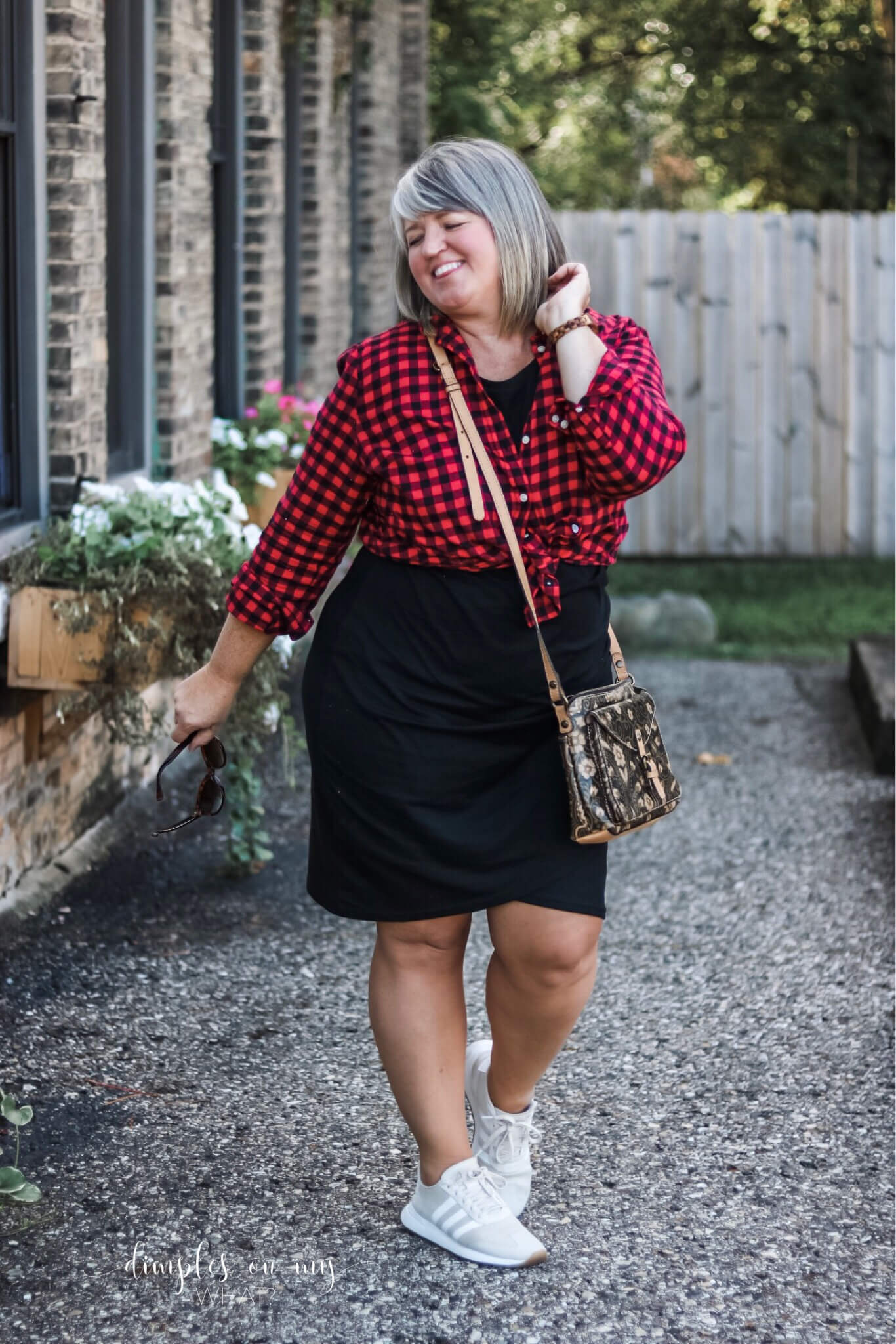 TIE ONE ON AN LBD
A button-up shirt is another classic that will create a ton of outfits. This one is obviously a buffalo-plaid flannel shirt but any button-up shirt would work. Simply tie it over the dress at waist-length, (which creates a waist for those of us who are spreading) and add comfy sneakers. Comfy and cute!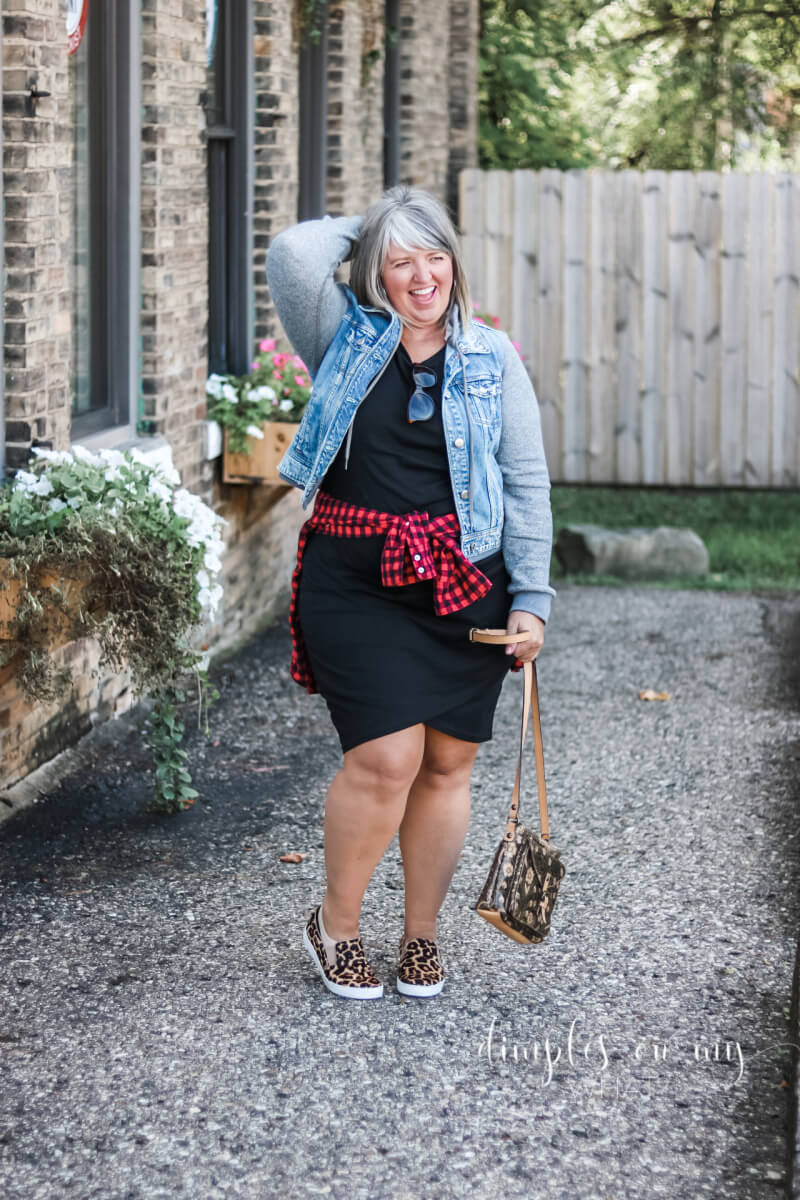 TIE IT ON AGAIN
Now, put that denim jacket on and tie the button-up shirt around your waist. You'll totally be one of the cool girls. Plus, it helps detract from a lumpy tummy and mega-booty – not that I know about that. 😉 Add a little leopard print slip-on sneaker and your cool just got a little glam.
DRESS IT DOWN
Okay, this dress can be dressed way down, and adding a sweatshirt is a warm and cozy way to do that. A t-shirt would also work here. I added a combat-style bootie but sneakers would work too. Just keep the sweatshirt nearer your waist.
If you don't have one, I recently found these Twist-Tee Knot thingys that do a fab job of creating a knot that doesn't tear up your skirts.
SWEATER WEATHER
I love a cozy, below the buns cardigan. This one is no longer available but I'll let you know if Soma decides to bring it back.
CURVY GIRL STYLE TIP – NEVER, I repeat, NEVER let a sweater or jacket hit you at your widest place. Mine is my bum so I try to stick to a cropped sweater or longer length.
CARDIGAN AND BOOTIES
I paired this cotton bobble cardigan with a heeled booty, start to dress up this Leith Ruched Knit Dress. The addition of a brimmed felt or wool hat will take this fall outfit up a notch.
A LONG CARDIGAN & BOOTS
A long cardigan, whether it's a statement piece or a sleek, streamlined style, looks fantastic styled over a slim-fitting dress. Add knee-high boots and SHAZAM, you're ready for the office or date-night.
SPEAKING OF DATE-NIGHT
Here's proof positive that every woman needs a white blazer. T-shirt dress, white blazer, sexy sandals (and a bottle of self-tanner) – YOU'RE A ROCKSTAR!
Well, do you own one yet?
What's your favorite way to wear your LBD?
Hugs,

---
More LBDs to Love