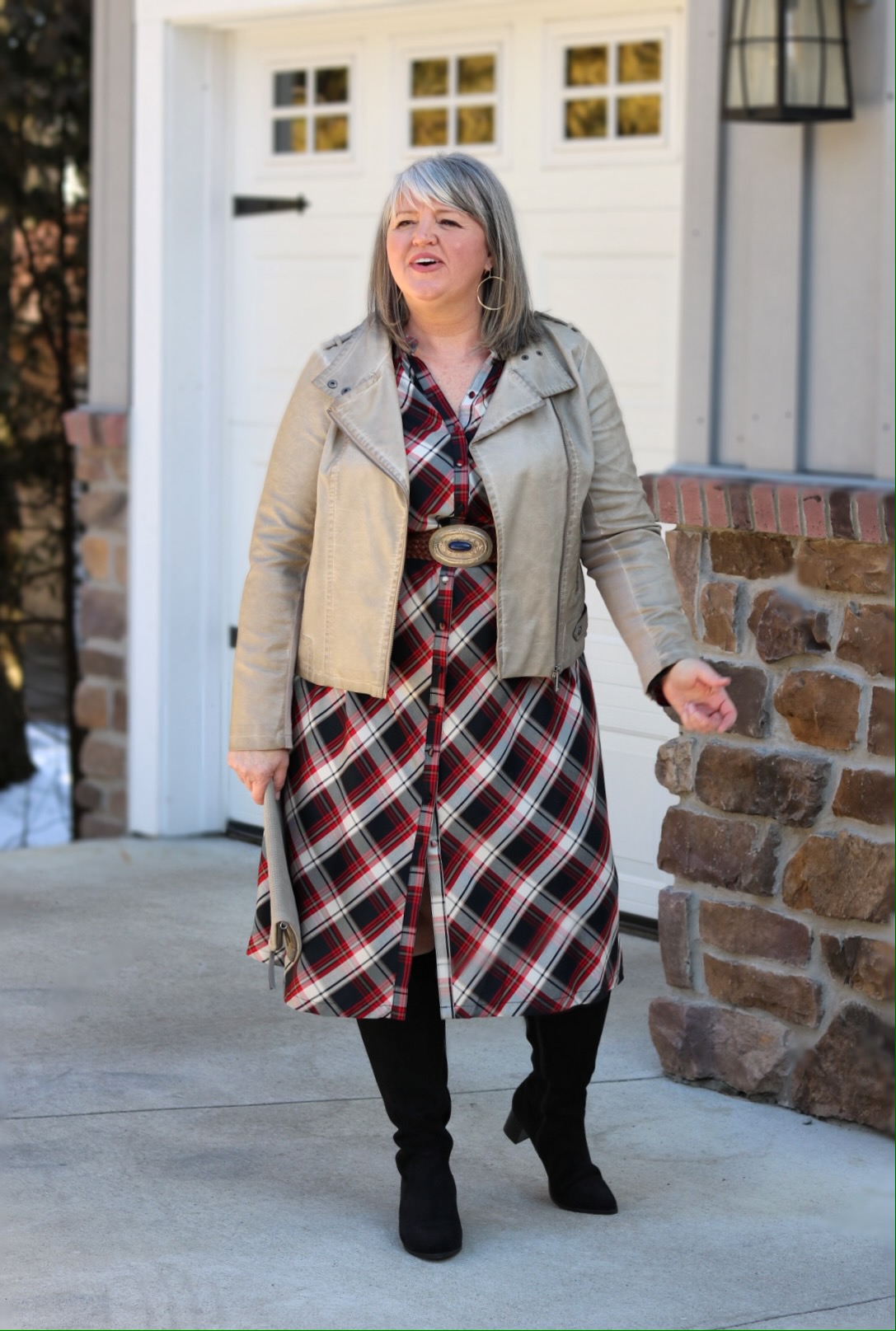 Plaid and it's Sister, Gingham are Seasonless Pleasers
I love me some plaid! I recently saw this plaid H&M dress on my friend Lisa, The Silver Stylist and was so excited to style it for our current late winter weather, which has been all over the board. However, it got me to thinking about how seasonless plaid is and how I love plaid for Spring too. So today, I'm sharing this and a few more plaid pieces you might want to add to your wardrobe because plaid is perpetually in-season.
Plaid H&M Dress
H&M is killing it lately for great pieces at affordable prices. Don't let the price point fool you; if the fabric on this dress is any indication, the quality isn't compromised. But as always, if you're ordering online, read the reviews; people tell you if the quality of a garment sucks. This one does not! My friend who took these photos couldn't get over how great this plaid dress feels and looks in person.
I'm wearing an XL in the dress and have plenty of room everywhere due to the raglan sleeve and beautiful cut of the skirt. You can find my measurements here for size reference.
A Word about H&M Sizing
How I will style it for Spring
The black, red, and tan colors in this plaid print are admittedly lean toward a winter color scheme. However, thinking ahead to spring, I believe I could trade the boots and faux leather jacket for white sneakers and a jean jacket to stretch it into the first part of Spring.
And because it's a button front shirt dress, wearing it open over a tank dress or jeans and a tank top (like I wore an eyelet shirtdress here) could be groovy too. But, I can also keep this plaid dress for cooler temps because there are lots more spring-like plaids and checks to be had, and I might have a few favorites in this bunch.
Plaid for Spring
Move over Plaid Flannel Shirt; your cute and cooler sister is coming into town. I love some of these plaid pieces in soft pastels and even bright jewel tones.

Gingham Checks – Another Perpetual Pleaser
Give me gingham all day, every day. And lot's of people feel the same way because I can almost guarantee Instagram success if I post a photo in gingham. It never goes out of style.
A gingham shirt is the perfect blend of sweet, classic, and dare I say a little bit nautical too. It looks pretty amazing with hot pink shorts as well. See for yourself.
And it looks pretty summery paired with florals too.

Is Plaid for YOU?
I'm on the hunt for a loose gingham dress, but since I'm a sucker for all things plaid, I can totally see myself in a new plaid shirt, and I love some of those gingham pieces. What about you, are you a plaid fan?