Are you self-conscious of your belly pooch in clothes? If you're like me, you struggle with it. But today, I want to tell you how I'm learning to love my visible belly outline and how we can be body positive without sacrificing our modesty.
I am very self-conscious about my belly outline in clothes. Perhaps it's because up until menopause hit, my belly was relatively flat. I do my best to conceal my menopausal belly outline in clothing, but I envy the curvy women who seem to have embraced that particular curve with style and confidence.
I realize that I need to learn to love my new body, including my menopausal belly outline. After all, this body has carried me through 57 years of life, and it deserves my respect and acceptance. I'm working on it, and I hope to get there someday. But then I saw this photo of me, what I thought was "rocking" the body-conscious dress and feeling all kinds of cute, and my eyes zeroed in on that visible belly outline. I realized that I was not there yet!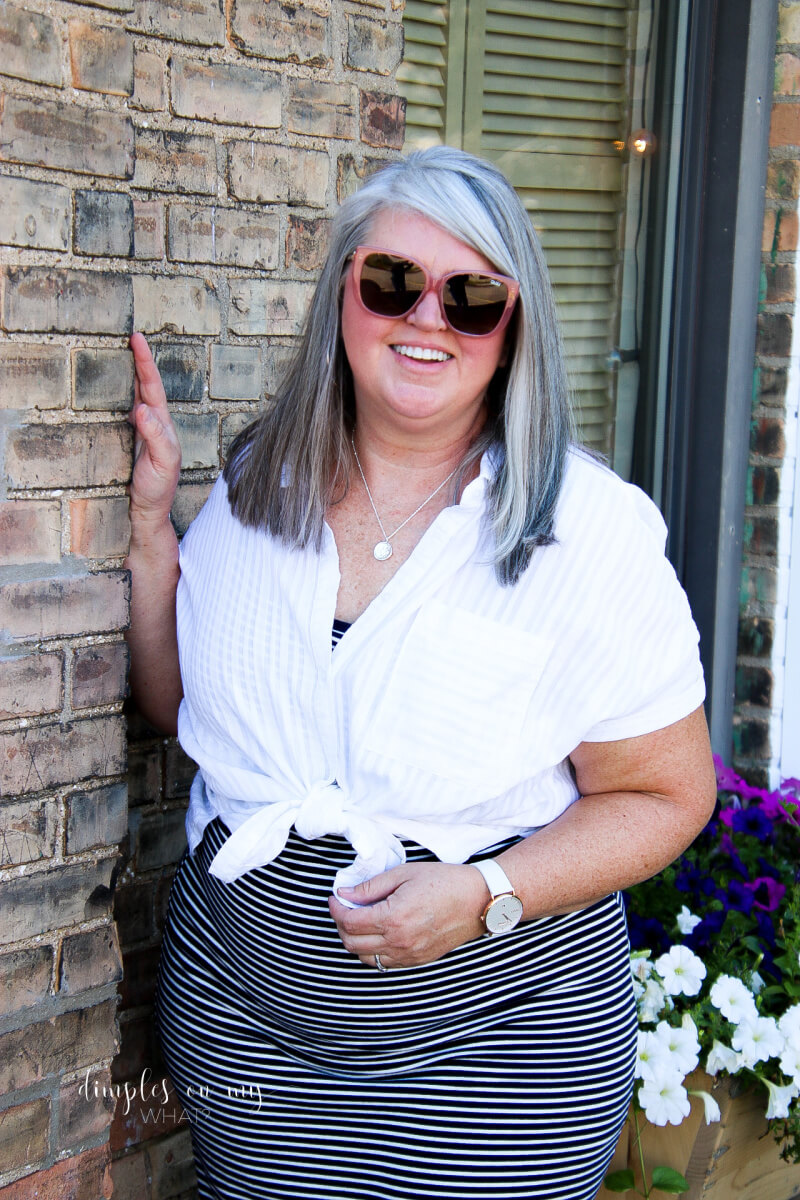 **This post may contain affiliate links that may result in me making a commission from your purchase at no extra cost to you.
LEARNING TO LOVE MY VISIBLE BELLY LINE
I know there are lots of body-positive evangelists who continue to preach the "let it all hang out" message, but I wonder where modesty fits into this idea. On the flip side of this type of this self-acceptance, the mantra is the thought that it is perfectly okay to embrace our God-given sense of modesty that wants to cover it up, conceal or camouflage it.
Let's honor some of those feelings that this is too exposed. Today, there are enough visual images that oversexualize the female body without me adding to it. Did you see any of the most recent Homecoming dress pictures on your social media feeds? YIKES!
I don't want to be a part of that problem.
dress XL || shirt (old) || sneakers || earrings similar
WE CAN DRESS IN A WAY THAT HONORS OUR CURVES AND GOD
So, while I'm working on making peace with my visible belly outline, I will also continue to dress in a way that is modest and respectful of my body. And I hope that other women will do the same. We don't have to choose one or the other, self-acceptance or modesty. We can have both without having to wear baggy clothes all the time.
HOW TO STYLE A BODY-CONSCIOUS DRESS AND DETRACT FROM A VISIBLE BELLY OUTLINE
With that said, I thought I would show you how to make a few changes to this dress to help me feel more comfortable and modest. I'll also give you a few pointers for how to wear a more formfitting dress yet detract from a visible belly line.
dress XL || white shirt (old) || short sleeve sweater XL || puff sleeve denim jacket XL || sneakers
– It goes without saying that a shaper will help smooth things out. I'm wearing one here but they can only do so much when your tummy pops out like a can of biscuits. See my favorite smoothers here.
– Choose a solid color instead of this micro stripe (this alone will solve most of the issues). Strangely enough, I've found that some very light colors can be slimming too. It's the in-between colors that highlight everything.
– Add a cardigan or jacket – This trick will vertically slim the belly from the front, but the open topper will also help cut the belly line from the side view.
In my before look, the shirt was tied too high above my belly, creating the appearance that I was in the "third trimester" of something. 😉
– Layer a sweater or tee over the dress You might think you need to cover up your entire belly to camouflage it, but that's not the case. If I did that, my top would go to my pubic bone, ending near my widest part. That would create a new style issue. A loose-ish sweater or tee that hits mid-way on your tummy pooch will visually cut the size in half.
TUMMY TAMERS

**You might also be interested in BELTS AND THE BIG WOMAN!
MODESTY IS KEY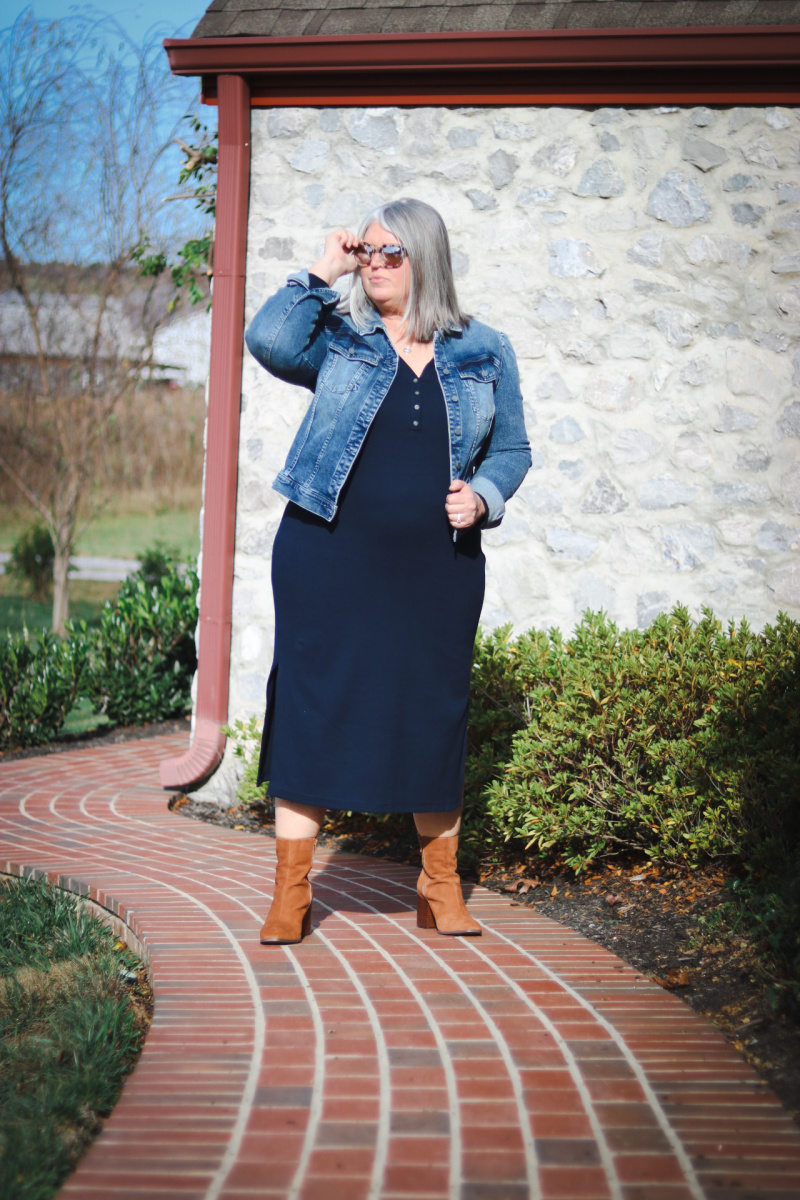 These looks, with the booties and the sneakers, are directly from the mini fall capsule wardrobe!
navy henley dress XXL || puff sleeve jacket XL || booties || sunglasses
---
striped dress XL || solid dress XXL || puff sleeve denim jacket XL || sneakers
So, what do you think? Is that a little better?
Of course, I always say to wear what makes you feel good. If that means you're in a flowing caftan all the time, ROCK IT, Girl! But if you'd like to take a baby step toward accepting and modestly honoring your curves, give these little tips a try.
Did you like this post? If so, please share it with your friends! And if you have any other suggestions for how to make peace with a visible belly outline, I'd love to hear them! Please leave a comment below. 🙂
Hugs,

---
SHOP AFFORDABLE KNIT & SWEATER DRESSES