Do you have one of those deep pantry cabinets, and are you struggling to keep it organized? If so, I will show you the best way to organize deep pantry slide-out shelves.
These shelves can help you maximize and organize even the deepest of pantries. Their easy access and adjustable design make it easier to store all of your food items orderly. This article will discuss the best way to utilize these shelves to organize your kitchen and have everything within easy reach.
A deep pantry cabinet with slide-out shelves can make the most efficient use of space in any kitchen, although they are not without drawbacks. While slide-out shelves provide easy access to items stored in the back of a deep cabinet, organizing them can be tricky because they are so deep. But, with a few steps and the right tools, you can organize deep pantry cabinets with slide-out shelves quickly and easily.
**This post may contain affiliate links that may result in me making a commission from your purchase at no extra cost to you.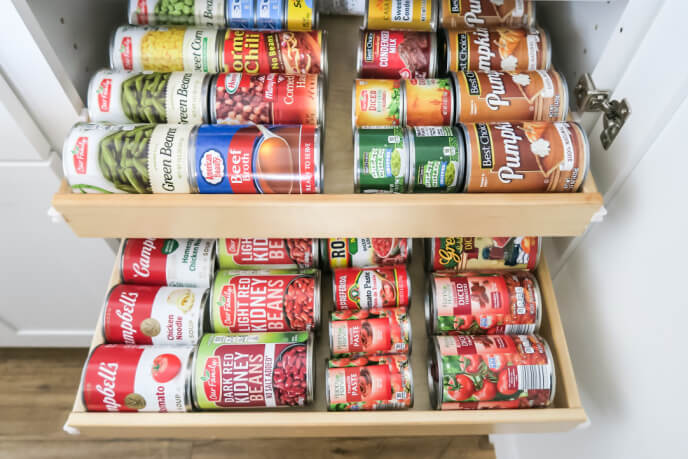 PROS & CONS OF A DEEP PANTRY CABINET
When we remodeled The Cedar Palace, the kitchen design was limited by the space we were working in. So, I had to choose two deep pantry cabinets instead of a walk-in pantry or a shallow closet-style pantry. I prefer shallow shelves because it's easier to organize and see what you have. However, the deep cabinet does help maximize storage when you don't have more width, so I feel fortunate to have what I have.
*In an upcoming post, I'll share my favorite organizing ideas for fixed shelves in a deep pantry cabinet.
IF YOU HAVE A DEEP PANTRY CABINET WITHOUT SLIDE-OUT SHELVES
If you have a deep pantry cabinet with fixed shelves but not slide-out shelves, you can add pullout drawers or shelves to your deep pantry cabinets. We ordered ours when we bought them, but Mr. Dimples installed an extra one for me to add more canned goods storage. This way I can store canned goods on their sides in a single layer.
If you'd like to add some slide-out shelves to yours, I suggest going through a cabinet shop, but you can also order the shelves, and shelf/drawer glides online. And then:
Measure the cabinet and determine what size shelves you need. As the saying goes, measure twice, cuss once! Super important: get the glide length right.
Gather the right tools for installing the slide-out shelf. This usually includes a drill, screwdriver, and level.
Follow the directions or watch a YouTube video before you start installing. Better yet, find someone handy to do it for you. 😉
CLEAN OUT YOUR PANTRY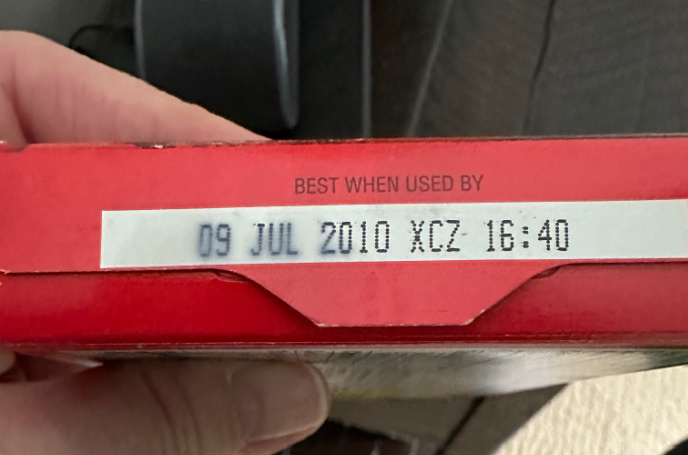 Before we begin organizing, we HAVE to clean out.
If you're like me, you have tons of food but nothing to eat. Right? This is one of the primary reasons for my pantry reorganization. I realized food was just getting lost because I couldn't see it!
Or, like that sequin tank top we keep putting back in our closet, we keep saying, "Well, maybe I'll use it one day." but then we never do. (I don't really have a sequin tank top.) 😉 Here's the perfect example from my pantry purge…
Do you see that expiration date? Paula, it's now 2023! And it's even worse when you find out I've only lived in this current house for six years; that means I moved that box of baker's chocolate here!
So here are a few tips for purging the pantry:
Take everything out – yes, EVERYTHING.
Go through each item and check expiration dates. (I don't know the rules here, but do what feels comfy for you.)
Now, go back through the items kept and think about what you will actually eat, then ask yourself: Would I buy this today? Will I use it by the expiration date?
Create a "donation box" for items you'll pass on to your local food pantry.
Clean and vacuum the shelves.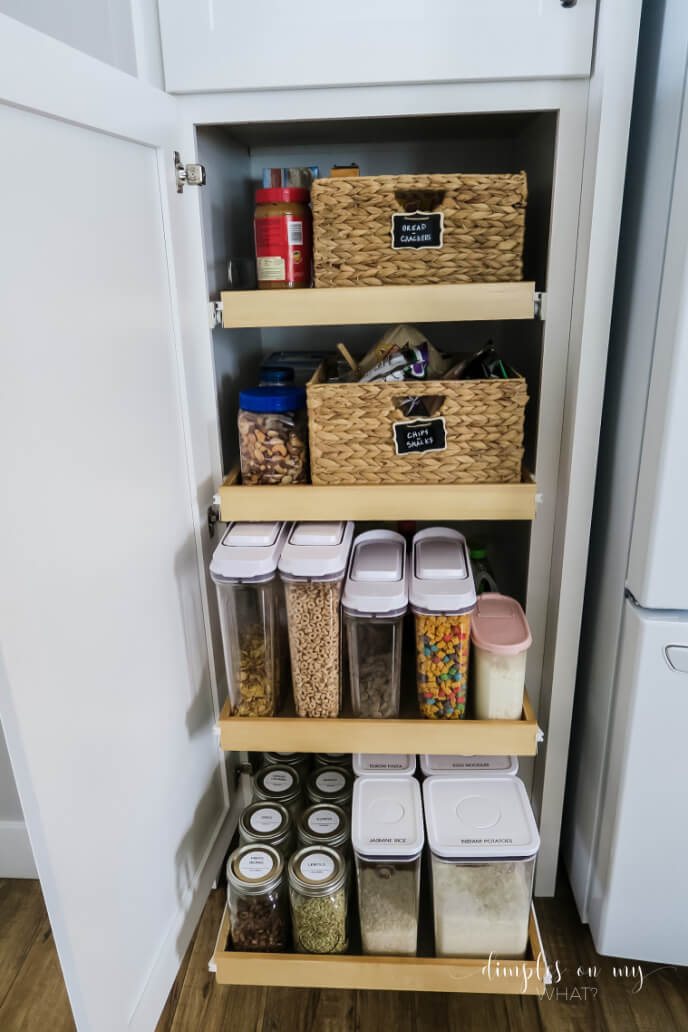 Organize Items on The Shelves Neatly
This is my favorite part: organizing! But it's taken me six years to figure out how to organize deep pantry slide-out shelves best, so I can see everything. These pantry cabinets are so deep that you're not just storing two or three layers back. And you have to be able to find most things by looking from the top down.
Unlike when the Home Edit shows you a finished pantry with tons of precisely the same items, I stock many different items of varying sizes, even in canned goods. So I needed storage solutions that functioned well but could still be visually pleasing.
THE BEST WAY TO ORGANIZE DEEP PANTRY SLIDE-OUT SHELVES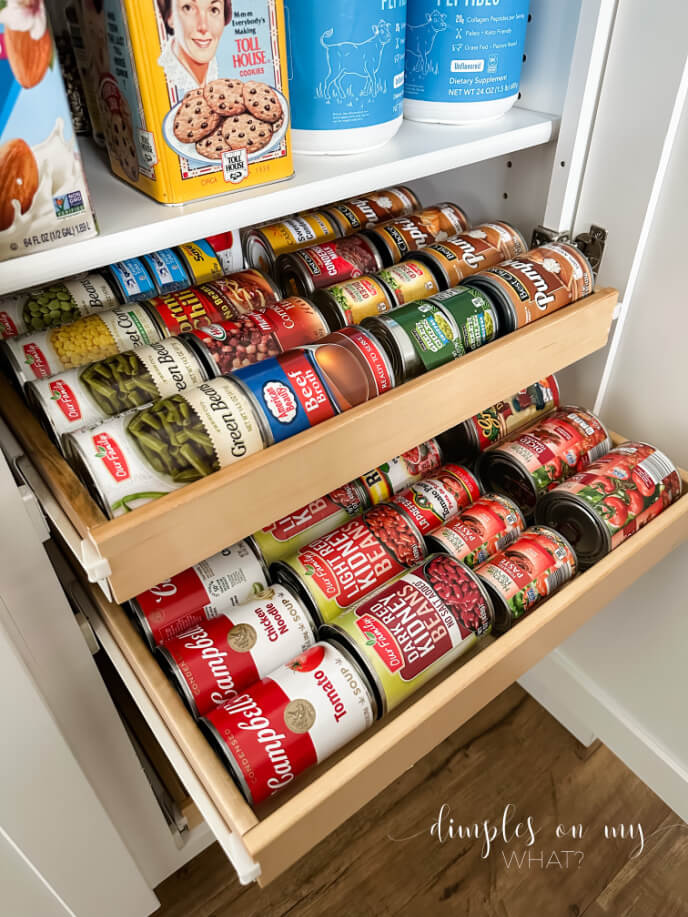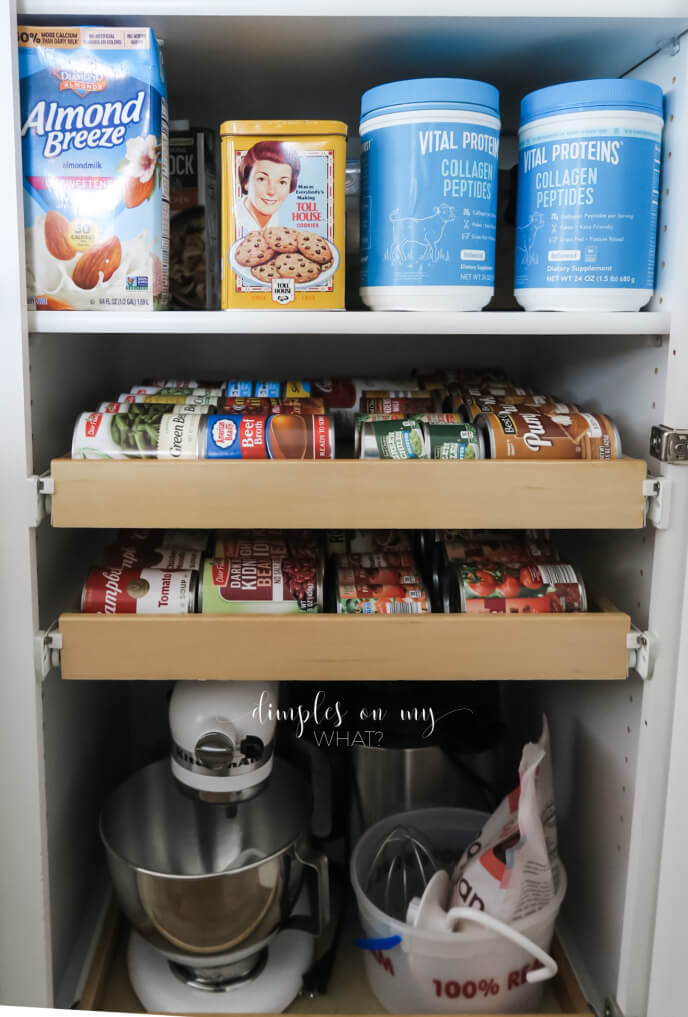 THE SLIDE-OUT SHELVES THEMSELVES but spaced close together. For canned goods, I decided to lay the cans on their sides; I like seeing exactly what I'm getting. (When the row isn't full, I stand the can in the back against the last horizontal can so the cans don't roll back every time I pull the shelf out.)
MOST INEXPENSIVE
WIDE MOUTH MASON JARS are a very inexpensive storage solution for staple food items like dried beans, bread crumbs, and french-fried onions (hello, Best Meatloaf Sandwich ever!). And with simple labels on top, I can easily see what I need from above.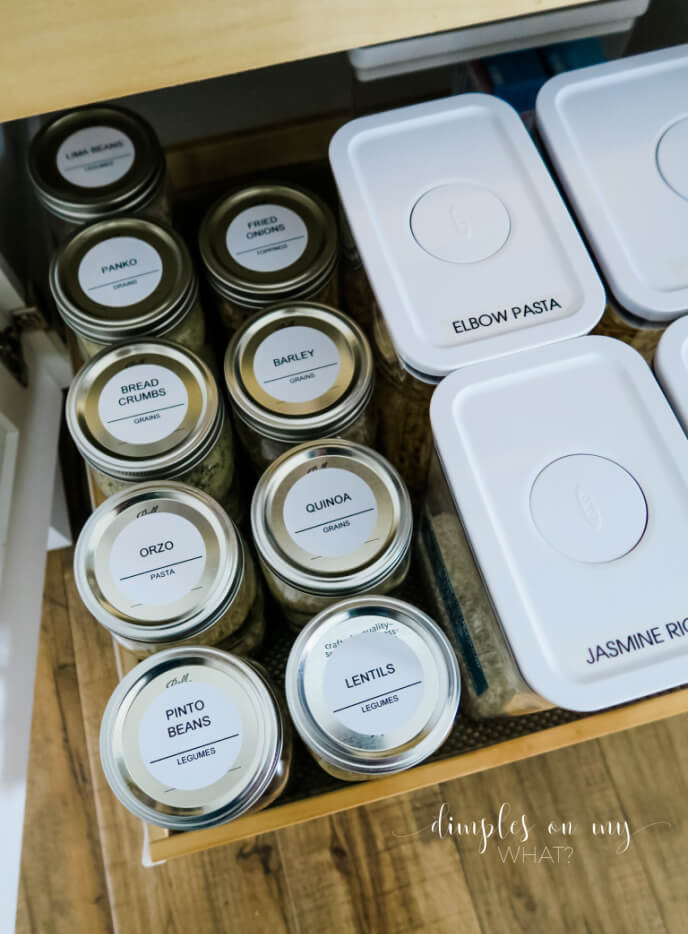 You can also buy plastic lids for your jars, but I decided that I could keep the labels straighter if I used the ring-and-lid that came with jars.
SQUARE STORAGE BINS WITH AIRTIGHT LIDS (any brand you like) work well for items bought in larger quantities and often used, like oatmeal, rice, and pasta. A straight-sided container wastes less space than a round or tapered one.
Also, I am simplifying by only keeping basic pasta shapes on hand – elbows for casseroles and egg noodles because the grandkids LOVE buttered egg noodles.
*I'm trying to apply this principle to my entire pantry because it will keep the pantry neater and simplify shopping.
*Also, I LOVE these 1/2 cup scoops that fit inside the lids of the OXO containers. Gamechanger!
CEREAL CONTAINERS look neat and keep your cereal fresh. Again, I usually keep the same ones on hand and change out a special one for the kids.
CLEAR CONTAINERS for grouping items together. I use clear plastic to keep syrups and honey together and for easy cleanup from leaks.
LARGER BASKETS or BINS are suitable for items like bread, crackers, and chips because the shelves aren't vertically deep, and this keeps things from falling behind or to the side as you pull the shelf out. (I've had these banana leaf bins since my last house and just now thought to use them like this.)
And that brings me to my last point – USE WHAT YOU HAVE! Look around the house and see what you might be able to repurpose in your pantry. I've been known to take a small box and cover it with colored duct tape. It will look good if it's neat and functions well.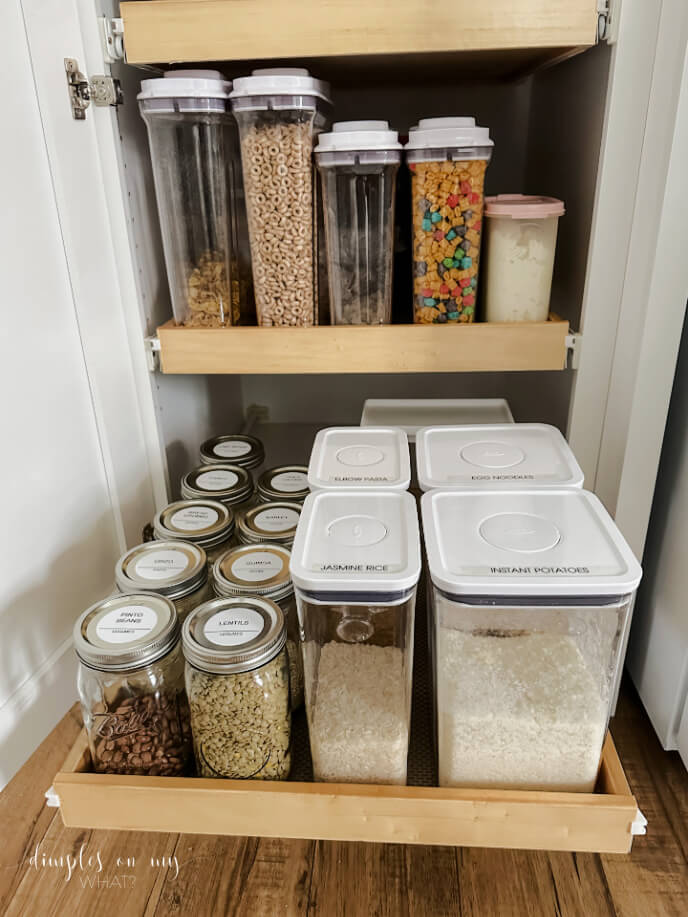 Enjoy Easy Access To All of Your Pantry Items… Even in DEEP PANTRY SLIDE-OUT SHELVES!
Organizing a deep pantry cabinet can seem intimidating, but with the right tips and tricks from this article, you'll be able to create a system that works for your family. From mason jars and cereal containers to wider storage bins, plenty of options are available for neatly organizing items on slide-out shelves.
Don't forget about repurposing items around your house too! With these simple yet effective strategies in mind, you'll have easy access to all the pantry items in no time. So go ahead and get started – happy organizing!

---
SHOP THIS POST