Where on earth does the time go? It feels like a couple of months ago when I said I would start a weekly newsletter… crickets….many months later…here I am, getting this thang going! You all had so many great ideas for what to call my weekly newsletter.
Still, I think I've settled on a diary or magazine-style newsletter to deliver some snippets from my life every week, including links to my and your favorites and highlights, and let you know what you might have missed on the blog that week.
If you follow me on social media, you might have seen my IG stories sharing that in the first part of the new year, I'll be stepping back from brand collaborations and taking a social media sabbatical. I've lost myself over there, and I want to be more consistent with blogging and I have a plan to concentrate my communication more here.
In the future, I'll be talking more about this but for today, let's jump into the first edition of Dimples Diaries.
** This post may contain affiliate links which result in me earning a commission from your purchase without extra cost to you.
What I Did
I've been at my mom's in Tennesee for almost two weeks now, and I think, in some way, we're all recovering from her hospitalization and surgery. This week has been a week of tracking down colostomy supplies and feeling frustrated with a medical system where one hand doesn't know what the other is doing. Ugh!
And we're helping her deal with her new plumbing system and encouraging her to lean into God's grace to accept this thing that seems a burden to her but has been a gift to extend her life.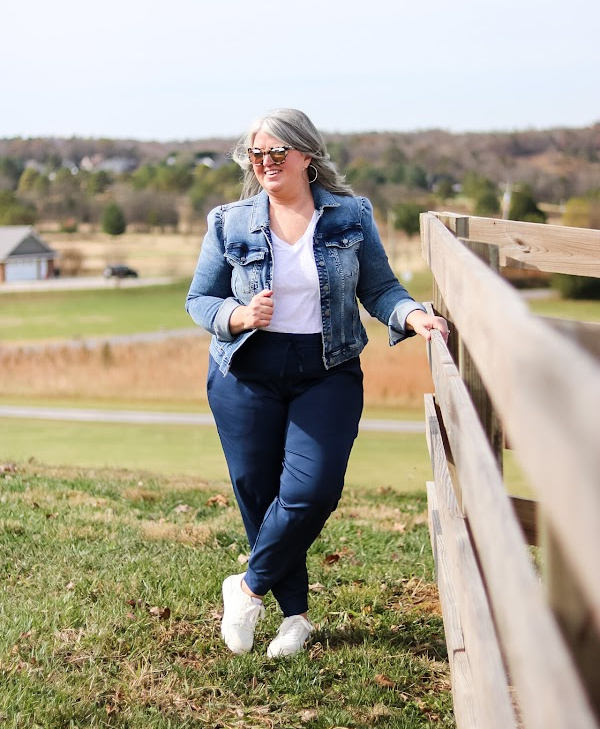 joggers wearing XXL || jean jacket wearing XL || t-shirt wearing XL || sneakers
What I Wore
I ALWAYS pack wrong! It's been so warm here in TN, and I only brought two short sleeve white t-shirts to wear under jackets and sweaters, but I've been wearing one of them, alone, daily. It's funny that I posted about a capsule wardrobe this week, and I've worn only one outfit from that wardrobe for the last two weeks alternating the joggers with these wide-leg pants. I guess that's technically a MICRO WARDROBE. 😉
What I Ate
Now that Mom's home, we can eat more than grab-n-go food from the hospital cafeteria. My sister made an easy, comforting potato soup with cream cheese similar to this one. I could eat it for every meal!
one || two || three || four || five
What I Bought Recently
Just because I want to simplify my wardrobe, since I had my colors analyzed, I'm still trying to replace some items with my best colors. The theme of some of the recent purchases has to be COZY. I haven't received everything yet, so I can't review every piece, but I will tell you that this shirt is the BEST Amazon fashion purchase I've made in a long time; it's COTTON and feels so cozy and luxurious!
one || two || three || four || five
What's in My Cart(s)
I always seem to have things sitting in my online shopping carts; I'm either waiting for sales or practicing restraint like when I do my No-Buy shopping seasons. Here's what's currently on my wish list and since Old Navy has 50% off this weekend, some of these may be on my Recently Purchased list for next week. 😉
WHAT I WATCHED
We've watched lots of video series and movies this week as my mom convalesces. She has a penchant for choosing depressing things, so my sister and I have stepped in and guided some of the most recent choices. We watched an oldie but a goodie, Baby Boom, currently on Amazon Prime. I love Diane Keaton. But Christmas movies reign supreme, with The Holiday being one of my favorites.
What Inspired Me
As I've been trying to encourage my Mom during this extremely difficult time, I find myself coming back to Philippians 4:8
I get it; when we're the ones in the mire of our struggles, it's so easy to get locked up looking inward at only the hard things. But, friend, God helps us to remain in His peace when we think about all the lovely, pure, and admirable things. To me, these things are God's promises –
God will never leave us. He loves us. We are His. He cares about what we care about and is close to the broken-hearted. Remember those things and add them to your list of other lovely things in your life.
WHAT DO YOU THINK ABOUT?…
How did you like this format for a newsletter? It won't always be this long; sometimes it will just be a quick check in.
Also, how do you feel about GIFT GUIDES?
I know every influencer and their brother are putting them out their and I'm not sure how I feel about them. They can be helpful but it feels like everyone is an "excess pusher". Does that make sense?
It's one of the reason's I'm backing off of social media; everyone is selling something or LOTS of somethings. I realize it's how we bloggers make money, but I recently read one of my blogging competitors IG biography and was perplexed. She only ever talks about clothes and makes fashion reels constantly yet her bio says:
"Lifestyle Blogger || Fashion Lover || Helping women over 40 navigate life (an then includes her tiny, petite clothing sizes.)"
I really don't intend meaness but my inner struggle is how are we as influencers helping women navigate life when we only try to sell people stuff? And being a fellow influencer I know that lots of times its only because a brand provided us the clothes and paid us money to create the content?
Just thinking outloud and wondering if anyone else is feeling the same overwhelm? Feel free to weigh in in the comments.