Are you midsize to plus size and looking for some good pants and jeans options? Well, today you're in luck. I'm doing mini midsize pants and midsize jeans try-on.
TRYING TO BLOG BETTER
Hey Friends, Hey! I'm trying to post more here on the blog. It's not that I have a lack of ideas, but the perfectionist in me thinks she needs to have it all together with great photos and point to every post.
But maybe, just maybe, you'd just like to know what's going on with me, what projects I'm currently into or planning or dreaming about doing. I'll make no big promises because I've broken them in the past, but like today, I'm just gonna create a post and tell you what I'm loving right now.
MIDSIZE PANTS & MIDSIZE JEANS FOR THE CURVY WOMAN
This is a little like a "try-on" session for things I've been trying on lately. But since it's not about one brand and some of the things I'm wearing are older (I'll link similar items) I didn't think about creating a post about it until recently.
That's kind of crazy I know. Because as a larger, curvy body type myself, I love to see recommendations for pants and jeans in particular. It's one of the hardest things to get right on a full figure.
So without further ado, let's have a look and start with the only non-denim pant in the mix.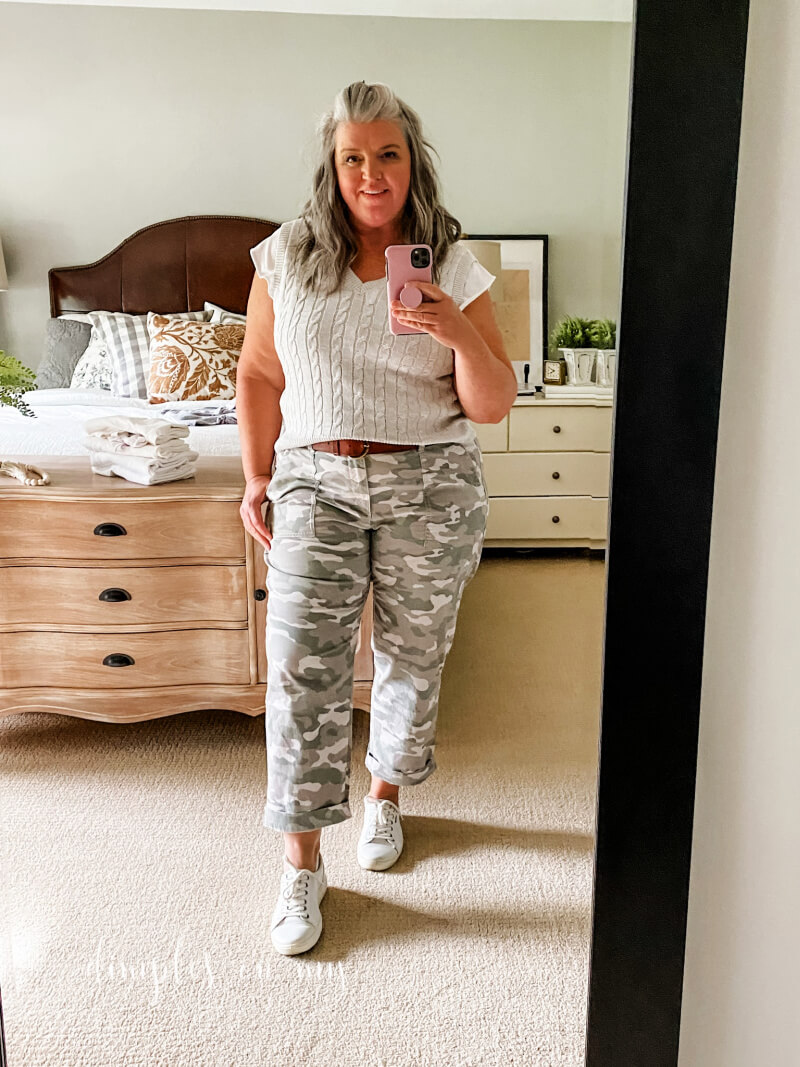 Camo Pant size 18 || Sweater Vest XXL || Tee XL || Long Sleeve Option (I wear a XL in this one) || White Sneakers || Belt (old) Similar
These Gap Camo Utility Pants have been on repeat since they arrived. It's no secret that I love loose pants that aren't jeans and these fit EVERYTHING I love in pants. I only wish they came in a solid olive color. But they will be fab paired with a sweater and booties this fall too.
I will wear a long-sleeved shirt underneath the sweater vest now that the weather is cooling down.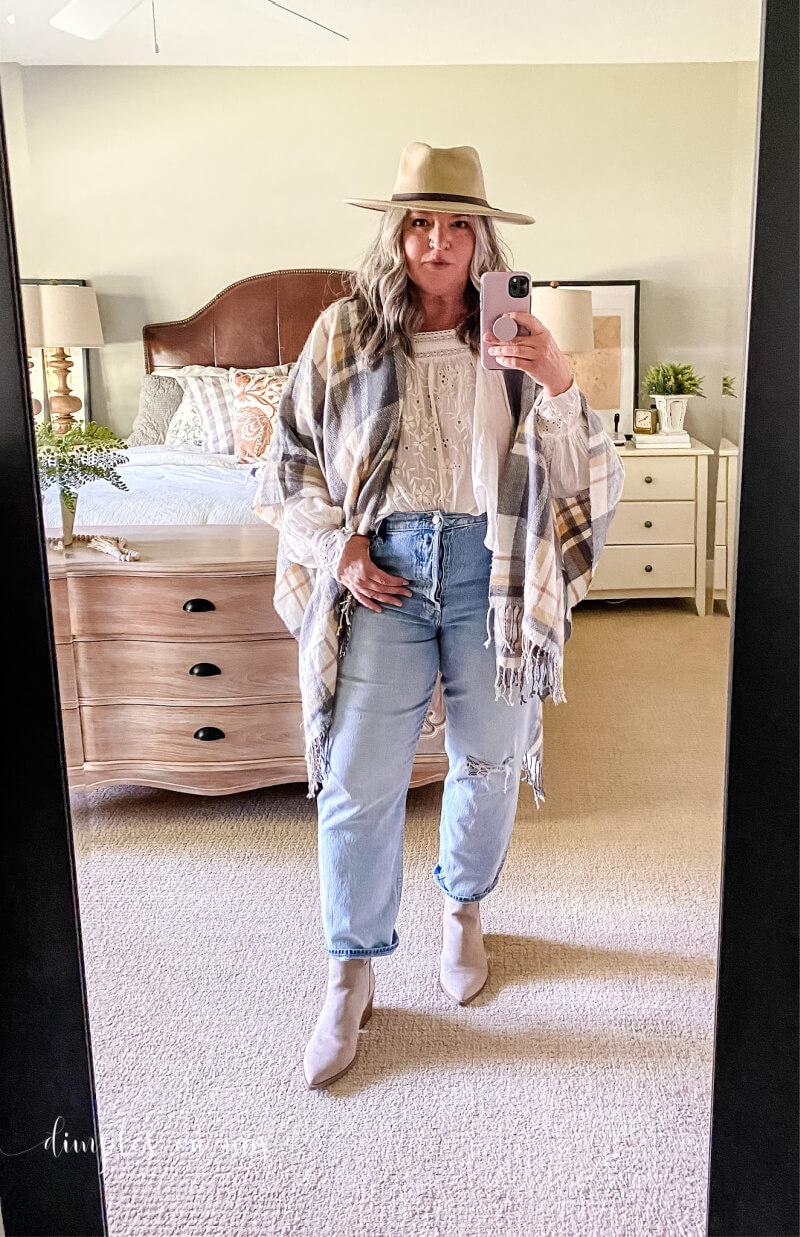 JEANS (wearing a 34 but sized up to the 35 for comfort) || BLOUSE (old) Similar || PLAID WRAP (old) Similar; Similar || BOOTIES || HAT
I don't know why I look so fierce in this picture (getting over a giant fever blister didn't help), but I know that I LOVE this look!
Straight-leg jeans are my jam and these vintage-style jeans are no exception.
Take note that "vintage" usually means a minimal stretch, which holds you in a bit more but for a price.
I'm wearing a size 34 (18) in this photo and they look great and felt okay…until I sat down. No thank you for a tummy-ache so I sized up for a looser overall look and feel. And I don't have to stand up all day. 😉
The hat is one of my favorite purchases this fall and it even fits my big head.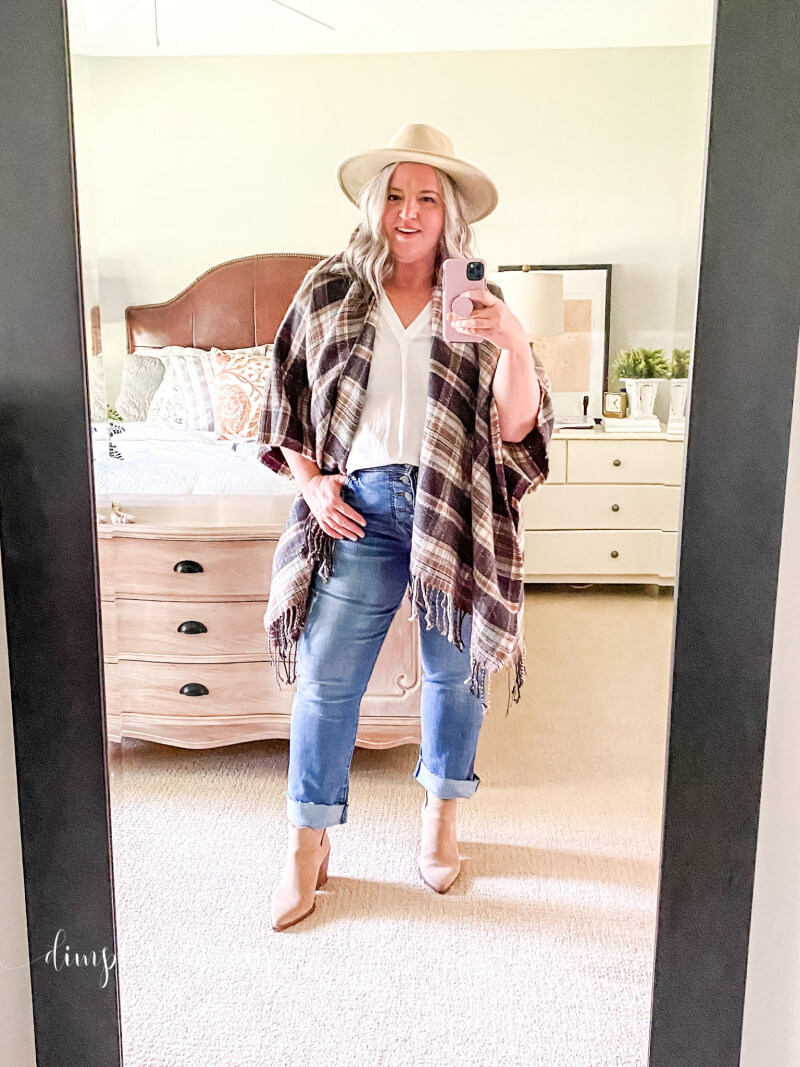 JEANS Size 16 (But ordered 18) || SLEEVELESS BLOUSE wearing XL; LONG SLEEVE VERSION || WRAP || BOOTIES || HAT
A very similar look to the one above but with a v-neck silky shell and button-fly straight-leg jeans with tons of stretch.
I originally order the size 18, but thought they were too big so I ordered the 16 which felt a bit snug, and they didn't stretch out when I wore them around the house for a couple of hours. Currently waiting on another size 18 to arrive.
See? Sizing for a big booty is trickay, it's trickay. 😉
Since these jeans have a raw hem, if I do keep one of the sizes, I will cut them off to ankle length instead of rolling them up.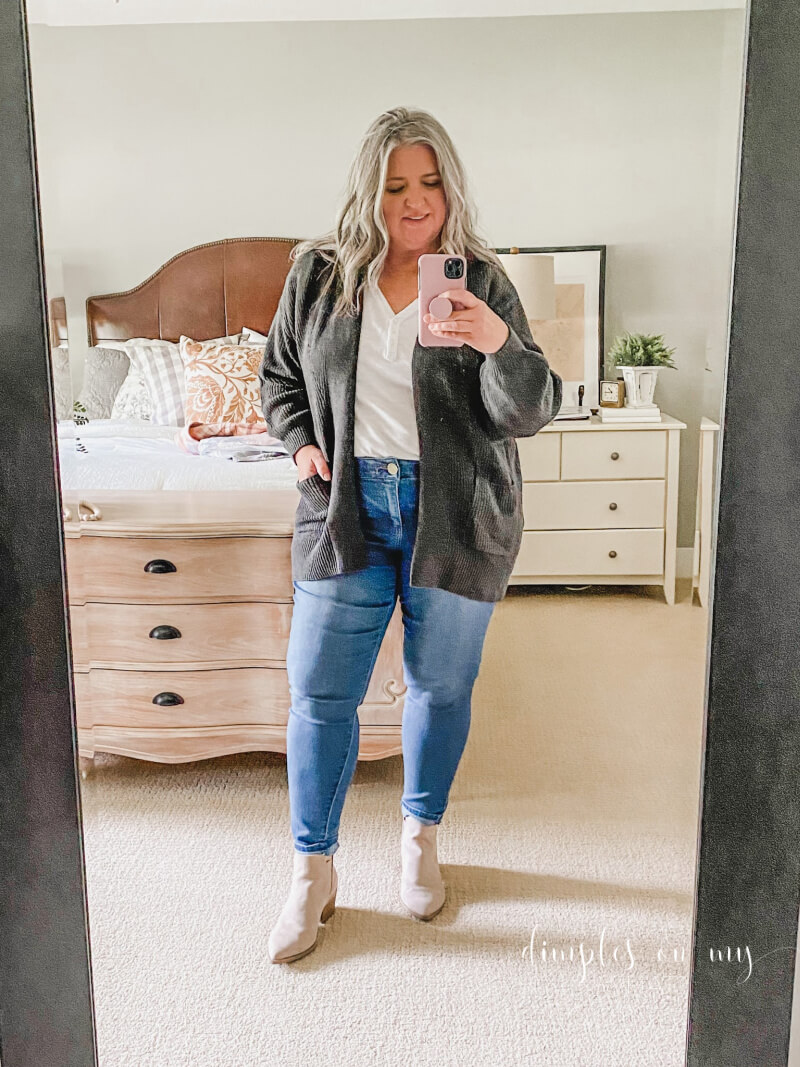 SKINNY JEANS wearing size 18W || WHITE TEE; Similar || CARDIGAN Size XL || BOOTIES
Have you heard the news that skinny jeans are out?
I don't know who makes up these rules. But I think they still have their place in our wardrobes.
Mine are technically jeggings and while these are fabulous for stretch and comfort and a little booty lift, I would like a slightly looser skinny fit. I'm still on the hunt and wish more stores would carry the larger sizes in their brick and mortar stores. It would sure save a lot of ordering and returning.
BTW, Old Navy is carrying all sizes in-store now!!!
Skinny jeans actually look really good with longer cardigans. This one is longer in the back than the front but I like one that goes to just above the knee, I think it's really flattering…and cozy. Let's not forget cozy.
WHAT'S YOUR DENIM STYLE?
While I love straight-leg jeans, I love a wide-leg and an ankle flare leg too. Remember these fabulous coated ones?
I still say, wear what makes you happy, even if it's not in "style". Because by the time we get to be a certain age, we know it all comes back around anyway. 😉
What's your go-to denim style?