Getting Wild in Tropical Prints
You may have seen me wear this tropical print kimono as a bathing suit coverup if you follow me on Instagram. This kimono is a real statement piece and although I love me some print mixing, I want it to be the star of this outfit. Today, I'm showing you how I style it for everyday wear and paired it with another print that could also be considered "tropical" while still allowing the amazing print to shine.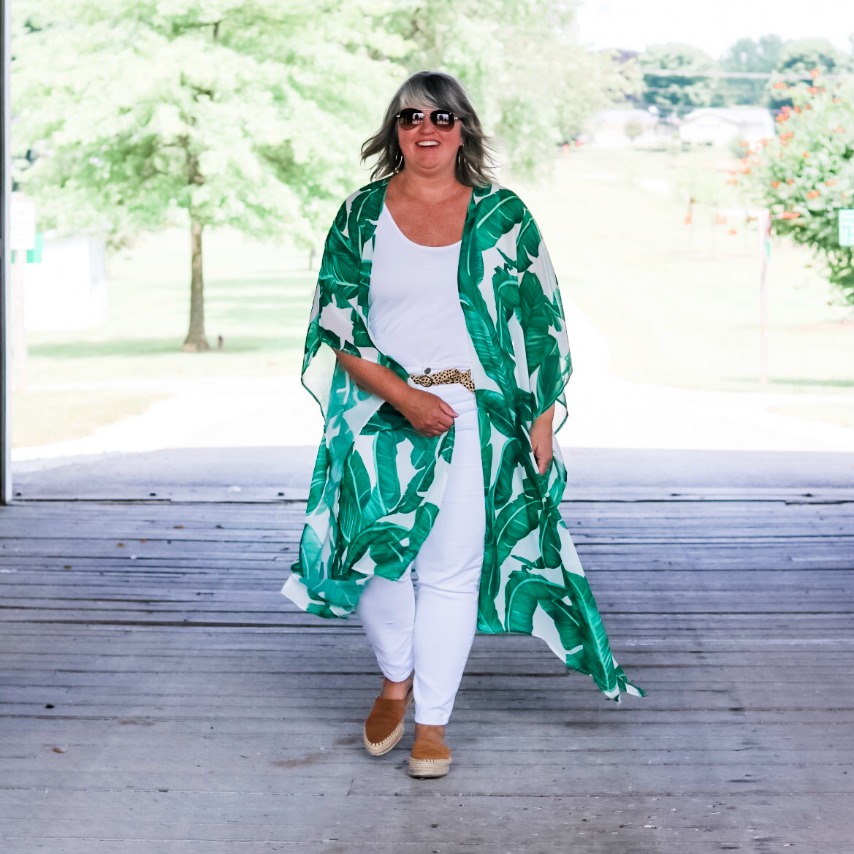 A Tropical Ageless Style Linkup and New Cohost
This month my Ageless Style Linkup cohosts and I are heating things up with tropical prints, a theme chosen by Shugunna of Nzuri N Simplicity. We're also welcoming another new co-host to the group. Please be sure to stop by and say hello to Julia of When the Girls Rule.
Like the rest of us, on the first Tuesday of each month, Julia's a woman over 40 putting her unique spin on one fashion theme. We're proving that style has no age limit and is as individual as the woman wearing it!
I Never Thought I was a Tropical Print Kind of Girl
I live in the midwest and don't consider myself a "theme" dresser, but I've amassed a tiny collection of tropical prints recently. By "tiny", I mean three pieces, present print included.
All three pieces are palm prints. Even though I love a pretty floral print, I think I like the tropical leaf print because it's not so girly. I'm digging on each one of them for different reasons.
More tropical prints to crush on:
Date Night Outfit in an Asos Midi Skirt
No-Buy-July and Shopping My Closet for Fashion Gems
This post contains affiliate links. If you purchase through a link I will make a commission but you won't pay more for any product. Thank you for supporting me with your purchases and your comments and encouragements. You keep this little blog running!
Nothing New Here
Friends, I'm still standing strong on No Buy July. I'll admit, I almost succumbed when I was looking for links for last weeks What's Cooking Wednesday post and saw this Taco-Tarian t-shirt. But, I'm patting myself on the back because I made it!!! I didn't even buy an accessory. Who am I? 😉
I think I may take the no fashion purchasing through at least mid-August because let's be honest, packages didn't stop arriving until the second week of July from the last-minute binge purchases before the shopping diet started on July 1. But I'm hoping to take the challenge all the way through August and then start a strategic shopping challenge for those who want to join me in September. I hope to talk to you about that soon.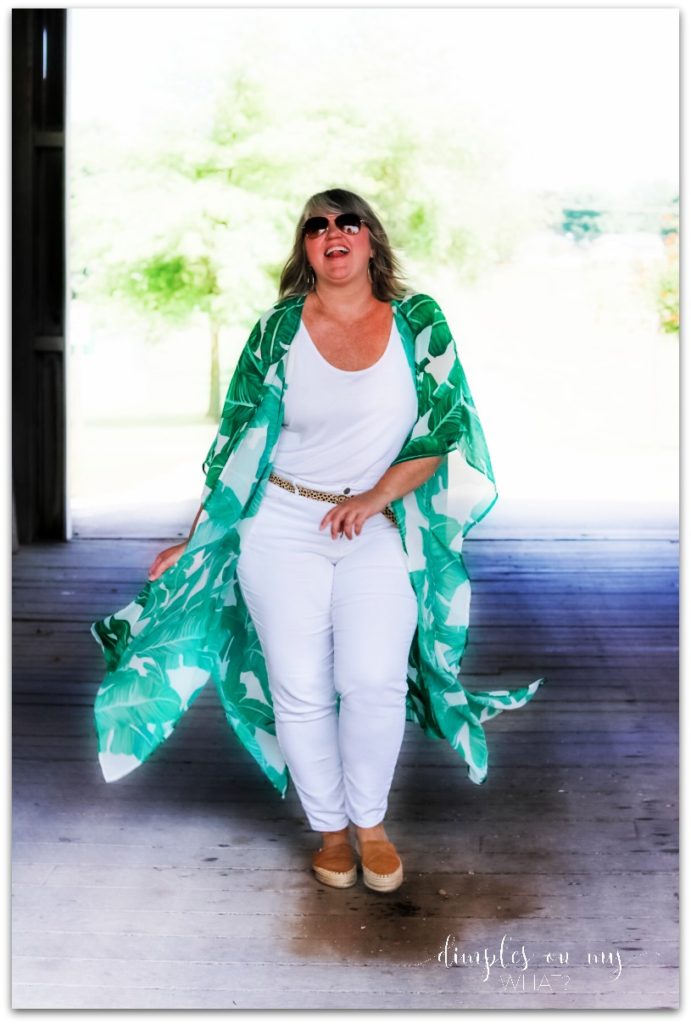 Wearing Tropical Prints I Already Own & Wear I Wore It
So, since I wasn't buying anything new for this month's Ageless Style tropical theme and I'm enjoying wearing the clothing I have more often, I wanted to style this very affordable Amazon kimono for a casual, everyday look, which I wore to the auto repair shop and out to lunch with a friend before we headed out to take these photos. Who wears white into a mechanics garage? This girl!
Let One Statement Piece Do ALL the Talking
Let me tell you, this palm print is a head turner and I receive compliments every single time I wear it. It makes a BOLD statement so I keep everything else simple, hence the all-white pieces layered underneath.
" don't let a great piece get lost in the noise of greatness"
I can't tell you how many times I've seen an outfit go wrong because someone wore too many trends or statement pieces at one time. Are you thinking of someone in particular? Me neither. 😉
Think of it as too many amazing orators (or comedians) talking at the same time, you can't hear anything any one person is saying. The same goes for getting dressed, don't let a great piece get lost in the noise of greatness.
A Tiny Bit of Animal Print Never Hurts
But, I decided that adding a tiny bit of animal print in my belt was the perfect compliment and took the tropical theme up a notch. Did you get a glimpse of the spotted leopard peering through the leaves? 😉
What Kind of Statement Do You Make?
With that being said, your style is YOURS and you should wear what makes you feel good. If wearing a fiesta of statements is your thing, then go for it. What do you think, are you a single statement, mic-drop kind of girl or does your style burst out like a can of confetti?

Be cute, comfortable and confident!
Paula
---
Shop My Style (if you're shopping) 😉

                
                


                    
                    
                


            
---
The Linkup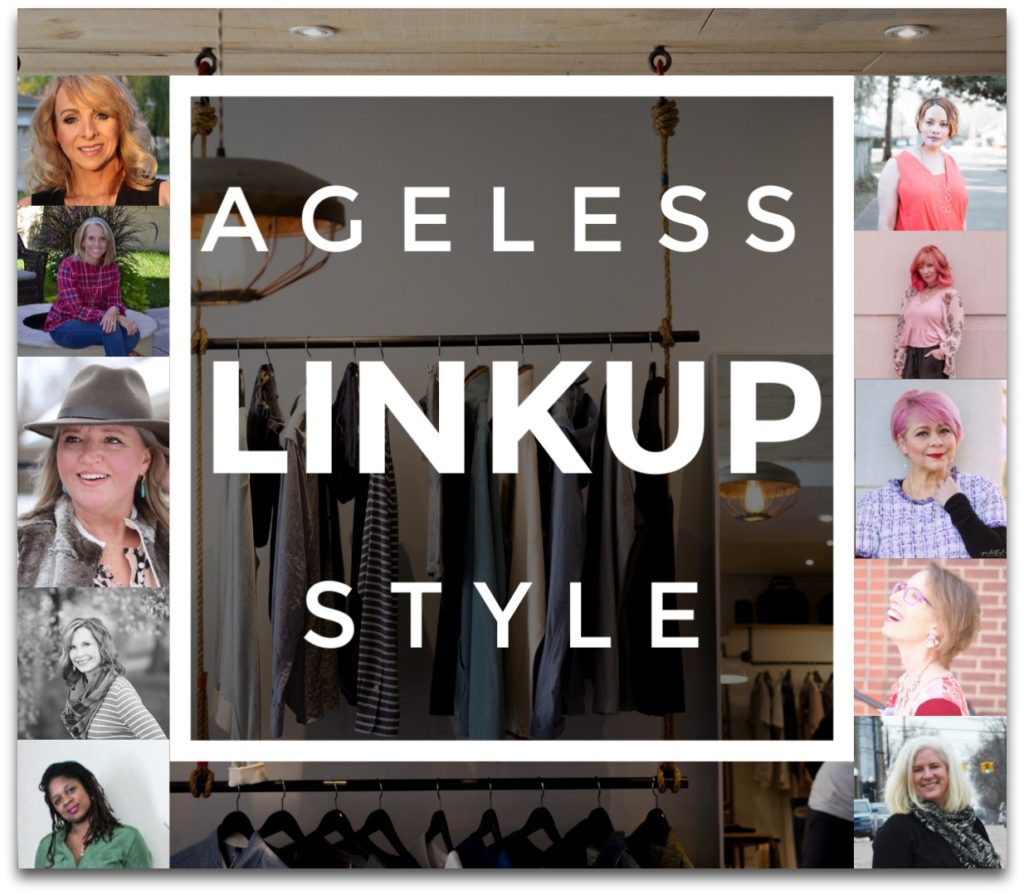 Daenel ~ Living outside the stacks blog, instagram, pinterest, twitter
Debbie ~ Fashion Fairy Dust bloglovin, blog, instagram, pinterest, facebook, twitter
Jennie ~ A Pocketful of Polka Dots blog, instagram, facebook, pinterest, twitter, bloglovin
Jodie ~ Jodie's Touch of Style blog, facebook, instagram, pinterest, bloglovin, twitter
Julia ~ When the Girls Rule blog, facebook, instagram, pinterest,
Kellyann ~ This Blonde's Shopping Bag blog, instagram, bloglovin, twitter
Lisa ~ Coast to Coast blog, facebook, instagram, twitter, pinterest
Paula ~ Dimples on my What blog, facebook, pinterest, instagram, twitter
Shelly ~ The Queen in Between blog, instagram, bloglovin, pinterest, facebook
Shugunna~ Nzuri N* Simplicity blog, instagram, pinterest
---
This Party Has a Few Guidelines:
Have fun and make some new friends! Please visit at least 2 other links.
Please link to your actual post and not your blog's homepage.
Please link back to the Ageless Style Link Up in your linked post.
Feel free to use #AgelessStyleBloggers in all of your social media posts
Please follow each of your hosts on at least one social media channel via the links below.
---
Link Up Here

You are invited to the Inlinkz link party!