Today I've got a few Thanksgiving outfit ideas for menopausal women to help us keep our cool and still look pulled together.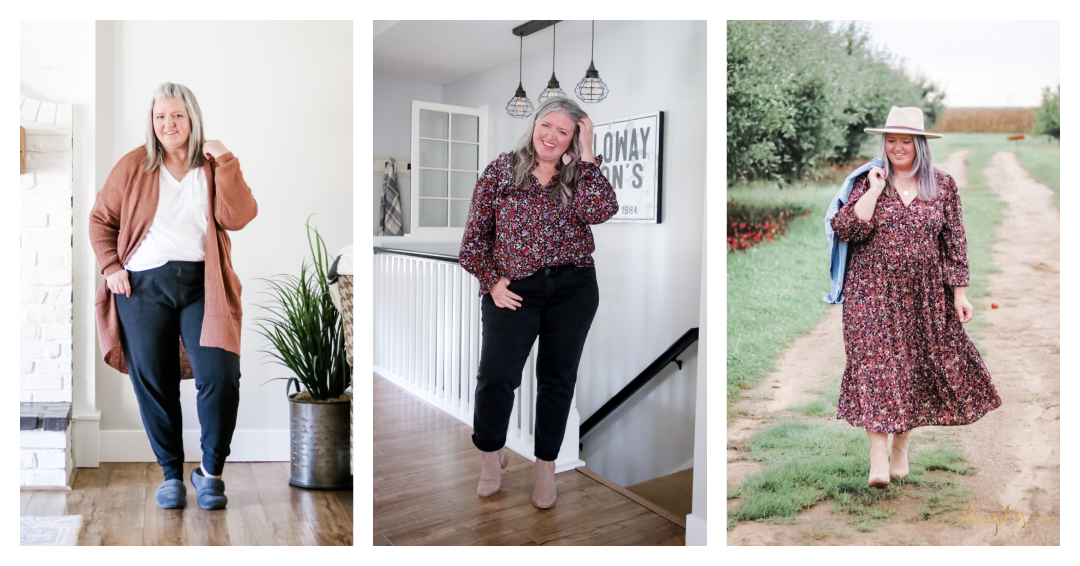 TOO HOT, TOO HOT BABY. GOTTA RUN FOR SHELTER; GOTTA RUN FOR SHADE
I love Kool and the Gang but, MAN, I don't want this to be my theme song. (Remember this Kool Car-Date Karaoke?)
But, if you're a woman in menopause, even if you don't have active hot flashes, you understand how easily we get hot. One second we're fine and the next, steam is coming out of every orifice and we might slap somebody.
Yet, all of the influencers showing us Thanksgiving Outfit Ideas are dressing like they're going to Antarctica in their sweaters and turtlenecks and jackets. Seriously, even if they're not cooking, do these people not have heat in their houses?
Anyway…
I decided that we hot women (yes, we're HOT in every sense of the word) 😉 need some holiday outfit options that not only look nice but keep us cool and keep our arms covered.
I can't be the only woman not wanting her bat-wings on the holiday menu. 😉
So let's get right to it.
HERE ARE MY TOP THANKSGIVING OUTFIT IDEAS FOR MENOPAUSAL WOMEN TO HELP YOU KEEP YOUR COOL
I think I've included something for almost any style level; from dressed up-ish to super casual.
BLOUSES
BLOUSE wearing XXL; PLUS SIZE || STRAIGHT LEG JEANS wearing a 16W; MISSES || BOOTIES || CUSTOM NAME SIGN
---
Lightweight, pretty blouses to the rescue! Whether you're pairing with pants or a skirt, a flowing blouse is a fabulous option for covering your arms yet staying cool.
AVOID fabrics that have too much polyester as they can be warm – at least for me.
BLOUSE wearing Large || TROUSER wearing 16; PLUS || LOAFERS this season's print
DRESSES
DRESS wearing XL || HAT || BOOTIES
I just LOVE dresses!
You can't go wrong with a loose-fitting dress for a holiday gathering; especially one where eating is the main event. This is where the boho/prairie style really comes in handy.
Food baby? What food baby?
The one I'm wearing here would be perfect for a little more dressy event yet it's still comfy.
And I also have this one which may end up being my choice for Thanksgiving dinner if I decide to be a little more "fancy. Since it's short-sleeved, I can cook in comfort and then add a sweater during dinner.
Also, this one would be fabulous too. See it in this Instagram Post.
CARDIGANS & JOGGERS FOR TRAVELING OR FEASTING
JOGGER wearing XL || TEE wearing XL || CARDIGAN wearing L/XL || SNEAKERS || TOTE
Okay, I know I poo-pooed the millennial influencer and her ginormous sweater, but I'm not above a cozy cardigan and joggers. In fact, 90% of the time, this is my travel outfit!
Here's why it's on the list: LAYERING!
If you're in a hot flash season of life, you understand that it's basically a bi-polar climate-change situation; we're either sweating or chilling for the previous sweat session. It is, for this reason, I generally layer a cardigan over a short sleeve tee shirt (see my favorite white tee's here).
However, you could easily layer with a long-sleeve tee or henley as well. I love this henley and I wear it in an XL.
MY FAVORITE JOGGERS
JOGGERS wearing XL || SHORT SLEEVE TEE wearing XXL || CARDIGAN This years version || SLIPPERS Similar
And let me say a word about MY FAVORITE JOGGERS – GET THEM! These are a PERFECT weight, not too hot or too thin. They are pretty much the only joggers I wear – year-round, several times a week – I'm not even exaggerating. I've reordered them THREE TIMES!
Of course, we can't forget my love of twill joggers too. Okay, I love joggers – PERIOD!
THINGS TO AVOID
You want to be comfortable whether your home cooking or away in someone else's house so here are a few things you may want to avoid:
High heels – Wear shoes that are comfortable (or cozy socks without holes if you're at someone else's house and take off your shoes).
Form-fitting Anything – Obviously close-fitting clothing can make us hotter, but also, even though no one starts out planning to overeat, it happens when the mashed potatoes are so good. We don't want to feel self-conscious so opt for loose clothing. 😉
BELL SLEEVES OR BIG RUFFLED SLEEVES – Let's just say, whether you're cooking or eating, too big of a sleeve can create a problem.
Heavy Jewelry – If you're like me, too heavy of a necklace or even earrings can add to the weight of an already oppressive hot flash, so choose simple and lightweight accessories.
THANKFUL FOR YOU
That's about it, my friends! I hope you are inspired to pull a thing or two out of your closet and create a polished yet cool holiday look. Or maybe you've added a blouse or flowing dress to your wish list.
Let me close out this "Thanksgiving" post by saying how thankful I am for your loving support. I'm here to serve you and give you fashion and lifestyle inspiration and encouragement in this stage of our lives. But I must tell you, YOU give me so much in return.
You are a blessing to me and I wish you the very best!
Hugs,

---
SHOP MORE BLOUSES, DRESSES, & CARDIGANS