Matching family Christmas pajamas are unusually hard to find if you have a large family and didn't buy them in July. 😉 Since social media has made matching family Christmas pajamas the thing to do to create that "our family is perfect" Instagram post, they sell out very fast.
Today, I'm going to give you an alternative to matching family Christmas pajamas that will still make for swoon-worthy family photos all cozied in around the tree and may make everyone, especially the adults, happier in the long run.
Similar FAIR ISLE KIDS CHRISTMAS PJ'S
MATCHING FAMILY CHRISTMAS PAJAMAS ARE GREAT BUT…
There are a couple of issues in buying matching pajamas for a large family:
Inevitably a couple of sizes in your chosen pattern will be sold out.
Each adult, especially us girls, likes a different style of jammies.
Why waste money on pajamas we won't actually sleep in? The cost of 12 pairs of pajamas is large even when the sales are good. (See alternative money saving idea at the bottom of this post)
HERE'S MY ALTERNATIVE TO FAMILY CHRISTMAS PAJAMAS
COORDINATING LOUNGEWEAR!
Think of this much like choosing outfits for family photos; in this case, start with the kid's Christmas pajamas and go from there.
*I like Gap and Old Navy for lounge sets and joggers for men and women. I have also had good luck with TJ Maxx and Marshalls, especially for the guys.
START WITH THE KIDS
My Little ones like to match each other but there is a method to my madness especially if I can't find the exact pajamas in all six sizes.
When it comes to little kids, never have a lone wolf, one kid in jammies unlike anyone else. I'll often divide the boys into pairs or at least keep the two oldest or two youngest in the same pajamas or outfits.
This also creates a more interesting look.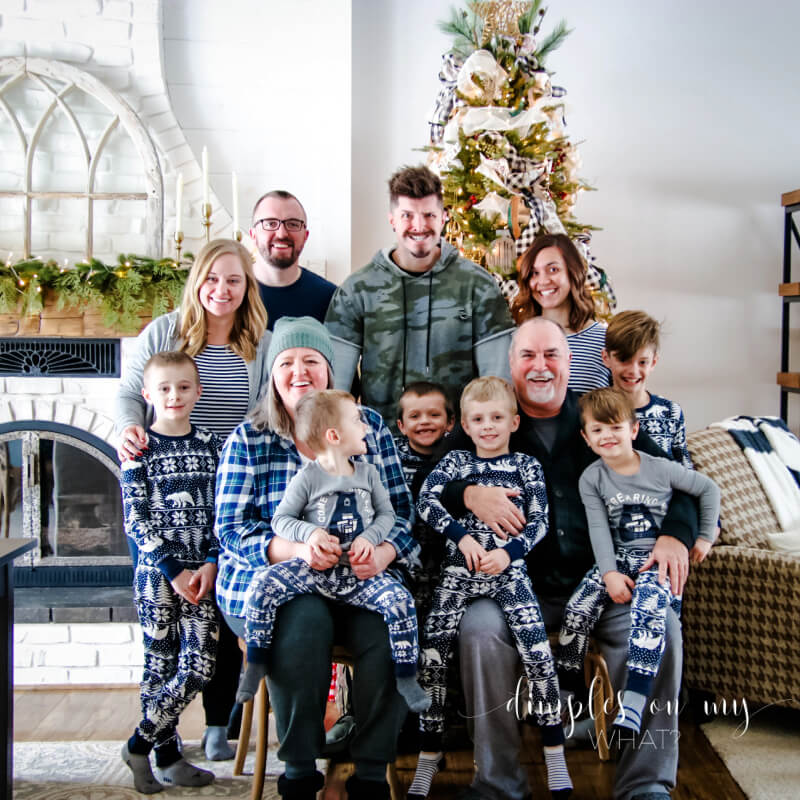 There's always that one "kid". ;-D
FOR THE ADULTS
I might be pickier than any of the other adults in our group when it comes to what I sleep in; it's only Soma Cool Nights for me. So instead, I like to choose casual lounge clothes for us bigger kids.
Definitely choose pieces the individual will actually wear.
NOTE I don't wrap the pieces for the adults. In fact, I purchase a couple of sizes and send them to them before the holiday and they return to me what doesn't fit or what they don't like.
Last year, in the photo above, I found something for everyone but my son in the camouflage shirt. However, if you'll notice, for the photo I grabbed a beanie that sort of pulled it all together.
Hang your Christmas Wreath with THIS easy hack!
WHAT MIGHT THE DIMPLES ALTERNATIVE TO FAMILY CHRISTMAS PAJAMAS BE?
This year, with so many great lounge sets out there for women, our options were only limited by coordinating with kids Christmas pajamas the little boys will be wearing. They are adorable.
Here's an idea of a coordinated look that you might see on the Holloways this Christmas.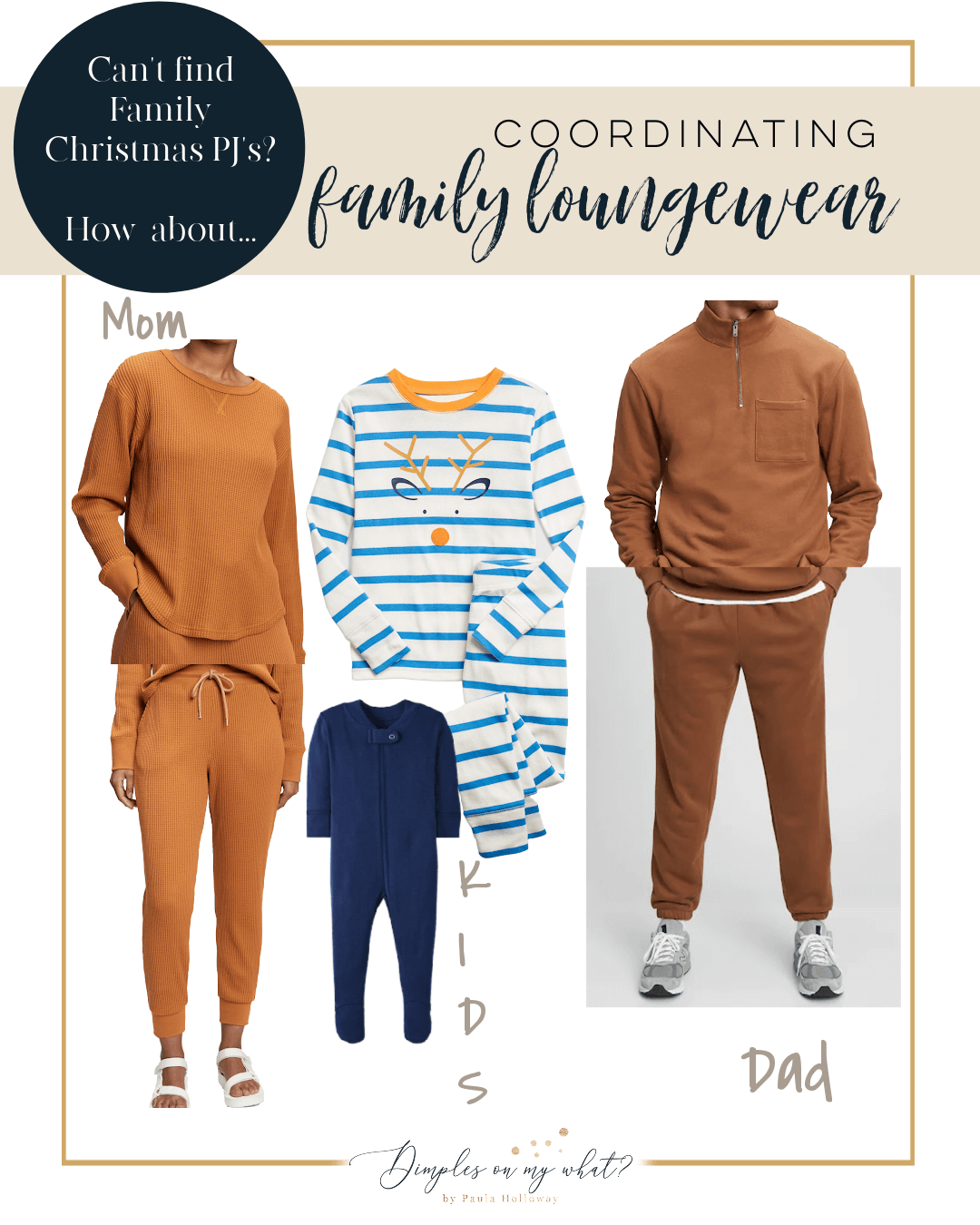 women's top || women's joggers || kids striped pj's || baby sleeper; another cute option || men's quarter-zip || men's joggers
I hope this has given you some ideas for alternatives to matching family Christmas pajamas.
IF YOU'RE ON A TIGHT BUDGET
Oh, and by the way – if your Christmas budget doesn't allow for getting everyone coordinating jammies, you could always just announce a theme for this year's family Christmas photo and have them at least wear a top in the theme.
And of course, there's always, UGLY CHRISTMAS SWEATER family Christmas. That could be super fun!
You could even create a party around make ugly Christmas sweatshirts or sweaters. But that's a post for another day. 😉
Looking for an EASY DIY Christmas gift or yummy holiday treat? Try these Cinnamon Glazed Almonds.